News
USA Wrestling
College
Athlete of Week
USAW
Mikey Labriola named USA Wrestling Athlete of the Week
by Gary Abbott, USA Wrestling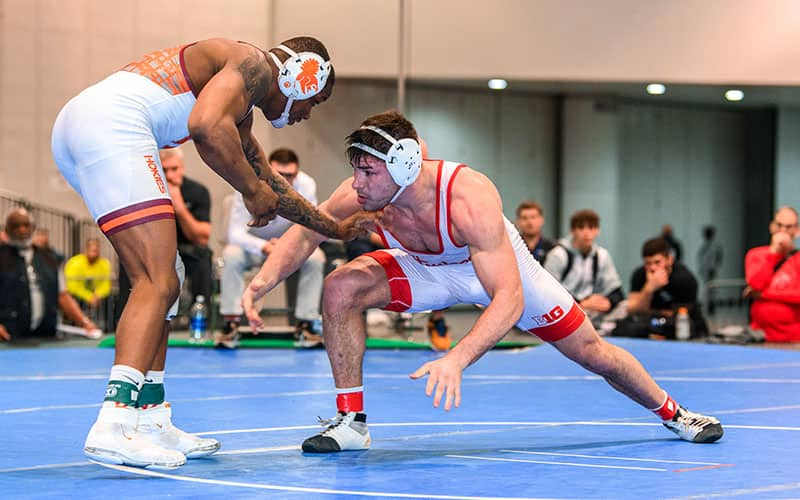 Mikey Labriola (Nebraska) shoots on Mekhi Lewis (Virginia Tech) in the Cliff Keen Las Vegas Invitational finals. Photo by Tony Rotundo, Wrestlers Are Warriors.Mikey Labriola
(Easton, Pa./University of Nebraska) has been selected as USA Wrestling Athlete of the Week on December 6, 2022.
Labriola, a Cornhuster senior, repeated as champion at 174 pounds at the Cliff Keen Las Vegas Invitational, held Dec. 2-3.
In the championship finals, Labriola, the No. 2 seed, upset top seed and past NCAA champion Mekhi Lewis of Virginia Tech, 3-1 in sudden victory. There was no first period takedown, and both athletes scored escapes from the bottom to make it 1-1 in regulation. Labriola secured a sudden victory counter takedown to win the match.
Labriola won four matches to reach the finals. He opened with a 17-7 major deciaion over Will Miller of Appalachian State, then defeated ross McFarland of Hofstra, 11-6. In the quarterfinals he stopped Sal Perine of Ohio, 9-2. He received a medical forfeit in the semifinals over Demetrius Romero of Utah Valley.
Labriola is a four-time All-American for the Huskers, placing third in sixth in 2019, third in 2021 and 7th in 2022, and receiving NWCA All-American status in 2020. He was a two-time Pennsylvania state champion for Bethlehem Catholic High School prior to joining the Cornhuskers.
Each week USA Wrestling will select an Athlete of the Week based upon performance within wrestling for that week. The selection committee will consider any level of wrestling from youth programs through the senior level.
To nominate a wrestler for this honor please send the athlete's name, wrestling program, weekly accomplishments and career accolades to USA Wrestling Director of Communications Gary Abbott at gabbott@usawrestling.org.