Men's freestyle seeds set for Senior World Team Trials Challenge Tournament
by Richard Immel, USA Wrestling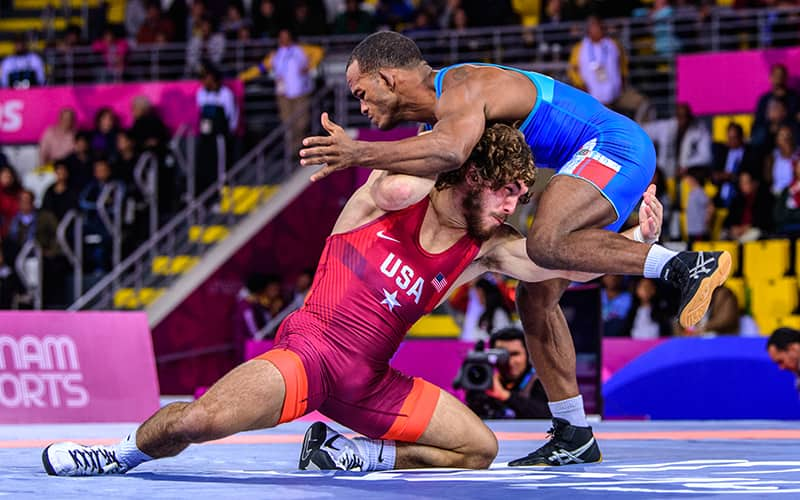 Photo: 2021 World silver medalist Daton Fix, pictured at the 2019 Pan-American Games, is among the top stars seeded for this weekend's World Team Trials Challenge Tournament. (Tony Rotundo/wrestlersarewarriors.com)
The men's freestyle seeds for the 2023 Senior World Team Trials Challenge Tournament have been finalized ahead of this weekend's competition in Colorado Springs, Colo.
With seven of the ten Final X men's freestyle pairings set, only three weight classes (61 kg, 92 kg and 125 kg) will be contested at this event to round out the remaining Final X participants.
A panel of coaches representing the athletes determined the final seeding based on an agreed upon set of seeding criteria that included head-to-head results, tournament placements, and common opponents.
The only adjustments that will be made to the seeds will be if a wrestler drops out of the field. In that case, the wrestler in question will be removed from the list and every wrestler underneath him will bump up to the next seed.
Among those receiving a No. 1 seed include two-time World medalist
Nick Gwiazdowski
at 125 kg, U20 and U23 World medalist
Kollin Moore
at 92 kg and U.S. Open runner-up
Austin DeSanto
at 61 kg. All three No. 1 seeds were finished in second place at the 2023 Pritchard Companies U.S. Open Championships, presented by FloWrestling, held in Las Vegas last month.
Past Senior World medalists
Daton Fix
and
Joe Colon
, as well as reigning U.S. World Team member
Seth Gross
, are all seeded at 61 kg. 2017 U20 World silver medalist and three-time NCAA champion
Zahid Valencia
, who was runner-up at the U.S. Open at 86 kg, has bumped up to 92 kg for this event. Past U20 World champions
Mason Parris
and
Dominique Bradley
, plus U23 World champion
Anthony Cassioppi
, are in the mix at 125 kg.
The Senior men's freestyle tournament will take place Sunday, May 21, at Discovery Canyon High School. Action will begin at 10 a.m. (MT) with finals scheduled for 4:30 p.m. (MT).
Single day and all session ticket options are available to purchase online through the
USA Wrestling
. Those unable to attend the event can stream every match from Colorado Springs live on
FloWrestling.com
.
2023 Senior World Team Trials Challenge Tournament

At Discovery Canyon High School, Colorado Springs, Colo., May 20-21Senior Men's Freestyle Tournament Seeding

61 kg

1. Austin DeSanto, Hawkeye WC/Titan Mercury WC
2. Seth Gross, Sunkist Kids WC
3. Daton Fix, Titan Mercury WC
4. Nahshon Garrett, Lehigh Valley WC/Titan Mercury WC
5. Nathan Tomasello, Cliff Keen WC/Titan Mercury WC
6. Joe Colon, Titan Mercury WC
7. Aden Valencia, California RTC/Titan Mercury WC
92 kg

1. Kollin Moore, Ohio RTC/Titan Mercury WC
2. Nathan Jackson, New York AC
3. Zahid Valencia, Sunkist Kids WC
4. Eric Schultz, Nebraska WTC
5. Jonathan Aiello, Cavalier WC/Titan Mercury WC
6. Morgan McIntosh, Army WCAP/Nittany Lion WC
7. Tanner Sloan, Jackrabbit WC
8. Samuel Mitchell, Bulls WC
125 kg

1. Nick Gwiazdowski, Spartan Combat RTC/Titan Mercury WC
2. Mason Parris, Cliff Keen WC/Titan Mercury WC
3. Wyatt Hendrickson, Air Force RTC
4. Dominique Bradley, Sunkist Kids WC
5. Ty Walz, Southeast RTC/Titan Mercury WC
6. Demertius Thomas, Pittsburgh WC/New York AC
7. Anthony Cassioppi, Hawkeye WC