News
USA Wrestling
International
USAW
Men's freestyle finishes with nine golds, one bronze to take team title at Pan-American Championships
by Richard Immel, USA Wrestling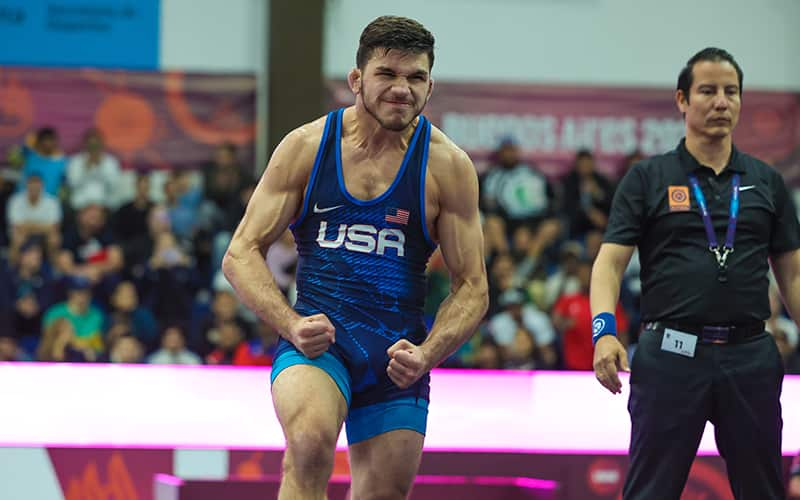 Photo: Yianni Diakomihalis celebrates his finals victory at the 2023 Pan-American Championships. (Kadir Caliskan/United World Wrestling)

BUENOS AIRES, Argentina – The U.S. men's freestyle team went a perfect eight-for-eight during the medal round on Saturday evening, securing seven gold medals and a bronze medal to boot, at the 2023 Pan-American Championships.
Leading the way were Olympic medalists
Thomas Gilman
,
Kyle Dake
and
Kyle Snyder
, who all scored impressive technical fall victories to cap gold medal performances at Tecnopolis in Buenos Aires, Argentina.
Gilman, a 2021 World champion and three-time World medalist, continued his run of dominance over two-time Pan-American medalist and 2017 NCAA champion for Lehigh
Darian Cruz
of Puerto Rico in the 57 kg finals. He picked up three step outs, three takedowns and a leg lace to seal the deal, 10-0, in 2:35. It's Gilman's fourth-straight win via technical fall over Cruz dating back to 2020.
Three-time Olympian and past NCAA champion
Franklin Gomez Matos
of Puerto Rico didn't have an answer for Dake's physicality and aggression in the 74 kg finals. The four-time World champion overpowered Gomez Matos to the tune of 10-0 to claim his third Pan-American Championship gold.
Both Gilman and Dake won every match they wrestled by technical fall while not surrendering a single point on the day.
Snyder's 97 kg finals opponent Arturo Silot Torres of Cuba proved more prepared for the moment against the 2016 Olympic champion. Snyder and Silot Torres traded several intense exchanges and step out points during the first period that provided a tinge of drama entering the second frame. However, Snyder put a quick end to any hopes of an upset with a feet-to-back takedown that iced the match 20 seconds into the second period, 14-3.
2022 World silver medalist
Zain Retherford
and 2021 Pan-American champion
Vitali Arujau
breezed through the competition in Buenos Aires. Retherford capped a gold medal effort at 70 kg with a 47-second pin against Connor Quinton of Canada. Arujau ended his day with a snappy 36-second technical fall over Brazil's Juan De Andrade Queiroz to secure the 61 kg gold medal. Both men posted 4-0 records and bonused their way through the tournament.
Earning a third Pan-American crown was heavyweight
Dominique Bradley
. He won a tight 2-1 decision over two-time Olympian Jose Diaz Robertti in the 125 kg finals. Each man traded shot clock points, but Bradley emerged as the only wrestler to score an offensive point, coming by way of a step out.
For the second time today 2022 World silver medalist
Yianni Diakomihalis
had to pull out all the stops to get his hand raised, this time against two-time World bronze medalist Alejandro Valdes Tobier of Cuba in the 65 kg finals. Trailing on criteria deep into the second period, Diakomihalis baited a single leg attempt and attacked the upper body for the first time in the match. The maneuver resulted in the match-clinching takedown with 21 seconds remaining. Valdes Tobier was close to pulling off a crafty exposure from bottom as time expired, but his challenge would be denied, and Diakomihalis took it, 4-1.
Dake, Arujau and Diakomihalis are all past NCAA champions for Cornell University. Dake was the first to win four NCAA titles at four different weight classes. Diakomihalis joined the four-timer club this year as its fifth member. Arujau broke through at the NCAAs this year as well.
Two-time U20 World champion
Mark Hall
battled back for a bronze medal at 86 kg with a dynamic 11-0 technical fall against Bruno Nicoletti of Brazil. Hall's win gave the U.S. a medal winner in each weight class of the men's freestyle division.
Olympic champion and six-time World champion
Jordan Burroughs
(79 kg) and 2023 U.S. Open champion
Michael Macchiavello
(92 kg) reeled in men's freestyle gold medals yesterday.
The U.S. topped the men's freestyle team rankings by earning 10 medals, nine of which were gold, and 240 team points. Canada came in second place with six medals and 136 team points. Rounding out the top three is Puerto Rico, who grabbed five medal and 123 team points.
The competition in Buenos Aires will continue at 9 a.m. (ET) on Sunday with the start of the Beach Wrestling World Series tournament. The event is being broadcast live on
FloWrestling.com
.
PAN AMERICAN SENIOR CHAMPIONSHIPS
At Buenos Aires, Argentina, May 6
Men's Freestyle Results

Team Standings

1st – United States, 240
2nd – Canada, 136
3rd – Puerto Rico, 123
4th – Cuba, 105
5th – Argentina, 81
6th – Venezuela, 67
7th – Brazil, 57
8th – Colombia, 52
9th – Dominican Republic, 41
10th – Chile, 26
57 kg

Gold – Thomas Gilman (United States)
Silver – Darian Cruz (Puerto Rico)
Bronze – Santiago Hernandez Chaveco (Cuba)
Bronze – Pedro Mejias Rodriguez (Venezuela)
5th – Hernan Almendra (Argentina)
5th – Darthe Capellan (Canada)
7th – Edwin Segura Guerra (Guatemala)
8th – Oscar Tigreros Urbano (Colombia)
9th – Luis Basilio Rambalde (Dominican Republic)
10th – Esteban Morales Mayancha (Ecuador)
Gold – Thomas Gilman (United States) tech. fall Darian Cruz (Puerto Rico), 10-0
Bronze – Santiago Hernandez Chaveco (Cuba) dec. Hernan Almendra (Argentina), 8-3
Bronze – Pedro Mejias Rodriguez (Venezuela) dec. Darthe Capellan (Canada), 10-7
61 kg

Gold – Vitali Arujau (United States)
Silver – Joseph Silva (Puerto Rico)
Bronze – Jason Luneau (Canada)
4th – Juan De Andrade Queiroz (Brazil)
5th – Wilson Ojeda (Argentina)
Round 1 – Vitali Arujau (United States) tech. fall Wilson Ojeda (Argentina), 10-0
Round 1 – Joseph Silva (Puerto Rico) tech. fall Jason Luneau (Canada), 10-0
Round 2 – Joseph Silva (Puerto Rico) tech. fall Juan De Andrade Queiroz (Brazil), 10-0
Round 2 – Vitali Arujau (United States) tech. fall Jason Luneau (Canada), 14-4
Round 3 – Joseph Silva (Puerto Rico) fall Wilson Ojeda (Argentina), 1:21
Round 3 – Jason Luneau (Canada) tech. fall Juan De Andrade Queiroz (Brazil), 10-0
Round 4 – Vitali Arujau (United States) tech. fall Joseph Silva (Puerto Rico), 11-0
Round 4 – Juan De Andrade Queiroz (Brazil) fall Wilson Ojeda (Argentina), 1:09
Round 5 – Vitali Arujau (United States) tech. fall Juan De Andrade Queiroz (Brazil), 10-0
Round 5 – Jason Luneau (Canada) tech. fall Wilson Ojeda (Argentina), 13-2
65 kg

Gold – Yianni Diakomihalis (United States)
Silver – Alejandro Valdes Tobier (Cuba)
Bronze – Sebastian Rivera (Puerto Rico)
Bronze – Agustin Destribats (Argentina)
5th – Albaro Rudecindo Camacho (Dominican Republic)
5th – Sixto Auccapina Pedragas (Peru)
7th – Wber Cuero Munoz (Colombia)
8th – Wilfredo Rodriguez Bocaney (Venezuela)
9th – Andre Quispe Fajardo (Chile)
10th – Jacob Alexander Torres (Canada)
Gold – Yianni Diakomihalis (United States) dec. Alejandro Valdes Tobier (Cuba), 4-1
Bronze – Sebastian Rivera (Puerto Rico) dec. Albaro Rudecindo Camacho (Dominican Republic), 9-2
Bronze – Agustin Destribats (Argentina) tech. fall Sixto Auccapina Pedragas (Peru), 11-0
70 kg

Gold – Zain Retherford (United States)
Silver – Connor Quinton (Canada)
Bronze – Mauricio Lovera (Argentina)
4th – Vinicius Da Silva Joaquim (Brazil)
5th – Jorge Gatica Hinricksen (Chile)
6th – Francisco Guzman Velazquez (Puerto Rico)
Gold – Zain Retherford (United States) fall Connor Quinton (Canada), 0:47
Bronze – Mauricio Lovera (Argentina) dec. Vinicius Da Silva Joaquim (Brazil), 6-4
74 kg

Gold – Kyle Dake (United States)
Silver – Franklin Gomez Matos (Puerto Rico)
Bronze – Franklin Maren Castillo (Cuba)
Bronze – Cesar Bordeaux Rego Alvan (Brazil)
5th – Adam Thomson (Canada)
5th – Anthony Montero Chirinos (Venezuela)
7th – Anthony Valencia Gomez (Mexico)
8th – Luis Barrios Rochez (Honduras)
9th – Angel Cortes Bonilla (Panama)
10th – Leon Peralta Lanas (Chile)
Gold – Kyle Dake (United States) tech. fall Franklin Gomez Matos (Puerto Rico), 10-0
Bronze – Franklin Maren Castillo (Cuba) dec. Adam Thomson (Canada), 4-3
Bronze – Cesar Bordeaux Rego Alvan (Brazil) dec. Anthony Montero Chirinos (Venezuela), 4-2
86 kg

Gold – Yurieski Torreblanca Queralta (Cuba)
Silver – Alexander Moore (Canada)
Bronze – Mark Hall (United States)
Bronze – Carlos Izquierdo Mendez (Colombia)
5th – Bruno Nicoletti (Brazil)
5th – Pedro Ceballos Fuentes (Venezuela)
7th – Jorge Andy Tiwi (Ecuador)
8th – Cesar Ubico Estrada (Guatemala)
9th – Eduardo Gajardo Meneses (Chile)
10th – Yorfi Jimenez Santana (Dominican Republic)
Gold – Yurieski Torreblanca Queralta (Cuba) dec. Alexander Moore (Canada), 5-1
Bronze – Mark Hall (United States) tech. fall Bruno Nicoletti (Brazil), 11-0
Bronze – Carlos Izquierdo Mendez (Colombia) dec. Pedro Ceballos Fuentes (Venezuela), 7-6
97 kg

Gold – Kyle Snyder (United States)
Silver – Arturo Silot Torres (Cuba)
Bronze – Luis Miguel Perez Sosa (Dominican Republic)
Bronze – Nishan Randhawa (Canada)
5th – Maxwell Lacey (Costa Rica)
5th – Ricardo Baez (Argentina)
7th – Carlos Anguilo Murillo (Colombia)
8th – Cristian Sarco Colmenarez (Venezuela)
9th – Marcos Santos Bonnet (Puerto Rico)
10th – Huberth Soliz Mayser (Bolivia)
Gold – Kyle Snyder (United States) tech. fall Arturo Silot Torres (Cuba), 14-3
Bronze – Luis Miguel Perez Sosa (Dominican Republic) fall Maxwell Lacey (Costa Rica), 0:26
Bronze – Nishan Randhawa (Canada) dec. Ricardo Baez (Argentina), 5-1
125 kg

Gold – Dominique Bradley (United States)
Silver – Jose Diaz Robertti (Venezuela)
Bronze – Catriel Muriel (Argentina)
Bronze – Aaron Johnson (Jamaica)
5th – Elison Adames Garcia (Dominican Republic)
5th – Reineris Salas Perez (Cuba)
7th – Jonovan Smith (Puerto Rico)
8th – Diego Almendras Rodriguez (Chile)
9th – Karanveer Mahil (Canada)
10th – Heriberto Sandi Castillo (Costa Rica)
Gold – Dominique Bradley (United States) dec. Jose Diaz Robertti (Venezuela), 2-1
Bronze – Catriel Muriel (Argentina) dec. Elison Adames Garcia (Dominican Republic), 5-2
Bronze – Aaron Johnson (Jamaica) forfeit Reineris Salas Perez (Cuba)
U.S. Men's Freestyle Results

57 kg – Thomas Gilman (Titan Mercury WC/Nittany Lion WC), Gold
WIN Hernan Almendra (Argentina), tech. fall, 11-0
WIN Santiago Hernandez Chaveco (Cuba), tech. fall, 11-0
WIN Darian Cruz (Puerto Rico), tech. fall, 10-0
61 kg – Vito Arujau (Titan Mercury WC/Spartan Combat RTC), Gold
WIN Wilson Ojeda (Argentina), tech. fall, 10-0
WIN Jason Luneau (Canada), tech. fall, 14-4
WIN Joseph Silva (Puerto Rico), tech. fall, 11-0
WIN Juan De Andrade Queiroz (Brazil), tech. fall, 10-0
65 kg – Yianni Diakomihalis (Titan Mercury WC/Spartan Combat RTC), Gold
WIN Sixto Auccapina Pedragas (Peru), tech. fall, 10-0
WIN Wilfredo Lopez (Panama), tech. fall, 11-0
WIN Agustin Destribats (Argentina), 9-8
WIN Alejandro Valdes Tobier (Cuba), 4-1
70 kg – Zain Retherford (Titan Mercury WC/Nittany Lion WC), Gold
WIN Francisco Guzman Velazquez (Puerto Rico), tech. fall, 10-0
WIN Mauricio Lovera (Argentina), fall, 1:28
WIN Vinicius Da Silva Joaquim (Brazil), tech. fall, 12-2
WIN Connor Quinton (Canada), fall, 0:47
74 kg – Kyle Dake (Titan Mercury WC/Nittany Lion WC), Gold
WIN Mauricio Sanchez Salto (Ecuador), tech. fall, 10-0
WIN Adam Thomson (Canada), tech. fall, 10-0
WIN Franklin Maren Castillo (Cuba), tech. fall, 10-0
WIN Franklin Gomez Matos (Puerto Rico), tech. fall, 10-0
86 kg – Mark Hall (Titan Mercury WC/Pennsylvania RTC), Bronze
WIN Jorge Llano (Argentina), tech. fall, 10-0
WIN Cesar Ubico Estrada (Guatemala), tech. fall, 12-2
LOSS Yurieski Torreblanca Queralta (Cuba), tech. fall, 14-4
WIN Bruno Nicoletti (Brazil), tech. fall, 11-0
97 kg – Kyle Snyder (Titan Mercury WC/Nittany Lion WC), Gold
WIN Maxwell Lacey (Costa Rica), tech. fall, 10-0
WIN Luis Miguel Perez Sosa (Dominican Republic), fall, 2:00
WIN Arturo Silot Torres (Cuba), tech. fall, 14-3
125 kg – Dominique Bradley (Sunkist Kids), Gold
WIN Elison Adames Garcia (Dominican Republic), tech. fall 11-1
WIN Catriel Muriel (Argentina), fall, 2:13
WIN Jose Diaz Robertti (Venezuela), 2-1