News
USA Wrestling
College
USAW
Amateur Wrestling News Rookie of the Year Awards: Levi Haines of Penn State (athlete), Derek Moore of California Baptist (coach)
by Amateur Wrestling News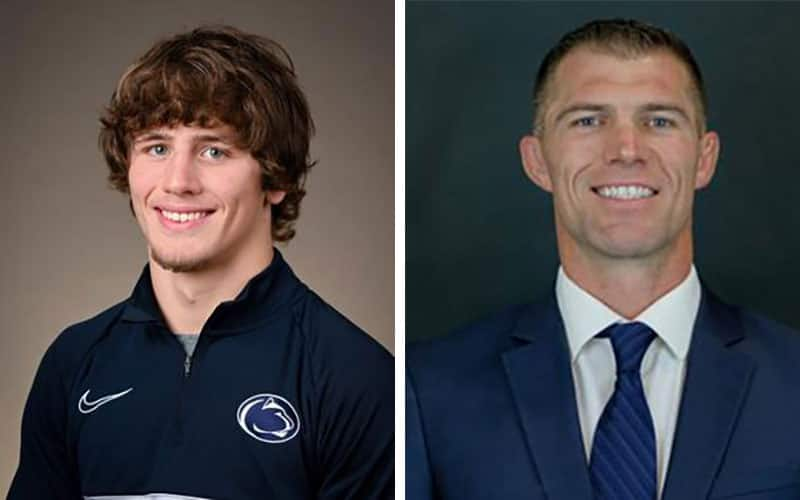 Levi Haines photo courtesy of Penn State Athletics; Derek Moore photo courtesy of California Baptist AthleticsLEVI HAINES NAMED AMATEUR WRESTLING NEWS' ROOKIE OF THE YEAR
No rookie finished higher at the NCAAs than Penn State true freshman Levi Haines. He was runner-up to North Carolina's two-time national champion Austin O'Connor.
Haines competed in three PIAA state title bouts while wrestling for Biglerville High School. He was runner-up his freshman and sophomore years, then won a PIAA state title his junior season. He decided not to compete his senior year and instead focused on training and entering collegiate-level opens.
In the Big Ten Championships finals, Haines faced three-time All American Peyton Robb, Nebraska. The Cornhusker was undefeated up to that point. Haines won the title in sudden victory.
The Rookie of the Year dates back to 1974. The winner for that inaugural award was Iowa State's Bob Holland. Other notable winners include 1976 Mark Churella, Michigan, 1989 Tom Brands, Iowa, 1990 Pat Smith, Oklahoma State, 1999 Cael Sanderson, Iowa State, 2011 David Taylor, Penn State, and 2018 Yianni Diakomihalis, Cornell.
Congratulations to Levi Haines and the Penn State Nittany Lions.
Amateur Wrestling News 2023 All-Rookie Team
125
1. Richard Figueroa/Arizona State (13-0)
2. Eddie Ventresca/Virginia Tech (20-9)
3. Stevo Poulin/Northern Colorado (31-7)
133
1. Aaron Nagao/Minnesota (23-6)
2. Jesse Mendez/Ohio State (19-9)
3. Gulamjon Abdulaev/Menlo College (18-0)
141
1. Lachlan McNeil/North Carolina (27-9)
2. Brock Hardy/Nebraska (30-8)
3. Casey Swiderski/Iowa State (14-12)
149
1. Shayne Van Ness/Penn State (24-7)
2. Caleb Henson/Virginia Tech (27-6)
3. Jackson Arrington/North Carolina State (23-9)
157
1. Levi Haines/Penn State (24-2)
2. Daniel Cardenas/Stanford (19-3)
3. Cael Swensen/South Dakota State (24-10)
165
1. Michael Caliendo/North Dakota State (28-5)
2. Patrick Kennedy/Iowa (21-5)
3. Alec Facundo/Penn State (19-6)
174
1. Tate Picklo/Oklahoma (25-10)
2. Luca Augustine/Pittsburgh (15-11)
3. Cael Valencia/Arizona State (12-12)
184
1. Lenny Pinto/Nebraska (24-11)
2. Brian Soldano/Rutgers (25-12)
3. Dylan Connell/Illinois (18-18)
197
1. Jaxon Smith/Maryland (23-8)
2. Carson Floyd/Appalachian State (19-9)
3. Elijah Hynes/Central Methodist (26-11)
285
1. Nathan Taylor/Lehigh (17-12)
2. Hunter Catka/Virginia Tech (19-8)
3. Trevor Tinker/Cal Poly (15-10)
DEREK MOORE NAMED AMATEUR WRESTLING NEWS' ROOKIE COACH OF THE YEAR
California Baptist rookie head coach Derek Moore led his wrestlers through the university's first season as a DI team. The Lancers competed in the Big 12 Conference and ended the season with a 3-10 record, which included wins over Wyoming and CSU Bakersfield.
In 2007 while competing for UC Davis, Moore pulled off one of the biggest upsets in NCAA Tournament history by knocking off No. 1 seed Ryan Lang, Northwestern in the finals by tech fall 17-2. He was named the tournament's Outstanding Wrestler.
The Rookie Coach of the Year dates back to 1962. The winner for that inaugural award was Nebraska's Bob Mancuso. Other notable winners include 1963 Grady Peninger, Michigan State, 1972 Stan Abel, Cincinnati, 1977 Dan Gable, Iowa, 1980 Carl Adams, Rhode Island, 1986 Jim Gibbons, Iowa State, 1993 Lee Roy Smith, Arizona State, 1994 Rob Koll, Cornell, and 2007 Cael Sanderson, Iowa State.
Congratulations to Derek Moore and California Baptist University.