News
USA Wrestling
College
USAW
Led by champions Abney and Streck, Central Oklahoma wins its first NCAA Div. II national title since 2007
by Gary Abbott, USA Wrestling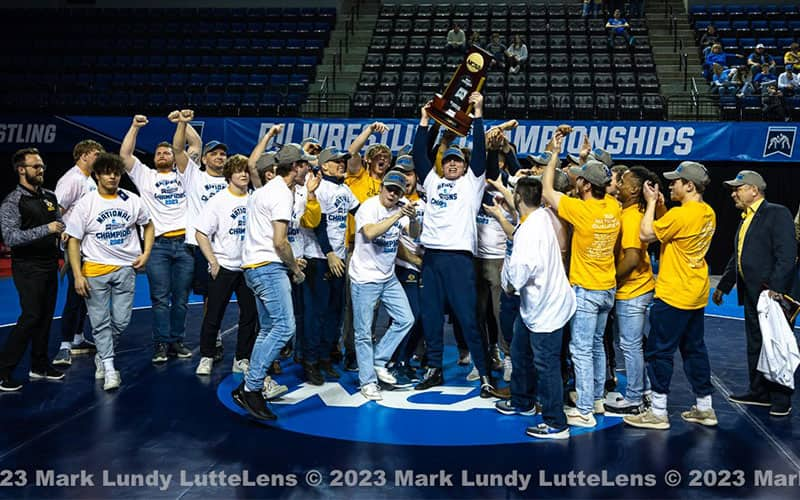 Central Oklahoma celebrates its NCAA Div. II national team title. Photo by Mark Lundy, Lutte Lens

CEDAR RAPIDS, Iowa – No. 1
Central Oklahoma
, led by individual champions Dalton Abney (197) and Shawn Streck (285) claimed its first NCAA Div. II national title since 2007, beating second-place
Lander
in the team standings.
Abney was a 2022 NAIA Div. II national champion who won again this year. In the finals, he edged Derek Blubaugh of Indianapolis, 1-0. Streck was solid in an 8-3 win over Jared Campbell of Glenville State in his finals match.
Central Oklahoma, which had nine All-Americans, finished with 121 points, with Lander next with 78 points. Rounding out the top five were
St. Cloud State
with 64.5 points,
Western Colorado
with 61 points and
Adams State
with 58.5 points.
Lander did not have an individual champion, but came home with six All-Americans.
Joining Central Oklahoma with two individual champions was Adams State, led by champions Brendon Garcia (125) and Josiah Rider (149). Rider repeated as Div. II national champion but at a different weight class.
Other individual champions were Gavin Quiocho of Glenville State College (133), Zackary Donathan of Tiffin (141), Nick Novak of St. Cloud State (157), Chase Luensman of Upper Iowa (165), Austin Eldredge of Nebraska-Kearney (174) and Ty McGeary of West Liberty (184).
NCAA DIVISION II NATIONAL CHAMPIONSHIPS
At Cedar Rapids, Iowa, March 10-11
125
1st Place Match - Brendon Garcia (Adams State) 23-3, RS So. over Jaxson Rohman (Augustana (SD)) 18-6, So. (Dec 4-2)
3rd Place Match - Patrick Allis (Western Colorado) 20-6, Sr. over James Joplin (Lander ) 23-4, So. (MD 10-1)
5th Place Match - Christian Mejia (McKendree) 28-8, RS Sr. over Cole Laya (West Liberty) 22-5, RS Sr. (M. For.)
7th Place Match - Shane Corrigan (Wisconsin-Parkside) 33-8, Fr. over Brandon Mendoza (Tiffin) 18-10, . (Dec 5-0)
133
1st Place Match - Gavin Quiocho (Glenville State College) 38-5, So. over Quentrevion Campbell (Chadron State) 19-2, RS Jr. (Dec 4-3)
3rd Place Match - Dylan Lucas (Central Oklahoma) 23-6, So. over Eric Bartos (Mercyhurst) 31-4, RS Sr. (Dec 10-3)
5th Place Match - Devin Flannery (Millersville) 32-6, RS Jr. over Vincent Scollo (West Liberty) 25-9, Jr. (Dec 4-1)
7th Place Match - Reece Barnhardt (Mary) 31-8, So. over Elijah Lusk (Lander ) 30-8, So. (Dec 10-3)
141
1st Place Match - Zackary Donathan (Tiffin) 13-1, RS Jr. over Christian Small (Lake Erie) 26-3, Jr. (Dec 2-1)
3rd Place Match - Nate Keim (Central Oklahoma) 28-7, . over Peter Kuster (Drury) 22-5, Sr. (Fall 4:18)
5th Place Match - Zeth Brower (Lander ) 33-2, RS Jr. over John Carayiannis (Belmont Abbey) 15-7, Jr. (Dec 6-1)
7th Place Match - Jake Niffenegger (Mercyhurst) 25-9, Fr. over Tate Murty (Upper Iowa) 29-9, Jr. (Dec 10-6)
149
1st Place Match - Josiah Rider (Adams State) 27-3, RS Jr. over Jason Hanenberg (Western Colorado) 31-6, Sr. (Fall 3:46)
3rd Place Match - Wyatt Turnquist (Northern State) 25-4, Sr. over Jalen Spuhler (Wisconsin-Parkside) 31-9, Jr. (Dec 10-5)
5th Place Match - Jacob Ealy (Pitt-Johnstown) 30-2, Jr. over Brik Filippo (Central Oklahoma) 27-12, . (Dec 9-6)
7th Place Match - Nick Young (Gannon) 29-7, RS Fr. over Devan Moore (Newberry) 27-14, Sr. (Fall 2:34)
157
1st Place Match - Nick Novak (St. Cloud State) 27-0, So. over Logan Bailey (Indianapolis) 33-5, Jr. (Dec 3-1)
3rd Place Match - Noah Hermosillo (Adams State) 25-1, RS Sr. over Dominic Means (Gannon) 28-9, . (Dec 6-2)
5th Place Match - Nathan Smith (Pitt-Johnstown) 23-6, RS Sr. over Trent Mahoney (King) 36-12, RS So. (Dec 5-2)
7th Place Match - Gabe Johnson (Central Oklahoma) 33-7, Jr. over Avery Shay (Shippensburg) 16-5, RS Sr. (Fall 2:19)
165
1st Place Match - Chase Luensman (Upper Iowa) 32-3, RS Jr. over Hunter Mullin (Western Colorado) 26-7, RS Sr. (Dec 9-7)
3rd Place Match - Ty Lucas (Central Oklahoma) 21-11, . over David Hunsberger (Lander ) 32-5, Fr. (Dec 3-2)
5th Place Match - Alex Farenchak (Gannon) 15-2, RS Fr. over Alec Cook (West Liberty) 25-13, RS Jr. (Dec 8-3)
7th Place Match - Anthony Herrera (St. Cloud State) 18-8, RS Sr. over Mike Vernagallo (Mount Olive) 23-8, RS Fr. (Inj. 0:20)
174
1st Place Match - Austin Eldredge (Nebraska-Kearney) 28-4, RS Sr. over Abner Romero (St. Cloud State) 20-1, RS Sr. (MD 12-4)
3rd Place Match - Cade Lindsey (Fort Hays State) 35-8, Jr. over James Penfold (Lake Erie) 20-8, Sr. (Dec 3-1)
5th Place Match - Max Bruss (Mary) 33-6, RS Jr. over Cole Hernandez (Western Colorado) 28-12, Sr. (Dec 11-5)
7th Place Match - Anthony Des Vigne (Central Oklahoma) 33-8, RS Fr. over Nate Barrett (Ashland) 18-8, So. (Dec 5-3)
184
1st Place Match - Ty McGeary (West Liberty) 27-1, RS So. over Logan Hall (Lander ) 33-4, Sr. (SV-1 3-1)
3rd Place Match - Daniel Beemer (Ashland) 28-2, RS So. over Matt Weinberg (Kutztown) 27-3, RS So. (Dec 3-1)
5th Place Match - Alex Kauffman (Central Oklahoma) 15-6, RS Sr. over Billy Higgins (Nebraska-Kearney) 26-5, RS Sr. (M. For.)
7th Place Match - Reece Worachek (Wisconsin-Parkside) 32-6, Jr. over Colter Bye (Upper Iowa) 16-12, Jr. (Dec 6-2)
197
1st Place Match - Dalton Abney (Central Oklahoma) 23-2, RS Fr. over Derek Blubaugh (Indianapolis) 33-3, RS Jr. (Dec 1-0)
3rd Place Match - Tereus Henry (Fort Hays State) 38-4, Sr. over Dominic Murphy (St. Cloud State) 29-5, RS Jr. (Dec 7-5)
5th Place Match - Matt Kaylor (Mary) 29-12, RS So. over Logan Kvien (McKendree) 23-11, RS Jr. (Dec 3-2)
7th Place Match - Kash Anderson (Colorado Mesa) 22-11, Sr. over Cole Huss (Northern State) 15-7, Sr. (M. For.)
285
1st Place Match - Shawn Streck (Central Oklahoma) 26-0, Sr. over Jared Campbell (Glenville State College) 32-2, RS So. (Dec 8-3)
3rd Place Match - Darrell Mason (Minnesota State) 17-4, RS Sr. over Cale Gray (Indianapolis) 21-9, Jr. (Dec 9-5)
5th Place Match - Johnny Green (Ouachita Baptist) 24-5, Sr. over Juan Edmond-Holmes (Lander ) 21-7, Sr. (Dec 2-1)
7th Place Match - Lee Herrington (Nebraska-Kearney) 27-6, RS Fr. over Jake Swirple (Minot State (N.D.)) 18-9, Jr. (Dec 3-2)
Team Standings
1 Central Oklahoma 121.0
2 Lander 78.0
3 St. Cloud State 64.5
4 Western Colorado 61.0
5 Adams State 58.5
6 West Liberty 55.0
7 Indianapolis 46.0
8 Nebraska-Kearney 43.0
9 Glenville State College 42.0
10 Gannon 35.0
11 Tiffin 34.5
12 Lake Erie 31.0
13 Mary 29.5
14 Fort Hays State 29.0
15 Wisconsin-Parkside 27.5
16 Upper Iowa 26.5
17 McKendree 25.0
17 Pitt-Johnstown 25.0
19 Mercyhurst 24.0
20 Ashland 22.0
20 Chadron State 22.0
20 Northern State 22.0
(of 50 teams)