News
USA Wrestling
College
Women
USAW
Bellarmine men lead NCWA Nationals over returning champ Liberty; Ottawa-Arizona has big lead among women
by Gary Abbott, USA Wrestling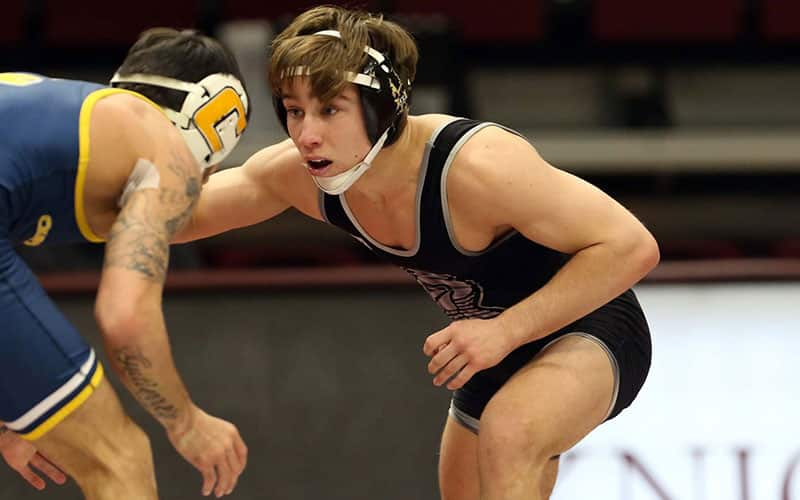 Top seed Jack Parker of Bellarmine (125) is one of five from his team in the NCWA finals. Photo courtesy of Bellarmine Athletics
.
SAN JUAN, Puerto Rico –
Bellarmine
, an NCAA program in transition to Div. I wrestling, is leading the NCWA Nationals after the first day, with an 11.5 point lead over returning NCWA champions
Liberty
. Bellarmine has 156.5 points, with Liberty at 145 points. Third place is
The Apprentice School
at 124.5 points.
Bellarmine pushed five into the finals, the most of any program. Going for golds on Saturday are
Jack Parker
(125),
Zac Cowan
(149),
Cole Nance
(165),
Devan Hendricks
(174) and
Thaddeus Huff
(285). Bellarmine has three others who have achieved All-American status.
Liberty put three into the finals, but still has nine athletes more athletes who are All-Americans and can pick up points in the consolation rounds in the morning. The Liberty finalists are J
osiah Murphy
(197),
Jeff Allen
(235) and
Frederick Weaver
(285).
Four returning or past NCWA champions are in the finals,
Thomas McCane
of Central Florida (149), Josiah Murphy of Liberty (197), Jeffrey Allen of Liberty (235) and Frederick Weaver of Liberty (285). In addition, a 2022 NJCAA Junior College national champion,
Josh Kenny
of Grand Valley State (174) is also a finalist. Allen is seeking a fourth national title.
The women's division not only determined the finalists, but also wrestled back to determine who would compete in the third-place match.
Ottawa-Arizona
has a commanding 34 point lead over
Grays Harbor
, 101 points to 67 points.
Big Bend CC
is in third with 34 points, followed by
Washington State
with 32.5 points and
Grand Canyon
with 27 points.
Ottawa Arizona has six finalists,
Jennifer Alcott
(101),
Hermelinda Mendoza
(109),
Lyqualah Kinsey
(116),
Taliyah Armstrong
(130),
Julia Mata
(155) and
Cheyenne Williams
(170), plus two others going for third.
Returning champions who are in the finals include Hermelinda Mendoza of Ottawa-Arizona, plus
Lauren Stone
of Florida (123) and
Katie Moore
of Stony Brook (235).
NCWA NATIONALS
At San Juan, Puerto Rico, March 10

Men's finals pairings
125 - Jack Parker (Bellarmine) vs. Bruno Alves (Apprentice)
133 - Dillon Messick (Apprentice) vs. Kaden Blair (Toledo)
141 - Alfonso Vargas (Florida) vs. Elijah Gandert (Grays Harbor)
149 - Zac Cowan (Bellarmine) vs. Thomas Mccane (Central Florida)
157 - Joseph Miranda (Rowan) vs. James Lunt (Springfield Tech)
165 - Cole Nance (Bellarmine) vs. Talon Pisarchuk (Williamson College of the Trades)
174 - Devan Hendricks (Bellarmine) vs. Josh Kenny (Grand Valley State)
184 - Ben Liss (Rutgers WC) vs. Nicholas Franco (Rutgers WC)
197 - Josiah Murphy (Liberty) vs. Seth Konynenbelt (Grand Valley State)
235 - Jeff Allen (Liberty) vs. Zeke Alleman (Utah Tech)
285 - Frederick Weaver (Liberty) vs. Thaddeus Huff (Bellarmine)
Men's Team Standings
1 Bellarmine 156.5
2 Liberty 145
3 Apprentice 124.5
4 Grand Valley State 117
5 Springfield Tech 112
6 Toledo 83.5
7 Grays Harbor 78.5
8 Central Florida 74
9 Ohio State WC 73
10 Florida 60
Men's semifinal results
125
Jack Parker (Bellarmine) F Dylan Beddow (Springfield Tech), 5:33
Bruno Alves (Apprentice) DEC Dante Mininno (Liberty), 6-2
133
Dillon Messick (Apprentice) DEC Michael Gonzalez (Springfield Tech), 8-1
Kaden Blair (Toledo) DEC Gabriel Martinez (Grand Valley State), 2-1
141
Alfonso Vargas (Florida) DEC Scott Kilian (Texas A&M), 10-8
Elijah Gandert (Grays Harbor) DEC Kalil Shabazz (Springfield Tech), 11-4
149
Zac Cowan (Bellarmine) F Joey Murphy (Grand Valley State), 4:52
Thomas Mccane (Central Florida) DEC Zachary Ortega (Apprentice), 4-1 TB2
157
Joseph Miranda (Rowan) F Ezekiel Burkholder (Toledo), 6:42
James Lunt (Springfield Tech) DEC Nicholas Martino (Fresno State WC), 6-4
165
Cole Nance (Bellarmine) MD Ethan Baker (Apprentice), 16-3
Talon Pisarchuk (Williamson College of the Trades) DEC Landon Kissell (Apprentice), 9-2
174
Devan Hendricks (Bellarmine) TF Benjamin Blickle (Ohio State WC), 18-3 3:59
Josh Kenny (Grand Valley State) F Zachary Kaminski (Liberty), 1:28
184
Ben Liss (Rutgers WC) DEC Michael Jackson (Allen), 4-3
Nicholas Franco (Rutgers WC) DEC Kennedy Wyatt (Bellarmine), 3-1
197
Josiah Murphy (Liberty) DEC Derek Yingling (Slippery Rock), 3-1
Seth Konynenbelt (Grand Valley State) DEC Matthew Abraham (Toledo), 8-2
235
Jeff Allen (Liberty) F Shawn Conniff (Springfield Tech), 2:57
Zeke Alleman (Utah Tech) DEC Seth Ellsmore (Liberty), 7-0
285
Frederick Weaver (Liberty) F Jacob Meek (Toledo), 0:47
Thaddeus Huff (Bellarmine) F Peter Cortapasso (Apprentice), 4:41
Women's finals pairings
101 - Caley Kling (Colorado State) vs. Jennifer Alcott (Ottawa – Arizona)
109 - Hermelinda Mendoza (Ottawa – Arizona) vs. Daniela Suttles (Grand Canyon)
116 - Lyqualah Kinsey (Ottawa – Arizona) vs. Mia Armstrong (Texas – Arlington)
123 - Lauren Stone (Florida) vs. Mia Garza (Texas)
130 - Viveca Pannell (M.I.T) vs. Taliyah Armstrong (Ottawa – Arizona)
136 - Julie Wilson (Washington State) vs. Sophia Carson (New Hampshire)
143 - Anastacia Fucci (Colorado State) vs. Veloria Pannell (M.I.T.)
155 - Leilani Frazier (Santa Rosa JC) vs. Julia Mata (Ottawa – Arizona)
170 - Samantha Meyer (Big Bend CC) vs. Cheyenne Williams (Ottawa – Arizona)
191 - Renaeh Ureste (Grays Harbor) vs. Melissa Moore (Texas Tech)
235 - Katie Moore (Stony Brook) vs. Kali Hood (Grays Harbor)
Women's Team Standings after first day
1 Ottawa - Arizona (W) 101
2 Grays Harbor (W) 67
3 Big Bend CC (W) 34
4 Washington State (W) 32.5
5 Grand Canyon (W) 27
5 M.I.T. (W) 27
7 Florida (W) 26.5
8 Colorado State (W) 24
9 Florida A&M (W) 23.5
10 Northeastern (W) 22
Women's semifinals
101
Caley Kling (Colorado State (W)) FOR Jasmine Cortez (Texas State (W))
Jennifer Alcott (Ottawa - Arizona (W)) F Ariel Kamat (Texas A&M (W)), 1:07
109
Hermelinda Mendoza (Ottawa - Arizona (W)) TF Aliya Hammons (Grays Harbor (W)), 18-0 3:00
Daniela Suttles (Grand Canyon (W)) F Griselda Cuevas (Western Washington (W)), 4:45
116
Lyqualah Kinsey (Ottawa - Arizona (W)) F Hannah Ung (Northeastern (W)), 0:51
Mia Armstrong (Texas - Arlington (W)) F Aleyda Rodriguez (Grays Harbor (W)), 1:16
123
Lauren Stone (Florida (W)) F Jada Yamada (Western Washington (W)), 1:41
Mia Garza (Texas (W)) F Bella Devoto (Santa Rosa JC (W)), 4:23
130
Viveca Pannell (M.I.T. (W)) DEC Kimberly Iglesias rodriguez (Florida (W)), 5-2
Taliyah Armstrong (Ottawa - Arizona (W)) F Anna Rodriguez (Big Bend CC (W)), 3:37
136
Julie Wilson (Washington State (W)) DEC Samantha Tuttle (Grand Canyon (W)), 7-5
Sophia Carson (New Hampshire (W)) F Jasmin Soc-lopez (Ottawa - Arizona (W)), 1:15
143
Anastacia Fucci (Colorado State (W)) F Danielle Rond (Grays Harbor (W)), 6:58
Veloria Pannell (M.I.T. (W)) F Petra Bernsten (Washington State (W)), 2:54
155
Leilani Frazier (Santa Rosa JC (W)) F Faith Guevara (Montclair State (W)), 6:35
Julia Mata (Ottawa - Arizona (W)) F Mackenzie Yates (Liberty (W)), 2:02
170
Samantha Meyer (Big Bend CC (W)) F Maile Ka-ahanui (Liberty (W)), 2:38
Cheyenne Williams (Ottawa - Arizona (W)) TF Katie Gakin (Grays Harbor (W)), 16-0 4:02
191
Renaeh Ureste (Grays Harbor (W)) F Anna Holmes (Liberty (W)), 1:23
Melissa Moore (Texas Tech (W)) F Trinity Robinson (Ottawa - Arizona (W)), 2:46
235
Katie Moore (Stony Brook (W)) F Jojera Dodge (Grays Harbor (W)), 2:41
Kali Hood (Grays Harbor (W)) F Jada Robinson (Florida A&M (W)), 0:33