News
USA Wrestling
College
USAW
Grand View (Iowa) wins 11th NAIA Championship since 2012, with Life in second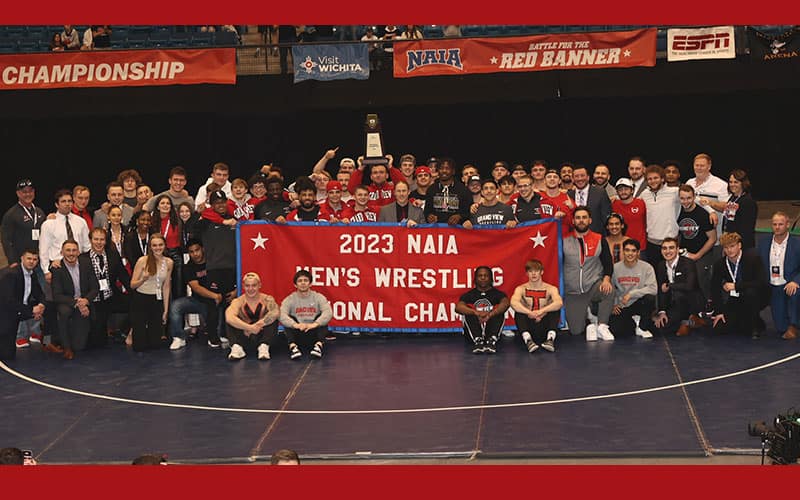 Grand View men's wrestling team, 2023 NAIA champions. Photo courtesy of the NAIA
WICHITA, Kan. – The 66th Annual NAIA Men's Wrestling National Championships were hosted at Hartman Arena on March 4th, airing live on ESPN3. At the conclusion of the event, Grand View (Iowa) hoisted their 11th Red Banner in the past 12 seasons.
The Vikings scored 206 points to take home the title, while Life (Ga.) secured second place with 157.5 points. Southeastern (Fla.) claimed third with 90 points with Menlo (Calif.) coming in fourth with 74 points and Indiana Tech with 61.
The Running Eagles and Grand View both claimed three individual champions followed by two for Menlo and one each from Vanguard (Calif.) and Southeastern.
This season, all 10 champions were newcomers from 2022.
The Heart of America, Appalachian, and Cascade Conferences each crowed three individual champions.
125 – No. 2 Brandon Orum (Life) def. No. 4 Hunter Sparks (Eastern Oregon), DEC 5-4

The opening match of the Championship Session was locked at 2-2 entering the third period before Orum recorded a pair of escapes and held the final tally with riding time. After winning the crown his freshman year and settling for second in 2022, Orum is back on top.
133 – No. 3 Gulomjon Abdullaev (Menlo) def. No. 1 Carson Taylor (Grand View), DEC 7-3

Abdullaev took the first of two individual crowns for the Oaks in the final bouts. His victory, knocking off the top seed, gave Menlo its 11th title in 14 chances. The freshman added an international flair to the event and defeated the top ranked wrestler.
141 – No. 5 Shea Ruffridge (Grand View) def. No. 2 Julian Hernandez (Life), DEC 8-1
Ruffridge pulled the second straight upset to wrap up his collegiate career on top of the podium. In a few short moments, he took a 1-1 tie into a 7-1 margin with a fall and near fall back to back.
149 – No. 3 Brevin Balmeceda (Life) def. No. 1 Ryan Moore (Thomas More), DEC 2-1
Moore was looking to avenge his runner-up placing a year ago, but Balmeceda had other plans thanks in part to his ability to record riding time. The consensus man to beat in the weight class finishes a second straight year down a step on the podium.
157 – No. 5 Sal Silva (Southeastern) def. No. 2 Israel Casarez (Grand View), SV-1 3-1
The Fire trailed by one point entering final frame and gained a quick escape to tie it.as the match headed to Sudden Victory, it took only 14 seconds for Silva beat the defending NAIA Champion and give Southeastern its fourth individual championship in school history.
165 – No. 6 Rysan Leong (Menlo) def. No. 4 David Rubio (Corban), DEC 4-3
Menlo started off the bout with a takedown and held a 2-1 margin after the first three minutes. The pair was familiar with each other as they recently faced each other in the Cascade conference tournament semifinals, where Rubio won in the final seconds. When Rubio gave free escape to start the third, knowing he needed a takedown, the contest ended in a 3-3 tie with the deciding factor being the 1:29 of riding time for the Oaks.
174 – No. 3 Gerardo Hernandez (Vanguard) def. No. 1 Isaiah Luellen (Grand View), SV-1 3-1
Hernandez is the second Lion in program history to wrestle in championship bout, both in the last three years. Ending the season with only one loss, it took Sudden Victory for Hernandez to be victory, coming from behind after Luellen scored first.
184 – No. 5 Asher Eichert (Life) def. No. 14 Coleman Bryant (Southeastern), DEC 5-2
Eichert was the second-place finisher during the 2021 NAIA Championships and won the third title for the school on the night. Bryant, the lowest seed to make the Championship Round faced against a conference opponent.
197 – No. 3 Owen Braungardt (Grand View) def. No. 1 Zane Lanham (Life), DEC 6-1
Braungardt got a takedown near the end of the second period, giving him a commanding lead. As he cruised to victory over the reigning NAIA champ by recording just under three minutes of riding time.
285 – No. 1 Greg Hagan (Grand View) def. No. 3 Austin Harris (Life), FALL 1:43
During the last bout of the evening, the highest seed in the bracket - Hagan - saved his best for last. After twice losing in the finals, Hagan puts a bow on his Viking career with a stunning pin over Harris.
Awards:
Nick Mitchell of Grand View (Iowa) wins Coach of the Year.
Gulomjon Abdullaev of Menlo (Calif.) named Wrestler of the Year and
Shea Ruffridge of Grand View (Iowa) selected as Outstanding Wrestler of the Year.
Dalton Mayer of Thomas More (Ky.) was selected as the Gorriaran award Winner. (4 Pins in 5:10)
NAIA MEN'S NATIONALS
At Park City, Kansas, March 3-4
125
1st Place Match - 2 Brandon Orum (Life) won by decision over 4 Hunter Sparks (Eastern Oregon) Dec 5-4
3rd Place Match - 7 Trevor Marsman (Cornerstone) won by decision over 6 Dennis McNeal (Brewton-Parker ) (Dec 8-5)
5th Place Match - 14 Riley Siason (Menlo) won by decision over 1 Esco Walker (Grand View) (Dec 3-1)
7th Place Match - 5 Isaac Crowell (Southeastern) won by decision over 11 Conner Diamond (Lindsey Wilson) (Dec 3-0)
133
1st Place Match - 3 Gulomjon Abdullaev (Menlo) won by decision over 1 Carson Taylor (Grand View) Dec 7-3
3rd Place Match - 7 Evan Potter (Southern Oregon) won in sudden victory - 1 over 4 Blake Mulkey (Marian) (SV-1 3-1)
5th Place Match - 15 Sammy Shires (Cumberland) won by fall over 8 Joe Lupton (Graceland) (Fall 1:32)
7th Place Match - 6 Jovan Garcia (Menlo) won by decision over 5 Matt Gimson (Indiana Tech) (Dec 9-4)
141
1st Place Match - 5 Shea Ruffridge (Grand View) won by decision over 2 Julian Hernandez (Life) Dec 8-1
3rd Place Match - 1 Baterdene Boldmaa (Doane) won by decision over 6 Patrick Gould (Keiser) (Dec 8-5)
5th Place Match - 7 Cade Manion (Oklahoma City) won by decision over 8 Asa Garcia (Marian) (Dec 5-2)
7th Place Match - 13 Chasen Brown (Cumberlands) won by decision over David Pierson (St. Thomas) (Dec 3-2)
149
1st Place Match - 3 Brevin Balmeceda (Life) won by decision over 1 Ryan Moore (Thomas More) Dec 2-1
3rd Place Match - 2 Blake Gonzalez (Grand View) won in sudden victory - 1 over 10 Jace Luchau (Cumberlands) (SV-1 7-1)
5th Place Match - 5 Keegan Luton (Oklahoma City) won by decision over 9 Nathan Lendt (Doane) (Dec 1-0)
7th Place Match - 13 Trent Johnson (Lindsey Wilson) won by decision over 8 John Diener (Morningside) (Dec 11-4)
157
1st Place Match - 5 Sal Silva (Southeastern) won in sudden victory - 1 over 2 Israel Casarez (Grand View) SV-1 3-1
3rd Place Match - 1 Giovanni Bonilla (Grand View) won by decision over 10 Donald Griffin (Central Methodist) (Dec 5-3)
5th Place Match - 4 Wilder Wichman (Thomas More) won in sudden victory - 1 over 3 Nate Wheeler (Indiana Tech) (SV-1 3-1)
7th Place Match - 6 Steven Villalobos (Life) won by decision over 9 Trevor Burdick (Reinhardt) (Dec 5-3)
165
1st Place Match - 6 Rysan Leong (Menlo) won by decision over 4 David Rubio (Corban) Dec 4-3
3rd Place Match - 3 Cole Smith (Cumberland) won by decision over 2 Marty Margolis (Grand View) (Dec 2-0)
5th Place Match - 12 Matt Jenkins (Reinhardt) won by medical forfeit over 1 Jack Bass (Life) (MFF)
7th Place Match - 10 Shadrick Slone (Campbellsville) won by decision over Bridger Hall (Providence) (Dec 6-1)
174
1st Place Match - 3 Gerardo Hernandez (Vanguard) won in sudden victory - 1 over 1 Isaiah Luellen (Grand View) SV-1 3-1
3rd Place Match - 2 Riley Smucker (Life) won by decision over 4 Nakoda Siegel (Montana State - Northern) (Dec 6-4)
5th Place Match - 8 Cole Tenety (Reinhardt) won by decision over 10 Douglas Peppers (Southeastern) (Dec 8-5)
7th Place Match - 5 Stephen Kelle (Southeastern) won by decision over 6 Chinges Tsermaa (Doane) (Dec 8-2)
184
1st Place Match - 5 Asher Eichert (Life) won by decision over 14 Coleman Bryant (Southeastern) Dec 5-2
3rd Place Match - 2 Ben Lee (Grand View) won by decision over 1 Eric Vermillion (Indiana Tech) (Dec 2-0)
5th Place Match - 7 Sawyer Hobbs (Providence) won by major decision over 3 J.D. Perez (Ottawa) (Maj 15-7)
7th Place Match - Austin Vanek (Montana State - Northern) won in sudden victory - 1 over Sam Irwin (Reinhardt) (SV-1 7-5)
197
1st Place Match - 3 Owen Braungardt (Grand View) won by decision over 1 Zane Lanham (Life) Dec 6-1
3rd Place Match - 2 Bradley Antesberger (Doane) won in sudden victory - 1 over 4 Malachi Karibo (Baker) (SV-1 3-1)
5th Place Match - 15 Nathan Critchfield (Indiana Tech) won by medical forfeit over 7 Jack Servies (Marian) (MFF)
7th Place Match - 9 Tucker Tomlinson (Ottawa) won by decision over 16 Elijah Hynes (Central Methodist) (Dec 4-0)
285
1st Place Match - 1 Greg Hagen (Grand View) won by fall over 3 Austin Harris (Life) Fall 1:43
3rd Place Match - 5 Gabe Jacobs (Southeastern) won by fall over 2 KC Buday (Providence) (Fall 6:12)
5th Place Match - 7 Daulton Mayer (Thomas More) won by fall over 14 Noel Orozco (Eastern Oregon) (Fall 1:11)
7th Place Match - 10 Earnest Johnson (Keiser) won by major decision over David Toese (Graceland) (Maj 12-0)
Team Standings
1 Grand View 206.0
2 Life 157.5
3 Southeastern 90.0
4 Menlo 74.0
5 Indiana Tech 61.0
6 Doane 54.0
7 Marian 52.5
8 Thomas More 52.5
9 Cumberland 46.0
10 Providence 45.0
11 Reinhardt 44.0
12 Eastern Oregon 42.0
13 Ottawa 39.5
14 Central Methodist 33.5
15 Campbellsville 31.5
16 Cumberlands 31.5
17 Montana State - Northern 31.5
18 Keiser 30.5
19 Oklahoma City 26.5
20 Baker 25.0