News
USA Wrestling
College
USAW
Penn State, with six finalists, leads Iowa by 11.5 points after day one of Big Ten Championships
by USA Wrestling and Penn State Athletics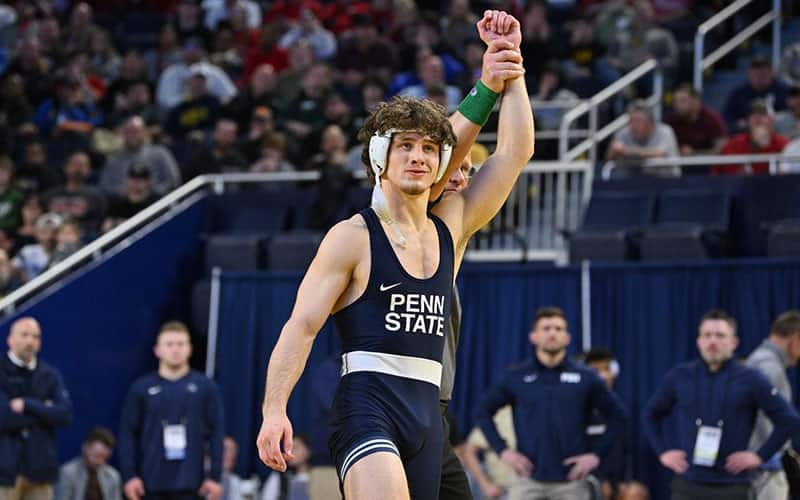 Levi Haines (Penn State) image courtesy of Penn State Athletics
ANN ARBOR, Mich. – No. 1 Penn State, with six finalists, took an 11.5 point lead over No. 2 Iowa after the first day of the Big Ten Championships held at Michigan.
Penn State finalists are Roman Bravo-Young (133), Levi Haines (157), Carter Starocci (174), Aaron Brooks (184), Max Dean (197) and Greg Kerkvliet (285).
Iowa finalists are Spencer Lee (125), Real Woods (141) and Patrick Kennedy (165).
Rounding out the top five teams are Nebraska in third with 98.5 points, Ohio State in fourth with 77 points and Minnesota in fifth with 73 points.
Penn State press release by Pat Donghia
Nittany Lion Wrestling Advances Six to B1G Finals
ANN ARBOR, Mich.; March 4, 2023 – The Penn State Nittany Lions (16-0, 8-0 B1G) will have six wrestlers competing in the 2023 Big Ten Finals set for tomorrow, Sunday, March 5 in Ann Arbor, Mich. Penn State has qualified nine wrestlers for the NCAA Championships in two weeks. The two-day event concludes tomorrow with consolation action at 1:00 p.m. and the Big Ten Finals set for 4:30 p.m. Eastern. All individual rankings listed are InterMat (Feb. 21, 2023).
The Nittany Lions went 6-1 in the semifinals, tying the school record for Big Ten finalists (2019). Head coach Cael Sanderson's crew sits atop the team race with 120.0 points while Iowa (105.5) and Nebraska (98.5) follow in second and third. Senior Max Dean picked up his 100th career win during the session as well.
Roman Bravo-Young, ranked No. 1 at 133 and the top-seed, met No. 11 Dylan Ragusin of Michigan in the first of Penn State's seven semifinal bouts. Bravo-Young scored quickly, taking Ragusin down for two points and an early 2-1 lead. The Nittany Lion bulled through a second takedown at the :45 mark to open up a 4-1 lead and then finished the period on top to carry that lead, with 1:00 in riding time, into the second stanza. Bravo-Young worked his way to an escape and a 5-1 lead to open up the second stanza. After having a takedown reversed on review, Bravo-Young fought off a late Ragusin shot and led 5-1 after two. Bravo-Young built his riding time up over 1:00 before Ragusin escaped to a 5-2 score. Bravo-Young finished the bout with a takedown and a riding time point to post the 8-2 win and move into the Big Ten finals on Sunday.
Levi Haines, ranked No. 7 at 157 and the second seed, took on No. 6 Kendall Coleman of Purdue in his semifinal match-up. Haines and Coleman battled evenly for opening period, sending the bout to the second tied 0-0. Haines chose down to start the second period and quickly escaped to a 1-0 lead. Haines worked his way in on a low single and forced a scramble that lead to a takedown to open up a 3-0 lead at 1:24. Coleman rolled to an escape on a reset to cut Haines' lead to 3-1 midway through the period. Haines carried that lead into the third where Coleman escaped to a 3-2 lead to start the last stanza. Haines controlled the action in neutral for the rest of the period and posted the 4-3 victory to move into Sunday's Big Ten title bout.
Carter Starocci, ranked No. 1 at 174 and the top seed, battled No. 8 Bailee O'Reilly of Minnesota in the semis. Starocci worked shoulder control into a low shot and a takedown on the edge of the mat, opening up a 2-0 lead at 1:54. Starocci stayed aggressive on offense throughout the opening period and notched a second takedown late and led 4-1 after one. O'Reilly started the second period on bottom and Starocci built his riding time edge well over 1:00. He cut O'Reilly loose midway through the period and led 4-2 with 1:51 in time after two. Starocci escaped to a 5-2 lead quickly in the third. He took the Gopher down a third time late in the period and, with riding time, rolled to the 8-2 win. Starocci's victory moved him into Sunday's Big Ten title match.
Aaron Brooks, ranked No. 1 at 184 and the top seed, met No. 8 Matt Finesilver of Michigan in his semifinal match. Brooks and Finesilver battled through the opening minute evenly before Brooks blew through a high double to open up a 2-1 lead. Brooks worked Finesilver to the mat for a second takedown and led 4-2, then added a third one late and finished on top to lead 6-2 after the opening period. Brooks continued to pour on the offense in the second, picking up a fourth takedown, then a fifth at 1:00 to open up a 10-4 lead. Brooks worked his riding time edge up over 1:00, picked up a stall point and then took Finesilver down again to lead 13-5 after two. Brooks tacked on two more takedowns, clinched his riding time point, and finished the period on top to roll to the 18-6 major decision.
Max Dean, ranked No. 3 at 197 and the top seed, took on No. 12 Jacob Warner of Iowa in the semis. Dean and Warner worked the middle of the mat in neutral for the bulk of the first period and finished it in a scoreless tie. Dean chose down to start the second period and escaped to a 1-0 lead at the 1:25 mark. Dean slid through a fast low shot and finished it off for a takedown and a 3-0 lead with :45 left in the period. Dean finished the period on top and led 3-0 after two. Warner quickly escaped to a 3-1 score to start the third period. Dean worked the middle of the mat for the remainder of the period and finished off the 3-1 victory. The win moved Dean into the finals on Sunday and was the 100th victory of his career.
Greg Kerkvliet, ranked No. 2 at 285 and the second seed, faced No. 3 Tony Cassioppi of Iowa in Penn State's final semifinal bout of the evening. Kerkvliet took a 2-0 lead midway through the opening period with a strong double at the 1:02 mark. He dominated the action on top after the takedown and finished off the period on top to lead 2-0 with 1:02 in riding time after one. Kerkvliet took down to start the second and patiently worked his way to a reversal and a 4-0 lead. He rode Cassioppi out once again and led 4-0 with 1:22 in riding time after two periods. Cassioppi chose down to start the final stanza and but Kerkvliet was unrelenting on top, controlling the Hawkeye for the full two minutes and rolling to a 5-0 win with 3:12 in riding time. His victory pushed him into Sunday's Big Ten finals, Penn State's sixth finalist.
BIG TEN CHAMPIONSHIPS
At Ann Arbor, Mich.

Finals pairings
125 - Spencer Lee (Iowa) vs. Liam Cronin (Nebraska)
133- Roman Bravo-Young (Penn State) vs. Aaron Nagao (Minnesota)
141- Real Woods (Iowa) vs. Brock Hardy (Nebraska)
149- Sammy Sasso (Ohio State) vs. Michael Blockhus (Minnesota)
157- Peyton Robb (Nebraska) vs. Levi Haines (Penn State)
165- Dean Hamiti (Wisconsin) vs. Patrick Kennedy (Iowa)
174- Carter Starocci (Penn State) vs. Mikey Labriola (Nebraska)
184- Aaron Brooks (Penn State) vs. Kaleb Romero (Ohio State)
197- Max Dean (Penn State) vs. Silas Allred (Nebraska)
285- Mason Parris (Michigan) vs. Greg Kerkvliet (Penn State)
Semifinals results
125
Semifinal - Spencer Lee (Iowa) 15-0 won by tech fall over Patrick McKee (Minnesota) 12-5 (TF-1.5 6:51 (20-2))
Semifinal - Liam Cronin (Nebraska) 20-3 won by decision over Michael DeAugustino (Northwestern) 8-7 (Dec 2-1)
133
Semifinal - Roman Bravo-Young (Penn State) 15-0 won by decision over Dylan Ragusin (Michigan) 16-7 (Dec 8-2)
Semifinal - Aaron Nagao (Minnesota) 18-3 won in sudden victory - 1 over Jesse Mendez (Ohio State) 14-4 (SV-1 6-4)
141
Semifinal - Real Woods (Iowa) 15-0 won by decision over Frankie Tal Shahar (Northwestern) 12-5 (Dec 3-0)
Semifinal - Brock Hardy (Nebraska) 27-4 won by decision over Beau Bartlett (Penn State) 20-2 (Dec 7-3)
149
Semifinal - Sammy Sasso (Ohio State) 24-2 won by decision over Max Murin (Iowa) 17-4 (Dec 8-2)
Semifinal - Michael Blockhus (Minnesota) 17-4 won by decision over Graham Rooks (Indiana) 25-7 (Dec 6-2)
157
Semifinal - Peyton Robb (Nebraska) 25-0 won by decision over Chase Saldate (Michigan State) 24-5 (Dec 4-3)
Semifinal - Levi Haines (Penn State) 20-1 won by decision over Kendall Coleman (Purdue) 27-4 (Dec 3-2)
165
Semifinal - Dean Hamiti (Wisconsin) 20-3 won by major decision over Carson Kharchla (Ohio State) 11-4 (MD 14-2)
Semifinal - Patrick Kennedy (Iowa) 19-2 won by decision over Cameron Amine (Michigan) 11-3 (Dec 3-2)
174
Semifinal - Carter Starocci (Penn State) 18-0 won by decision over Bailee O`Reilly (Minnesota) 17-4 (Dec 8-2)
Semifinal - Mikey Labriola (Nebraska) 25-0 won by decision over Ethan Smith (Ohio State) 17-6 (Dec 4-3)
184
Semifinal - Aaron Brooks (Penn State) 11-1 won by major decision over Matt Finesilver (Michigan) 22-6 (MD 18-6)
Semifinal - Kaleb Romero (Ohio State) 21-4 won by decision over Isaiah Salazar (Minnesota) 15-2 (Dec 3-2)
197
Semifinal - Max Dean (Penn State) 20-2 won by decision over Jacob Warner (Iowa) 14-5 (Dec 3-1)
Semifinal - Silas Allred (Nebraska) 25-5 won by decision over Zac Braunagel (Illinois) 22-6 (Dec 4-3)
285
Semifinal - Mason Parris (Michigan) 27-0 won by decision over Trent Hillger (Wisconsin) 16-7 (Dec 9-3)
Semifinal - Greg Kerkvliet (Penn State) 15-1 won by decision over Tony Cassioppi (Iowa) 19-3 (Dec 5-0)
Team Standings After Day One
1 Penn State 120.0
2 Iowa 108.5
3 Nebraska 98.5
4 Ohio State 77.0
5 Minnesota 73.0
6 Michigan 67.0
7 Northwestern 64.0
8 Wisconsin 46.5
9 Illinois 36.5
9 Purdue 36.5
11 Rutgers 30.0
12 Indiana 27.0
12 Michigan State 27.0
14 Maryland 19.5