News
USA Wrestling
College
USAW
BIG TEN FEATURE: Levi Haines the 'crystal clear' choice for Penn State at 157
by Andy Elder, Special to TheMat.com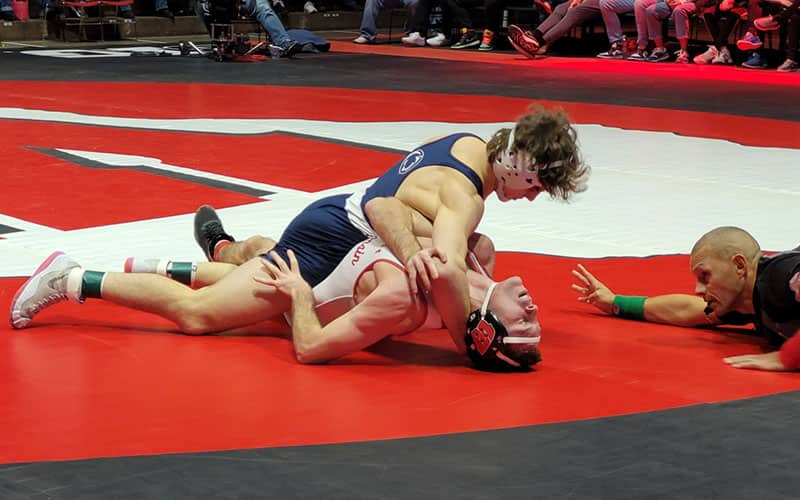 Levi Haines (Penn State) works for the fall. Photo courtesy of Penn State Athletics
.
UNIVERSITY PARK, Pa. — It was Jan. 3, the calendar had just turned to 2023 and
Cael Sanderson
was meeting the media for the first time in the new year.
The last time his Nittany Lions were on the mat, they were sweeping to three wins Dec. 19-20 in the Collegiate Wrestling Duals. True freshman
Levi Haines
, subbing in at 157 pounds for a "banged up" Terrell Barraclough, posted a fall and two decisions.
Throughout the early portion of the season, Sanderson had been asked about who would eventually win the weight. He repeatedly cited Barraclough's improvement and said the coaches would let it play out.
Even after Haines nipped Barraclough, 2-1, on Nov. 20 in the finals of the Black Knight Open at Army West Point, Barraclough started the next three duals, going 2-1.
With the Big Ten portion of the schedule just three days away, fans and media alike wanted to know who Penn State's starter at 157 would be for the rest of the season. Would it be the junior, Barraclough, or the true freshman, Haines?
"Is that your hope? That he (Haines) makes it tough on you guys to make that call?" a reporter asked Sanderson on that early January afternoon.
"Uh, I don't know if you'd want him to make it tough," Sanderson responded. "You'd want him to make the answer crystal clear. That would be better."
Haines started the first two Big Ten duals of the season and, at least from the outside looking in, was starting to make a clear case as the starter. He majored No. 16 Garrett Model of Wisconsin, 16-6, in Madison. Then, in the next dual two weeks later, Haines thrilled a record Bryce Jordan Center crowd of 15,998 with his 3-1 sudden victory win over No. 10 Will Lewan of Michigan.
Barraclough got one final shot, two days later in East Lansing, Michigan. He dropped a 6-2 decision to Michigan State's No. 15 Chase Saldate.
Decision time
With No. 2 Iowa looming five days later back in the BJC, Sanderson had reached a tipping point. Haines had exhausted his five free competition dates. Under the new NCAA guideline for freshmen, if he stepped on the mat against the Hawkeyes, his redshirt would be burned.
Haines got the start and immediately showed why the decision was "crystal clear" for Sanderson and his staff. He hit a double on No. 15 Cobe Siebrecht with 1:22 left in the match for the winning points in a 3-2 win.
His win that night, and what Haines had been displaying in the wrestling room, left his teammates knowing it was the right decision.
"It's been exciting. It's like he was anointed," 184-pounder Aaron Brooks said. "How young he is, how calm he is … I was talking to him after his match. He (nearly) got put to his back early and he's chillin. He smiles about it. He won two big matches in the BJC. I think it's great for him to go out here and get this experience because the more he wrestles, the better he gets. So, it's been exciting. I'm just making sure he's good spiritually, mentally. The physical will do itself."
Sanderson said the key to bringing someone off redshirt in the middle of the season is gaining consensus.
"I think the big thing is just making sure everybody's on the same page. You can't have a house divided. I mean, with their family, with the kid, with the team, the coaches, everybody. I's something that the kid and their family have to be excited about. Levi's excited to compete and, and he's ready, as we've seen. His family is supportive," he said.
"Now it's up to him. Same thing with everybody. You take advantage of opportunities or you don't and then the next one comes. It's up to Levi to make sure it was the right experience. Even then, he's gonna compete with enthusiasm, which is, you know, the most important thing."
Haines hasn't looked back. He finished the season with a fall, a major decision and a pair of 8-2 decisions. He's not really been challenged. His intensity and confidence seemed to grow with each successive bout.
"Yeah, it's definitely accurate," he said. "I'm just kind of growing up and learning a little bit something from each and every match."
Haines finished the regular season with an 18-1 record, a No. 7 national ranking and a No. 2 seed for the Big Ten Championships, which are scheduled for Saturday and Sunday at the Crisler Center in Ann Arbor, Michigan.
Choosing a less traveled path
Haines started making a name for himself during his freshman year at Biglerville High School in south central Pennsylvania. He was a state runner-up as both a freshman and sophomore. He finally broke through during his junior year, compiling a 30-0 record and winning a PIAA title.
As the son of two parents who were college athletes — Ken Haines wrestled and played soccer at Lock Haven University, while his mother, Aimee, played field hockey and lacrosse at Lock Haven — Haines probably knew better than most that he would need the best preparation possible to compete in college.
He verbally committed to Penn State in May of 2021, two months after winning his state title. And, he was looking forward to competing internationally as a member of the U.S. Cadet World team later that summer.
When it came time for his senior season, Haines opted to forgo his senior season of high school wrestling.
He was training with former Nittany Lion standout and U.S. freestyle gold medalist David Taylor at his training center in Pleasant Gap, which is about 10 miles northeast of the Penn State campus. And he trained with the Nittany Lion Wrestling Club at Penn State.
In addition, he entered and won two collegiate open tournaments, the Edinboro Open and the Franklin & Marshall Open.
"My senior year, it was a tough decision. But, ultimately it came down to I wanted to challenge myself and I knew I was going to get much better coming in here and getting better partners and the best coaching in the world. So, it was a hard decision, but it was no doubt the right decision," he said.
"My decision to come to Penn State was pretty easy for me. I've been wrestling for David (Taylor) and I'm from Pennsylvania. I grew up watching Penn State wrestle. I came here and clicked with the coaches. I've been in their system of wrestling training with David. It was a pretty easy decision. It's the best place in the world to wrestle. You see guys coming here constantly to continue their careers after college. So, it was kind of a no-brainer."
With all of that past preparation as prologue, Haines is one of the favorites to challenge for a Big Ten title at 157 and earn a berth to the NCAA Championships on March 16-18 at the BOK Center in Tulsa, Oklahoma.
He's never experienced a tournament as chock full of talent as Big Tens. But at least one person, teammate Carter Starocci, doesn't seem to think that experience will matter.
"I think when you're ready, you're ready," he said. "If you're a freshman, junior, sophomore, it doesn't matter."
Is Haines ready? Tune in this weekend to find out.