News
USA Wrestling
High School & Youth
USAW
Pennsylvania Blue defeats Ohio 46-31, doubles up at 14U National Duals
by Richard Immel, USA Wrestling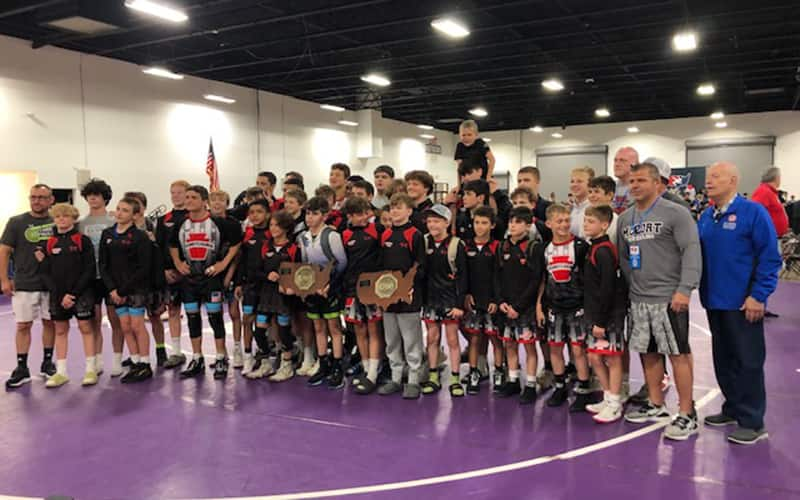 Photo: Pennsylvania Blue after capturing the 14U National Duals freestyle title. (Joe Stabilito)
OAKS, Pa. –The star-studded Pennsylvania Blue squad took 11-of-18 matches from Ohio to claim the freestyle crown at the 14U National Duals. The 46-31 win gave The Keystone State first place and national bragging rights in both freestyle and Greco-Roman.
The championship dual, which was a rematch of the Greco-Roman final held on Friday, began with a bang for Pennsylvania Blue, who won four of the first five bouts by either technical fall or fall. Alek Palko of Pennsylvania Blue kicked the dual off at 136 pounds with a 10-0 technical fall over Ohio's Andrew Moro. Mario Hutcherson, Chase Hetrick and Kevin Oswalt helped keep the Pennsylvania Blue momentum strong early on with impressive victories.
Jakob Hoke got Ohio on the board with its first win in the 149-pound contest. He edged Chaney Lewis Jr by a 6-5 tally. Ohio wouldn't score another win until the match order dropped down to the lightweights as Jaxon Holtz picked up a 6-4 decision win at 71 pounds.
Most of the remaining bouts were tightly contested with Pennsylvania Blue picking up five wins by regular decision compared to three for Ohio. Pennsylvania Blue also scored technical fall wins from Aiden Kunes at 114 pounds and James Whitbred at 130 pounds to cap off the dual. Similarly, Ohio had two bonus-point victories in the back half of the dual from Cohen Reer at 83 pounds and Urijah Lopez at 110 pounds.
Other members of the golden Pennsylvania Blue crew to secure victories in the finals were Kooper Deputy at 77 pounds, Keegan Bassett at 87 pounds, Max Dinges at 92 pounds, Mateo Gallegos at 97 pounds and Greyson Music at 119 pounds.
Illinois pulled a reversal in the third-place dual, ousting Wisconsin 47-36 in a rematch of the Greco-Roman medal match won by The Badger State crew. Three Illinois athletes picked up pivotal pins in the match: Radic Dvorak at 149 pounds, Isaac Barrientos at 165 pounds and Thomas Banas at 125 pounds.
Minnesota Blue catapulted by Missouri Red in the fifth-place match thanks to nine bonus-point victories. Heavyweight Andrew Olson and 83-pounder Odin Duncombe won by pin for Minnesota Blue, while Tyler Ruff, Garrett Bjerga, Sully Marx, Gage Bjerga, Connor Surrette, Lincoln Robideau and Zane Engels each won via technical fall.
Iowa battled back for a seventh-place finish after completing a 47-32 win over Georgia. Tyde Nelsen, Riley Watts and Hayden Hutt boosted Iowa to the win with quick pins.
Complete brackets and match-by-match results can be found at Trackwrestling.com. Archived matches from the event are available at FloWrestling.com.
Pennsylvania Blue was No. 3 in the pre-event seeding, behind Illinois, which finished third and Ohio who topped the pre-event seeding.

The All-Tournament Team for the 14U Nationals Duals will be announced this week.
14U Freestyle National Duals
At Oaks, Pa., June 6
Gold/Silver Pool Results
Team Standings
1st Place - Pennsylvania Blue
2nd Place - Ohio
3rd Place - Illinois
4th Place - Wisconsin
5th Place - Minnesota Blue
6th Place - Missouri Red
7th Place - Iowa
8th Place - Georgia
1st Place Match
Pennsylvania Blue defeated Ohio, 46-31
136 lbs. – Alek Palko (Pennsylvania Blue) tech. fall Andrew Moro (Ohio), 10-0
149 lbs. – Jakob Hoke (Ohio) dec. Chaney Lewis Jr (Pennsylvania Blue), 6-5
165 lbs. – Mario Hutcherson (Pennsylvania Blue) tech. fall Xander Horak (Ohio), 13-0
187 lbs. – Chase Hetrick (Pennsylvania Blue) fall Henry Pasterkiewicz (Ohio), 0:42
250 lbs. – Kevin Oswalt (Pennsylvania Blue) fall Jacob Purtee (Ohio), 0:18
71 lbs. – Jaxon Holtz (Ohio) dec. Leo Murillo (Pennsylvania Blue), 6-4
77 lbs. – Kooper Deputy (Pennsylvania Blue) dec. Rylen Wax (Ohio), 12-6
83 lbs. – Cohen Reer (Ohio) tech. fall Nico Emili (Pennsylvania Blue), 10-0
87 lbs. – Keegan Bassett (Pennsylvania Blue) dec. Tommy Wurster (Ohio), 3-1
92 lbs. – Max Dinges (Pennsylvania Blue) dec. William Schork (Ohio), 4-2
97 lbs. – Mateo Gallegos (Pennsylvania Blue) dec. Conner Whitely (Ohio), 5-2
102 lbs. – Grayson Debevoise (Ohio) dec. Jax Fuhrman (Pennsylvania Blue), 7-4
106 lbs. – Weston Borgers (Ohio) dec. Izaya Schickley (Pennsylvania Blue), 3-2
110 lbs. – Urijah Lopez (Ohio) fall Austin Barnash (Pennsylvania Blue), 2:25
114 lbs. – Aiden Kunes (Pennsylvania Blue) tech. fall Grady Hayden (Ohio), 14-4
119 lbs. – Greyson Music (Pennsylvania Blue) dec. Joel Brink (Ohio), 15-11
125 lbs. – Tommy Rowlands (Ohio) dec. Nolan Savage (Pennsylvania Blue), 7-1
130 lbs. – James Whitbred (Pennsylvania Blue) tech. fall Gavin Cantera (Ohio), 12-1
3rd Place Match
Illinois defeated Wisconsin, 47-36
136 lbs. – Owen Schacht (Wisconsin) tech. fall Davian Hall (Illinois), 12-2
149 lbs. – Radic Dvorak (Illinois) fall Elias Reed (Wisconsin), 2:43
165 lbs. – Isaac Barrientos (Illinois) fall Leland Havens (Wisconsin), 2:59
187 lbs. – Reed Falk (Wisconsin) tech. fall Blake Livdahl (Illinois), 10-0
250 lbs. – Garrett Dagestad (Wisconsin) fall Michael Hardin (Illinois), 0:37
71 lbs. – Eldon Roth (Wisconsin) dec. Dominic DeMarco (Illinois), 4-4
77 lbs. – Hogan Rice (Illinois) tech. fall Bryce Feran (Wisconsin), 10-0
83 lbs. – Michael Rundell (Illinois) tech. fall Brodey Lewis (Wisconsin), 11-0
87 lbs. – Obadiah Willis (Illinois) dec. Isaac Weber (Wisconsin), 10-6
92 lbs. – Colton Schultz (Illinois) tech. fall Kolten Bollig (Wisconsin), 14-4
97 lbs. – Zahn Beal (Wisconsin) tech. fall Brady Glynn (Illinois), 10-0
102 lbs. – Martez Sheard (Wisconsin) tech. fall Aidan McClure (Illinois), 12-2
106 lbs. – Lukas Foster (Illinois) tech. fall Parker Neu (Wisconsin), 12-2
110 lbs. – Shane Stream (Illinois) winner by forfeit
114 lbs. – John Hanrahan (Illinois) tech. fall Alexander Penzkover (Wisconsin), 18-6
119 lbs. – Carson Neubert (Wisconsin) fall Aiden Arnett (Illinois), 1:18
125 lbs. – Thomas Banas (Illinois) fall Collin Hamm (Wisconsin), 1:00
130 lbs. – Tomm Heiser (Wisconsin) dec. Ethan Sonne (Illinois), 16-9
5th Place Match
Minnesota Blue defeated Missouri Red, 47-30
136 lbs. – Lake Waters (Missouri Red) tech. fall Tyson Newman (Minnesota Blue), 10-0
149 lbs. – Henrik Sperlazza (Minnesota Blue) winner by forfeit
165 lbs. – Tyler Ruff (Minnesota Blue) tech. fall Tyrus Alley (Missouri Red), 10-0
187 lbs. – Kaleb Curbelo (Missouri Red) winner by forfeit
250 lbs. – Andrew Olson (Minnesota Blue) fall Matthew Kelley (Missouri Red), 0:35
71 lbs. – Tevor Cole (Missouri Red) tech. fall Evann Linn (Minnesota Blue), 10-0
77 lbs. – John Cox (Missouri Red) dec. Gavin Hoeft (Minnesota Blue), 10-4
83 lbs. – Odin Duncombe (Minnesota Blue) fall Dalton McDaniel (Missouri Red), 3:53
87 lbs. – Garrett Bjerga (Minnesota Blue) tech. fall Roper Niemeier (Missouri Red), 13-0
92 lbs. – Rowdy Angst (Missouri Red) tech. fall Patrick Heim (Minnesota Blue), 12-0
97 lbs. – Sully Marx (Minnesota Blue) tech. fall George Bringus (Missouri Red), 10-0
102 lbs. – Kyler Thier (Minnesota Blue) dec. Chance Harrell (Missouri Red), 17-15
106 lbs. – Gage Bjerga (Minnesota Blue) tech. fall Gavin Shelton (Missouri Red), 10-0
110 lbs. – Connor Surrette (Minnesota Blue) tech. fall Kennan Beatty (Missouri Red), 10-0
114 lbs. – Lincoln Robideau (Minnesota Blue) tech. fall Luke Cline (Missouri Red), 13-3
119 lbs. – Michael Poulette (Missouri Red) tech. fall Kane Johnson (Minnesota Blue), 10-0
125 lbs. – Colin Rutlin (Missouri Red) tech. fall Shane Thompson (Minnesota Blue), 10-0
130 lbs. – Zane Engels (Minnesota Blue) tech. fall Dominic Stinson (Missouri Red), 11-0
7th Place Match
Iowa defeated Georgia, 47-32
136 lbs. – Kevin Kilpatrick (Georgia) tech. fall Camron Bennett (Iowa), 10-0
149 lbs. – Parker Casey (Iowa) tech. fall Mihai Necula (Georgia), 10-0
165 lbs. – Tyde Nelsen (Iowa) fall William Hendrix (Georgia), 0:40
187 lbs. – Joe Constable (Iowa) tech. fall Canaan Goss (Georgia), 10-0
250 lbs. – Zane Taliaferro (Georgia) winner by forfeit
71 lbs. – Johnathan Thompson (Iowa) winner by forfeit
77 lbs. – Ariah Mills (Georgia) tech. fall Ty Martin (Iowa), 11-0
83 lbs. – Brighton Prine (Georgia) winner by forfeit
87 lbs. – Cody Clarke (Georgia) fall Dylan Williamson (Iowa), 2:45
92 lbs. – Cain Crosson (Iowa) inj. def. Bryson Drennen (Georgia), 0:51
97 lbs. – Tanner Hunt (Georgia) tech. fall Jaimon Mogard (Iowa), 12-2
102 lbs. – Double forfeit
106 lbs. – Hendrix Schwab (Iowa) inj. def. Keegan Dawkins (Georgia), 0:22
110 lbs. – Weston Porter (Iowa) tech. fall WALKER WOODARD (Georgia), 12-2
114 lbs. – Jon Gonzalez (Iowa) tech. fall Aiden West (Georgia), 10-0
119 lbs. – Riley Watts (Iowa) fall Lucian Brock (Georgia), 1:30
125 lbs. – Cruz Hezel (Georgia) tech. fall Colin Sesker (Iowa), 10-0
130 lbs. – Hayden Hutt (Iowa) fall Bear Bringer (Georgia), 0:42
Bronze/Copper Pool Results
Team Standings
1st Place - New Jersey
2nd Place - Florida
3rd Place - Maryland
4th Place - New York
5th Place - Michigan Blue
6th Place - California
7th Place - Oklahoma Blue
8th Place - West Virginia
1st Place Match
New Jersey defeated Florida, 55-22
3rd Place Match
Maryland defeated New York, 43-41
5th Place Match
Michigan Blue defeated California, 44-39
7th Place Match
Oklahoma Blue defeated West Virginia, 46-28
Red/Blue Pool Results
Team Standings
1st Place - Tennessee
2nd Place - Pennsylvania Red
3rd Place - Utah
4th Place - Colorado Red
5th Place - Kansas
6th Place - Oklahoma Red
7th Place - Minnesota Red
8th Place - Arkansas
1st Place Match
Tennessee defeated Pennsylvania Red, 46-37
3rd Place Match
Utah defeated Colorado Red, 51-30
5th Place Match
Kansas defeated Oklahoma Red, 41-40
7th Place Match
Minnesota Red defeated Arkansas, 53-30
Green/Yellow Pool Results
Team Standings
1st Place - Washington
2nd Place - Indiana
3rd Place - Virginia
4th Place - Idaho
5th Place - Missouri Blue
6th Place - Colorado Blue
7th Place - South Carolina
8th Place - Connecticut
1st Place Match
Washington defeated Indiana, 46-31
3rd Place Match
Virginia defeated Idaho, 45-30
5th Place Match
Missouri Blue defeated Colorado Blue, 52-14
7th Place Match
South Carolina defeated Connecticut, 27-19
Purple Pool Results
Team Standings
1st Place - Texas
2nd Place - North Carolina
3rd Place - Louisiana
4th Place - Kentucky
5th Place - Alabama
Round 1
Texas defeated Kentucky, 47-20
North Carolina defeated Louisiana, 45-32
Round 2
Louisiana defeated Alabama, 28-26
North Carolina defeated Kentucky, 48-27
Round 3
North Carolina defeated Alabama, 38-31
Texas defeated Louisiana, 37-29
Round 4
Texas defeated Alabama, 44-20
Louisiana defeated Kentucky, 32-31
Round 5
Kentucky defeated Alabama, 30-27
Texas defeated North Carolina, 47-33