Attao, Black secure back-to-back U20 World Team berths in Greco-Roman
by Richard Immel, USA Wrestling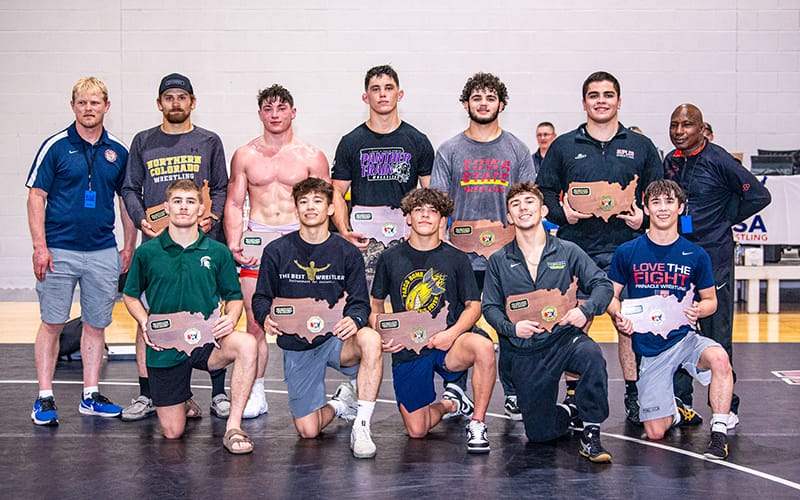 Photo: The 2023 U20 U.S. Greco-Roman World Team at the conclusion of today's U20 World Team Trials. (Sam Janicki/sjanickiphoto.com)

🎥
U20 World Team Trials Greco-Roman Champion Interviews
GENEVA, Ohio – The U20 U.S. World Team in Greco-Roman has been determined following an action-packed day of competition at Spire Academy just outside of Cleveland, Ohio.
Two members of last year's team will get another crack at the World Championships –
Aden Attao
of Suples WC and
Max Black
of NMU-National Training Center – after sweeping their Friday evening best-of-three championship series.
Attao, a bronze medal winner at the 2022 U20 World Championships in Sofia, Bulgaria, took two matches from 2021 Junior Greco-Roman Nationals champion Alex Semenenko of Brown RTC in the 130 kg championship series. Both matches ended early via technical fall.
In similar fashion, Black cruised through his championship series at 60 kg with 9-0 and 8-0 technical falls over the ascending Rhett Peak of Cowboy WC. Peak improved upon a fourth-place finish at the U20 Nationals in Las Vegas to finish in second this weekend.
U20 Nationals champion Richard Fedalen of New York City RTC was in position to join Attao and Black as repeat U20 World Team members but was upset in the 72 kg championship series by
Braden Stauffenberg
of Michigan WC in two tight matches. Stauffenberg himself was a U17 World Team member back in 2021 and won the Junior Greco-Roman Nationals in Fargo, N.D. last summer.
Reigning U17 World champion
Joel Adams
of The Best Wrestler upended U20 Nationals champion and 2021 U17 World Team member Jadon Skellenger of Team Idaho WC in the 67 kg championship series. The first bout in the series was a 4-3 decision favoring Adams. Match two was a different story as Adams blitzed Skellenger 9-0 in 35-seconds.
All told seven-of-ten U20 Nationals champions who earned the automatic bye into today's best-of-three championship series stood victorious at Spire Academy. In addition to Attao and Black,
Landon Drury
(63 kg),
Derek Matthews
(77 kg),
Michael Altomer
(82 kg),
Wyatt Voelker
(87 kg) and
Sawyer Bartelt
(97 kg) all resolidified themselves as the No. 1 in their respective weight class.
Drury, who trains under past Senior World Team member
Joe Betterman
at Betterman Elite Wrestling, was named the Outstanding Wrestler of the event with his performance. He defeated four-time Wisconsin state champion Rhett Koenig in the 63 kg championship series in two matches with scores of 10-0 and 11-0.
Only one championship series needed all three matches to determine a winner. Pinnacle Wrestling Club's
Zachary Silvis
battled back from a first match technical fall loss to defeat U20 Nationals champion Kenneth Crosby of NMU-National Training Center. Silvis improved upon a fourth-place finish in Las Vegas to take over the 55 kg spot.
The U20 U.S. Greco-Roman World Team will compete at the U20 World Championships in Warsaw, Poland, this August.
The U20 World Team Trials will continue tomorrow with the men's freestyle portion of the event. The tournament is slated to begin at 9:30 a.m. (CT) with the best-of-three finals starting at 4 p.m. (CT).
All the action from Geneva, Ohio, can be viewed live on
FloWrestling.com
with a subscription. Brackets and complete results are available on
FloArena
.
2023 U20 World Team Trials

At Spire Academy, Geneva, Ohio, June 2-4

U20 Greco-Roman Finals Results

55 kg

Best-of-three championship series
Zachary Silvis (Pinnacle WC) defeats Kenneth Crosby (NMU-National Training Center), two matches to one
Bout 1 – Crosby tech. fall Silvis, 9-0
Bout 2 – Silvis dec. Crosby, 7-6
Bout 3 – Silvis dec. Crosby, 4-1
60 kg

Best-of-three championship series
Max Black (NMU-National Training Center) defeats Rhett Peak (Cowboy WC), two matches to none
Bout 1 – Black tech. fall Peak, 9-0
Bout 2 – Black tech. fall Peak, 8-0
63 kg

Best-of-three championship series
Landon Drury (Betterman Elite Wrestling) defeats Rhett Koenig (Combat W.C. School of Wrestling), two matches to none
Bout 1 – Drury tech. fall Koening, 10-0
Bout 2 – Drury tech. fall Koening, 11-0
67 kg

Best-of-three championship series
Joel Adams (The Best Wrestler) defeats Jadon Skellenger (Team Idaho WC), two matches to none
Bout 1 – Adams dec. Skellenger, 4-3
Bout 2 – Adams tech. fall Skellenger, 9-0
72 kg

Best-of-three championship series
Braden Stauffenberg (Michigan WC) defeats Richard Fedalen (New York City RTC), two matches to none
Bout 1 – Stauffenberg dec. Fedalen, 8-5
Bout 2 – Stauffenberg dec. Fedalen, 12-9
77 kg

Best-of-three championship series
Derek Matthews (Northern Colorado WC) defeats Aydin Rix-McElhanney (Northern Colorado WC), two matches to none
Bout 1 – Matthews tech. fall Rix-McElhanney, 10-0
Bout 2 – Matthews tech. fall Rix-McElhanney, 10-0
82 kg

Best-of-three championship series
Michael Altomer (Curby 3-Style WC) defeats Brayden Gautreau (Northern Exposure WC), two matches to none
Bout 1 – Altomer tech. fall Gautreau, 8-0
Bout 2 – Altomer tech. fall Gautreau, 9-0
87 kg

Best-of-three championship series
Wyatt Voelker (Panther Wrestling Club RTC) defeats Tate Naaktgeboren (Big Game WC), two matches to none
Bout 1 – Voelker tech. fall Naaktgeboren, 10-1
Bout 2 – Voelker tech. fall Naaktgeboren, 8-0
97 kg

Best-of-three championship series
Sawyer Bartelt (Gladiator Wrestling) defeats Jack Darrah (Missouri), two matches to none
Bout 1 – Bartelt dec. Darrah, 2-1
Bout 2 – Bartelt tech. fall Darrah, 9-0
130 kg

Best-of-three championship series
Aden Attao (Suples WC) defeats Alex Semenenko (Brown RTC), two matches to none
Bout 1 – Attao tech. fall Semenenko, 10-2
Bout 2 – Ba Attao tech. fall Semenenko, 8-0
Richard Immel, USA
Wrestling