Order of Merit — Frank Popolizio
by National Wrestling Hall of Fame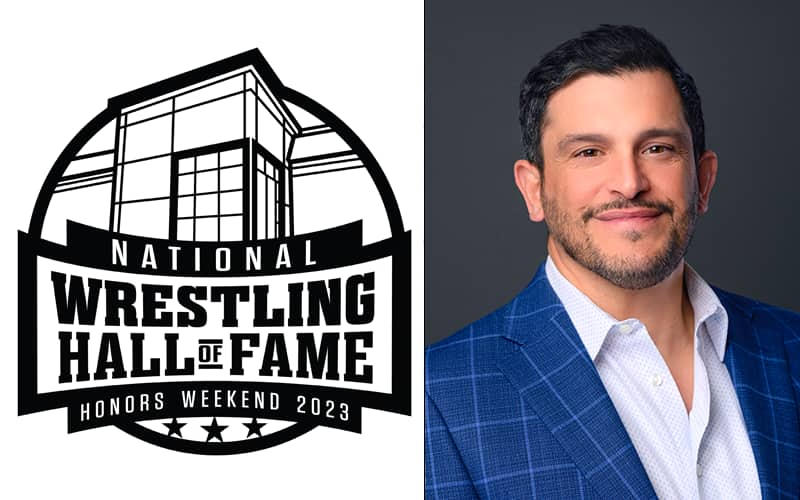 Frank Popolizio conceived "Journeymen Wrestling" in 1999, after experiencing the experiencing the excitement and atmosphere at Gallagher-Iba Arena while watching his younger brother Pat wrestle in a home dual for Oklahoma State University.
He returned home to Schenectady, New York, with the desire to bring that level of college wrestling to upstate New York while also promoting, teaching, advocating and showcasing amateur wrestling to New York's Capital Region.
Popolizio's first chore was convincing skeptical Division I wrestling coaches to bring their teams to Albany, New York for the Northeast Duals, a Thanksgiving weekend dual meet tournament. Through his passion and hard work the tournament has become a premier early-season event for top DI programs.
In 2004, Journeymen Wrestling launched a wrestling club for middle and high school athletes and later added a pee wee program. Popolizio also began hosting clinics and camps featuring wrestling luminaries, including National Wrestling Hall of Fame Distinguished Members Terry Brands, Tom Brands, Dan Gable, J Robinson, John Smith and Cael Sanderson and six-time World Champion and Olympic gold medalist Jordan Burroughs.
Popolizio not only focused on the success on the mat, but also on the importance of good moral character and sportsmanship.
Journeymen continued to grow, attracting wrestlers from all over New England, New Jersey, Ohio and Pennsylvania to participate in clinics and compete in tournaments.
Popolizio has partnered with FloWrestling and Rokfin to further advance the visibility of wrestling through nationally-recognized tournaments, including the Journeymen/RUDIS Fall Classic in Lancaster, Pennsylvania, the Pop & Flo National Duals in Lake Placid, New York, the Collegiate Wrestling Duals in New Orleans, the Journeymen/Defense Soap Collegiate Classic and WrangleMania in the Lehigh Valley of Pennsylvania.
In an effort to realize a modified round-robin format, Popolizio invested in and developed a unique software program called "Tournaflex." Tournaflex allows athletes to view like-level competition throughout an event, while also allowing them to get in and out of an event in a more efficient manner and providing a more fully enriching customer experience for participants and fans. Tournaflex is one of only a few still active in the wrestling arena today.
In 2018, Popolizio established the Journeymen/Adidas World Classic, currently the only Cadet/Junior international tournament held in the United States. The event has included many of the world's wrestling powers, including Kazakhstan, Kyrgyzstan, Mongolia, Russia and Uzbekistan. His experience with the tournament and relationships with foreign leaders has given him the honor to represent Team USA at the Cadet World Championships as team leader and coach for three straight years.
He was the architect for Tussle of the Troops, a dual between Oklahoma State and North Carolina State on the United States Naval Support Base in Naples, Italy and the first NCAA Division I wrestling match held outside of North America.
While creating and running Journeymen Wrestling, Popolizio has served and continues to work as an assistant coach at Shenendehowa High School.
He was named the New York State Assistant Coach of the Year in 2008-09 while the team has captured four state team titles.
Popolizio was introduced to wrestling at Niskayuna High School by Hall of Fame coach Joe Bena.
After a successful high school career, Popolizio enrolled at Hudson Valley Community College in Troy, New York.
During his two years at HVCC, he was instrumental in reinstating the school's National Junior College Athletic Association wrestling program.
After completing studies at Hudson Valley, Popolizio attended and graduated summa cum laude from Springfield College in Springfield, Massachusetts.
He subsequently returned to his alma mater and worked alongside his high school coach.
One of Popolizio's prized pupils was his younger brother, Pat, a New York State Public High School Athletic Association champion and three-time NCAA qualifier for Oklahoma State.
Pat became a successful college coach, beginning at Binghamton University and currently at North Carolina State, where he has developed the Wolf Pack into one of the nation's top programs.
Notable alumni from Journeymen Wrestling include Senior World bronze medalist and NCAA champion Nick Gwiazdowski, Senior Greco-Roman World Team member Jesse Porter, Junior World medalist Alexis Porter, Cadet World medalist Alexis Bleau, Cadet World Team member Stevo Poulin and WWE Raw Tag Team champion Matt Riddle.
Frank received the Lifetime Service to Wrestling award from the Upstate New York Chapter of the National Wrestling Hall of Fame in 2018.