No. 4 Iowa State wins last three bouts to beat Big 12 rival No. 10 Oklahoma State, 18-11 in Ames
by Andy Stubblefield, Iowa State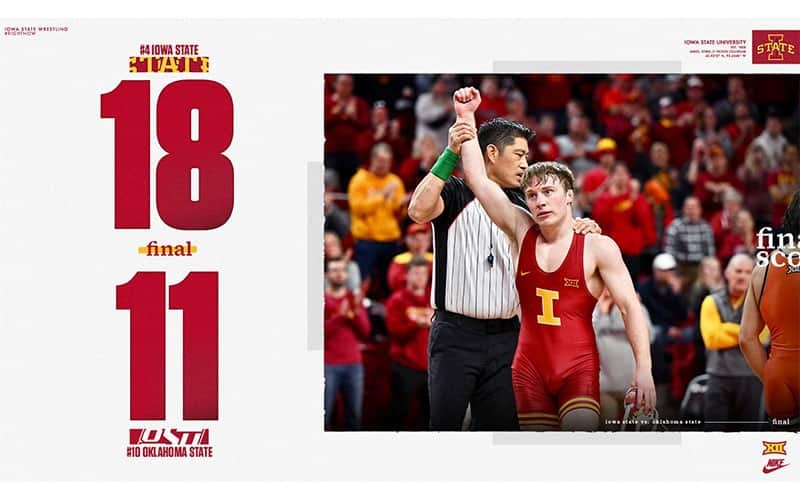 AMES, Iowa – No. 4 Iowa State (12-2, 5-0 Big 12) fended off a stiff challenge from No. 10 Oklahoma State (9-2, 5-1 Big 12) to win, 18-11, Sunday afternoon in front of an energized Hilton crowd.
The Cyclones trailed 11-8 with three matches remaining, but Marcus Coleman (184), Yonger Bastida (197) and Sam Schuyler (285) closed with three-straight wins to secure Iowa State's first home victory over Oklahoma State since 2009.
It marked ISU's 16th consecutive Big 12 dual victory dating back to the 2020-21 season.
In a dual where nine of 10 matches were decided by six points or less, the Cyclones won the takedown battle, 14-7.
Caleb Fuessley got things started with a 10-4 decision over Zach Blankenship at 125 pounds, highlighted by a feet-to-back dump for a takedown and two near fall points in the second period.
Oklahoma State picked up decisions at 133 and 141 pounds before Paniro Johnson righted the ship with a 3-1 victory over Victor Voinovich at 149 pounds. Johnson used a tilt in the second period for two near fall points which was the difference in the match.
David Carr won his 21st consecutive match with a workmanlike 5-3 decision against Wyatt Sheets. Carr was the aggressor in the win, securing a pair of first period takedowns.
Trailing 11-8 with three matches remaining, Iowa State needed production from its upper weights.
Marcus Coleman registered three takedowns in a 7-2 decision against Gavin Stika to even the dual score.
At 197 pounds, Yonger Bastida grabbed a pair of takedowns and showed great athleticism on his feet in a 7-2 victory over Luke Surber to put ISU in front, 14-11, with one match remaining.
Sam Schuyler sealed the deal with the dual's only bonus-point match. He defeated Kyle Haas, 10-1, with three takedowns and two near fall points to improve to 10-2 on the year.
Up Next
A tough test awaits the Cyclones as they hit the road for duals at West Virginia and No. 24 Pittsburgh Friday and Saturday night, respectively. Both duals will start at 6 p.m. (CT).
No. 4 Iowa State 18, No. 10 Oklahoma State 11
125: Conor Knopick (ISU) dec. Zach Blankenship (OSU), 10-4
133: Daton Fix (OSU) dec. Zach Redding (ISU), 8-3
141: Carter Young (OSU) dec. Casey Swiderski (ISU), 3-0
149: Paniro Johnson (ISU) dec. Victor Voinovich (OSU), 3-1
157: Kaden Gfeller (OSU) dec. Jason Kraisser (ISU), 3-1
165: David Carr (ISU) dec. Wyatt Sheets (OSU), 5-3
174: Dustin Plott (OSU) dec. Julien Broderson (ISU), 13-7
184: Marcus Coleman (ISU) dec. Gavin Stika (OSU), 7-2
197: Yonger Bastida (ISU) dec. Luke Surber (OSU), 7-2
285: Sam Schuyler (ISU) maj. dec. Kyle Haas (OSU), 10-1
*OSU deducted a team point for control of mat area following the 141-pound match
*ISU deducted a team point for unsportsmanlike conduct following the 141-pound match
Attendance: 4,908
Officials: Jimmy Chen, John Hatfield