No. 1 Penn State takes down visiting No. 2 Iowa 23-14 in sold out BJC Dual
by Andy Elder, Special to TheMat.com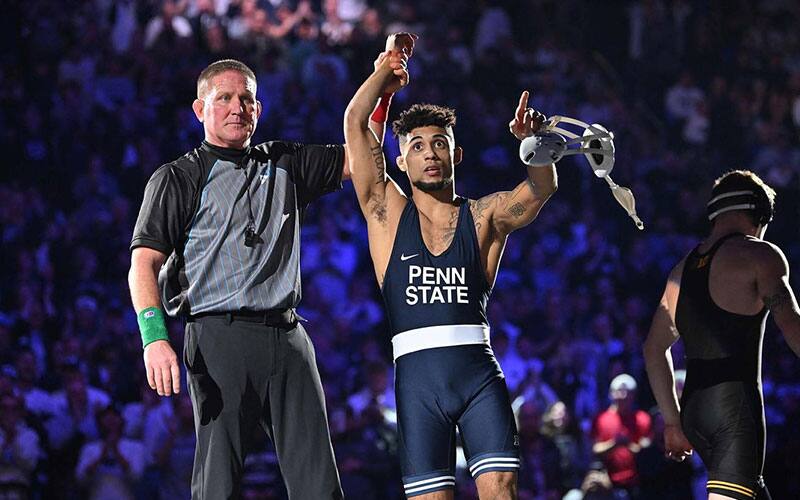 Roman Bravo-Young (Penn State) after his win against Iowa. Photo by Mark Selders, courtesy of Penn State
.
UNIVERSITY PARK, Pa. — Iowa coach Tom Brands is fond of saying that wrestling is a knockout sport, meaning anyone is capable of being beaten if they get turned and pinned.
While No. 1 Penn State (11-0, 4-0 B1G) didn't score any falls in the final four weights in its 23-14 win, it's final four wrestlers all won to help deliver a knockout blow to Iowa (12-1, 5-1) in front a delirious capacity crowd of 15,998 in the Bryce Jordan Center, tied for the largest indoor crowd for an NCAA dual meet.
"These guys did a nice job. We were behind. After Aaron's match, because he got five points, we had to win one of two. These guys did a great job winning some tough matches when it mattered," Penn State Coach Cael Sanderson, who secured his 100th Big Ten win. Sanderson is now 6-5 as a Penn State coach vs. Brands.
Penn State won six of 10 bouts and rolled up a 16-2 edge in the takedown battle.
"Only two takedowns the whole match," Sanderson asked when the disparity was pointed out. "Wow."
Only scoring two takedowns seemed to be a point of contention for Iowa Coach Tom Brands.
"We need to get busy. We need to get busy. It's not something that you're looking at the other team and that caused it. It's a mindset to go out there and attack. We have to address that," Brands said.
"You don't go into duals with the mindset of giving anything up. We got to take our medicine in this loss but I'll tell you what, we took our medicine too much out there and some positions during that match and you can never take your medicine while that match is going on and that clock's ticking and that happened too much and I tell you this, we got to get better."
Marco Vespa subbed in for Gary Steen for Penn State at 125 and gave the capacity crowd a jolt when he converted an early single-leg takedown attempt into a near cradle on three-time NCAA champion Spencer Lee for a short-lived 2-0 lead.
"You gotta be ready and if you're not ready, you're probably gonna get one locked up on ya. You know, I think that he chased him a little bit and the guy shot into that low ankle and the guy's long and it's probably what their plan was, but Spencer broke the grip right away and was really I mean, there was no nearfall," Brands said.
"It shows that this is a knockout sport. I mean, there's such a thing as a fall and guys are going to come out and try to knock you out with their best stuff. And that's why you got to be ready when you go out there. He was ready. He was ready."
The top-ranked Lee reversed Vespa and then tilted him four separate times for four points each in an 18-2 technical fall in 2:13.
At 133, top-ranked Roman Bravo-Young scored takedowns in the first and second periods and led 4-1 heading into the third, where he took neutral against No. 17 Brody Teske. Bravo-Young added another takedown and was awarded a point for a second stall call against Teske. But, with fewer than 30 seconds to go, Bravo-Young needed another takedown for a major decision. He got it and more when he countered a Teskle single by locking him up in a near cradle and pinning him in 6:48 as the BJC crowd roared its approval.
"Roman knows what he's doing. He was a takedown away from a major which would have also been great," Sanderson said.
Iowa's second-ranked 141-pounder Real Woods dropped in on a single on No. 4 Beau Bartlett early in the first period and eventually worked into a takedown for a 2-0 lead. He rode Bartlett the rest of the period. Bartlett escaped six seconds into the second but neither wrestler could score the rest of the way. Woods escaped early in the third and there was no further scoring in Woods' 4-1 decision, which handed Bartlett his first loss of the season.
After a scoreless first period at 141, No. 13 Shayne Van Ness chose bottom to start the second and No. 7 Max Murin rode him for 1:30 until the Nittany Lion freshman was able to escape. Murin chose bottom to start the third and escaped in 16 seconds. The Hawkeye then got in on a single and dumped Van Ness to his butt and secured the takedown and got another point for 1:48 in riding time for a 4-1 decision.
Ninth-ranked Levi Haines took the mat for the Nittany Lions at 157, meaning his redshirt was burned. The move paid off as he nipped No. 15 Cobe Siebrecht, 3-2. The difference was a Haines double-leg takedown with 1:22 left in the third period. Haines emergence as the starting 157-pounder has caused a stir with his teammates.
"It's been exciting. It's like he's anointed," 184-pounder Aaron Brooks said. "Just how young he is, how calm he is. I was talking about his composure. He got put to his back early and he was chilling. He smiles about it. I think it's great for him to go out here and get this experience because the more he wrestles, the better he gets. So, it's been exciting just making sure he's good spiritually, mentally."
By winning three of the first five bouts, Iowa led 11-9, with yet another tossup bout on tap at 165 between Penn State's fifth-ranked Alex Facundo and Iowa's No. 13 Patrick Kennedy. The wrestlers traded escapes in regulation and couldn't score in the sudden victory period. Kennedy escaped in four seconds to start the first tiebreaker period and neither wrestler could score. Facundo chose neutral to start the second tiebreaker period but couldn't penetrate Kennedy's defenses and the Hawkeye hung on for a 2-1 decision.
Penn State finally broke through with a win at 174 from top-ranked Carter Starocci, but it was tight as Brands tied and blocked Starocci's offense throughout. After a scoreless first period, Starocci escaped in the second. Brands chose bottom to start the third and Starocci rode him for a crucial 1:12 riding-time advantage in a 2-1 decision.
Trailing 14-12, top-ranked Aaron Brooks took the mat for Penn State against Iowa backup Drake Rhodes, subbing in for No. 12 Abe Assad. Brooks was simply too much for the freshman as he built a 10-2 lead after one with three takedowns and a four-point tilt. Brooks kept piling up points, adding six more takedowns in what would become a 22-7 technical fall in 5:42 to give Penn State a 17-14 lead with two bouts to go.
That set up a rematch of the 2022 NCAA final between fourth-ranked Nittany Lion Max Dean, the champ, and No. 7 Jacob Warner. Dean won again, using a second-period escape and riding Warner the entire third period for 1:14 in riding time for another point in a 2-0 win.
Penn State led, 20-14, and second-ranked Greg Kerkvliet locked up the win with a 4-1 decision of No. 3 Tony Cassioppi. Kerkvliet converted on a single in the first, rode Cassioppi the entire second period and added an escape and riding time point. Kerkvliet rebounded from a loss to Michigan's Mason Parris last Friday which dropped him from No. 1 to No. 2 in the rankings.
"Everybody likes winning, but I probably had to relearn that I hate losing," Kerkvliet said. "So, if I have to do something mentally, whether it's change my mentality a little bit, that's the things I have to do. I gotta make little changes."
In the final analysis, Sanderson said his Nittany Lions have things to work on that Iowa revealed, something he says the Hawkeyes are good at.
"Wrestling is a tough sport and you're out there one on one in the middle of an arena like that. There's not many experiences you'd ever have in life that could test you like that," Sanderson said. "So, I think our guys did a nice job."
No. 1 Penn State 23

No. 2 Iowa 14

(Friday at University Park)
125: No. 1 Spencer Lee, I, won by tech. fall over Marco Vespa, 18-2 (2:13).
133: No. 1 Roman Bravo Young, PSU, pinned No. 17 Brody Teske, 6:48.
141: No. 2 Real Woods, I, dec. No. 4 Beau Bartlett, 4-1.
149: No. 7 Max Murin, I, dec. No. 13 Shayne Van Ness, 4-1.
157: No. 9 Levi Haines, PSU, dec. No. 15 Cobe Siebrecht, 3-2.
165: No. 13 Patrick Kennedy, I, dec. No. 5 Alex Facundo, 2-1 TB.
174: No. 1 Carter Starocci, PSU, dec. No. 16 Nelson Brands, 2-1.
184: No. 1 Aaron Brooks, PSU, won by tech. fall over Drake Rhodes, 22-7 (5:42).
197: No. 4 Max Dean, PSU, No. 7 Jacob Warner, 2-0.
285: No. 2 Greg Kerkvliet, PSU, dec. No. 3 Tony Cassioppi, 4-1.
Attendance: 15,998.
Takedowns: Iowa 2; Penn State 16.
Records: Iowa 12-1, 5-1 B1G; Penn State 11-0, 4-0.
Next match: Iowa at Minnesota, 9 p.m. Feb. 3; Penn State at Ohio State, 7 p.m. Feb. 3.