News
USA Wrestling
College
USAW
No. 1 Penn State dominates Michigan, 30-8, in sold-out Bryce Jordan Center Dual
by Andy Elder, Special to the Mat.com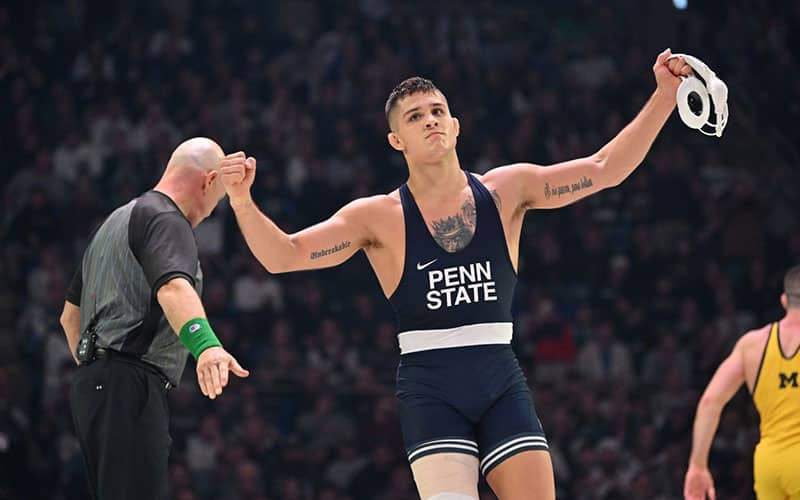 Photo courtesy of Penn State Athletics
UNIVERSITY PARK, Pa. — Penn State coach Cael Sanderson said his No. 1 Nittany Lions' dual meet with No. 3 Michigan on Friday night could have been close, but a couple of emerging freshmen helped make sure it was anything but.
Penn State (9-0, 2-0 B1G) won eight of 10 bouts, every one from 133 through 197, as it dispatched Michigan (7-1, 2-1), 30-8, in front of a Bryce Jordan Crowd of 15,975, the sixth-largest indoor crowd for an NCAA wrestling dual meet. All six of those have come in the BJC.
The two wins right in the middle of that eight-bout sweep made a huge difference in the final. True freshman 157-pounder Levi Haines scored a takedown with 42 seconds left in the sudden victory period for a 3-1 win over No. 10 Will Lewan. Then, at 165, No. 17 Alex Facundo amassed 14 seconds of riding time advantage over 5 Cameron Amine in the tiebreaker periods and that was the difference in a 6-5 win.
"These two helped quite a bit," Sanderson said of Facundo and Haines, who sat to his right in the Jordan Center media room. "Our guys just wrestled well, for the most part, in some tough situations. Michigan's got a great team, and we're going to see them again, so we're going to keep working on what we're doing and keep getting better. I think the guys wrestled well."
Facundo, who returned to the lineup after missing the Wisconsin dual on Jan. 6, rebounded from a 4-2 loss to former national champion David Carr of Iowa State on Dec. 20 at the Collegiate Duals, Facundo's only loss of the season.
"First of all, it was pretty fun to wrestle there," he said. "The crowd was pretty electric and it was a once-in-a-lifetime feeling. My confidence? I just had to keep my head straight, just kind of ignore what everyone was saying."
Haines made his first appearance in front a Penn State home crowd and he did not disappoint.
"It's been a really neat experience being from close to the area," said Haines, who grew up about 2.5 hours away in Arendtsville, which is south of Harrisburg. "I've actually only ever been to one Bryce Jordan Center match, so it was definitely a unique experience. Being a part of it is just unbelievable. It's cool to see some familiar faces in the stands that I know locally, so that is also a very neat aspect."
Michigan grabbed a 5-0 lead after the 125-pound bout as 23rd-ranked Jack Medley smothered Gary Steen, using five takedowns and two separate four-point turns for a 19-3 technical fall in 5:37.
Penn State chipped away at the lead with a win at 133, but it wasn't the usual dominance from top-ranked Nittany Lion Roman Bravo-Young. No. 12 Dylan Ragusin struck first with a low double at the edge of the mat at the end of the first period for a 2-0 lead. Bravo-Young escaped early in the period and then hit a slick takedown for a 3-2 lead. RBY would ride out the rest of the second and all of the third for 3:04 in riding time for a 4-2 final.
Fourth-ranked Nittany Lion 141-pounder Beau Bartlett gave the Nittany Lions their first lead of the night with a dominating 7-2 decision over No. 23 Cole Mattin. Bartlett used takedowns in the first and third periods, a reversal in the second and a riding time point for 1:43 in advantage for a 7-2 win.
Shayne Van Ness, ranked No. 14 at 149, extended Penn State's lead to 10-5 as he dominated Wolverine backup Fidel Mayora, who was subbing in for starter Chance Lamer. Van Ness led 5-0 after two periods on the strength of two takedowns and an escape and had accumulated 2:27 in riding time. Van Ness cranked up the pace in the third, scoring four takedowns and adding a point for 3:43 in riding time for a 14-4 major decision.
That set up the first of several anticipated matches, this one at 157 between Haines and All-American Lewan. Each wrestler was in on a couple takedown attempts through regulation but neither could score and the bout went into sudden victory. Lewan, early in the extra period, got in deep on a takedown attempt but Haines fought it off. Then, with less than a minute remaining, Haines got in on a single and converted for the winning takedown with 42 seconds left for the 3-1 sudden victory win.
"I knew going into it that there was a potential for it to be a closer match and I just went out there didn't worry about that. I worried about what I was doing. Keep my hands inside, getting my control ties and I think when you're doing that it's pretty hard to get beat because you're just doing your thing out there, being yourself," Haines said.
Facundo kept the momentum rolling for Penn State with the signature win of his career. He scored a 6-5 overtime tiebreaker win over fifth-ranked and two-time All-American Amine.
Facundo struck first with a quick low double in the first period. Amine escaped 39 seconds later and added an escape in the second to send the match into the third tied at 2-2. Facundo escaped 24 seconds into the period for a 3-2 lead. Each wrestler just missed on takedown attempts until late in the period. Amine got behind Facundo but Facundo hit a shoulder roll and emerged with Amine's left leg and then grabbed the other one for an apparent takedown. The Michigan coaches challenged and the referees ruled that Amine had indeed had a takedown and put 20 seconds back on the clock. Facundo escaped with 13 seconds to go to tie the match at 4-4.
Facundo escaped in 10 seconds in the first tiebreaker period and Amine chose bottom to start the second. Facundo rode Amine for 24 seconds before the Wolverine could escape but there was no further scoring and the 14 seconds in riding time advantage gave Facundo the 6-5 upset win.
"I kind of felt a different kind of feeling that I haven't felt in a long time a little bit in that match. I think that's what kind of pushed me, to see my family and the crowd really gave me a boost. I was just like smiling through the hard, hard parts," Facundo said.
At 174, it was all top-ranked Carter Starocci, the two-time NCAA champion, against No. 30 Max Maylor. Starocci rolled up a 9-1 lead with four takedowns before running a vicious half-Nelson on Maylor, rolling him to his back and recording the fall in 4:14.
Top-ranked Aaron Brooks put together a surgical domination of No. 9 Matt Finesilver in a 14-4 major decision at 184. Brooks used a variety of takedowns, six total, and amassed 1:51 in riding time advantage.
Fourth-ranked Max Dean ran Penn State's lead to 30-5 with a 10-1 major decision over Brendan Yatooma at 197. Dean used three takedowns, a two-point turn, an escape and riding time point for the win.
Even with the match long since decided, very few fans left ahead of the marquee bout of the night, a showdown between the Nittany Lions' top-ranked Greg Kerkvliet and No. 2 Mason Parris. After a scoreless first period, Parris escaped in the second, and Kerkvliet to start the third. Neither wrestler could convert on takedown attempts until Parris countered a Kerkvliet shot for a takedown of his own late in the third and then rode the Nittany Lion the rest of the way for a 3-1 win.
"This had the potential to be a really tight dual, and these two (Haines and Facundo) getting those big wins … it's not even about winning the dual, it's just about obviously getting better and progressing," Sanderson said, "and going out there and being able to beat two of the top guys in the country like they just did. That's good stuff."
No. 1 Penn State 30

No. 3 Michigan 8

(Friday at University Park)
125: No. 23 Jack Medley, UM, won by tech. fall over Gary Steen, 19-3 (5:37).
133: No. 1 Roman Bravo-Young, PSU, dec. No. 12 Dylan Ragusin, 4-2.
141: No. 4 Beau Bartlett, PSU, dec. No. 23 Cole Mattin, 7-2.
149: No. 14 Shayne Van Ness, PSU, maj. dec. Fidel Mayora, 14-4.
157: No. 17 Levi Haines, PSU, dec. No. 10 Will Lewan, 3-1 SV.
165: No. 16 Alex Facundo, PSU, dec. No. 5 Cameron Amine, 6-5 OT TB.
174: No. 1 Carter Starocci, PSU, pinned No. 30 Max Maylor, 4:14.
184: No. 1 Aaron Brooks, PSU, maj. dec. No. 9 Matt Finesilver, 14-4.
197: No. 4 Max Dean, PSU, maj. dec. Brendan Yatooma, 10-1.
285: No. 2 Mason Parris, UM, dec. No. 1 Greg Kerkvliet, 3-1.
Ridge Riley Award winner: Levi Haines.
Attendance: 15,975.
Referees: Curt Frost, Jim Rivello.
Takedowns: Michigan 8; Penn State 23.
Records: Michigan 7-1, 2-1 B1G; Penn State 9-0, 2-0.
Next matches: Michigan State at Penn State, 1 p.m. Sunday. Michigan at Rutgers, 2 p.m. Sunday.