News
USA Wrestling
High School & Youth
Women
USAW
Girls High School Roundup: No. 6 Penn wins Indiana States, No. 9 Liberty tops Flowing Wells, No. 10 Harrison takes Heart of Ohio
by Gary Abbott, USA Wrestling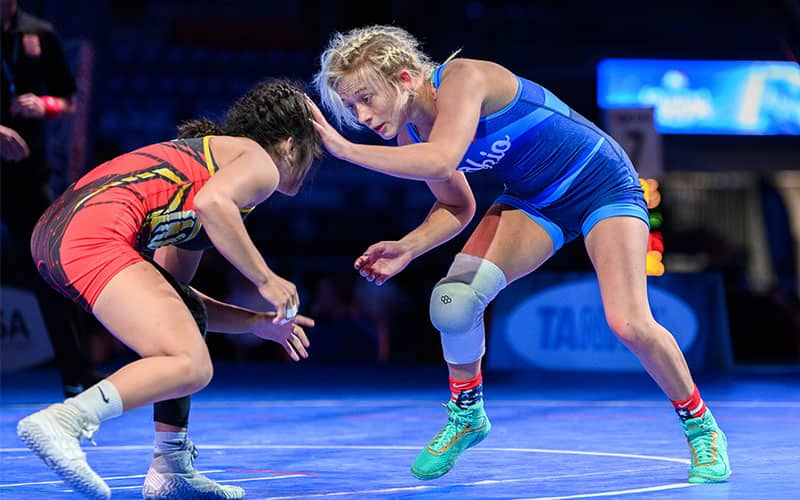 Makennah Craft of Jackson High (OH), shown in 2022 Junior National finals, won the Heart of Ohio title this weekend. Photo by Tony Rotundo, Wrestlers Are Warriors.
Throughout the rest of the scholastic season, we will review some of the biggest events and activities in the high school girls wrestling season across the nation. Hopefully, as more information is shared, we will help promote and grow girls high school wrestling.
National No. 6 Penn wins Indiana girls state team title; No. 5 nationally Ocampo wins loaded 106-pound class
Penn High School, ranked No. 6 as a team nationally, claimed the team title at the Indiana IHSGW State Finals on Friday, January 13 in Mooresville. Penn, with one individual champion in national No. 20 Mackenzie Konanz at 170 pounds and nine place winners, finished with 81 points, followed by Rochester with 67 points and Southport with 64 points. Rochester and Southport both had had four placers including two runners-up.
Easily the toughest weight in the event, and perhaps one of the deepest in the nation, was 106 pounds, where the top four place winners are all nationally ranked. No. 5 Julianna Ocampo of Fort Wayne Snider beat No. 6 Heather Crull of Northeastern in the finals, 7-0. No. 20 Makenzie Smith of Heritage Hills pinned No. 13 Joy Cantu of Merrillville for third place.
Along with Konanz and Ocampo, there were six nationally ranked girls who won individual titles, including No. 19 Rose Kaplan of West Lafayette (120), No. 22 Aleksandra Bastaic of Highland (126), No. 26 Aulani Davis of Kokomo (138) and No. 13 Varzidy Batchelor of Northview (195). Two nationally ranked wrestlers were beaten in the finals by unranked opponents. At 132, Ella Gahl of Northfield beat No. 28 Kyra Tomlinson of Noblesville by fall. At 182, Hannah West beat No. 26 Avalyn Mosconi of Southport by fall. Champions came from 13 different schools.
Ranked stars Wylie, Frost, Griffith, Westerberg, Cuyler win titles at Eastern States Classic
One of the top high school events of the year in the East, the Eastern States Championships in Loch Sheldrake, N.Y., showcased some of the nation's top girls wrestling talent. Five nationally ranked girls won individual titles, four from New York and one from Virginia.
Ranked champions were New Yorkers No. 15 Charlie Wylie of Port Jervis (100), No. 3 Emily Frost of Tamarac (126), No. 13 Zoe Griffith of Gouverneur (132) and No. 6 Madison Westerberg of Waterloo (138), plus Virginia star No. 21 May Cuyler of Brentsville (145).
Two finals had both athletes nationally ranked. Griffith pinned No. 19 Regan Retell of Tamarac in 54 seconds. Westerberg beat No. 13 Zoey Lints of Duanesburg-Schoharie, 7-2. A nationally ranked wrestler was beaten by an unranked talent, as Yianna Foufas of Mepham edged No. 19 Teegan Sibble of Bolivar Richburg, 3-2 in overtime.
No. 9 Liberty wins a tough Arizona event, the Flowing Wells Invitational, with four champions
No. 9 Liberty returned home to Arizona and was powerful while winning the Flowing Wells Invitational, led by four individual champions: Mia Siqueiros (107), No. 6 Taylor Colangelo (132), No. 25 Bridgette Sotomayor (138) and Lily Hunt (145). Liberty also had four runners-up, finishing 66.5 points ahead of second-place Sunnyside, with Marana in third.
One of Liberty's top stars, No. 18 Bella Bocanegra, was defeated in the 100-pound finals by Kennedy Farrar of Gila Ridge, 4-2. The nation's No. 1 wrestler, freshman Everest Leydecker of Desert Vista, was the 120-pound champion, pinning 2022 state champion Sophia Gilbert in one minute. Undefeated senior Adacelli Noriega of Bisbee won the 114-pound title, pinning Liberty's Lola Hunt in 3:04.
Gomez beats Cassioppi in super final at Batavia Invitational in Illinois, as Aurora East claims team title
Two nationally respected stars met in the 115-pound finals at the Batavia Invitational in Illinois. Gabriella Gomez of Glenbard North, ranked No. 1 at 100 pounds, defeated Angelina Cassioppi of Hononegah, ranked No. 5 at 112, 5-2 in tie-breaker one. Four nationally ranked individuals won titles, Gomez, plus No. 5 Cadence Diduch of Freeport (125), No. 11 Netavia Wickson of Boylan Catholic (135) and No. 2 Sydney Perry of Batavia (145).
Aurora East, with no individual champions but seven place winners, won the team title with 153 points, edging host Batavia with 149 pounds. National No. 26 Peoria Richwoods was fifth in the standings, with three individual champions Kyley Bair (110), Isabella Motteler (120) and Kalia Williams (140).
No. 10 Harrison wins Heart of Ohio, as seven nationally ranked wrestlers claim individual titles
National No. 10 Harrison won the respected Heart of Ohio Invite in Mechanicsburg, Ohio on Sunday with 162 points, safely ahead of runner-up Marysville with 111 points and third place Tinora with 108.5 points. Harrison was led by two individual champions, national No. 8 Chloe Dearwester (105) and national No. 26 Raegan Briggs (125), with eight placewinners.
Along with Dearwester and Briggs, there were seven nationally ranked champions in the tournament: No. 6 Makennah Craft of Jackson (100), No. 11 Kira Cole of Miami East (115), No. 12 Cali Leng of Marysville (120), No. 27 Savannah Holderby of Reynoldsville (144) and No. 1 Savannah Isaac of Whitmer (190). Craft defeated No. 13 Riley Banyas of Elyria by pin in 1:18 in the finals. One of Kentucky's best girl wrestlers, Gabriella Ocasio of Simon Kenton, was the 145-pound champion.
Grand Junction Central wins tough Rockwell Rumble in Utah, as national No. 3 Westlake takes fourth
One of the most respected events in Utah, the Rockwell Rumble, was won by Grand Junction Central with 222 points, with Bear River second with 184.5 points. Unitah placed third with 178 points, and national No. 3 Westlake was fourth with 170 points.
Grand Junction Central had nine placers, led by champion Apollonia Middleton (135). Bear River had two in the finals at 115, with Bella Gunderson beating teammate Kate Bunce by fall. Another Bear River champion was Abigail Trayhorn (140). Uintah was led by champions Chanley Green (110) and Emma Carri (145). Westlake's lone champion was national No. 12 Keilikki Nau Raurick (235).
Nationally ranked champions were No. 24 Brooklyn Pace (120) and No. 12 Aurellia Ramos of Maple Mountain (170), Bella Hernandez of Copper Hills beat No. 28 Ashley Cannon of Westlake in the 125-pound finals, 8-7.
Elite Eight dual meet teams in Georgia determined for next weekend's Girls State Duals finals
The eight teams who will compete in the inaugural Georgia Girls State Dual Championships next weekend were determined through regional championships and preliminary rounds. The "Elite Eight" that will compete for the state dual title have been set: Greenbrier, Jordan, Osbourne, Carrollton, Woodward, Campbell, Chestatee and Gilmer.
Notes on other top events
Butte edged defending state champion Flathead by 2.5 points (166.5-164) at the
Hellgate Girls Wrestling Invitational
in Missoula, Montana. Sophie Grunhuyd (120) won a title for Butte. Nationally ranked champions were No. 6 Alyssa Randles of Couer d'Alene-ID (126), No. 14 Kylee Lindsley of Belgrade (165) and No. 15 Tirza TwoTeeth of Ronan (235).
No. 25 Eagle won the respected
Jaybird Invitational
in Idaho, a full 67 points ahead of runner-up Columbia. For the second straight week, Amie Hartman of Mountain Home-ID stopped No. 24 Olivia Woods of Eagle by pin in a finals. Nationally ranked winners were No. 22 Joely Slyter of Lewiston (100), No. 24 Kadence Beck of Grangeville (114), No. 6 Mia Furman of Rocky Mountain (145) and No. 30 Reece Woods of Eagle.
Thurston won the
Oregon Classic Girls Duals
in Redmond, Ore., defeating LaGrande, 34-24 in the finals dual meet. Sweet Home was third, stopping McKay, 39-15. Rounding out the top eight were North Medford, Redmond, Scappoose and Grant Union. Among the stars going unbeaten in the meet were nationally ranked No. 17 Haley Vann of Cleveland (132) and No. 8 Estella Gutches of North Medford (137).
If there
are any important tournaments or dual meets set for this week or this weekend on the national girls high school circuit, please send that information to Gary Abbott at gabbott@usawrestling.org so they can be highlighted.