News
USA Wrestling
International
USAW
FIVE POINT MOVE: 2022 'Outstanding Individual Performance': Benji Peak (Final X: Stillwater)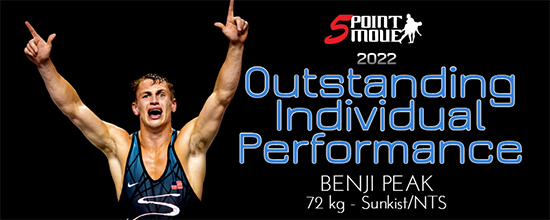 Photo by Mark Lundy. Article republished with permission
At Final X: Stillwater last June,
Benji Peak
(72 kg, Sunkist/NTS) achieved a career milestone by winning two matches out of three to make a Senior World Team for the first time. And in order to get the job done, he had to dig deep against one of the most resilient and successful competitors of his generation, three-time World Team member/2019 Pan-Am Games gold Patrick Smith (Minnesota Storm).
Peak's rise to the Senior World Team in Stillwater, and the effort required along the way, caught the fans' attention, which is why he has been named the recipient of 5PM's award for 2022 Outstanding Individual Performance.
This is the second time Peak has triumphed in the fan vote for OIP. The first came in 2020, when Peak received the same honor on the heels of his blitzing run to the National title. That version of "Mr. Fantastic" was just starting to blossom, and later that season he managed to capture the sport's attention once again by placing third at the Olympic Trials.
But with more experience, expectations climbed. He was up for the challenge. In September of '21, Peak advanced to the World Team Trials finals, his initial series showdown with Smith, and emptied the reserves in what was an admirable showing — but Smith still prevailed in two straight bouts. Later on in the fall, Peak, who was preparing for the U23 World Championships, suffered a shoulder injury that put him on the shelf for over half of the season. Following extensive rehabilitation, he was back for the US Open and won that event by defeating Pete Ogunsanya (West Point WC). Next was the World Team Trials Challenge Tournament, where both Peak and Smith secured berths at Final X: Stillwater.
The rest, as far as Peak is concerned, is history.
After dropping Match 1 to Smith, Peak made the adjustments necessary to take the second bout, knotting the series at one apiece. In the third and decisive round, and in the aftermath of a Smith caution, Peak leaned on confidence and some timely-execution to add a clutch step-out point with the outcome still in doubt. He would ultimately see the journey all the way through via 6-2 decision, and in the process gave Northern Michigan University's National Training Site their first Senior World Team member since '18 (Dalton Roberts).
2022 OUTSTANDING INDIVIDUAL PERFORMANCE

BENJI PEAK (SUNKIST/NTS) — FINAL X: STILLWATER5PM:
What did you learn from 2021 against Pat that helped you for 2022?

Benji Peak
: I guess when it comes to 'what did I learn?', it was that I could beat him and that I just had to put in that little extra work because I was right there. There was that little bit of doubt just because Pat had been on World Teams for so long. But once I had those matches, it wasn't like he was beating me by scoring big points, or by taking me down. He was beating me by wanting it more. So I learned that if I put the cardio time in, my wrestling is already better than his. It was just, Put more cardio time in, and it's going to happen. That's what I did. I ran everyday. I hand-fought everyday, we did a lot of work with (resistance) bands… I just put myself in a position to where if he were going to beat me, it wasn't going to be because I got too tired. It was going to be because he out-wrestled me.
5PM
: It was a three-tier selection process for the World Team again with the Open, the Trials Challenge Tournament, and Final X. Was that advantageous for you, especially the break between the Trials and Stillwater?
Peak
: Oh, yeah, I liked that. I liked it because it gave me that little extra time to get my shoulder ready for Pat. It felt like Final X was when I would need my shoulder to be at full strength, and the more time I had it was more time to build it back up and get it to where I needed it in order to win.
But I love the three-tiered system because it gives wrestlers so much camera time. It gives you more time to get your name out there. More tournaments and more matches give us a lot more time to get on camera. That's what I liked about it a lot.
5PM:
You are considered a big piece to this program, a big part of the future. How do you see your role insofar as an individual athlete, and when it comes to helping the program rebuild into an international force?
Peak:
I just don't know if we will get to where we were in 2007, when we won the World Championships. I don't know if setting the goal to become Team World Champions is the best answer. Let's start with becoming relevant again. And I don't know if we will become Team World Champions during the span of my career, but I believe we can get on the right track through our younger guys like myself, Alston Nutter, Braxton Amos, Cohlton Schultz, and others. I think we can put ourselves in position to start that process. But I think it begins with just setting the goal of us as a Team making the World Cup, getting into the top-8 — which I believe we have the guys to do that. But the way USA Wrestling is involved, they're not doing us any huge favors. We need to take it over as a Team ourselves, and I'm starting to talk to some of the guys about that.
As young as I am, I'm trying to be somewhat of a leader and bring everyone together so that we can be a Team where guys from other countries aren't excited to wrestle us. That is something I really want to happen, to have opponents see our names in the bracket (at Worlds or Olympics) and say to themselves, Darn, I better be ready to go. Because right now, it feels like when we get pulled into the bracket, opponents are like, Oh, good, I have a good match-up first-round. I want us to start first by becoming the draws other countries don't want. I think that would be a huge first step in the right direction. And from there, we will get invited to more camps and we'll have more guys come train with us. That is where we need to move towards first; and once we get there, we will work our way up. It might take a couple of years, or it might take a decade. In either case, I think that I can really help drive us into the right lane.
5PM OUTSTANDING INDIVIDUAL PERFORMANCE
2022: Benji Peak — Final X: Stillwater
2021: Braxton Amos — Olympic Trials
2020: Benji Peak — US Nationals
2019: Nolan Baker — World Team Trials Challenge Tournament
2018: Dalton Roberts — Grand Prix of Germany