News
USA Wrestling
College
USAW
Oklahoma State wins Southern Scuffle with three champions; second-place North Dakota State also wins three titles
by Adam Engel, Special for TheMat.com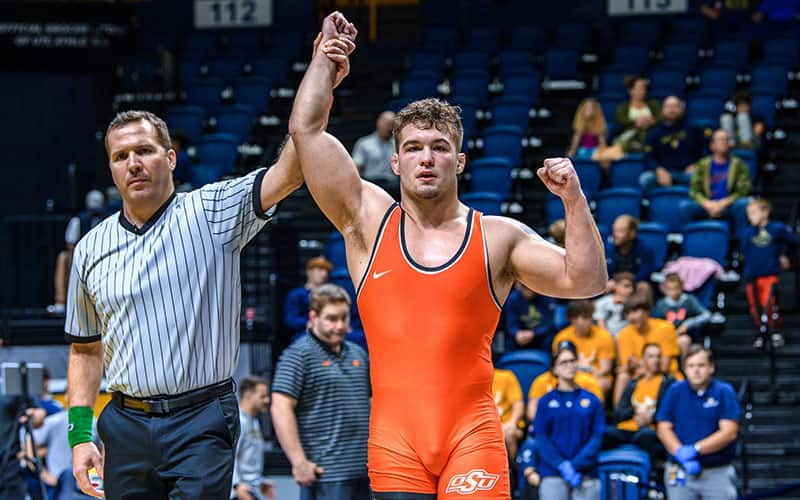 Travis Wittlake (Oklahoma State) with arm raised in victory at the 2022 Southern Scuffle. Photo by Tony Rotundo, Wrestlers Are Warriors
Three champions and a team title.
No. 14
Oklahoma State
won its second Southern Scuffle as Daton Fix (133), Dustin Plott (174) and Travis Wittlake (184) won championships.
North Dakota State
finished runner-up while
Missouri
claimed third.
Fix rolled to his second Southern Scuffle title with a 7-3 win against Chattanooga's Brayden Palmer. Fix showed his skill with 2:59 in riding time.
Dustin Plott won a Big 12 finals rematch at 174. He defeated Missouri's Peyton Mocco, 12-7. Trailing 6-5 in the third, Plott responded with a takedown and a four-point near fall.
Wittlake defeated North Dakota State's Deanthony Parker Jr., 3-0.
NDSU made things interesting with five finalists. At 149, Kellyn March beat Oklahoma State's Victor Voinovich, 5-3, in sudden victory. March, who trailed 3-0, forced sudden victory via rideout with 10 seconds left. He scored a reversal earlier in the third and grabbed riding time. He finished the job with a takedown 69 seconds into sudden victory.
Jared Franek followed his teammate with a 2-2 rideout win at 157 over top seed Kendall Coleman of Purdue.
The third NDSU title came at 197 pounds, as No. 4 seed Owen Pentz pinned No. 2 seed Lou Deprez of Binghamton at 3:03.
At 125, Matt Ramos gave Purdue its first champion of the day with a 4-3 win over Missouri's Noah Surtin.
Ramos controlled with an early takedown and two-point back exposure. Surtin later responded with a takedown and reversal.
Northern Colorado represented with a champion. Andrew Alirez beat Missouri's Allan Hart, 8-4, at 141. Alirez showed his speed and scoring ability with three takedowns. Like Fix, Alirez remains undefeated.
Stanford's national champion, Shane Griffith, clipped NDSU's Michael Caliendo III, 3-2, at 165.
At heavyweight, Missouri's Zach Elam finished things with a 5-0 win over Binghamton's Cory Day.
SOUTHERN SCUFFLE
At Chattanooga, Tenn., Jan. 1-2
125 pounds
1st — No. 1 Matt Ramos (Purdue) dec. No. 3 Noah Surtin (Missouri), 4-3
3rd — Nico Provo (Stanford) dec. No. 2 Trevor Mastrogiovanni (Oklahoma State), 9-3
5th — No. 5 Caleb Smith (Appalachian State) dec. No. 4 Stevo Poulin (Northern Colorado), 5-4
7th — No. 6 Braxton Brown (Maryland) medical forfeit Troy Spratley (Minnesota)
133 pounds
1st — No. 1 Daton Fix (Oklahoma State) dec. Brayden Palmer (Chattanooga), 7-3
3rd — No. 3 Aaron Nagao (Minnesota) dec. Kurt Phipps (Bucknell), 10-3
5th — Zach Redding (Iowa State) medical forfeit No. 4 Chance Rich (CSU-Bakersfield)
7th — No. 2 Ramazan Attasauov (Iowa State) dec. No. 5 Sean Carter (Appalachian State), 5-3
141 pounds
1st ¬— No. 1 Andrew Alirez (N. Colorado) dec. No. 2 Allan Hart (Missouri), 8-4
3rd — No. 3 Jake Bergeland (Minnesota) dec. Mckenzie Bell (Rider), 7-1
5th — No. 4 Dylan Droegemueller (North Dakota State) medical forfeit No. 5 Darren Miller (Bucknell)
7th — Angelo Martinoni (CSU-Bakersfield) dec. No. 6 Carter Young (Oklahoma State), 5-4
149 pounds
1st — No. 6 Kellyn March (North Dakota State) dec. Victor Voinovich (Oklahoma State), 5-3 sudden victory
3rd — No. 1 Jaden Abas (Stanford) dec. No. 3 Ethen Miller (Maryland), 3-2
5th — Michael Gioffre (Virginia) medical forfeit No. 2 Quinn Kinner (Rider)
7th — Blaine Brenner (Minnesota) medical forfeit Marcos Polanco (Minnesota)
157 pounds
1st — No. 2 Jared Franek (North Dakota State) dec. No. 1 Kendall Coleman (Purdue), 2-2 second tiebreaker
3rd — No. 5 Daniel Cardenas (Stanford) dec. No. 3 Kaden Gfeller (Oklahoma State), 4-2
5th — Charles Darracott (Stanford) medical forfeit No. 4 Jarrett Jacques (Missouri)
7th — Tommy Askey (Appalachian State) medical forfeit Vinny Zerban (Northern Colorado)
165 pounds
1st — No. 1 Shane Griffith (Stanford) dec. No. 2 Michael Caliendo III (ND State), 3-2
3rd — No. 4 Wyatt Sheets (Oklahoma State) inj. def. Cam Steed (Missouri), 2:51
5th — No. 3 Andrew Sparks (Minnesota) dec. No. 5 Cael Carlson (Minnesota), 5-3 sudden victory
7th — Hunter Garvin (Stanford) dec. Grant Stotts (Iowa State), 6-4
174 pounds
1st — No. 1 Dustin Plott (Oklahoma State) dec. No. 2 Peyton Mocco (Missouri), 12-7
3rd — Triston Wills (Little Rock) medical forfeit No. 3 Bailee O'Reilly (Minnesota)
5th — Andrew Berreyesa (Northern Colorado) medical forfeit Jared Krattiger (Minnesota)
7th — No. 4 Tyler Eischens (Stanford) dec. No. 5 Julien Broderson (Iowa State), 7-6
184 pounds
1st — No. 1 Travis Wittlake (Oklahoma State) dec. Deanthony Parker Jr. (North Dakota State), 3-1
3rd — No. 6 Gavin Stika (Oklahoma State) dec. Sam Fisher (Virginia Tech), 6-0
5th — No. 5 Jacob Ferreira (Hofstra) dec. Joel Devine (Iowa State), 8-3
7th — Kyle Haas (Oklahoma State) medical forfeit No. 3 Jacob Nolan (Binghamton)
197 pounds
1st — No. 4 Owen Pentz (ND State) fall No. 2 Lou Deprez (Binghamton), 3:03
3rd— No. 6 Luke Surber (Oklahoma State) medical forfeit No. 3 Jaxon Smith (Maryland)
5th — Stephen Little (Little Rock) medical forfeit No. 1 Ethan Laird (Rider)
7th — Nikolas Stemmet (Stanford) dec. TJ Stewart (Virginia Tech), 6-1
Heavyweight
1st — No. 1 Zach Elam (Missouri) dec. Cory Day (Binghamton), 5-0
3rd — No. 6 Konner Doucet (Oklahoma State) dec. Juan Mora (North Dakota State), 2-1 second tiebreaker
5th — No. 3 Jonah Niesenbaum (Duke) fall No. 4 Garrett Joles (Minnesota), 5:41
7th ¬— Josiah Hill (Little Rock) dec. Peter Ming (Stanford), 5-2
Top 10 teams
No. 1 Oklahoma State 181
No. 2 North Dakota State 144.5
No. 3 Missouri 125
No. 4 Stanford 105.5
No. 5 Minnesota 96
No. 6 Northern Colorado 68.5
No. 7 Binghamton 63.5
No. 8 Maryland 58.5
No. 9 Purdue 55.5
No. 10 Little Rock 54.5