News
USA Wrestling
College
Women
USAW
NCWWC Region 4: No. 1 North Central women take title with four champs & 15 qualifiers; No. 4 Augsburg is second
by Gary Abbott, USA Wrestling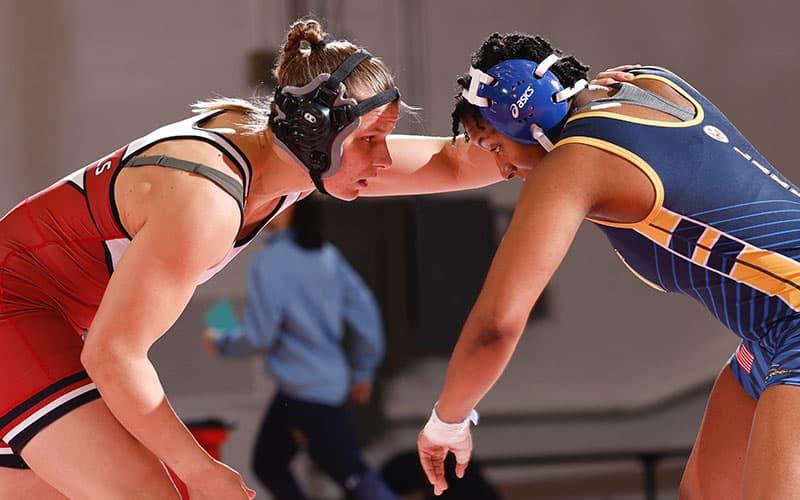 Yelena Makoyed (North Central) ties up with an opponent. Photo courtesy of North Central Athletics
.
NAPERVILLE, Ill. – No. 1 North Central hosted NCWWC Region 4 and displayed its dominance, claiming four individual titles and qualifying a full 15-member team for the national championships. Region 4 was regarded as the toughest of the regionals, based upon the successes of the team entered and the individual stars entered.
North Central won the tournament with 174 points, ahead of runner-up No. 4 Augsburg with 141.5 points and No. 3 McKendree with 129 points.
Individual champions for North Central were
Amani Jones
(123),
Yele Aycock
(136),
Yelena Makoyed
(170) and
Traeh Haynes
(191). Haynes had one of the biggest upsets of the day in the finals, knocking off three-time NCWWC national champion Sydney Kimber of McKendree, who was cautioned out of the match. Makoyed, a two-time NCWWC champion, won her finals match by technical fall.
Augsburg had two individual champions in
Katie Lange
(143) and
Marlynne Deede
(155) and pushed eight athletes into the finals.
McKendree was able to secure three individual champions,
Lizette Rodriguez
(101),
Emily Shilson
(109) and
Payton Stroud
(116). Shilson, who was a three-time NCWWC champion for Augsburg, recently transferring to McKendree and making her debut at this regional event.
The other individual champion was
Alexis Janiak
of Aurora (130), who also had a big upset in the finals, knocking off two-time NCWWC champion Cameron Guerin of McKendree, 10-6.
Eight teams earned national qualifiers. However, five of the teams only secured one national qualifier. The big three of North Central, Augsburg and McKendree gobbled up all of the rest. There were only two national qualifiers at 101 pounds, as only McKendree and North Central had entries there.
NCWWC REGION 4 CHAMPIONSHIPS
At Naperville, Ill., Feb. 19
101
1st Place Match - Lizette Rodriguez (McKendree University ) won by decision over Madison Avila (North Central (IL)) (Dec 5-4)
109
1st Place Match - Emily Shilson (McKendree University ) won by tech fall over Kendra Ryan (North Central (IL)) (TF 10-0)
3rd Place Match - Sydney Petzinger (North Central (IL)) won by tech fall over Pauline Granados (McKendree University ) (TF 14-4)
5th Place Match - Camila Neuman (Aurora ) won by tech fall over Gada Bryant (Eureka) (TF 12-2)
7th Place Match - Kylie Torres (Simpson) won by decision over Natalia Carrillo Mancera (Augustana (IL)) (Dec 8-4)
116
1st Place Match - Payton Stroud (McKendree University ) won by injury default over Jaslynn Gallegos (North Central (IL)) (Inj. 0:00)
3rd Place Match - Tateum Park (Augsburg University) won by tech fall over Hannah Suboni-Kaufman (Augustana (IL)) (TF 11-0)
5th Place Match - Allison Meyer (William Jewell College) won by tech fall over Yalixza Gonzalez (Simpson) (TF 11-1)
7th Place Match - Rose Le (William Jewell College) won by tech fall over Samantha Kruize (McKendree University) (TF 10-0)
True Fourth Place Match - Allison Meyer (William Jewell College) won by decision over Hannah Suboni-Kaufman (Augustana (IL)) (Dec 4-1)
123
1st Place Match - Amani Jones (North Central (IL)) won by decision over Jennifer Soto (McKendree University ) (Dec 9-2)
3rd Place Match - Gabby Skidmore (Augsburg University) won by decision over Alisha Narvaez (McKendree University ) (Dec 6-1)
5th Place Match - Jasmine Ward (Lindenwood University) won by fall over Sandie Pfeil (Augustana (IL)) (Fall 1:44)
7th Place Match - Taylor Reed (Westminster University) won by fall over German Kari (Simpson) (Fall 0:49)
130
1st Place Match - Alexis Janiak (Aurora ) won by decision over Cameron Guerin (McKendree University ) (Dec 10-6)
3rd Place Match - Autumn Flanigan (Augsburg University) won by decision over Sara Sterner (North Central (IL)) (Dec 4-2)
5th Place Match - Frankie Graham (Simpson) won by fall over Megan Stutsman (McKendree University ) (Fall 0:31)
7th Place Match - Maya Porter (Lindenwood University) won by fall over Alicia Felker (Augustana (IL)) (Fall 0:08)
136
1st Place Match - Yele Aycock (North Central (IL)) won by decision over Nina Makem (Augsburg University) (Dec 3-2)
3rd Place Match - Salome Walker (North Central (IL)) won by decision over Abigail Varady (McKendree University ) (Dec 5-4)
5th Place Match - Natasha Markoutsis (Aurora ) won by fall over Athena Willden (William Jewell College) (Fall 3:55)
7th Place Match - Kya Rybachek (Augsburg University) won by fall over Natalie Stewart (Westminster University) (Fall 4:09)
143
1st Place Match - Katie Lange (Augsburg University) won by tech fall over London Houston (North Central (IL)) (TF 10-0)
3rd Place Match - Kendall Bostelman (North Central (IL)) won by fall over Ellisa Jimenez (Augsburg University) (Fall 0:33)
5th Place Match - Alana Duggan (Lindenwood University) won by decision over Rhian Kempf (William Jewell College) (Dec 10-1)
7th Place Match - Paige Barber (William Jewell College) won by decision over Audrey Driskell (Eureka) (Dec 3-2)
155
1st Place Match - Marlynne Deede (Augsburg University) won by tech fall over Tiera Jimerson (North Central (IL)) (TF 10-0)
3rd Place Match - Malea Palahniuk (North Central (IL)) won by fall over Kaitlyn Mossinnghoff (Westminster University) (Fall 0:52)
5th Place Match - Kahlea Jolly (Augsburg University) won by injury default over Jazmine Garcia (Quincy) (Inj. 0:00)
7th Place Match - Svanna Berry (Eureka) won by injury default over Julianna Moreno (Lindenwood University) (Inj. 0:00)
True Fourth Place Match - Kaitlyn Mossinnghoff (Westminster University) won by fall over Kahlea Jolly (Augsburg University) (Fall 3:49)
170
1st Place Match - Yelena Makoyed (North Central (IL)) won by tech fall over Brooklyn Hays (Augsburg University) (TF 10-0)
3rd Place Match - Alexandra Castillo (McKendree University ) won by fall over Jenna Joseph (Simpson) (Fall 3:52)
5th Place Match - Sierra Hall (Lindenwood University) won by fall over Madison Horn (Augsburg University) (Fall 4:10)
7th Place Match - Alexa Valdez (Quincy) received a bye () (Bye)
191
1st Place Match - Traeh Haynes (North Central (IL)) won by 3 caution rule over Sydnee Kimber (McKendree University ) (3 Cau.)
3rd Place Match - Brittyn Corbishley (North Central (IL)) won by decision over Sara Lake (Lindenwood University) (Dec 10-8)
5th Place Match - Melissa Jacobs (Augsburg University) won by decision over Angie Guy (Augustana (IL)) (Dec 6-4)
7th Place Match - Alexis Cole (William Jewell College) won by fall over Kennedy Eggering (Lindenwood University) (Fall 1:17)
Team Standings
1 North Central (IL) 174.0
2 Augsburg University 141.5
3 McKendree University 129.0
4 Aurora 48.0
5 Simpson 42.5
6 Lindenwood University 41.5
7 William Jewell College 39.5
8 Augustana (IL) 37.0
9 Westminster University 24.5
NCWWC NATIONAL QUALIFIERS BY TEAM
North Central (15 qualifiers)
Madison Avila (1st at 101, Region 4)
Kendra Ryan (2nd at 109, Region 4)
Sydney Petzinger (3rd at 109, Region 4)
Jaslynn Gallegos (2nd at 116, Region 4)
Amani Jones (1st at 123, Region 4)
Sara Sterner (4th at 130, Region 4)
Yele Aycock (1st at 136, Region 4)
Salome Walker (3rd at 136, Region 4)
London Houston (2nd at 143, Region 4)
Kendall Bostelman (3rd at 143, Region 4)
Tiera Jimerson (2nd at 155, Region 4)
Malea Palahniuk (3rd at 155, Region 4)
Yelena Makoyed (1st at 170, Region 4)
Traeh Haynes (1st at 191, Region 4)
Brittyn Corbishley (3rd at 191, Region 4)
McKendree (10 qualifiers)
Lizette Rodriguez (1st at 101, Region 4)
Emily Shilson (1st at 109, Region 4)
Pauline Granados (4th at 109, Region 4)
Payton Stroud (1st at 116, Region 4)
Jennifer Soto (2nd at 123, Region 4)
Alisha Narvaez (4th at 123, Region 4)
Cameron Guerin (2nd at 130, Region 4)
Abigail Varady (4th at 136, Region 4)
Alexandra Castillo (3rd at 170, Region 4)
Sydnee Kimber (2nd at 191, Region 4)
Augsburg (8 qualifiers)
Tateum Park (3rd at 116, Region 4)
Gabby Skidmore (3rd at 123, Region 4)
Autumn Flanigan (3rd at 130, Region 4)
Nina Makem (2nd at 136, Region 4)
Katie Lange (1st at 143, Region 4)
Ellisa Jimenez (4th at 143, Region 4)
Marlynne Deede (1st at 155, Region 4)
Brooklyn Hays (2nd at 170, Region 4)
Aurora
Alexis Janiak (1st at 130, Region 4)
William Jewell
Allison Meyer (True 4th at 116, Region 4)
Westminster
Kaitlyn Mossinnghoff (True 4th at 155, Region 4)
Simpson
Jenna Joseph (4th at 170, Region 4)
Lindenwood
Sara Lake (4th at 191, Region 4)