News
USA Wrestling
College
USAW
No. 5 Nebraska beats No. 18 Arizona State, 25-15 on Senior Day in Lincoln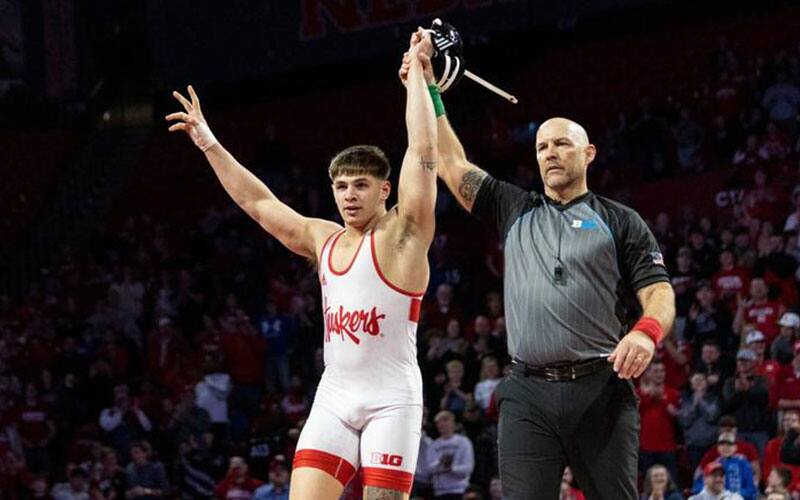 Lenny Pinto (Nebraska) with arm raised in victory. Photo by Karlie Moore, Nebraska Communications

Lincoln, Neb. - Behind a pin and two technical falls, the Nebraska wrestling team defeated Arizona State 25-15 on Senior Day in front of 2,684 fans at the Devaney Center.
The dual started with a top-ten matchup at 125, where No. 4 Liam Cronin used a takedown and four near-fall points in sudden victory to overcome No. 8 Brandon Courtney. After Period 3, the two had each only tallied an escape to be tied up 1-1. The effort in overtime gave Cronin the 7-1 decision to start the Huskers off strong.
Boo Dryden battled at 133, but was pinned by No. 4 Michael McGee in the first period. At 141, No. 5 Brock Hardy fell to Emilio Ysaguirre in a 10-4 decision. Ysaguirre struck first with a takedown and four near-fall points to grab the 6-0 lead. Hardy tallied an escape and a takedown to chip away and get within three, 6-3. Each wrestler recorded an escape to close the second period with a 7-4 score. In the final period, Ysaguirre earned three more points for a reversal and the riding time point.
Dayne Morton held tight with No. 5 Kyle Parco at 149, jumping out to a 2-1 lead in the second period with a takedown. Parco quickly regained the lead with a reversal. In the last two minutes, Parco claimed the riding time point to earn the 5-2 decision.
Top-ranked Peyton Robb remained undefeated as he dominated Max Wilner to win by technical fall within the first 10 seconds of the second period. Early in the bout, Robb recorded a pair of takedowns to go up 4-1. From there, Robb tallied 12 straight swipes to give him the 17-1 technical fall and bring the team score back within four points of Arizona State, 12-8.
Bubba Wilson continued the momentum at 165, defeating Tony Negron with a 3-1 decision. Wilson scored a takedown in the first period to go up 2-0. Negron had an escape in the second period, but Wilson pulled away again with a third-period escape.
Up next at 174, No. 2 Mikey Labriola tabbed a 9-6 decision over Cael Valencia to maintain his 24-0 record. In the first three minutes, Labriola had a pair of takedowns, while Valencia recorded two escapes. Labriola held on to a 6-4 advantage entering the final period after grabbing two escapes and allowing a takedown in the second period. A big takedown and the riding time point secured Nebraska's third-straight victory.
The momentum continued for the Huskers as No. 15 Lenny Pinto pinned No. 20 Anthony Montalvo in the first period. NU was then up 20-12 with two matches to go.
At 197, No. 10 Silas Allred continued to add to Nebraska's team total as he tallied a win by technical fall against Josh Nummer in the last five seconds of the third period. Allred recorded three takedowns, while Nummer collected two escapes. Taking a 6-2 lead into the second period, Allred extended his lead with a reversal and three takedowns. In the final period of the match, Allred took over, collecting five takedowns in less than two minutes, securing the 27-10 victory.
To wrap up the competition, Austin Emerson fell by decision 6-0, but the Huskers defeated ASU overall 25-15.
Up next, NU is set to compete at the 2023 Big Ten Championships in Ann Arbor, Mich., on March 4-5.
#5 Nebraska 25, #18 Arizona State 15

125: #4 Liam Cronin (NEB) dec. #8 Brandon Courtney (ASU) 7-1 SV-1 (NEB 3, ASU 0)
133: #4 Michael McGee (ASU) pinned Boo Dryden (NEB) (2:59) (ASU 6, NEB 3)
141: Emilio Ysaguirre (ASU) dec. #5 Brock Hardy (NEB) 10-4 (ASU 9, NEB 3)
149: #5 Kyle Parco (ASU) dec. Dayne Morton (NEB) 5-2 (ASU 12, NEB 3)
157: #1 Peyton Robb (NEB) tech. fall Max Wilner (ASU) 17-1 (3:09) (ASU 12, NEB 8)
165: Bubba Wilson (NEB) dec. Tony Negron (ASU) 3-1 (ASU 12, NEB 11)
174: #2 Mikey Labriola (NEB) dec. Cael Valencia (ASU) 9-6 (NEB 14, ASU 12)
184: #15 Lenny Pinto (NEB) pinned #20 Anthony Montalvo (ASU) (1:05) (NEB 20, ASU 12)
197: #10 Silas Allred (NEB) tech. fall Josh Nummer (ASU) 27-10 (NEB 25, ASU 12)
285: #5 Cohlton Schultz (ASU) dec. Austin Emerson (NEB) 6-0 (NEB 25, ASU 15)