News
USA Wrestling
College
Women
USAW
NCWWC Region 2: No. 2 King women dominate with 10 champions and 15 national qualifiers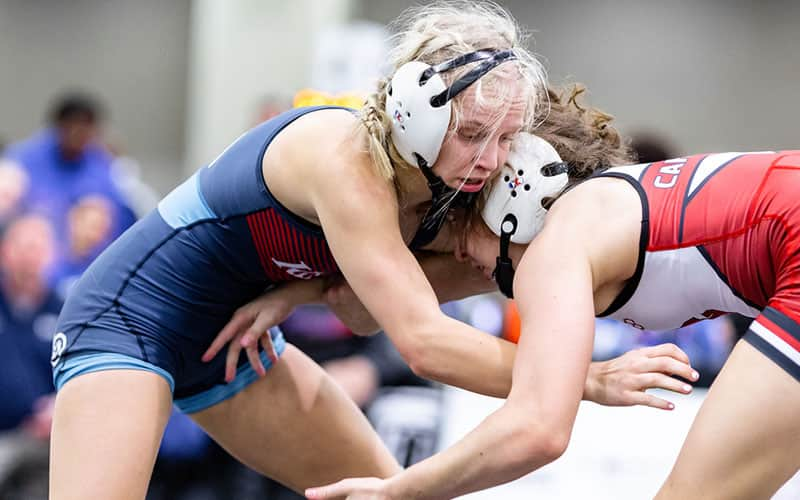 Sage Mortimer (King), one of the 10 King wrestlers to win Region 2 titles. Photo by Jimmy Naprstek, courtesy of King University
BRISTOL, Tenn. – No. 2 King hosted the NCWWC Region 2 Championships and dominated the competition by winning all 10 weight classes, and qualifying all 15 athletes for the national championships.
Champions for King were
Jessica Corredor
(101),
Sage Mortimer
(109),
Samara Chavez
(116),
Vayle-Rae Baker
(123),
Montana Delawder
(130),
Ana Luciano
(136),
Ashlynn Ortega
(143),
Tiffani Baublitz
(155),
Cheyenne Bowman
(170) and
Nia Crosdale
(191).
Mortimer, Chavez, Baker and Luciano all defeated King teammates in the finals, meaning King pushed 14 of their 15 entries into the gold-medal round.
Chavez, Delawder, Luciana, Ortega, Baublitz and Crosdale were all Regional champions in 2022, as well.
King scored 219 points, a full 114.5 points ahead of second place Emmanuel College with 113.5 points. No. 7 Presbyterian was third with 98 points.
Emmanuel and Limestone each had seven qualifiers, and Presbyterian had six qualifiers. Seven teams qualified athletes for the NCWWC Nationals.
NCWWC REGION 2 CHAMPIONSHIPS
At Bristol, Tenn., Feb. 18
101
1st Place Match - Jessica Corredor (King University) won by injury default over Samantha Miller (Presbyterian) (Inj. 0:00)
3rd Place Match - Avery Kibelbek (King University) won by decision over Haley Zinninger (Emmanuel College) (Dec 10-4)
109
1st Place Match - Sage Mortimer (King University) won by tech fall over Dianna Holmes (King University) (TF 14-7,16-10)
3rd Place Match - Cassy Lopez (Presbyterian) won by fall over Dinayah Vazquez (Emmanuel College) (Fall 4:00)
5th Place - Onnalaya Aguilera (Limestone University)
116
1st Place Match - Samara Chavez (King University) won by fall over Danielle Garcia (King University) (Fall 4:31)
3rd Place Match - Betty Cherry (Emmanuel College) won by decision over Ashley Morris (Lincoln Memorial) (Dec 6-2)
5th Place Match - Giavanna Ablonsky (Emmanuel College) won by fall over Gracie Cordasco (Mount Olive) (Fall 1:42)
7th Place - Jillian Timberlake (Mount Olive)
True Fourth Place - Ashley Morris (Lincoln Memorial) won by fall over Giavanna Ablonsky (Emmanuel College)
123
1st Place Match - Vayle-rae Baker (King University) won by decision over Melanie Mendoza (King University) (Dec 5-3)
3rd Place Match - Catherine Bertrand (Presbyterian) won by fall over Isabel Rodriguez (Mount Olive) (Fall 2:18)
5th Place Match - Evelyne Vazquez (Emmanuel College) won by tech fall over Alyssa Garza (Limestone University) (TF 10-0)
7th Place Match - Caroline Schmitt (Limestone University) won by tech fall over Olivia Waller (Presbyterian) (TF 10-0)
130
1st Place Match - Montana Delawder (King University) won by fall over SierraMarie Miller (Presbyterian) (Fall 1:05)
3rd Place Match - Samantha Larios (Emmanuel College) won by decision over Hannah Mains (Limestone University) (Dec 6-0)
5th Place Match - Dafne Aguilar Martinez (Emory & Henry) won by fall over Brooke Hermel (Mount Olive) (Fall 1:22)
7th Place Match - Dorothy Gerrell (Emmanuel College) won by fall over Ava Thomas (Emory & Henry) (Fall 3:22)
136
1st Place Match - Ana Luciano (King University) won by tech fall over Viktorya Torres (King University) (TF 10-0)
3rd Place Match - Paige Wehrmeister (Presbyterian) won by fall over Gianna Anaya (Emmanuel College) (Fall 2:04)
5th Place Match - Isabella Ruiz (Greensboro College) won by injury default over Madeline Quiroga (Emory & Henry) (Inj. 0:00)
7th Place Match - Chloe Lawler (Mount Olive) won by fall over Stephanie Castro (Lincoln Memorial) (Fall 4:31)
143
1st Place Match - Ashlynn Ortega (King University) won by tech fall over Clara Padua-Cruz (Limestone University) (TF 11-0)
3rd Place Match - Shelsy Renous (Limestone University) won by tech fall over Skyelar Smith (Mount Olive) (TF 12-2)
5th Place Match - Kylie Ayala (Emmanuel College)
155
1st Place Match - Tiffani Baublitz (King University) won by fall over Andreia Langley (Emory & Henry) (Fall 1:48)
3rd Place Match - Amalani Latu (Limestone University) won by decision over Isabella Badon (Presbyterian) (Dec 6-1)
5th Place Match - Jordan Wilson (Ferrum College) won by decision over Isabella Kessey (Mount Olive) (Dec 16-12)
170
1st Place Match - Cheyenne Bowman (King University) won by fall over Alyssa Arana (Emmanuel College) (Fall 1:21)
3rd Place Match - Journey Land (Limestone University) won by tech fall over Kalani Rivas (Limestone University) (TF 11-0)
5th Place Match - Aleksandra Bieszczad (Mount Olive) won by decision over Ella Tallent (Emory & Henry) (Dec 8-2)
191
1st Place Match - Nia Crosdale (King University) won by decision over Cristina Santoyo (Emmanuel College) (Dec 3-1)
3rd Place Match - Jada Arnold (Mount Olive) won by tech fall over Destiny Baltierra (Limestone University) (TF 11-0)
5th Place Match - Emma Lozada (Emory & Henry) won by injury default over Brittney Reed (Emory & Henry) (Inj. 0:00)
Team Standings
1 King University 219.0
2 Emmanuel College 113.5
3 Presbyterian 98.0
4 Limestone University 95.5
5 Mount Olive 75.5
6 Emory & Henry 55.0
7 Lincoln Memorial 19.5
8 Greensboro College 11.5
9 Ferrum College 7.0
NCWWC NATIONAL QUALIFIERS BY TEAM
King (15 qualifiers)
Jessica Corredor (1st at 101, Region 2)
Avery Kibelbek (3rd at 101, Region 2)
Sage Mortimer (1st at 109, Region 2)
Dianna Holmes (2nd at 109 Region 2)
Samara Chavez (1st at 116, Region 2)
Danielle Garcia (2nd at 116, Region 2)
Vayle-rae Baker (1st at 123, Region 2)
Melanie Mendoza (2nd at 123, Region 2)
Montana Delawder (1st at 130, Region 2)
Ana Luciano (1st at 136, Region 2)
Viktorya Torres (2nd at 136, Region 2)
Ashlynn Ortega (1st at 143, Region 2)
Tiffani Baublitz (1st at 155, Region 2)
Cheyenne Bowman (1st at 170, Region 2)
Nia Crosdale (1st at 191, Region 2)
Emmanuel College (7 qualifiers)
Haley Zinninger (4th at 101, Region 2)
Dinayah Vazquez (4th at 109, Region 2)
Betty Cherry (3rd at 116, Region 2)
Samantha Larios (3rd at 130, Region 2)
Gianna Anaya (4th at 136, Region 2)
Alyssa Arana (2nd at 170, Region 2)
Cristina Santoyo (2nd at 191, Region 2)
Limestone (7 qualifiers)
Hannah Mains (4th at 130, Region 2)
Clara Padua-Cruz (2nd at 143, Region 2)
Shelsy Renous (3rd at 143, Region 2)
Amalani Latu (3rd at 155, Region 2)
Journey Land (3rd at 170, Region 2)
Kalani Rivas (4th at 170, Region 2)
Destiny Baltierra (4th at 191 Region 2)
Presbyterian (6 qualifiers)
Samantha Miller (2nd at 101, Region 2)
Cassy Lopez (3rd at 109, Region 2)
Catherine Bertrand (3rd at 123, Region 2)
SierraMarie Miller (2nd at 130, Region 2)
Paige Wehrmeister (3rd at 136, Region 2)
Isabella Badon (4th at 155, Region 2)
Mount Olive (3 qualifiers)
Isabel Rodriguez (4th at 123, Region 2)
Skyelar Smith (4th at 143, Region 2)
Jada Arnold (3rd at 191, Region 2)
Lincoln Memorial (1 qualifier)
Ashley Morris (True 4th at 116, Region 2)
Emory and Henry (1 qualifier)
Andreia Langley (2nd at 155, Region 2)