News
USA Wrestling
High School & Youth
Women
USAW
Girls High School Roundup: HM Reed tops No. 8 SLAM in Nevada states, plus team champs Billings Senior (MT), East Hardy (WV), Brusly (LA)
by Gary Abbott, USA Wrestling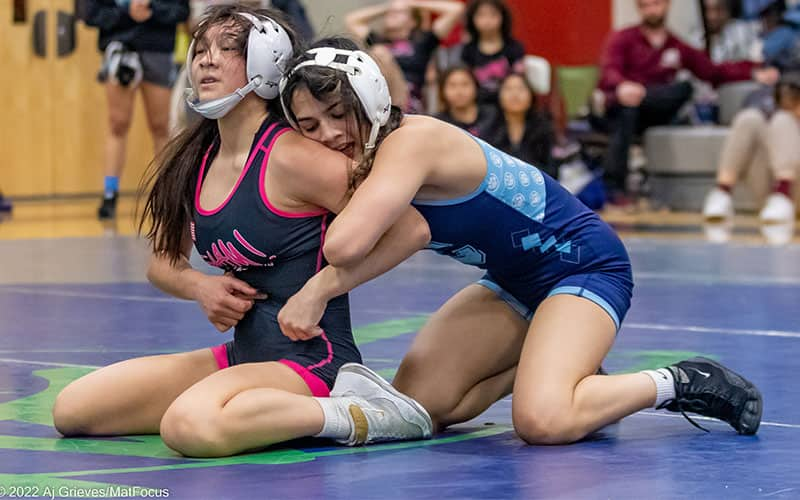 Juliana Alejandro of Centennial High School in action. Alejandro repeated as Nevada state champion this past weekend. Photo by AJ Grieves, Mat FocusHM Reed tops No. 8 SLAM Academy in Nevada states, as four nationally ranked girls win golds
Led by individual state champion Maria Aiono (185) and six placewinners, national Honorable Mention Reed defeated national No. 8 SLAM Academy by three points at the Nevada girls state championships in Winnemucca. SLAM Academy had the most individual champion with three: Sophia Abramson (100), national No. 7 Emma Albanese (114) and national No. 25 Billie Bonwell (165). Other nationally ranked individuals to claim state titles were No. 10 Juliana Alejandro of Centennial (107) and No. 30 Katie Ward of McQueen (120). Albanese and Alejandro were the only individual champions to finish with undefeated records and both were also state champions in 2022. Others to repeat were Ward and Bonwell. Individual champions came from 10 different programs. This was the inaugural girls state tournament run by the NIAA.
Billings Senior High wins Montana AA states over Butte, three nationally ranked girls claim titles
Without a single individual state champion, but with three runners-up and a total of eight place winners, Billings Senior High School won the Montana girls state championships held in Billings with 202 points, under first-year coach Charlie Klepps. Billing Senior was well ahead of runner-up Butte with 156 points. Butte had no individual champions either, but had seven placewinners. Three nationally ranked wrestlers claimed titles: No. 25 KyLee Lindsley of Belgrade (165), No. 8 Kassidee Savaria of Billings Skyview (185) and No. 15 Tirza TwoTeeth of Ronan (235). At 152, Trinity Barrus of Custer/Husham defeated national No. 23 Kendal Tucker of Billings Senior High by fall. Repeating as state champions were Savaria, plus Angelina Esarcega of Poplar (103) and Gretchen Donally of Huntley Project (138). Two team titles were given, with the Classes A-C given to Ronan High School with 119 points (the fourth most of any team regardless of division).
East Hardy wins West Virginia states over Shady Spring; three nationally ranked girls take titles
East Hardy won the West Virginia Girls State Championships held in Parkersburg, scoring 108 points, ahead of runner-up Shady Spring with 76 and 2022 state champion Musselman with 72. East Hardy was led by state champion Nahkita Bauserman (185) and a total of six place winners. Shady Spring and Musselman both had five placewinners and no champions. Three nationally ranked wrestlers claimed individual titles, No. 14 Ciara Riner of Spring Valley (126), No. 26 Loralei Smith of Cabell Midland (152) and No. 25 Kaylie Hall of Hampshire (165). Although not currently ranked nationally, senior Zoey Salmons of Cabell Midland (107) won her fourth straight West Virginia title. Other repeat champions included Riner, Smith and Hall.
Louisiana holds its first girls states on Feb. 4, with Brusly beating Baton Rouge for team title
The wrestling community in Louisiana decided it needed a girls state championships, and got the job done on Feb. 4 in Baton Rouge. While the event was not conducted by the state association (the LHSAA), and the title that was given the event was "the JV Select State Championships," the wrestling community stepped up and gave their high school girls a state meet to be proud of. Brusly won the team title with 81 points, followed by Baton Rouge with 64 points and St. Amant with 45 points. There were 24 teams entered in this inaugural tournament, a solid foundation for future growth. Brusly was led by three individual champions Sara Daley (138), A'niyah Veal (160) and Hailey Wheeler (285), with a total of five place winners. Baton Rouge had three individual champions, Lea Leduff (152), Olivia Maxie (182) and Andrea Camberos (195). Eight different high schools had individual champions.
Qualifiers held for girls state championships, with at least nine state tournaments set for this weekend
The state championships field has been set in at least nine different states, with state tournaments coming this weekend in Arizona, Colorado, Georgia, Nebraska, New Mexico, North Dakota, Texas, Utah, Washington. Expect a huge story next week!!!