News
USA Wrestling
College
USAW
No. 9 Minnesota outlasts No. 19 Wisconsin for Border Battle win, 19-15 in Madison
by Logan Sass, Minnesota Athletics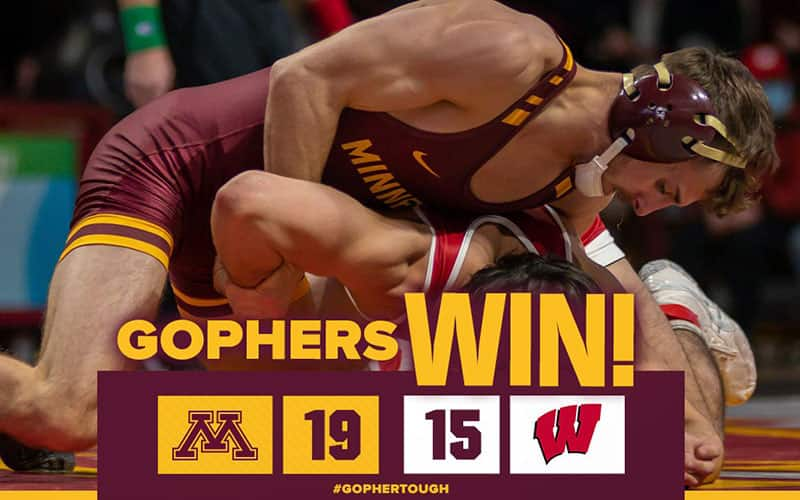 MADISON - A back-and-forth contest on Saturday afternoon went the way of the No. 9 Gophers, as they knocked off No. 19 Wisconsin by a score of 19-15.
With both teams splitting the ten bouts on the day, it was Minnesota's ability to find bonus-points that proved to be the deciding factor as the Maroon & Gold was able to find a pair of bonus-point wins in the dual.
Kicking off the dual at 149 pounds, Michael Blockhus secured a third-period fall over Aidan Medora to put six on the scoreboard for Minnesota. Blockhus was well in control throughout the match, securing seven takedowns and a pair of turns before hitting a cow-catcher midway through the final frame to pin Medora.
Wisconsin would take the next two matches to tie the dual before Bailee O'Reilly rolled to a methodical 14-4 major decision win over Josh Otto. The grad student put on a clinic in the neutral position with five takedowns in the match, and collected over three minutes of riding time in the victory.
The Gophers continued to roll at 184 pounds, where Sam Skillings would fill in for teammate Isaiah Salazar and defeat Wisconsin's Tyler Dow by 11-4 decision. Skillings controlled the match from start to finish, taking advantage of his reattacks to take down Dow five times throughout the match.
Wisconsin came out of the halftime break by rattling off three one-point victories to jump out front 15-13 and take their first lead of the dual, but Aaron Nagao would make his return to the lineup at 133 pounds and dominate former NCAA All-American Taylor LaMont, 5-1. After a scoreless first period, Nagao earned a reversal and a takedown in the second frame before putting on a tough ride in the period to add the riding time point and take the decision.
That culminated in a winner-take-all bout at 141 pounds, where Jake Bergeland would defeat Joseph Zargo by a narrow 1-0 decision to clinch the dual for Minnesota. It was a low-scoring affair, but a third-period escape proved to be the difference for Bergeland, as he defended well on the feet and did not allow Zargo to get to his offense.
The Gophers now close out the regular season with a 12-3 mark on the year, including a 5-3 record over Big Ten opponents, giving Minnesota their highest win total in a season since the 2018-19 campaign. After the loss, Wisconsin falls to 7-8 on the year with a 1-7 record against conference foes.
Looking ahead, the Maroon & Gold will enjoy a three-week hiatus from competition as they rest up and prepare for the Big Ten Championships, which take place on March 4-5 in Ann Arbor, Michigan.
#9 MINNESOTA (19), #19 WISCONSIN (15)

February 11, 2023 | Madison, Wisconsin | UW Field House | Attendance: 2,125
149: #15 Michael Blockhus (MINN) pinned Aidan Medora (WIS), 5:55
157: #18 Garrett Model (WIS) dec. Drew Roberts (MINN), 12-9
165: #6 Dean Hamiti (WIS) dec. Cael Carlson (MINN), 7-3
174: #10 Bailee O'Reilly (MINN) maj. dec. Josh Otto (WIS), 14-4
184: Sam Skillings (MINN) dec. Tyler Dow (WIS), 11-4
197: #20 Braxton Amos (WIS) dec. #23 Michial Foy (MINN), 2-1
HWT: #11 Trent Hillger (WIS) dec. Garrett Joles (MINN), 3-2
125: #7 Eric Barnett (WIS) dec. #6 Patrick McKee (MINN), 5-4
133: #14 Aaron Nagao (MINN) dec. #30 Taylor LaMont (WIS), 5-1
141: #14 Jake Bergeland (MINN) dec. #28 Joseph Zargo (WIS), 1-0