Raney wins U17 World Greco-Roman gold medal, Sahakian takes fifth, USA in fourth after first five weights
by Gary Abbott, USA Wrestling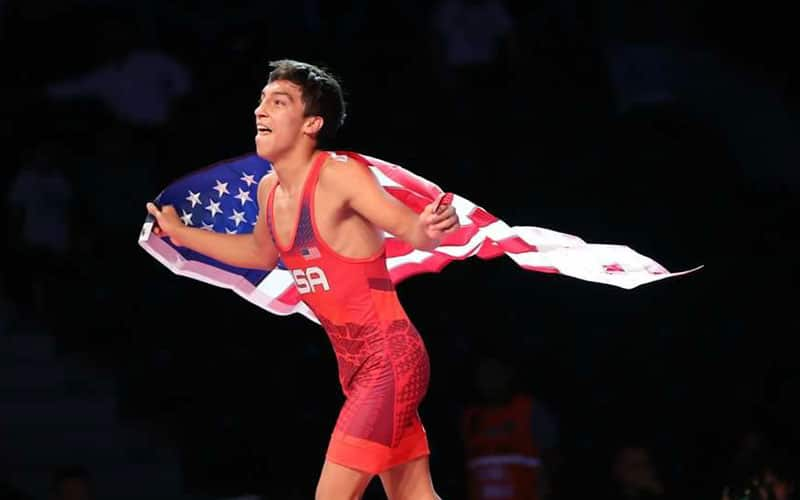 Jordyn Raney (United States) runs with the U.S. flag after winning the U17 Greco-Roman gold medal at 55 kg. Photo by Kadir Caliskan, United World Wrestling.
ISTANBUL, Turkey – The United States won its first medal of the
2023 U17 World Championships
and it was golden.
As he had done for two days,
Jordyn Raney
of Kentucky put on a show and is coming home with a gold medal at 55 kg in Greco-Roman after a special performance on Tuesday night.
Raney opened up his offense in the second period, blitzing 2022 U17 World champion Suraj of India in the gold-medal final by a 12-2 technical fall. Raney led 1-0 at the break on a stepout. He opened the second period with a quick takedown, then hit a pair of headlocks to break the match open. A challenge by India on the scoring was denied, and Jordyn Raney was World Champion. He did a flip on the mat before celebrating with his coaches.
Raney went on a wonderful run on Monday, winning four straight matches. He opened with a pair of technical falls, putting away Ahmed Shaban of Egypt and Shu Wei Chung of Taipei, both by 8-0 margins. In the quarterfinals, he stopped 2021 U17 World champion Aytjan Khalmakhanov of Uzbekistan, 9-7. In the semifinals, trailing 4-1, he had two big moves late in the match to defeat 2022 U17 World bronze medalist Mohammadreza Gholamreza Gholami of Iran, 8-7.
This was the second straight year that the United States brought home a gold medal from the U17 World Championships in Greco-Roman. In 2022,
Joel Adams
of the USA won the U17 Greco-Roman World title at 65 kg.
At 110 kg,
Nicholas Sahakian
of California dropped a bronze medal match to place fifth. Trailing 2-1 in the first period, Individual Neutral Athlete Eldar Emirov tossed Sahakian for four points, and finished off the fall with one second left in the first period.
Sahakian opened his tournament Monday with a 3-1 win over Daniel Szilagyi of Hungary. In the quarterfinals, he fell to Ronak of India, 9-0. When Ronak won his semifinal match on Monday night, Sahakian was drawn back into repechage.
On Tuesday morning, Sahakian won his 110 kg repechage match, scoring a 5-1 decision over Tomas Rusi of Finland. The key was a pair of gut wrench turns by Sahakian in the first period.
From the first group of five weight classes, the USA had a third person earn a placement, with
Adam Waters
of Pennsylvania taking eighth at 80 kg. Waters won his first two matches on Monday, then lost in the quarterfinals, but was not pulled back into repechage.
The United States is in fourth place after the first five weight classes were finished with 41 points. India led the standings with 63 points, followed by Iran with 60 points and Uzbekistan with 52 points.
The final five weight classes in Greco-Roman will be completed on Wednesday. The United States did not advance any athletes to compete from Group Two on the second day, as all five entries were beaten and did not qualify for repechage.
The final two U.S. Greco-Roman wrestlers from Group Two at the U17 World Championships were eliminated from the tournament, after the athletes who beat them on Tuesday morning were defeated in the semifinals.
At 45 kg, Henry Aslikyan was eliminated when Alireza Ahmad Amirighasroddashti of Iran, who beat Aslikyan on Tuesday morning, was defeated in the semifinals.
Also knocked out was Aiden Cooley at 92 kg. Cooley was beaten in the quarterfinals by Gabriel Stan of Romania, who was then defeated in the semifinals this evening.
In order to compete in the repechage, an athlete must lose to an opponent who reaches the gold medal finals. All five U.S. wrestlers in Group Two did not lose to a finalist.
U17 WORLD CHAMPIONSHIPS
At Istanbul, Turkey.

Greco-Roman Group One results
48 kg
Gold - Payam Farzad Balootaki (Iran)
Silver - Shakhzod Ruziokhunov (Uzbekistan)
Bronze - Elnar Ziyadov (Azerbaijan)
Bronze - Edgar Petrosyan (Armenia)
5th - Murat Khatit (Independent Neutral Athlete)
5th - Ivan Seibel (Germany)
7th - Siddhanath Krishnat Patil (India)
8th - Maksim Bradziak (Independent Neutral Athlete)
9th - Beknur Mukan (Kazakhstan)
10th - Haruku Shiina (Japan)
Gold – Balootaki dec. Ruziokhunov, 4-0
Bronze – Ziyadov dec. Khatit, 5-4
Bronze – Petrosyan pin Seibel, 1:45
55 kg
Gold - Jordyn Raney (United States)
Silver - Suraj (India)
Bronze - Aytjan Khalmakhanov (Uzbekistan)
Bronze - Kuttubek Rysmatov (Kyrgyzstan)
5th - Mohammadreza Gholamreza Gholami (Iran)
5th - Halil Cinar (Turkey)
7th - Maxim Sarmanov (Moldova)
8th - Yuri Karapetyan (Armenia)
9th - Shu Takahashi (Japan)
10th - Ahmed Abdelbary Bakry Ahmed Shaban (Egypt)
Gold – Raney tech fall Suraj, 12-2
Bronze – Khalmakhanov tech fall Gholami, 11-2
Bronze – Rysmatov tech fall Cinar, 11-1
65 kg
Gold - Zaur Beslekoev (Independent Neutral Athlete)
Silver - Yusif Ahmadli (Azerbaijan)
Bronze - Islombek Karimjonov (Uzbekistan)
Bronze - Kumar Sachin (India)
5th - Octavian Cernetchi (Moldova)
5th - Giorgi Tchikaidze (Georgia)
7th - Constantin Lungu (Romania)
8th - Alibek Turykgazy (Kazahstan)
9th - Mohamed Hassan Ahmed Mohamed Abdelrehim (Egypt)
10th - Petros Aajkaryan (Armenia)
Gold – Beslekoev dec, Ahmadli, 5-1
Bronze – Karimjonov tech fall Cernetchi, 8-0
Bronzea – Sachin dec. Tchikaidze, 6-2
80 kg
Gold - Taizo Yoshida (Japan)
Silver - Mikhail Shkarin (Independent Neutral Athlete)
Bronze - Erik Ter Matevosyan (Armenia)
Bronze - Uladzislau Dubrouski (Independent Neutral Athlete)
5th - Eleftherios Pappas (Greece)
5th - Alireza Abghar Abbasi (Iran)
7th - Stanislaw Bartlomiej Fussy (Poland)
8th - Adam Waters (United States)
9th - Elmin Aliyev (Azerbaijan)
10th - Bekmurod Rustamov (Uzbekistan)
Gold – Yoshida dec. Shkarin, 8-6
Bronze – Matevosyan dec. Pappas, 8-2
Bronze – Dubrouski dec. Abbasi, 2-1
110 kg
Gold - Cemal Yusuf Bakir (Turkey)
Silver - Ronak (India)
Bronze - Eldar Emirov (Independent Neutral Athlete)
Bronze - Amirhossein Morad Abdevali (Iran)
5th - Nicholas Sahakian (United States)
5th - Mohamed Abdelnaby Hegazy Farag Ahmed (Egypt)
7th - Bekzhan Ismagulov (Kazakhstan)
8th - Saba Chilashvili (Georgia)
9th - Daniel Szilagyi (Hungary)
10th - Andreas Kern (Slovakia)
Gold – Bakir dec. Ronak, 2-0
Bronze – Emirov pin Sahakian, 1:59
Bronze – Abdevali dec. Ahmed, 2-0
U.S. Group One Greco-Roman results
48 kg – Ezekiel Witt (Junction City, Kansas/Manhattan Wrestling), dnp/17th
LOSS Edgar Petrosyan (Armenia), tech fall 8-0
55 kg – Jordyn Raney (Sturgis, Kentucky/Union County High School), Gold Medal
WIN Ahmed Shaban (Egypt), tech fall 8-0
WIN Shu Wei Chung (Taipei), tech fall 8-0
WIN Aytjan Khalmakhanov (Uzbekistan), 9-7
WIN Mohammadreza Gholamreza Gholami (Iran), 8-7
WIN Suraj (India), tech fall 12-2
65 kg – William Greenwood (Livermore, Colo./GRIT Athletics WC), dnp/16th
LOSS Yusif Ahmadli (Azerbaijan), tech fall 8-0
LOSS Athanasios Efthymiadis (Greece), 9-7
80 kg – Adam Waters (Stowe, Pennsylvania/Steller Trained Wrestling), 8th place
WIN Miguel Angel Vega Salazar (Colombia), 6-1
WIN Aman (India), tech fall 9-0
LOSS Eleftherios Pappas (Greece), 8-1
110 kg – Nicholas Sahakian (Sherman Oaks, California/St. John Bosco High School), 5th place
WIN Daniel Szilagyi (Hungary), 3-1
LOSS Ronak (India), tech fall, 9-0
WIN Tomas Rusi (Finland), 5-1
LOSS Eldar Emirov (Independent Neutral Athlete), pin 1:59
Team Standings after the first five weight classes (Group One)
1 India 63
2 Iran 60
3. Uzbekistan 52
4 United States, 41
5. Azerbaijan, 39
6. Armenia, 38
7. Turkey, 35
8. Japan, 31
9. Moldova 18
10. Kazahstan 18
U.S. Group Two Greco-Roman performances
45 kg – Henry Aslikyan (Panorama City, California/Birmingham Community Charter School), eliminated
LOSS Alireza Ahmad Amirighasroddashti (Iran), tech fall, 11-0
51 kg – Hudson Loges (Blair, Nebraska/MWC Wrestling Academy), eliminated
LOSS Husniddin Ulugbekov (Turkmenistan), 4-1
60 kg – Sam Herring (Sidman, Pennsylvania/Bishop McCort High School), eliminated
LOSS Yerdaulet Lassim (Kazakhstan), 6-3
71 kg – Arvin Khosravy (Woodland Hills, Calif.), eliminated
LOSS Ivan Bialiayeu (Individual Neutral Athlete),4-1
92 kg – Aiden Cooley (Allen, Texas/Best Trained Wrestling), eliminated
WIN Stevan Kojic (Serbia), tech fall, 9-0
LOSS Gabriel Stan (Romania), tech fall, 9-0
Group Two Finalist pairings
45 kg - Turan Dashamirov (Azerbaijan) vs. Rustem Abatsiev (AIN)
51 kg - Artur Broyan (Armenia) vs. Ilia Kandalin (AIN)
60 kg - Roman Karimov (Azerbaijan) vs. Saba Surmanidze (Georgia)
71 kg - Arionas Kolitsopoulos (Greece) vs. Ahmadreza Mohamadian (Iran)
92 kg - Saipula Gadzihinagomedov (AIN) vs. Saba Purtseladze (Georgia)
Group Two Semifinal results
45 kg
Turan Dashamirov (Azerbaijan) dec. Alireza Ahmad Amirighasroddashti (Iran), 5-1
Rustem Abatsiev (AIN) tech fall Yunik Mkhitaryan (Armenia), 10-2
51 kg
Artur Broyan (Armenia) pin Manu Yadav (India), 0:51
Ilia Kandalin (AIN) dec. Dostonbek Oripov (Uzbekistan), 11-7
60 kg
Roman Karimov (Azerbaijan) dec. Mingiian Goriaev (AIN), 9-5
Saba Surmanidze (Georgia) dec. Kiryl Valeuski (AIN), 7-5
71 kg
Arionas Kolitsopoulos (Greece) dec. Abdurakhman Abdulkadyrov (AIN), 2-1
Ahmadreza Mohamadian (Iran) dec, Alkan Akar (Turkey), 4-0
92 kg
Saipula Gadzihinagomedov (AIN) tech fall Gabriel Stan (Romania), 9-0
Saba Purtseladze (Georgia) dec, Mikayil Ismayikov (Azerbaijan), 3-1