News
USA Wrestling
International
College
USAW
U17 World champion Adams pins Olympian Sancho, five Olympians reach Senior Greco- Roman semifinals at U.S. Open
by Adam Engel, Special to TheMat.com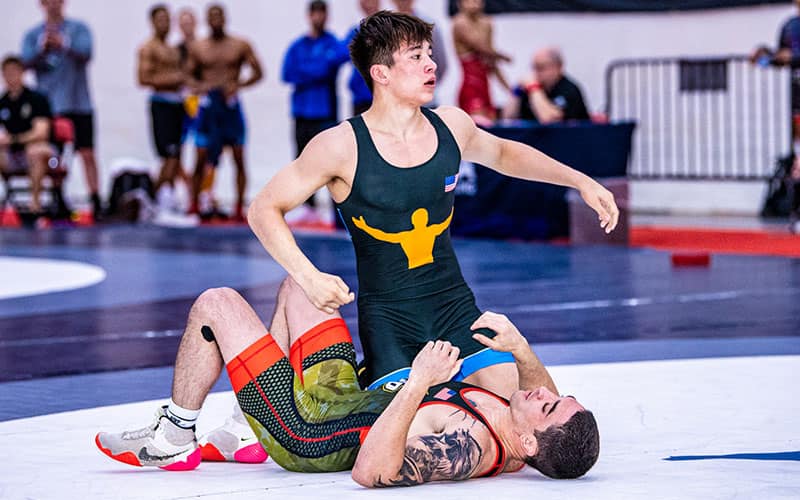 Joel Adams after victory at 67 kg over Alejandro Sancho at the 2023 U.S. Open. Photo by Sam Janicki
.
LAS VEGAS, Nev. -
Joel Adams
didn't seem to have trouble adjusting to his first major Senior-level competition.
Adams, a U17 World champion, pinned top-seeded and Olympian Alejandro Sancho in the 67 kg quarterfinals in the Senior Greco-Roman competition at the
2023 Pritchard Companies U.S. Open, presented by FloWrestling
.
Adams will meet No. 4 Robert Perez III of Sunkist Kids Wrestling Club, a two-time U.S. age-group World Team member, in the semifinals.
Sancho became the only No. 1 seed to not make the semifinals while Adams was one of two unseeded wrestlers to break into the semifinals. Jack Ervien Jr of Viking Wrestling Club, IA did so at 72 kg.
The tournament's first session marked the return of five former Olympians who made the semifinals — No. 1
Ildar Hafizov
of Army WCAP at 60 kg, No. 3
Jesse Thielke
of Army WCAP at 67 kg, No. 6
Aliaksandr Kikiniou
of Poway at 77 kg, No. 1
Ben Provisor
of New York Athletic Club at 87 kg and No. 3
John Stefanowicz
of the Navy Wrestling Club at 87 kg.
2018 World medalist
Adam Coon
of New York Athletic Club/Cliff Keen WC also returned to the mat at 130 kg and reached the semifinals. Coon hadn't wrestled since the 2020 Olympic Trials to pursue a career in pro football
Two former World Team members dropped to the consolations at 77 kg.
Kikiniou, 43, stopped past U.S. World Team member RaVaughn Perkins of New York Athletic Club, 7-5, in the quarterfinals. Kikiniou, a former Belarusian Olympian and World medalist, debuted in his first USA Wrestling event as a U.S. citizen on Wednesday.
In another 77 kg quarterfinal,
Burke Paddock
of New York Athletic Club stopped NYAC teammate and fellow New York native and past Senior World Team member Jesse Porter, 6-4.
Also at 130 kg, 2000 Olympic champion Rulon Gardner did not weigh in although he registered for the tournament. Gardner, 51, also won the 2001 World Championship and a 2004 Olympic bronze medal.
Semifinals and consolation bouts begin at 4:00 p.m. Wednesday. View every match on
FloWrestling live
.
The U.S. Open champion qualifies for Final X in Newark, New Jersey, May 10. The top seven placewinners in each weight qualify for the World Team Trials Challenge in Colorado Springs, Colorado, May 20-21.
U.S. SENIOR GRECO-ROMAN OPEN
At Las Vegas, Nev., April 26

Senior Greco-Roman semifinal pairings

55 kg:
No. 1 Brady Koontz (Dubuque Wrestling Club/TMWC) vs No. 5 Jacob Cochran (Army WCAP)
No. 2 Dalton Duffield (Army WCAP) vs No. 6 Billy Sullivan (Army WCAP)
60 kg
No. 1 Ildar Hafizov (Army WCAP) vs No. 4 Mason Carzino-Hartshorn (West Coast Greco RTC)
No. 6 Dylan Koontz (Dubuque Wrestling Club/TMWC) vs No. 2 Dalton Roberts (Army WCAP)
63 kg ¬
No. 1 Sammy Jones (Sunkist Kids Wrestling Club) vs No. 4 Xavier Johnson (Army WCAP)
No. 3 Hayden Tuma (Suples Wrestling Club) vs No. 2 Leslie Fuenffinger (Army WCAP)
67 kg
No. 4 Robert Perez III (Sunkist Kids Wrestling Club) vs Joel Adams (The Best Wrestler)
No. 2 Alston Nutter (Sunkist Kids Wrestling Club) vs No. 3 Jesse Thielke (Army WCAP)
72 kg
No. 1 Patrick Smith (New York Athletic Club) vs Jack Ervien Jr. (Viking Wrestling Club, IA)
No. 6 Justus Scott (Army WCAP) vs No. 2 Britton Holmes (Army WCAP)
77 kg
No. 1 Kamal Bey (Army WCAP) vs No. 5 Burke Paddock (New York Athletic Club)
No. 6 Aliaksandr Kikiniou (Poway) vs No. 2 Payton Jacobson (Sunkist Kids Wrestling Club)
82 kg
No. 1 Ben Provisor (New York Athletic Club) vs No. 5 Andrew Berreyesa (New York Athletic Club)
No. 6 Kendrick Sanders (New York Athletic Club) vs No. 2 Spencer Woods (Army WCAP)
87 kg
No. 1 Alan Vera (New York Athletic Club) vs No. 5 Zachary Braunagel (Illinois Regional Training Center/Illini WC)
No. 3 John Stefanowicz (Navy Wrestling Club) vs No. 2 Timothy Young (Army WCAP)
97 kg
No. 1 Josef Rau (TMWC/Wildcat WC) vs No. 4 George Sikes (New York Athletic Club)
No. 3 Christian DuLaney (New York Athletic Club) vs No. 2 Nicholas Boykin (Sunkist Kids Wrestling Club)
130 kg
No. 1 Cohlton Schultz (Sunkist Kids Wrestling Club) vs No. 5 Donny Longendyke (Minnesota Storm)
No. 3 Adam Coon (New York Athletic Club) vs No. 2 Tanner Farmer (New York Athletic Club)
Quarterfinal results
55 kg
No. 1 Brady Koontz IA (Titan Mercury Wrestling Club) tech fall Tirso Lara CA (Top Gun Wrestling Club), 9-0 1:53
No. 5 Jacob Cochran CO (Army (WCAP) tech fall No. 4 Camden Russell NE (MWC Wrestling Academy), 14-4 2:30
No. 2 Dalton Duffield CO (Army (WCAP) tech fall Eathon Rider CA (Shafter Youth Wrestling), 8-0 0:20
No. 6 Billy Sullivan NV (Army (WCAP) dec. No. 3 Drew West IL (Illinois), 6-0
60 kg
No. 1 Ildar Hafizov CO (Army (WCAP) tech fall Joseph Couch MD (West Point Wrestling Club), 10-0 0:37
No. 4 Mason Carzino-Hartshorn CA (West Coast Greco RTC) dec. Jonathan Gurule NM (NMU-National Training Center), 2-0
No. 2 Dalton Roberts CO (Army WCAP) dec. No. 7 Max Black CO (NMU-National Training Center), 5-0
No. 6 Dylan Koontz IA (Dubuque Wrestling Club/Titan Mercury Wrestling Club) dec. No. 3 Randon Miranda CA (California), 2-2
63 kg
No. 1 Sammy Jones MI (Sunkist Kids Wrestling Club) tech fall No. 8 Logan Savvy VA (New York Athletic Club), 9-0 1:03
No. 4 Xavier Johnson NC (Army (WCAP) tech fall No. 5 Aidan Nutter WI (New York Athletic Club), 9-1 4:07
No. 3 Hayden Tuma ID (Suples Wrestling Club) dec. No. 6 Dylan Gregerson UT (Brunson UVRTC), 11-7
No. 2 Leslie Fuenffinger CO (Army (WCAP) dec. No. 7 Corbin Nirschl NE (MWC Wrestling Academy), 6-0
67 kg
No. 4 Robert Perez III CO (Sunkist Kids Wrestling Club) tech fall No. 5 Lenny Merkin NY (New York Athletic Club), 9-0 3:49
No. 2 Alston Nutter WI (Sunkist Kids Wrestling Club) tech fall Chris Debien TN (Baylor Wrestling Club), 12-4 1:25
Joel Adams NE (The Best Wrestler) fall No. 1 Alejandro Sancho CO (Army (WCAP), 4-3 4:03
No. 3 Jesse Thielke CO (Army (WCAP) fall No. 6 David Stepanian MI (New York Athletic Club), 8-3 5:48
72 kg
No. 1 Patrick Smith MN (New York Athletic Club) tech fall No. 8 Dominic Damon WA (NMU-National Training Center), 8-0 4:37
Jack Ervien Jr. WA (Viking Wrestling Club, IA) fall No. 5 Jamel Johnson NC (Marines), 4-4 2:01
No. 6 Justus Scott CO (Army (WCAP) dec. No. 3 Noah Wachsmuth CO (Colorado), 6-5
No. 2 Britton Holmes CO (Army (WCAP) tech fall No. 7 Richard Fedalen MD (New York City RTC), 9-0 1:48
77 kg
No. 1 Kamal Bey CO (Army (WCAP) tech fall Alec Ortiz MN (Minnesota Storm), 9-0 1:21
No. 5 Burke Paddock CO (New York Athletic Club) dec. No. 4 Jesse Porter NY (New York Athletic Club), 6-4
No. 6 Aliaksandr Kikiniou CA (Poway) dec. No. 3 Ravaughn Perkins CO (New York Athletic Club), 7-5
No. 2 Payton Jacobson WI (Sunkist Kids Wrestling Club) dec. No. 7 Danny Braunagel IL (Illinois Regional Training Center/Illini WC), 6-1
82 kg
No. 1 Ben Provisor PA (New York Athletic Club) tech fall Lukas Poloncic MN (Minnesota Storm), 8-0 0:18
No. 5 Andrew Berreyesa NV (New York Athletic Club) tech fall Johanner Correa NC (North Carolina), 8-0 4:57
No. 6 Kendrick Sanders MI (New York Athletic Club) dec. No. 3 Tommy Brackett CO (Colorado), 7-3
No. 2 Spencer Woods CO (Army (WCAP) dec. No. 7 Fritz Schierl WI (New York Athletic Club/Minnesota Storm), 6-2
87 kg
No. 1 Alan Vera NJ (New York Athletic Club) tech fall No. 8 Michael Altomer NY (NMU-National Training Center), 12-4 2:10
No. 5 Zachary Braunagel IL (Illinois Regional Training Center/Illini WC) dec. No. 4 Richard Carlson MN (New York Athletic Club), 7-0
No. 3 John Stefanowicz PA (Navy Wrestling Club) tech fall No. 6 Austin Craig WA (All Navy Wrestling), 8-0 2:18
No. 2 Timothy Young IL (Army (WCAP) fall No. 7 Barrett Stanghill MN (Minnesota Storm), 5-0 1:58
97 kg
No. 1 Josef Rau IL (Titan Mercury Wrestling Club/Wildcat WC) tech fall Cade Lautt NC (Tar Heel Wrestling Club), 10-0 2:03
No. 4 George Sikes FL (New York Athletic Club) dec. Eli Pannell IL (Illinois), 4-0
No. 3 Christian Dulaney MN (New York Athletic Club) tech fall Tyler Thurston IA (Dubuque RTC), 9-1 3:57
No. 2 Nicholas Boykin OH (Sunkist Kids Wrestling Club) tech fall Brandon Marshall IA (Big Game Wrestling Club), 9-0 3:16
130 kg
No. 1 Cohlton Schultz CO (Sunkist Kids Wrestling Club) tech fall Aydin Guttridge NC (Tar Heel Wrestling Club), 8-0 0:28
No. 5 Donny Longendyke MN (Minnesota Storm) tech fall Darryl Aiello IA (Community Youth Center - Concord Campus Wrestling), 9-0 4:24
No. 3 Adam Coon MI (New York Athletic Club) dec. No. 6 Luke Luffman IL (Illinois Regional Training Center/Illini WC), 7-1
No. 2 Tanner Farmer IL (New York Athletic Club) tech fall No. 7 Tom Foote MA (New York Athletic Club), 8-0 1:49