News
USA Wrestling
High School & Youth
USAW
U.S. Open U17 World Team Trials preview & entries: U17 World medalists Munaretto, Castillo, Forrest, Ryder return
by Gary Abbott, USA Wrestling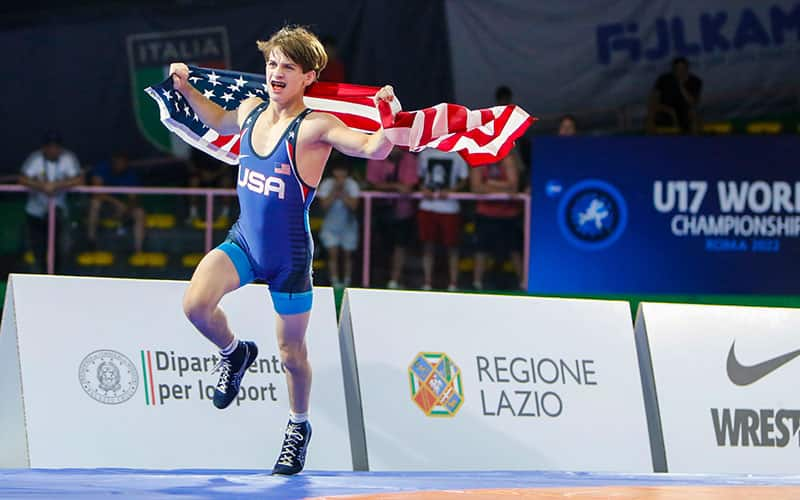 Domenic Munaretto (USA) with the American flag after winning a freestyle gold medal at the 2022 U17 World Championships. Photo by Martin Gabor, United World Wrestling
.
Four 2022 U17 World medalists from the United States are registered to return for the
2023 U17 World Team Trials
at the South Point Hotel and Arena in Las Vegas, Nev.
The U17 World Team Trials in Greco-Roman will be held on Thursday, April 27. The U17 World Team Trials in freestyle are set for Saturday, April 29 and Sunday, April 30. It is one of the major events within the
2023 Pritchard Companies U.S. Open, presented by FloWrestling
.
Domenic Munaretto
of Illinois, a 45 kg U17 World freestyle champion last summer, returns to compete at 48 kg in freestyle this year. U17 World freestyle silver medalists
Christian Castillo
of Arizona (48 kg) and
Jax Forrest
of Pennsylvania (55 kg) are also back. This year, Castillo will compete at 51 kg and Forrest is entered at 60 kg.
Zack Ryder
of New York, who won a U17 World bronze last year at 80 kg, returns at the same weight class this year.
The winners of the best-of-three championship series each weight class, both freestyle and Greco-Roman, will represent the USA at the 2023 U17 World Championships in Istanbul, Turkey, July 31-August 6.
With 950 entries this year, the U17 World Team Trials is jammed full of talented athletes in both styles, including many who are currently in the national high school rankings. FloWrestling is tracking
all of the ranked high school wrestlers at the U17 and U20 Nationals
.
A number of runners-up from the 2022 U17 World Team Trials are back, looking to earn the spot on the USA team this year. Included is
Haakon Peterson
of Wisconsin, who was second in the U17 Trials in freestyle last year. Peterson was also a 16U Nationals champion in freestyle and Greco-Roman last year. He returns at 45 kg in both styles.
Bo Bassett
of Pennsylvania, U17 World Team Trials runner-up in freestyle at 51 kg last year, returns at 55 kg this year. He was a 2021 U17 World champion in freestyle.
Hudson Loges
of Nebraska, second at the U17 World Team Trials last year in Greco-Roman, returns in both styles this year at 51 kg.
Edwin Sierra
of California, second last year at 51 kg in Greco-Roman, returns in both styles at 51 kg.
Sampson Stillwell
of Missouri, second in the U17 Greco-Roman Trials last season at 110 kg, is back at that weight in both styles. Stillwell was also a 16U Nationals champion in Greco-Roman in Fargo.
A majority of the 2022 16U National champions from Fargo last year are entered in this year's U17 World Team Trials. In addition to Peterson, another 16U Nationals double champion who is entered is Jayden Raney of Kentucky, who is competing at 55 kg in both styles in Las Vegas.
The 2022 16U National freestyle champions who are entered, with the weight class they will compete in Las Vegas, are Michael Romero of California (55 kg FS/GR), Kellen Wolbert of Wisconsin (60 kg FS), Marcus Blaze of Ohio (55 kg FS), Benjamin Davino of Illinois (60 kg FS), Brock Mantanona of California (65 kg FS), Kody Routledge of Oklahoma (71 kg FS), Ladarion Lockett of Oklahoma (71 kg FS), Jarrel Miller, Jr. of Ohio (80 kg FS), Aeoden Sinclair of Wisconain (92 kg FS), Dreshaun Ross of Iowa (92 kg FS/GR) and Jay Henderson of Utah (92 kg FS).
Joining Haakon Peterson, Jayden Raney and Sampson Stillwell as 2022 16U National Greco-Roman champions entered at U17 division at the U.S. Open are Caleb Noble of Wisconsin (45 kg FS/GR), Lincoln Sledzianowski of Florida (48 kg FS/GR), Jeremiah Wachsmuth of Oregon (51 kg FS/GR), Jordyn Raney of Kentucky (55 kg FS/GR), Thomas Verrette of Colorado (60 kg GR), Billy Greenwood of Colorado (65 kg FS/GR), Gabriel Bouyssou of Rhode Island (65 kg FS/GR), Aliaksandr Kikiniou of California (71 kg FS/GR), Tristin Greene of Ohio (71 kg FS/GR), Tristan Steldt of Wisconsin (71 kg FS), Bryce Burkett of Minnesota (80 kg FS/GR), Brennan Carey of Missouri (92 kg FS/GR) and Nicholas Sahakian of California (110 kg FS/GR).
2023 U.S. Open - U17 World Team Trials entries (as of April 23)
2023 U17 WORLD TEAM TRIALS
At Las Vegas, Nev.,

Event Schedule
Thursday, April 27
10:00 a.m. – 2:00 p.m. – Greco-Roman Preliminaries, Quarterfinals, Semifinals and Consolations
3:00 p.m. – 6:00 p.m. – Greco-Roman Consolation, Cosnolation Semifinals, Medal Matches and Best 2 of 3 Finals
Saturday, April 29
10:00 a.m. – 3:00 p.m. – Freestyle Preliminaries, Quarterfinals and Consolations
4:00 p.m. – 8:30 p.m. – Freestyle Semifinals and Consolations
Sunday, April 30
10:00 a.m. -2:00 p.m. – Freestyle Consolation and Consolation Semifinals
4:00 p.m. – 7:00 p.m. – Freestyle Medal Matches and Best 2 of 3 Finals
2022 U17 Freestyle World Team Trials Champions
April 2022
45 - Domenic Munaretto (Toss Em Up Wrestling Academy)
48 - Christian Castillo (Thorobred WC)
51 - Luke Lilledahl (Xtreme Training)
55 - Jax Forrest (PA)
60 - Kyler Larkin (AZ)
65 - Tyler Kasak (PA)
71 - Joseph Sealey (NC)
80 - Zack Ryder (KD Training Center)
92 - Max McEnelly (Waconia WC)
110 - Koy Hopke (Pinnacle WC)
U17 Greco-Roman World Team Trials Champions
April 2022
45 - Davis Motyka (XCalibur Athletics)
48 - Christian Castillo (Thorobred WC)
51 - Elyle Francisco (Anchorage Youth Wrestling Academy)
55 - Nick Treaster (Newton WC)
60 - Zan Fugitt (Missouri)
65 - Joel Adams (The Best Wrestler)
71 - Arvin Khosravy (California)
80 - Cole Han-Lindemyer (Pinnacle WC)
92 - Cody Merrill (Daniel Cormier)
110 - Koy Hopke (Pinnacle WC)
2022 16U Freestyle National champions
July 2022
88 - Mac Crosson (Iowa)
94 - Haakon Peterson (Wisconsin)
100 - Michael Romero (California)
106 - Jayden Raney (Kentucky)
113 - Kellen Wolbert (Wisconsin)
120 - Marcus Blaze (Ohio)
126 - Benjamin Davino (Illinois)
132 - Brock Mantanona (California)
138 - PJ Duke (New York)
145 - Kody Routledge (Oklahoma)
152 - Ladarion Lockett (Oklahoma)
160 - Bekhruz Sadriddinov (Pennsylvania)
170 - Jarrel Miller, Jr (Ohio)
182 - Aeoden Sinclair (Wisconsin)
195 - Dreshaun Ross (Iowa)
220 - Jay Henderson (Utah)
285 - Aaron Ries (Ohio)
2022 16U Greco-Roman Nationals champions
July 2022
88 - Caleb Noble (Wisconsin)
94 - Haakon Peterson (Wisconsin)
100 - Lincoln Sledzianowski (Florida)
106 - Jeremiah Wachsmuth (Oregon)
113 - Jayden Raney (Kentucky)
120 - Jordyn Raney (Kentucky)
126 - Thomas Verrette (Colorado)
132 - Billy Greenwood (Colorado)
138 - Gabriel Bouyssou (Rhode Island)
145 - Aliaksandr Kikiniou (California)
152 - Tristin Greene (Ohio)
160 - Tristan Steldt (Wisconsin)
170 - Bryce Burkett (Minnesota)
182 - Coby Merrill (California)
195 - Brennan Carey (Missouri)
220 - Nicholas Sahakian (California)
285 - Sampson Stillwell (Missouri)