8U, 10U champions crowned at Folkstyle Nationals; Utesch, Weber named OW's
by Richard Immel, USA Wrestling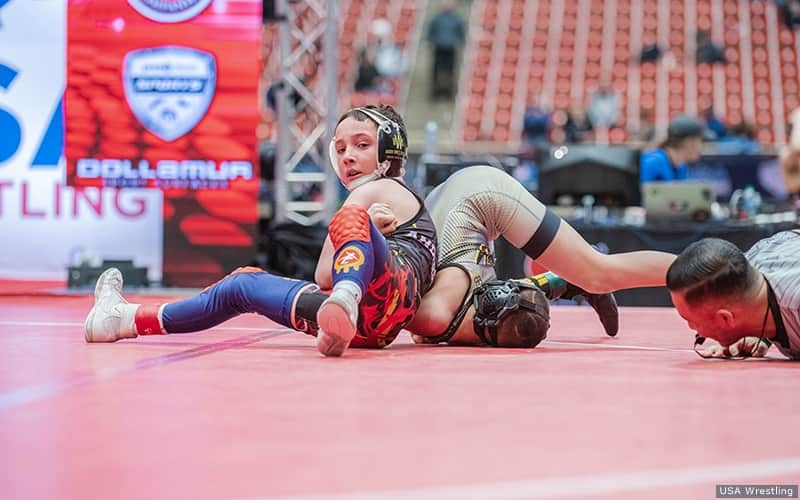 Photo: South Dakota's Eli Anderson pins to win the 10U 93-pound finals at Folkstyle Nationals. (Richard Immel/USA Wrestling)
CEDAR FALLS, Iowa – The 8U and 10U divisions at the 2023 USA Wrestling Folkstyle Nationals wrapped on Saturday afternoon inside the UNI Dome. Final placements and medal match results are provided below.
Iowa's Cohen Utesch won was awarded the 8U Outstanding Wrestler award after scoring a 14-1 major decision in the 53-pound finals.
The 10U Outstanding Wrestler was presented to 59-pound champion Ian Weber of Wisconsin. Weber won five matches during the tournament, four of which were bonus point victories.
Every match from the USA Wrestling Folkstyle Nationals can be viewed on-demand on
FloWrestling.com
. Complete brackets and match-by-match results are available on
Trackwrestling.com
.
2023 USA Wrestling Folkstyle Nationals
March 31 – April 2, UNI Dome, Cedar Falls, Iowa
10U Final Results
49 pounds
1st Place - John Reimer of WI
2nd Place - Landen Morris of AL
3rd Place - Kain Mendez of IA
4th Place - Michael Harris of ND
Round 1
Landen Morris (AL) won by tech fall over Michael Harris (ND) (TF 21-6)
John Reimer (WI) won by fall over Kain Mendez (IA) (Fall 0:18)
Round 2
Landen Morris (AL) won by fall over Kain Mendez (IA) (Fall 1:48)
John Reimer (WI) won by fall over Michael Harris (ND) (Fall 0:26)
Round 3
John Reimer (WI) won by decision over Landen Morris (AL) (Dec 7-0)
Kain Mendez (IA) won by fall over Michael Harris (ND) (Fall 2:08)
53 pounds
1st Place - Liam King of MO
2nd Place - Kale McDermott of IA
3rd Place - Nickson Petri of WI
4th Place - Brady Jacobs of MI
5th Place - Louis Taylor of IA
6th Place - Darek Flores of IL
7th Place - Logan Clarendon of CO
8th Place - Mack Miller of SC
1st Place Match
Liam King (MO) won by decision over Nickson Petri (WI) (Dec 4-0)
2nd Place Wrestleback
Kale McDermott (IA) won by fall over Nickson Petri (WI) (Fall 1:35)
3rd Place Match
Kale McDermott (IA) won by decision over Brady Jacobs (MI) (Dec 4-2)
5th Place Match
Louis Taylor (IA) won by decision over Darek Flores (IL) (Dec 6-0)
7th Place Match
Logan Clarendon (CO) won by fall over Mack Miller (SC) (Fall 2:55)
56 pounds

1st Place - Adam Husk Jr. of WI
2nd Place - Cipriano Duran of CO
3rd Place - Cruz Urioste of MI
4th Place - Kitt Messiter of VA
5th Place - Dane Luif of IL
6th Place - Alessandro Calderon of SC
7th Place - Scott Kilmer of IL
8th Place - Joshua Gustafson of NM
1st Place Match
Adam Husk Jr. (WI) won by decision over Cipriano Duran (CO) (Dec 5-0)
2nd Place Wrestleback
Cipriano Duran (CO) won by no contest over Cruz Urioste (MI) (NC)
3rd Place Match
Cruz Urioste (MI) won by fall over Kitt Messiter (VA) (Fall 2:58)
5th Place Match
Dane Luif (IL) won by decision over Alessandro Calderon (SC) (Dec 6-2)
7th Place Match
Scott Kilmer (IL) won by decision over Joshua Gustafson (NM) (Dec 7-2)
59 pounds

1st Place - Ian Weber of WI
2nd Place - Tate Russell of TX
3rd Place - Gavin Arnold of DE
4th Place - Cecil Nelson of TX
5th Place - Bennett Dawson of OK
6th Place - Kyler Haslem of UT
7th Place - Joaquin Ascencio of MI
8th Place - Jack Lange of IA
1st Place Match
Ian Weber (WI) won by decision over Tate Russell (TX) (Dec 4-0)
2nd Place Match
Tate Russell (TX) won by no contest over Gavin Arnold (DE) (NC)
3rd Place Match
Gavin Arnold (DE) won by decision over Cecil Nelson (TX) (Dec 6-0)
5th Place Match
Bennett Dawson (OK) won by fall over Kyler Haslem (UT) (Fall 2:40)
7th Place Match
Joaquin Ascencio (MI) won by major decision over Jack Lange (IA) (Maj 11-2)
63 pounds

1st Place - Jett Brenner of AZ
2nd Place - Eli Armstrong of ID
3rd Place - Tanner McCray-Bey of MD
4th Place - Jaxton Coyer of MI
5th Place - Nico Distasio of IL
6th Place - Collin Ysquierdo of WI
7th Place - Brady Stewart of WI
8th Place - Kaleb Wallisch of WI
1st Place Match
Jett Brenner (AZ) won by decision over Tanner McCray-Bey (MD) (Dec 3-2)
2nd Place Match
Eli Armstrong (ID) won by decision over Tanner McCray-Bey (MD) (Dec 7-3)
3rd Place Match
Eli Armstrong (ID) won by decision over Jaxton Coyer (MI) (Dec 8-2)
5th Place Match
Nico Distasio (IL) won by decision over Collin Ysquierdo (WI) (Dec 2-0)
7th Place Match
Brady Stewart (WI) won by decision over Kaleb Wallisch (WI) (Dec 2-0)
67 pounds

1st Place - Kalix Kilpatrick of TN
2nd Place - Brooks Blevins of KS
3rd Place - Bransen Weber of WI
4th Place - Levi Pike of MI
5th Place - Preston Beckett of WA
6th Place - Charlie Novak of MN
7th Place - Lucas Parish of MN
8th Place - Romen Melstrand of WI
1st Place Match
Kalix Kilpatrick (TN) won in sudden victory - 1 over Brooks Blevins (KS) (SV-1 9-4)
2nd Place Match
Brooks Blevins (KS) won by fall over Bransen Weber (WI) (Fall 0:50)
3rd Place Match
Bransen Weber (WI) won in sudden victory - 1 over Levi Pike (MI) (SV-1 4-2)
5th Place Match
Preston Beckett (WA) won by decision over Charlie Novak (MN) (Dec 6-2)
7th Place Match
Lucas Parish (MN) won by decision over Romen Melstrand (WI) (Dec 7-2)
71 pounds

1st Place - Paxton Beckett of WA
2nd Place - Liam Hinton of VA
3rd Place - Logan Oakes of IA
4th Place - Walter Caulum of WI
5th Place - Liam Freeman of MN
6th Place - Michael Dudak Iii of IN
7th Place - Bennett Ledbetter of IL
8th Place - Landon Piontek of WI
1st Place Match
Paxton Beckett (WA) won by major decision over Liam Hinton (VA) (Maj 9-0)
2nd Place Match
Liam Hinton (VA) won by decision over Logan Oakes (IA) (Dec 7-2)
3rd Place Match
Logan Oakes (IA) won by decision over Walter Caulum (WI) (Dec 1-0)
5th Place Match
Liam Freeman (MN) won by decision over Michael Dudak Iii (IN) (Dec 2-0)
7th Place Match
Bennett Ledbetter (IL) won by decision over Landon Piontek (WI) (Dec 5-2)
77 pounds

1st Place - Jace Evers of MN
2nd Place - Jayce Leclaire of WI
3rd Place - Micah Stith of IN
4th Place - Cameron Hoezee of OR
5th Place - Roman Moore of IA
6th Place - Landin Clifton of ND
7th Place - Christian Solt of WI
8th Place - Josh Sunday of WI
1st Place Match
Jace Evers (MN) won by fall over Micah Stith (IN) (Fall 0:29)
2nd Place Wrestleback
Jayce Leclaire (WI) won by fall over Micah Stith (IN) (Fall 2:16)
3rd Place Match
Jayce Leclaire (WI) won by fall over Cameron Hoezee (OR) (Fall 1:30)
5th Place Match
Roman Moore (IA) won by decision over Landin Clifton (ND) (Dec 6-2)
7th Place Match
Christian Solt (WI) won by decision over Josh Sunday (WI) (Dec 5-0)
84 pounds

1st Place - Ben Howenstein of SD
2nd Place - Kiptyn Youngblut of IA
3rd Place - Stone Helmrichs of IA
4th Place - Coleman McNutt of MN
5th Place - Joseph Birkett of IA
6th Place - Kai Jimenez of WI
7th Place - Ethan Suberla of WI
8th Place - Blayne Mihalovich of IA
1st Place Match
Ben Howenstein (SD) won by fall over Stone Helmrichs (IA) (Fall 0:46)
2nd Place Wrestleback
Kiptyn Youngblut (IA) won by major decision over Stone Helmrichs (IA) (Maj 14-0)
3rd Place Match
Kiptyn Youngblut (IA) won by major decision over Coleman McNutt (MN) (Maj 9-0)
5th Place Match
Joseph Birkett (IA) won by decision over Kai Jimenez (WI) (Dec 4-1)
7th Place Match
Ethan Suberla (WI) won by fall over Blayne Mihalovich (IA) (Fall 2:26)
93 pounds

1st Place - Eli Anderson of SD
2nd Place - Jonathan Nordyke Jr. of IN
3rd Place - Camden Weaver of IA
4th Place - Bo Westall of MN
5th Place - Tate Lindner of WI
6th Place - Zion Mogard of IA
7th Place - Tyler Faymoville of WI
8th Place - Ryker Hackney of IA
1st Place Match
Eli Anderson (SD) won by fall over Jonathan Nordyke Jr. (IN) (Fall 1:00)
2nd Place Wrestleback
Jonathan Nordyke Jr. (IN) won by no contest over Camden Weaver (IA) (NC)
3rd Place Match
Camden Weaver (IA) won by decision over Bo Westall (MN) (Dec 4-0)
5th Place Match
Tate Lindner (WI) won by decision over Zion Mogard (IA) (Dec 1-0)
7th Place Match
Tyler Faymoville (WI) won by major decision over Ryker Hackney (IA) (Maj 10-2)
105 pounds

1st Place - Eyston Racine of ND
2nd Place - Carver Crippen of IA
3rd Place - Welles Projansky of IL
4th Place - Eli Shedek of IA
5th Place - Beau Weinkauf of WI
6th Place - Lincoln Haddix of IN
1st Place Match
Eyston Racine (ND) won by major decision over Welles Projansky (IL) (Maj 12-2)
2nd Place Wrestleback
Carver Crippen (IA) won by decision over Welles Projansky (IL) (Dec 6-4)
3rd Place Match
Carver Crippen (IA) won by decision over Eli Shedek (IA) (Dec 6-1)
5th Place Match
Beau Weinkauf (WI) won by tech fall over Lincoln Haddix (IN) (TF 15-0)
120 pounds

1st Place - Ryden Schultz of WI
2nd Place - Jayce Larson of MN
Round 1
Ryden Schultz (WI) won in sudden victory - 1 over Jayce Larson (MN) (SV-1 4-2)
Round 2
Ryden Schultz (WI) won by decision over Jayce Larson (MN) (Dec 4-0)
8U Final Results

43 pounds

1st Place - Cole Urioste of MI
2nd Place - Jon Ryan Doolittle of AL
3rd Place - Josiah Salas of IN
4th Place - Bryce Neel of TX
Round 1
Jon Ryan Doolittle (AL) won by decision over Josiah Salas (IN) (Dec 7-6)
Cole Urioste (MI) won by fall over Bryce Neel (TX) (Fall 2:12)
Round 2
Cole Urioste (MI) won by fall over Josiah Salas (IN) (Fall 0:37)
Jon Ryan Doolittle (AL) won by fall over Bryce Neel (TX) (Fall 1:43)
Round 3
Josiah Salas (IN) won by decision over Bryce Neel (TX) (Dec 4-0)
Cole Urioste (MI) won by major decision over Jon Ryan Doolittle (AL) (Maj 10-1)
45 pounds

1st Place - Caden Senzig of WI
2nd Place - Coleman Nuss of IA
3rd Place - Clint Ritter of VA
4th Place - Aaron Warner of WI
5th Place - Gavin Ward of IA
Round 1
Clint Ritter (VA) won by fall over Aaron Warner (WI) (Fall 0:39)
Coleman Nuss (IA) won by fall over Gavin Ward (IA) (Fall 2:46)
Round 2
Caden Senzig (WI) won by fall over Gavin Ward (IA) (Fall 2:38)
Coleman Nuss (IA) won by decision over Clint Ritter (VA) (Dec 5-0)
Round 3
Caden Senzig (WI) won by decision over Coleman Nuss (IA) (Dec 5-3)
Aaron Warner (WI) won by decision over Gavin Ward (IA) (Dec 4-2)
Round 4
Caden Senzig (WI) won by fall over Aaron Warner (WI) (Fall 0:19)
Clint Ritter (VA) won by decision over Gavin Ward (IA) (Dec 3-2)
Round 5
Caden Senzig (WI) won by decision over Clint Ritter (VA) (Dec 6-2)
Coleman Nuss (IA) won by fall over Aaron Warner (WI) (Fall 1:55)
49 pounds

1st Place - Montagne Melstrand of WI
2nd Place - Owen Slinker of IA
3rd Place - Easton Werner of WI
4th Place - Easton Arthur of IN
5th Place - Alexander Bell of IA
Round 1
Montagne Melstrand (WI) won by decision over Owen Slinker (IA) (Dec 7-4)
Easton Werner (WI) won by fall over Alexander Bell (IA) (Fall 0:57)
Round 2
Easton Arthur (IN) won by fall over Alexander Bell (IA) (Fall 2:34)
Easton Werner (WI) won by decision over Montagne Melstrand (WI) (Dec 4-2)
Round 3
Easton Werner (WI) won by decision over Easton Arthur (IN) (Dec 9-4)
Owen Slinker (IA) won by fall over Alexander Bell (IA) (Fall 1:27)
Round 4
Owen Slinker (IA) won by major decision over Easton Arthur (IN) (Maj 10-2)
Montagne Melstrand (WI) won by fall over Alexander Bell (IA) (Fall 0:18)
Round 5
Montagne Melstrand (WI) won by fall over Easton Arthur (IN) (Fall 1:29)
Owen Slinker (IA) won by decision over Easton Werner (WI) (Dec 9-6)
53 pounds

1st Place - Cohen Utesch of IA
2nd Place - Bladen Bokinsky of IN
3rd Place - Tagg Hefner of IL
4th Place - Chance Ashford of AZ
5th Place - Wolfgang Zimmerer of CO
6th Place - Dake Zwanziger of IA
7th Place - Brody Owens of KS
8th Place - Lukas Benedict of IA
1st Place Match
Cohen Utesch (IA) won by major decision over Tagg Hefner (IL) (Maj 14-1)
2nd Place Wrestleback
Bladen Bokinsky (IN) won by fall over Tagg Hefner (IL) (Fall 0:29)
3rd Place Match
Bladen Bokinsky (IN) won by decision over Chance Ashford (AZ) (Dec 5-0)
5th Place Match
Wolfgang Zimmerer (CO) won by major decision over Dake Zwanziger (IA) (Maj 14-0)
7th Place Match
Brody Owens (KS) won by tech fall over Lukas Benedict (IA) (TF 18-3)
56 pounds

1st Place - Oliver Umlauf of SD
2nd Place - Eli Schmitz of WI
3rd Place - Lincoln Projansky of IL
4th Place - Owen Rodriguez of WI
5th Place - Alexander Cid of IL
6th Place - Holden Boeke of IA
7th Place - George Loeffelholz of IA
8th Place - Logan Fratzke of IA
1st Place Match
Oliver Umlauf (SD) won by decision over Lincoln Projansky (IL) (Dec 6-3)
2nd Place Wrestleback
Eli Schmitz (WI) won by decision over Lincoln Projansky (IL) (Dec 1-0)
3rd Place Match
Eli Schmitz (WI) won by fall over Owen Rodriguez (WI) (Fall 2:15)
5th Place Match
Alexander Cid (IL) won by major decision over Holden Boeke (IA) (Maj 10-0)
7th Place Match
George Loeffelholz (IA) won by fall over Logan Fratzke (IA) (Fall 1:31)
62 pounds

1st Place - Ashton Steiner of ND
2nd Place - Elias Inniss of WI
3rd Place - Vincent Zeiher of WI
4th Place - Calvin Greer Iii of IN
5th Place - Anthony Quiroz of IN
6th Place - Bane Harjo of IA
7th Place - Brecken Massman of IA
8th Place - Maddox Clayberg of IA
1st Place Match
Ashton Steiner (ND) won by decision over Elias Inniss (WI) (Dec 4-3)
2nd Place Wrestleback
Elias Inniss (WI) won by no contest over Vincent Zeiher (WI) (NC)
3rd Place Match
Vincent Zeiher (WI) won by decision over Calvin Greer Iii (IN) (Dec 12-6)
5th Place Match
Anthony Quiroz (IN) won by decision over Bane Harjo (IA) (Dec 2-0)
7th Place Match
Brecken Massman (IA) won by decision over Maddox Clayberg (IA) (Dec 9-2)
70 pounds

1st Place - Beau Blevins of KS
2nd Place - Theo Bales of IN
3rd Place - Tobias Solinger of IA
4th Place - Blake Briese of WI
5th Place - Liam Schwanz of ND
6th Place - Jace Matson of MN
7th Place - Conrad Barber of IL
8th Place - Kayden Sicka of IL
1st Place Match
Beau Blevins (KS) won by fall over Theo Bales (IN) (Fall 1:31)
2nd Place Wrestleback
Theo Bales (IN) won by major decision over Tobias Solinger (IA) (Maj 10-2)
3rd Place Match
Tobias Solinger (IA) won by decision over Blake Briese (WI) (Dec 6-0)
5th Place Match
Liam Schwanz (ND) won by decision over Jace Matson (MN) (Dec 8-4)
7th Place Match
Conrad Barber (IL) won by disqualification over Kayden Sicka (IL) (DQ)
85 pounds

1st Place - Steve Islas of AZ
2nd Place - Ladd Riopel of SD
Round 1
Steve Islas (AZ) won by major decision over Ladd Riopel (SD) (Maj 10-2)
Round 2
Ladd Riopel (SD) won by decision over Steve Islas (AZ) (Dec 4-2)
Round 3
Steve Islas (AZ) won by decision over Ladd Riopel (SD) (Dec 2-0)