Snyder wins third World gold, Diakomihalis claims silver, Gross gets fifth as USA takes fourth men's freestyle World Team title
by Gary Abbott, USA Wrestling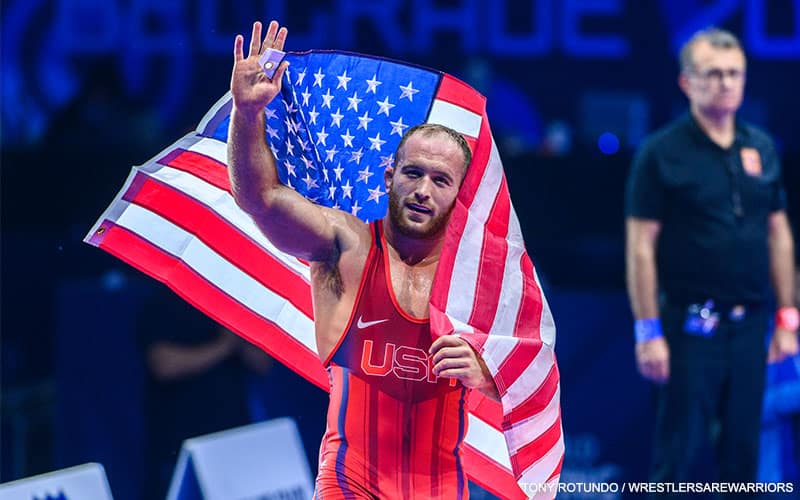 Kyle Snyder (USA) waves to crowd after winning World title. Photo by Tony Rotundo, Wrestlers Are Warriors.

BELGRADE, Serbia – 2016 Olympic champion
Kyle Snyder
captured his third career World Championships gold medal, with a victory in the finals at 97 kg.in the last match of the 2022 World Championships in Stark Arena on Sunday night.
Snyder dominated 2019 U23 World silver medalist Batyrbek Tsakulov of Slovakia in the finals, 6-0. Snyder scored the only takedown in the first period to lead 2-0, then got a point when Tsakulov could not score on the shot clock, for a 3-0 lead at the break. In the second period, Snyder forced three step outs and did not allow any points.
Snyder has now won eight World or Olympic medals, winning a medal every year starting in 2015. He has six World medals and two Olympic medals, including a 2016 Olympic gold and 2015, 2017 an 2022 World titles, 2018 and 2021 World silver medals and a 2019 World bronze medal.
Snyder is a native of Woodbine, Md., and won three NCAA titles for Ohio State.
The U.S. has now won four men's freestyle gold medals at the 2022 World Championships, with Snyder, plus
Kyle Dake (
74 kg),
Jordan Burroughs
(79 kg) and
David Taylor
(86 kg) winning earlier in the week. This ties the record, also achieved by the 1993 World Team in Toronto and the 1995 World Team in Atlanta.
Team USA finished off its fourth World Team Title in men's freestyle, which had been clinched on Saturday night. The USA earned 198 team points, ahead of second place Iran with 150 points and third-place Japan with 70 points.
The USA has now won World Team titles in men's freestyle in 1993 in Toronto, Canada, 1995 in Atlanta, Ga., 2017 in Paris, France and 2022 in Belgrade, Serbia.
Yianni Diakomihalis
came home with a silver medal at 65 kg after dropping a wide-open gold-medal match to 2022 Asian champion Rahman Amouzadkhalili of Iran, 13-8.
The first period was very active, and included an exchange in which 14 points were scored. The action started with the match scoreless, and after Diakomihalis got a takedown and a scramble ensued, the score was 4-2. The USA challenged, and upon review, officials added additional points and the score was 8-6 in favor of Diakomihalis. Amouzadkhalili got a takedown to tie it at 8-8 at the break. In the second period, Amouzadkhalili scored a step out and two takedowns for the final margin of victory.
This was Diakomihalis' second straight Senior World appearance. Diakomihalis is a native of Rochester, N.Y., and has won three NCAA titles for Cornell.
Diakomihalis won the first U.S. medal at his weight class in men's freestyle wrestling since Bill Zadick won the gold medal in 2006.
Seth Gross,
who competed in his first World Championships, placed fifth at 61 kg, losing a 12-0 bronze-medal bout to 2021 World bronze medalist and 2021 U23 World champion Arsen Harutyunyan of Armenia. Harutyunyan scored two takedowns and three step outs to lead 7-0 at the break. He closed out the victory with a takedown and turn, and got an additional point when the USA challenge was denied.
Gross is a native of Apple Valley, Minn., won an NCAA title for South Dakota State, finishing his college career at Wisconsin.
Team USA put a record eight wrestlers into the gold-medal finals at this year's World Championships.The eight men's freestyle medals matched the record, also won by the 1987 U.S. World Team in Clermont-Ferrand, France.
The top five teams have qualified for the
2022 World Cup
, which will be held in Coralville, Iowa, USA, December 10-11. Joining the United States, Iran and Japan in the World Cup will be fourth-place Mongolia and fifth-place Georgia. There will be an international all-star team from other nations entered as the sixth team.
The women's freestyle World Cup will also be held alongside the men.
Purchase World Cup tickets
The USA won 15 combined medals in the 2022 World Championships, eight in men's freestyle and seven in women's freestyle to tie the record set by the 2021 U.S. World Team in Oslo, Norway.
Sammy Julian
of the United States received the Golden Whistle, awarded by United World Wrestling to the top three officials from the 2022 Senior World Championships. Julian has been an Olympic referee in the past and has worked major international events across the world for many years,
WORLD WRESTLING CHAMPIONSHIPS
At Belgrade, Serbia, September 18, 2022

Group 3 Men's freestyle results
61 kg
Gold - Rei Higuchi (Japan)
Silver - Reza Atrinagharchi (Iran)
Bronze - Arsen Harutyunyan (Armenia)
Bronze - Narankhuu Narmandakh (Mongolia)
5th - Seth Gross (USA)
5th - Georgi Vangelov (Bulgaria)
7th - Khamzat Arsanerzouev (France)
8th - Suleyman Atli (Turkey)
9th - Islam Dudaev (Albania)
10th - Jahongirmirza Turobov (Uzbekistan)
Gold - Higuchi tech fall Atrinagharchi, 10-0
Bronze - Harutyunyan tech. fall Gross, 12-0
Bronze - Narmandakh dec. Vangelov (Bulgaria), 9-0
65 kg
Gold - Rahman Amouzadkhalili (Iran)
Silver - Yianni Diakomihalis (USA)
Bronze - Iszmail Muszukajev (Hungary)
Bronze - Bajrang Punia (India)
5th - Haji Aliyev (Azerbaijan)
5th - Sebastian Rivera (Puerto Rico)
7th - Abbos Rakhmonov (Uzbekistan)
8th - Adil Ospanov (Kazakhstan)
9th - Tsogbadrakh Tseveensuren (Mongolia)
10th - Kaiki Yamaguchi (Japan)
Gold - Amouzadkhalili dec. Diakomihalis, 13-8
Bronze - Muszukajev dec. Aliyev, 4-2
Bronze - Bajrang dec. Rivera, 11-9
97 kg
Gold - Kyle Snyder (USA)
Silver - Batyrbek Tsakulov (Slovakia)
Bronze - Magomedkhan Magomedov (Azerbaijan)
Bronze - Givi Matcharashvili (Georgia)
5th - pin Mohammadhossein Mohammadian (Iran)
5th - dec. Vladislav Baitsaev (Hungary)
7th - Mahamed Zakarieev (Ukraine)
8th - Magomedgadji Nurov (North Macedonia)
9th - Erik Sven Thiele (Germany)
10th - Samhan Jabrailov (Moldova)
Gold - Snyder dec. Tsakulov, 6-0
Bronze - Magomedov pin Mohammadian, 3:27
Bronze - Matcharashvili dec. Baitsaev, 5-3
Group 3 U.S. Men's freestyle results
61 kg: Seth Gross (Madison, Wisc./Badger RTC/Sunkist Kids WC) – FIFTH PLACE
WIN Andrii Dzhelep (Ukraine), 13-2
WIN Eduard Grigorev (Poland), 7-0
WIN Suleyman Atli (Turkey), 10-4
LOSS Rei Higuchi (Japan) 14-7
LOSS Arsen Harutyunyan (Armenia), 12-0
65 kg: Yianni Diakomihalis (Rochester, N.Y./Spartan Combat RTC/Titan Mercury WC) – SILVER MEDAL
WIN Vazgen Tevanyan (Armenia), 4-0
WIN Vladimir Dubov (Bulgaria), 10-0
WIN Bajrang Punia (India), 10-0
WIN Sebastian Rivera (Puerto Rico), 10-0
LOSS Rahman Amouzadkhalili (Iran), 13-8
97 kg: Kyle Snyder (State College, Pa./Nittany Lion WC/Titan Mercury WC) – GOLD MEDAL
WIN Zbigniew Baranowski (Poland), 4-1
WIN Magomedkhan Magomedov (Azerbaijan), 10-0
WIN Mohammahossein Mohammadian (Iran), 4-1
WIN Batyrbek Tsakulov (Slovakia), 6-0
Team Standings
1 United Statess 198
2 Iran 150
3 Japan 70
4 Mongolia 68
5 Georgia 68
6 Slovakia 55
7 Turkey 47
8 Bulgaria 42
9 Azerbaijan 40
10 India 37
11 Ukraine 35
12 Kazakhstan 31
13 Kyrgyzstan 30
14 Albania 29
15 Hungary29
16 Uzbekistan 28
17 Armenia 27
18 Italy 27
19 Puerto Rico
20 Serbia 23