News
USA Wrestling
International
Women
USAW
Parrish reaches women's freestyle finals, Hildebrandt and Velte to go for bronze at World Championships
by Gary Abbott, USA Wrestling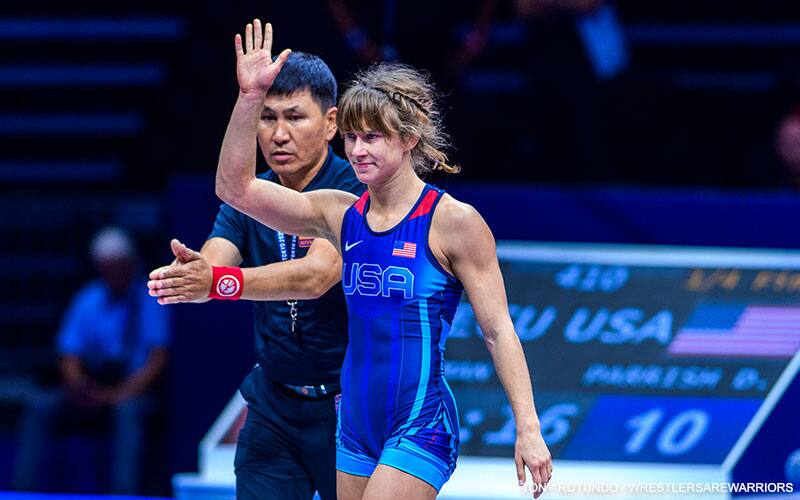 Dominique Parrish of the USA is a World finalist. Photo by Tony Rotundo, Wrestlers Are Warriors
BELGRADE, Serbia – Competing in her first Senior World Championships,
Dominque Parrish
of the United States has qualified for the gold-medal finals at 53 kg at the World Championships in Stark Arena on Tuesday evening.
Parrish defeated two-time World bronze medalist Maria Prevolaraki of Greece, 3-1 in the semifinals. Prevolaraki was placed on the shot clock and Parrish converted a high single shot for a takedown and a 2-0 lead, then got another point when Prevolaraki could not score in 30 seconds to lead 3-0 at the break. In the second period, Prevolaraki added a point when Parrish was unable to score on the shot clock.
Parrish will face 2022 Asian runner-up Khulan Batkhuyag of Mongolia, who was trailing in her semifinals bout against Emma Malmgren of Sweden and scored a sudden fall.
Parrish scored a pair of 10-0 technical falls on Tuesday morning, beating Mercedesz Denes of Hungary and Lucia Yepez Guzman of Ecuador.
Two U.S. wrestlers have qualified for bronze-medal bouts,
Sarah Hildebrandt
at 50 kg and
Mallory Velte
at 65 kg.
Hildebrandt lost in the semifinals to 2021 World bronze medalist Otgonjargal Dolgorjav of Mongolia, 6-2. Hildebrandt scored first on a leg attack for a takedown and a 2-0 lead. Dolgorjav was able to get a takedown and exposure in the first period to lead 4-2 at the break. Hildebrandt was unable to score in the second period, and as she pressed the action late in the period, Dolgorjav scored a counter takedown.
Hildebrandt, a two-time World silver medalist and 2020 Olympic bronze medalist, will face the winner of the repechage match between Jasmina Immaeva of Uzbekistan and Emilia Vuc of Romania.
Mallory Velte was pulled back into Wednesday's bronze medal bout when 2021 Senior World runner-up and 2019 U20 World champion Miwa Morikawa of Japan won her semifinal. Velte will face 2022 European champion Mimi Hristova of Bulgaria in the bronze-medal match. Morikawa only faced Velte and Hristova on the way to the finals.
Velte opened the day with a win over Perevsuren Ulziisaikhan of Mongolia, 14-4. In the quarterfinals, Velte lost a competitive 2-0 battle to Morikawa.
Velte, a 2018 World bronze medalist, will have a chance to add a second career World medal.
At 76 kg,
Dymond Guilford
was defeated in her first bout by Japan's Yuka Kagami and was eliminated when Kagami failed to make the finals.
Wednesday's finals are scheduled for 6:00 p.m. local time. Belgrade is six hours ahead of U.S. Eastern time. All of the action is
live on FloWrestling
.
SENIOR WORLD CHAMPIONSHIPS

Sept. 10-18, 2022 | Belgrade, SerbiaWomen's Freestyle Group 2 Finals pairings
50 kg - Otgonjargal Dolgorjav (Mongolia) vs. Yui Susaki (Japan)
53 kg - Dominique Parrish (USA) vs. Khulan Batkhuyag (Mongolia)
65 kg - Miwa Morikawa (Japan) vs. Jia Long (China)
76 kg - Yasemin Adar (Turkey) vs. Samar Hamza (Egypt)
Semifinal results
50 kg
Otgonjargal Dolgorjav (Mongolia) dec. Sarah Hildebrandt (USA), 6-2
Yui Susaki (Japan) pin Meisinnei Mercy Genesis (Nigeria), 2:24
53 kg
Dominique Parrish (USA) dec. Maria Prevolaraki (Greece), 3-1
Khulan Batkhuyag (Mongolia) pin Emma Jonna Malmgren (Sweden), 4:53
65 kg
Miwa Morikawa (Japan) dec. Mimi Hristova (Bulgaria), 3-0
Jia Long (China) dec. Koumba Larroque (France), 9-7
76 kg
Yasemin Adar (Turkey) dec. Genesis Reasco Valdez (Ecuador), 4-3
Samar Hamza (Egypt) dec. Epp Maee (Estonia), 3-2
U.S. Women's freestyle Group 2 results
50 kg: Sarah Hildebrandt (Colorado Springs, Colo./USOPTC/New York AC) – Finalist
WIN Kamila Barbosa Da Silva (Brazil), 10-0
WIN Oksana Livach (Ukraine), 11-0
LOSS Otgonjargal Dolgorjav (Mongolia), 6-2
Bronze Medal Bout: Vs. winner of Jasmina Immaeva (Uzbekistan) and Emilia Vuc (Romania)
53 kg: Dominique Parrish (Tempe, Ariz./Sunkist Kids) – in bronze medal bout
WIN Mercedesz Denes (Hungary), 10-0
WIN Lucia Yepez Guzman (Ecuador), 10-0
WIN Maria Prevolaraki (Greece), 3-1
Gold Medal Bout: Vs. Khulan Batkhuyag (Mongolia)
65 kg: Mallory Velte (Corvallis, Ore./Beaver Dam RTC/Titan Mercury WC) – in bronze medal bout
WIN Perevsuren Ulziisaikhan (Mongolia), 14-4
LOSS Miwa Morikawa (Japan), 2-0
Bronze Medal Bout: Mimi Hristova (Bulgaria)
76 kg: Dymond Guilford (Colorado Springs, Colo./USOPTC/Titan Mercury WC) – eliminated
LOSS Yuka Kagami (Japan), 3-0