World Championships finals set in Greco-Roman Group 2, as host Serbia pushes two more into gold-medal round
by Gary Abbott, USA Wrestling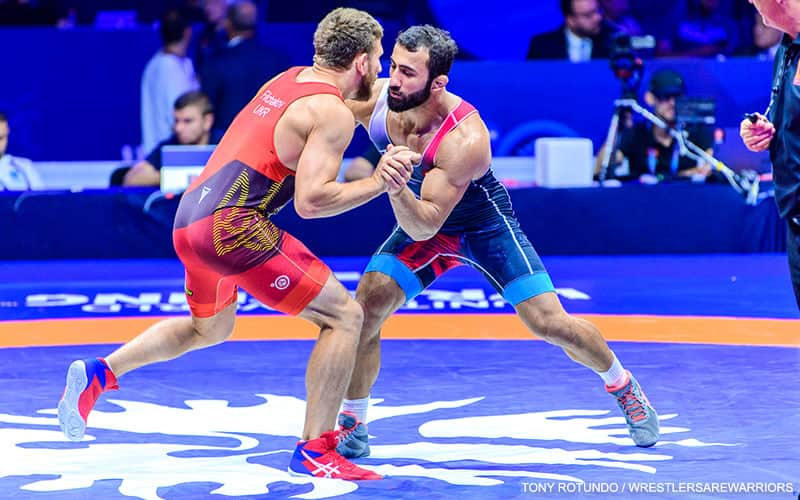 Burhan Akburak (Turkey) wins his 82 kg semifinals bout. Photo by Tony Rotundo, Wrestlers Are Warriors
BELGRADE, Serbia – The finals have been set in Group 2 of the Greco-Roman competition at the World Wrestling Championships on Sunday.
Host Serbia pushed two athletes into the finals,
Sebastian Nad
(63 kg) and
Mate Nemes (
67 kg). No other nation had more than one finalist from the four weight classes in Group 2.
Two of the finalists are past Olympic champions,
Mohammadreza Geraei
of Iran at 67 kg and
Artur Aleksanyan
of Armenia at 97 kg.
The finals for Group 2 will be held on Monday night, starting at 6:00 p.m. local time. Belgrade is six hours ahead of U.S. Eastern time zone. All of the action is live on
FloWrestling.
WORLD WRESTLING CHAMPIONSHIPS

At Belgrade, Serbia, September 11


Greco-Roman Group 2 Championship finals pairings
63 kg - Sebastian Nad (Serbia) vs. Leri Abuladze (Georgia)
67 kg - Mohammadreza Geraei (Iran) vs. Mate Nemes (Serbia)
82 kg - Burhan Akburak (Turkey) vs. Jalgasbay Berdimuratov (Uzbekistan)
97 kg - Artur Aleksanyan (Armenia) vs. Kiril Milov (Bulgaria)
Greco-Roman Group 2 Semifinal results
63 kg
Sebastian Nad (Serbia) dec. Taleh Mammadov (Azerbaijan), 5-0
Leri Abuladze (Georgia) dec. Ali Reza Nejati (Iran), 2-1
67 kg
Mohammadreza Geraei (Iran) tech. fall Joni Khetsuriani (Georgia), 8-0
Mate Nemes (Serbia) dec. Hasrat Jafarov (Azerbaijan), 5-2
82 kg
Burhan Akburak (Turkey) dec. Yaroslav Flichakov (Ukraine), 5-1
Jalgasbay Berdimuratov (Uzbekistan) tech. fall Tamas Levai (Hungary), 8-0
97 kg
Artur Aleksanyan (Armenia) dec. Mohammadhadi Saravi (Iran), 3-1
Kiril Milov (Bulgaria) pin Arif Niftullayev (Azerbaijan), 4:35


U.S. Greco-Roman Group 2 results
63 kg: Sam Jones (Rockford, Mich./New York AC) – eliminated
LOSS No. 7 Neeraj Neeraj (India), 4-0
67 kg: Alex Sancho (Colorado Springs, Colo./Army WCAP) – eliminated
WIN Norva Bukasa (Congo), 9-0
LOSS Parviz Nasibov (Ukraine), 5-0
82 kg: Spencer Woods (Colorado Springs, Colo./Army WCAP) – eliminated
LOSS Chengwu Wang (China), fall 4:01
97 kg: Braxton Amos (Mineral Wells, W.V./Badger RTC/Sunkist Kids) – eliminated
WIN Vladlen Kozliuk (Ukraine), 12-6
LOSS Beksultan Makhmudov (Kyrgyzstan), 5-2