News
USA Wrestling
International
College
Beach
USAW
Macaluso, Shalack, Loethen unbeaten after day one of Beach World Series Final in Romania
by Gary Abbott, USA Wrestling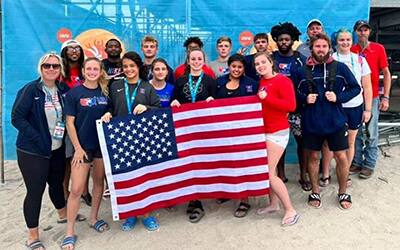 Members of the 2022 U.S. Beach delegation pose together in the sand at Mamaia Beach in Romania. Photo by Cheryl Baynard.
CONSTANTA, Romania – The first day of the Beach World Series Final on Saturday included just a knockout round and the first round of the Group competition, due to a weather delay.
Three U.S. athletes are unbeaten after the first day on Mamaia Beach, women wrestlers Mia Macaluso of Otisville, N.Y. at 60 kg and Isabeau Shalack of Oak Lawn, Ill. at over 70, plus men's wrestler Ty Loethen of Columbia, Mo at 80 kg.
Macaluso defeated U.S. teammate Josephine Wearmouth of St. Charles, Iowa, with a 21 second pin in their first bout in Group A, which includes four wrestlers. Wearmouth had to win a knockout match to qualify for Group competition, which she won by pin against Angela Pires Goncalves of Portugal.
Shalack also drew a U.S. teammate in her first match in Group B, Maren Anderson of Tinley Park, Ill., who she beat 3-0. It was a rematch of the 2022 U.S. Beach Nationals final series, won by Shalack. There are four wrestlers in Group B.
Loethen had to win a knockout match to advance into Group A, which was a 3-0 victory over Jose Vinagre Alves Machado of Portugal.
Nine U.S. wrestlers dropped their opening match of Group action. All of the U.S. wrestlers will complete their Group round robins on Sunday morning, except for Erin Kremer at Over 70 kg in the women's event. Kremer was beaten in a knockout match and did not advance to Group competition.
All of the U.S. wrestlers remaining still have an opportunity to advance to the championship bracket, which is determined by the results of the Group round robins. That will be a single-elimination bracket, which will ultimately determine who wins the medals on Sunday afternoon.
There are five U.S. athletes competing in the Beach World Series Final in Constanta who are currently in the UWW Beach World Series Rankings: Jamal Morris (No. 10 at 80 kg), Mitchell Cook (No. 11 at 50 kg), Laura White (No. 12 at 50 kg), Mia Macaluso (No. 14 at 60 kg) and Maren Anderson (No. 17 at Over 70 kg). The Beach World Series Final receives four-times the points in the Beach World Series ranking system, so placement in Constanta is very important.
This is the third of five Beach World Series events which will set the field for the 2023 World Beach Games in Bali, Indonesia, next August 5-12. The first two Beach World Series events of 2023 will complete the qualifying process. The top eight athletes per weight category and gender from these five events will earn a quota place for their National Olympic Committee at the World Beach Games
Team USA still seeks its first Senior gold medal since Beach Wrestling was launched as an international style of wrestling in 2007. The USA has won 19 different Senior international medals, either at a UWW Beach World Championships, ANOC World Beach Games or a UWW Beach World Series event, including four silvers and 15 bronzes.
Competition continues at 10:00 a.m. on Sunday morning and will be completed later in the day. Because there were fewer bouts held on Saturday, the schedule could alter slightly on Sunday. Constanta is seven hours ahead of U.S. Eastern time zone.
All of the action will be live on
FloWrestling
BEACH WORLD SERIES FINAL
At Constanta, Romania, September 3

U.S. Senior women's results and Sunday pairings
50 kg – Laura White, Duanesburg, N.Y. (Curby 3 Style WC)
LOSS Miglena Selishka (Bulgaria), 3-0, 0:23
Vs. Stefani Priceputu (Romania)
Vs. Justina Fanny Vigouroux (France)
60 kg – Mia Macaluso, Otisville, N.Y.
WIN Josephine Warmouth (USA), pin 0:21
Vs. Iryna Khariv (Ukraine)
Vs. Maria Beaz Dilone (Spain)
60 kg – Bella Hoffman, Tega Cay, S.C. (Fort Mill High School)
LOSS Nikolett Szabo (Hungary), 3-0, 0:56
Vs. Elena Ionescu (Romania)
Vs. Nikolett Szabo (Hungary)
60 kg – Josephine Wearmouth, St. Charles, Iowa
WIN Angela Pires Goncalves (Portugal), pin 0:20
LOSS Mia Macaluso (USA), pin 0:21
Vs. Maria Beaz Dilone (Spain)
Vs. Iryna Khariv (Ukraine)
Over 70 kg – Isabeau Shalack, Oak Lawn, Ill. (Evergreen Park Stallions WC)
WIN Maren Anderson (USA), 3-0, 0:57
Vs. Elena Margas (Romania)
Vs. Aikaterini Pitsiava (Greece)
Over 70 kg – Maren Anderson, Tinley Park, Ill. (Natural Athlete WC)
LOSS Isabeau Shalack (USA), 3-0, 0:57
Vs. Aikaterini Pitsiava (Greece)
Vs. Elena Margas (Romania)
Over 70 kg – Erin Kremer, Covington, Wash. (Bombers WC), eliminated
LOSS Reetika (India), 3-0, 0:51
U.S. Senior men's results and Sunday pairings
70 kg – Mitchell Cook, Orland Park, Ill. (Natural Athlete WC)
LOSS Yunus Coskun (Turkey), 2-1, 3:00
Vs. Alin Ciorici (Moldova)
Vs. Gheorghe Constantin (Romania)
70 kg – Mike Clark. Louisville, Ky. (Cardinal WC)
LOSS Dumitru Spiridon (Romania), pin 0:39
Vs. Levan Kelekhsashvili (Georgia)
Vs. Rubal Ibrahimili (Azerbaijan)
80 kg – Jamal Morris, Miami, Fla. (Cardinal Gibbons High School)
LOSS Csaba Vida (Hungary), pin, 0:04
Vs. Vijay (India)
Vs. Constantin Manea (Romania)
80 kg – Ty Loethen, Columbia, Mo. (Purler Wrestling Academy)
WIN Jose Vinagre Alves Machado (Portugal), 3-0, 1:32
WIN Evan LePrince (France), pin, 0:46
Vs. Dimitar Angelov (Bulgaria)
Vs. Omid Adolali Kamaliaghdam (Azerbaijan)
90 kg – Jabari Irons, Fort Myers, Fla. (Irons Elite Wrestling)
LOSS Ilia Hristov (Bulgaria), pin 0:57
Vs. Mihai Palaghia (Romania)
Vs. Davit Khutsishvili (Georgia)
Over 90 kg – Mark Bonilla, Marietta, Ga. (Victory Wrestling)
LOSS Zafar Aliyev (Azerbaijan), pin 1:47
Vs. Achilleas Chrysidis (Greece)
Vs. Fatih Yasarli (Turkey)
Tentative competition schedule
seven hours ahead of U.S. Eastern time zone
Sunday, September 4
10:00 a.m. – 1:00 p.m. – Beach World Series Group Rounds
3:00 p.m. – 6:00 p.m. – Beach World Series Elimination Rounds and Finals