News
USA Wrestling
College
USAW
Wartburg No. 1, Augsburg No. 2 as NWCA releases Division III Men's Coaches Preseason Poll
by National Wrestling Coaches Association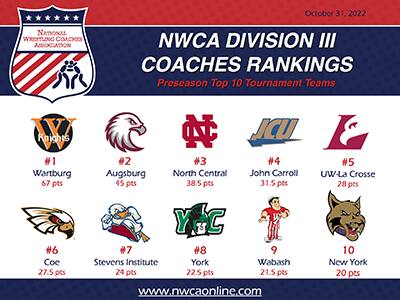 Manheim, PA - On Halloween the National Wrestling Coaches Association (NWCA) released their Division III Men's Preseason Coaches Poll. The poll comes out as many programs across the country get back into completion mode this week.
Wartburg
remains at the top of the of the tournament poll following last season's National Championship. Perennial power
Augsburg
finds themselves in second place while
North Central
(#3),
John Carroll (
#4), and
UW-La Crosse
(#5) round out the Top Five.
INDIVIDUAL NATIONAL RANKINGS
INDIVIDUAL REGIONAL RANKINGS
This installment of individual rankings is lead by Wartburg who has three top-ranked wrestlers. Other schools represented with a #1 ranked wrestler are Washington & Lee, North Central, Baldwin Wallace, Rhode Island, UW-Whitewater, UW-Oshkosh, and Olivet.
NWCA DIVISION III COACHES RANKINGS

Preseason Top 25 Tournament Teams
1 Wartburg College 67
2 Augsburg University 45
3 North Central College 38.5
4 John Carroll University 31.5
5 UW-La Crosse 28
6 Coe College 27.5
7 Stevens Institute of Technology 24
8 York College 22.5
9 Wabash College 21.5
10 New York University 20
11 UW-Whitewater 19
12 Baldwin Wallace University 18.5
13 UW-Oshkosh 17.5
13 Loras College 17.5
15 Olivet College 16.5
15 Ohio Northern University 16.5
17 Washington & Lee University 16
17 Rhode Island College 16
19 The University of Chicago 15.5
19 Alvernia University 15.5
21 The College of New Jersey 15
22 UW-Platteville 13.5
22 UW-Eau Claire 13.5
22 Castleton University 13.5
25 Lycoming College 13
The NWCA Division III ranking committee consists of:
UMW Tony Valek (Augsburg) and Dave Malecek (UW-La Crosse)
LMW Dave Mitchell (Luther) and Jon McGovern (Dubuque)
SE Jon Laudenslager (Wilkes) and Anthony Bonaventura (Stevens)
ME Justin Signorelli (Alfred State) and Joe Galante (TCNJ)
NE Scott Legacy (Castleton) and Corey Luce (NYU)
CENT Bill Schindel (Adrian) & Brandon Brissette (Olivet)