News
USA Wrestling
International
College
USAW
Hidlay, Cardenas advance to semifinals in men's freestyle at U23 World Championships in Spain
by Gary Abbott, USA Wrestling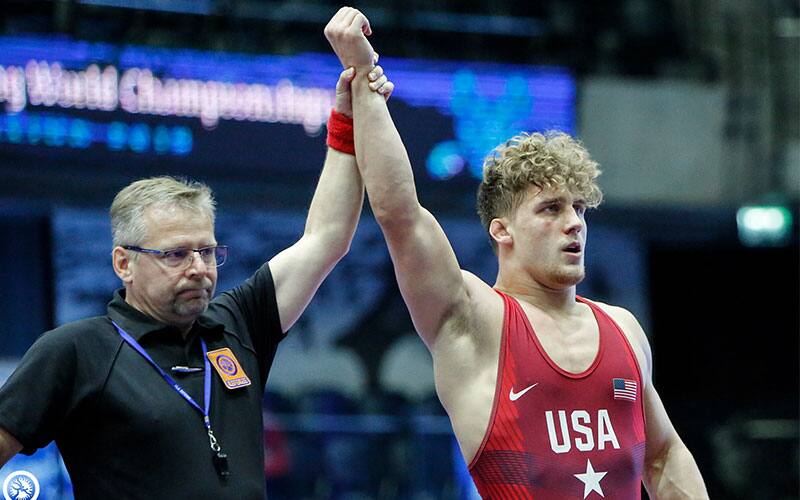 Trent Hidlay of the USA. Photo by Martin Gabor, United World Wrestling
PONTEVEDRA, Spain – Two U.S. men's freestyle wrestlers in Group Two,
Trent Hidlay
at 86 kg and
Jacob Cardenas
at 92 kg, have advanced to the semifinals at the 2022 U23 World Championships on Saturday.
Hidlay opened up with a huge 15-6 victory over 2021 U23 World silver medalist Sajjad Gholami of Iran. Gholam came out strong, with two takedowns and a turn to lead 6-0. Hidlay scored a takedown to close it to 6-2 at the break. In the second period, Hidlay opened up his offense, scoring 13 unanswered points. He broke Gholami with four takedowns, two turns and a step out in the second period.
Hidlay controlled the action in his 6-0 win over 2022 Asian U23 silver medalist Nurtilek Karypbaev of Kyrgyzstan in his second match. Hidlay opened it up with a bang, with a big four-point throw, followed by a step out point to lead 5-0. In the second period, he added an additional step out point.
In the quarterfinals, Hidlay shut down Maksat Satbaldy of Kazakhstan, 6-0. He scored five points in the first period, on a takedown, a turn and a point when Satbaldy was put on the shot clock. Hidlay added a step out in the second period.
Hidlay will face Ivan Ichizli of Moldova, who was eighth in the 2021 U23 World Championships
Hidlay, a 2019 U20 World bronze medalist, was a 2021 NCAA runner-up for NC State, and is a three-time All-American. He has been a member of the Senior National Team in the past.
Cardenas, a 2022 NCAA qualifier for Cornell, opened up with a solid 4-0 victory over 2022 European U20 bronze medalist Denys Sahaliuk of Ukraine. Cardenas scored a step out point on a blast double. He added a point early in the second period when Sahaliuk was unable to score on the shot clock. After officials put Cardenas on the shot clock, he scored a takedown with two seconds to spare, extending the lead to 4-0. Sahaliuk was unable to score the rest of the way.
Cardenas was sharp in his quarterfinal win over 2019 U20 Asian silver medalist Baisal Kubatov of Kyrgyzstan, 7-2. In the first period, Cardenas was put on the shot clock and he scored a takedown within the 30 seconds to make the score 2-0. Kubatov scored a takedown to tie it at 2-2. In the second period, Kubatov was on the shot clock when Cardenas hit a double leg takedown and turned him. Add in the one point for Kubatov not scoring, and Cardenas went up 7-2.
Cardenas will face 2022 Senior World bronze medalist Miriani Maisuradze of Georgia in the semifinals.
The other three U.S. wrestlers in Group Two dropped matches in the session but remain eligible for repechage. For them to get pulled into repechage, the athlete they lost to must win their semifinal match to reach the finals.
At 74 kg,
David Carr,
a 2019 U20 World champion, scored a 12-2 technical fall over Sonny James Santiago of Puerto Rico, who wrestles for the Univ. of North Carolina. The match was tied 2-2 early on, then Carr took over. After scoring a takedown, Carr turned Santiago three times with a gut wrench, for an 8-0 lead. He finished the match off with a second period takedown.
Carr was edged in the quarterfinals by 2021 U23 World bronze medalist Temuri Beruashvili of Georgia, 4-3. Carr scored the first takedown, then Beruashvili answered with a takedown, making the score 2-2.. A high single by Carr went out of bounds for a step out, and Carr led 3-2. With just 13 seconds left, Beruashvili forces a step out to tie it 3-3 and hold criteria. Carr got behind in the closing seconds, but did not break Beruashvili to the mat at the buzzer. A U.S. challenge was denied, and Carr lost 4-3
At 125 kg, returning U23 World champion
Anthony Cassioppi
opened with an efficient 10-0 first period technical fall over Lior Altshuler, who was fifth at the 2022 U23 European Championships. Cassioppi started with a four-point body lock and a gut wrench to lead 6-0. He added two more takedowns to end the match.
Next, Cassioppi was defeated 16-4 by 2022 U23 European champion Solomon Manashvili of Georgia. Manashvili jumped to an 8-0 lead on a takedown, a four-point takedown and a turn. Cassioppi was able to reduce the lead to 8-4 by scoring twice. However, Manashvili scored an exposure, then added a takedown for a 12-4 lead at the break. A four-point takedown by Manashvili ended the match in the second period.
Cassioppi is a two-time All-American for Iowa.
Aaron Nagao
, who competes at the University of Minnesota, was beaten in his first match by 2022 Asian U23 champion Taiyrbek Zhumashbek Uulu of Kyrgyzstan, 9-0. Zhumashbek scored four separate two-point moves, along with one step out, and Nagao was unable to crack his defense. Zhumashbek has reached the semifinals, keeping Nagao's hopes alive.
Georgia had an amazing morning, winning all of its bouts and placing five athletes in the semifinals, which begin at 4:45 local time. Pontevedra is six hours ahead of U.S. Eastern time zone. Follow the action at
FloWrestling
.


U23 WORLD CHAMPIONSHIPS

At Pontevedra, Spain


U.S. Group Two U23 Men's Freestyle draws for Saturday morning
61 kg: Aaron Nagao, La Habra, Calif. (Gopher WC RTC), remains eligible for repechage
LOSS Taiyrbek Zhumashbek (Kyrgyzstan), 9-0
74 kg: David Carr, Canton, Ohio (Cyclone RTC/TMWC), remains eligible for repechage
WIN Sonny James Santiago (Puerto Rico), tech fall 12-2
LOSS Temuri Beruashvili (Georgia), 4-3
86 kg: Trent Hidlay, Lewiston, Pa. (Wolfpack WC/TMWC), in semifinals
WIN Sajjad Gholami (Iran), 15-6
WIN Nurtilek Karypbaev (Kyrgyzstan), 6-0
WIN Maksat Satbaldy (Kazakhstan), 6-0
Semifinals - Ivan Ichizli (Moldova)
92 kg: Jacob Cardenas, Kearny, N.J. (Spartan Combat RTC/TMWC) in semifinals
WIN Denys Sahaliuk (Ukraine), 4-0
WIN Baisal Kubatov (Kyrgyzstan), 7-2
Semifinals – Vs. Miriani Maisuradze (Georgia)
125 kg: Anthony Cassioppi, Roscoe, Ill. (Hawkeye WC/TMWC), remains eligible for repechage
WIN Lior Altshuler (Israel), tech fall 10-0
LOSS Solomon Manashvili (Georgia), tech fall, 16-4
Group 2 men's freestyle semifinal pairings
61 kg
Ramaz Turmanidze (Georgia) vs. Armen Harutyunyan (Armenia)
Taiyrbek Zhumashbek (Kyrgyzstan) vs. Emrah Ormanoglu (Turkey)
74 kg
Temuri Beruashvili (Georgia) vs. Mohammadsadegh Firouzpourb (Iran)
Vasile Diacon (Moldova) vs. Khadzhimurad Gadzhiyev (Azerbaijan)
86 kg
Trent Hidlay (USA) vs. Ivan Ichizli (Moldova)
Tatsuya Shirai (Japan) vs. Evsem Shvelidze (Georgia)
92 kg
Miriani Maisuradze (Georgia) vs. Jacob Cardenas (Cornell)
Feyzulla Akurk (Turkey) vs. Amirhossein Firouzpourbandpei (Iran)
130 kg
Solomon Manashvili (Georgia) vs. Yurii Idzinskyi (Ukraine)
Alisher Yergali (Kazakhstan) vs. Amir Reza Masoumi Valadi (Iran)