Elor becomes first U.S. wrestler to win three World titles in a year; Hedrick gets bronze, Taylor is fifth, USA places second at U23 Worlds
by Gary Abbott, USA Wrestling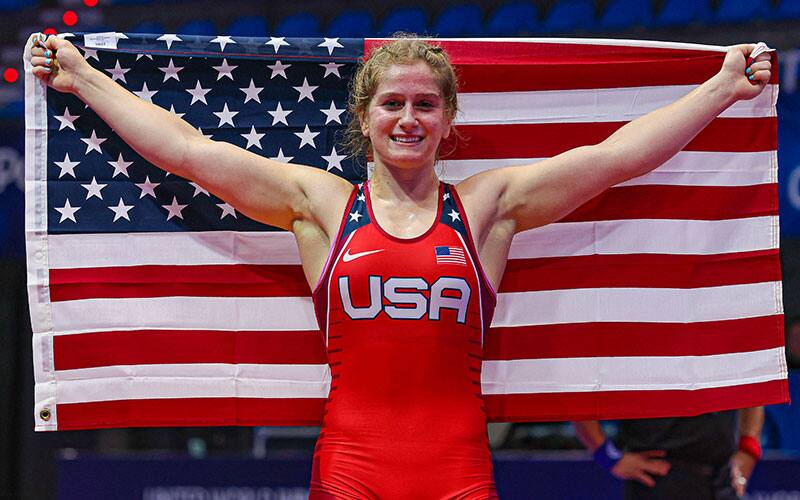 Amit Elor with the U.S. flag after winning the U23 World title, her third UWW World gold medal of 2022. Photo by Kadir Caliskan, United World Wrestling.
PONTEVEDRA, Spain -
Amit Elor
has done it!!!!
Elor became the first U.S. wrestler to win three UWW World titles during the same year, having won the U20 Worlds and the Senior Worlds earlier this season and adding a U23 World title tonight.
She defeated two-time European U23 champion Wiktoria Choluj of Poland in the finals on Friday night by an 11-0 technical fall. She was able to score both takedowns and turns on her opponent, finishing the bout in the second period.
Elor pinned her two other opponents, for a dominating performance once again.
Elor was the youngest U.S. wrestler of any style or gender to win a Senior World title, when she captured her World gold in Belgrade, Serbia earlier.
Winning the bronze medal at 57 kg was
Alex Hedrick
, who scored an impressive 13-2 technical fall over 2022 Asian U23 silver medalist Laura Almaganbetova of Kazakhstan. Hedrick was dominant on top, getting a trapped arm gut wrench early in the match, and then three more times in the second period to finish it off.
Hedrick was competing in her fourth age-group World Championships and brings home her first medal.
Placing fifth was
Felicity Taylor
at 63 kg, who lost a hearbreaking 3-3 criteria decision to 2022 European U23 silver medalist Anastasia Blayvas of Germany in the bronze-medal bout. Taylor led 3-2 until late in the match when Blayvas forced a step out to tie it up and win on criteria.
Two U.S. wrestlers were eliminated after the wrestler who beat them on Thursday morning were defeated in the semifinals,
Alexandria Liles
(62 kg) and
Emma Bruntil
(65 kg).
The United States took home a team trophy, placing second in the final standings. Japan had 225 points, and the USA and Ukraine were tied with 107 points. The USA won the tiebreaker with the most champions, one. This is the second straight year the USA won a team trophy at U23 Worlds, taking third in women's freestyle in 2021.
In addition to Elor's gold and Hedrick's bronze,
Dymond Guilford
had a silver medal at 76 kg and
Alisha Howk
had a bronze at 55 kg on Thursday, giving Team USA four women's freestyle medals for the tournament.
U23 WORLD CHAMPIONSHIPS
At Pontevedra, Spain, October 21

Group Two women's freestyle results
53 kg
Gold - Haruna Okuno (Japan)
Silver - Lucia Yepez Guzman (Ecuador)
Bronze - Anastasia Blayvas (Germany)
Bronze - Zeynep Yetgil (Turkey)
5th - Felicity Taylor (USA)
5th - Meng Hsuan Hsieh (Chinese Taipei)
57 kg
Gold - Sae Nanjo (Japan)
Silver - Patrycja Gil (Poland)
Bronze - Alexandra Hedrick (USA)
Bronze - Alina Hrushyna Akobiia (Ukraine)
5th - Laura Almaganbetova (Kazakhstan)
5th - Siwar Bouseta (Tunisia)
62 kg
Gold - Nonoka Ozaki (Japan)
Gold - Iryna Bondar (Ukraine)
Bronze - Astrid Montero Chirinos (Venezuela)
Bronze - Ana Godinez Gonzalez (Canada)
5th - Ameline Douarre (France)
5th - Paulina Danisz (Poland)
65 kg
Gold - Miwa Morikowa (Japan)
Silver - Nigar Mirzazada (Azerbaijan)
Bronze - Kateryna Zelenykh (Ukraine)
Bronze - Elena Esposito (Italy)
5th - Asli Demir (Turkey)
5th - Dariga Aben (Kazakhstan)
72 kg
Gold - Amit Elor (USA)
Silver - Wiktoria Choluj (Poland)
Bronze - Kendra Dacher (France)
Bronze - Sumire Niikura (Japan)
5th - Maria Nitu (Romania)
5th - Iryna Zablotska (Ukraine)
U.S. Women's freestyle Group Two results
53 kg: Felicity Taylor, Spillville, Iowa (Hawkeye WC/TMWC), Fifth place
WIN Aikaterini Vekri (Greece), pin 0:36
WIN Ellada Makhyaddinova (Kazakhstan), tech. fall 10-0
LOSS Haruna Okuno (Japan), tech. fall 11-0
LOSS Anastasia Blayvas (Germany), 3-3
57 kg: Alexandra Hedrick, Colorado Springs, Colo. (Titan Mercury WC), Bronze medalist
WIN Melda Dernekci (Turkey), pin 3:28
LOSS Patrycja Gil (Poland), 9-6
WIN Welvima Vemba (Angola), forfeit
WIN Laura Almaganbetova (Kazakhstan), tech. fall 13-2
62 kg: Alexandria Liles, Pueblo, Colo. (U.S. Army WCAP), dnp/11th
LOSS Astrid Montero Chirinos (Venezuela), 4-0
65 kg: Emma Bruntil, Colorado Springs, Colo. (Titan Mercury WC), 10th place
LOSS Katerina Zelenykh (Ukraine), pin 0:15
72 kg: Amit Elor, New York, N.Y. (NYC RTC/TMWC), Champion
WIN Kendra Dacher (France), pin 5:31
WIN Maria Nitu (Romania), pin 0:34
WIN Wiktoria Choluj (Poland), tech. fall 11-0
Team Standings
1. Japan, 225
2. United States, 107
3. Ukraine, 107
4 Turkey 93
5 Poland 74
6 Colombia 43
7 Moldova 43
8 Kazakhstan 40
9 India 35
10 Germany 35
11 Canada 35
12 France 31
13 Azerbaijan 30
14 Italy 25
14 Tunisia 25