News
USA Wrestling
International
College
Women
USAW
Elor, Taylor advance to semifinals in women's freestyle at U23 World Championships in Spain
by Gary Abbott, USA Wrestling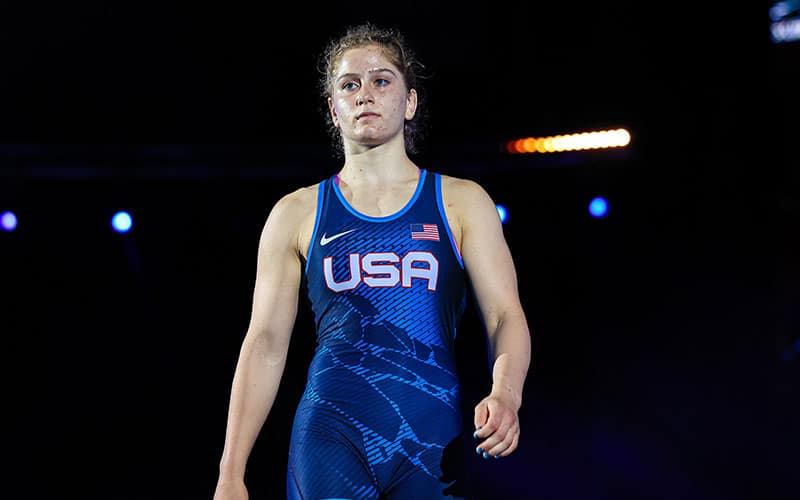 Amit Elor of the United States. Photo by Kadir Caliskan, United World Wrestling
PONTEVEDRA, Spain – Two U.S. women's freestyle wrestlers in Group Two won their quarterfinal matches and will compete in the semifinal round later Thursday afternoon at the U23 World Championships.
2022 Senior World champion
Amit Elor
won her only match, scoring a pin over 2022 Senior European bronze medalist Kendra Dacher of France in 5:31. Elor was in control throughout the match. Elor scored three first period takedowns to lead 6-0 at the break. In the second, Elor stretched her lead to 11-2, and turned Dacher and finished the fall.
Elor will compete against 2022 U23 European silver medalist Maria Nitu of Romania in the semifinals.
Elor is attempting to become the first U.S. wrestler to win three UWW World titles during the same year, having won the U20 Worlds and the Senior Worlds earlier this season.
Elor also won two World titles in 2021, claiming both the U17 World gold medal and the U20 World gold medal. In 2019, she added a U17 Beach World title.
2022 Senior Nationals champion
Felicity Taylor
came out strong in her first match against 2021 Mediterranean silver medalist Aikaterini Vekri of Greece, securing a pin in just 36 seconds, getting the takedown and turning her quickly to her back.
In the quarterfinals, Taylor was taken down first by two-time Asian U23 medalist Ellada Makhyaddinova of Kazakhstan to trail 2-0. Taylor tied it up with a takedown at 2-2, secured an ankle lace, then turned Ellada Makhyaddinova five straight times to get a 12-2 technical fall.
Taylor will battle Haruna Okuno of Japan in the semifinals. Okuno won Senior World titles in 2017 and 2018, and also boasts two U23 World titles, a U20 World title and a U17 World title.
Taylor, second in 2022 Final X, was a 2022 Senior Nationals champion. She also competed on the 2019 U23 World Team. She competes for the University of Iowa, after winning a national title for McKendree.
Three U.S. athletes, all who are Senior National Team members, dropped a match during the session, but are all still possibilities for repechage:
Alex Hedrick
at 57 kg,
Alexandria Liles
at 62 kg and
Emma Bruntil
at 65 kg.
Liles and Hedrick lost in the quarterfinals, while Bruntil was beaten in her opening match. All three will need the wrestler who beat them to win in the semifinals to pull them back into Friday's repechage.
Hedrick opened with a pin over 2022 U23 European bronze medalist Melda Dernekci of Turkey. Hedrick led 3-0 at the break, getting a point when Dernekci was on the shot clock and a takedown. Quickly in the second period, Hedrick took Dernekci down, turned her a few times and secured the fall.
In the quarterfinals, Hedrick was beaten by two-time European U23 silver medalist Patrycja Gil of Poland, 9-6. Gil jumped to a 5-0 lead at the break with two takedowns and a turn. In the second period, Gil hit a four-pointer and led 9-2, but Hedrick scored the next four points. Gil held off Hedrick at the end of the bout.
Hedrick is competing in her fourth age-group World Championships, having wrestled in the 2021 U23 Worlds and the 2018 and 2019 U20 Worlds.
Liles was defeated in the quarterfinals by 2021 Junior Pan American Games champion Astrid Montero Chirinos of Venezuela, 4-0. Montero scored a takedown in the first period, and another takedown in the second period for the only points of the match.
Liles is on her fourth age-group World tournament, after competing on a U20 World Team and two U17 World teams.
Competing in her second straight U23 Worlds, Bruntil was pinned in her opening match by 2021 U23 World silver medalist Katerina Zelenykh of Ukraine in 15 seconds. Zelenykh quickly grabbed Bruntil's leg and head to take her directly to her back for the fall.
Zelenykh won her quarterfinal match, to keep Bruntil's hopes for repechage alive.
The Group Two semifinals, featuring Elor and Taylor, are set for 4:45 p.m. local time, which is six hours ahead of U.S. Eastern time.
The Group One repechage in women's freestyle was also held this session, and opponents in two of the bronze-medal bouts featuring U.S. athletes were determined. At 68 kg,
Sienna Ramirez
will battle 2021 Senior World champion Irina Ringaci of Moldova. At 59 kg,
Lexi Basham
has drawn 2021 European U20 champion Solomiia Vynnyk of Ukraine in her bronze-medal bout.
Dymond Guilford
goes for the gold, plus Ramirez, Basham and
Alisha Howk
(55 kg) go for the bronze at 6:00 p.m. local time, shortly after the Group Two semifinals.
Follow it live on
FloWrestling
.
U23 WORLD CHAMPIONSHIPS
At Pontevedra, Spain, October 20

U.S. Women's freestyle Group Two
53 kg: Felicity Taylor, Spillville, Iowa (Hawkeye WC/TMWC), in semifinals
WIN Aikaterini Vekri (Greece), pin 0:36
WIN Ellada Makhyaddinova (Kazakhstan), tech. fall 10-0
Semifinals - Haruna Okuno (Japan)
57 kg: Alexandra Hedrick, Colorado Springs, Colo. (Titan Mercury WC), still eligible for repechage
WIN Melda Dernekci (Turkey), pin 3:28
LOSS Patrycja Gil (Poland), 9-6
62 kg: Alexandria Liles, Pueblo, Colo. (U.S. Army WCAP), still eligible for repechage
LOSS Astrid Montero Chirinos (Venezuela), 4-0
65 kg: Emma Bruntil, Colorado Springs, Colo. (Titan Mercury WC), still eligible for repechage
LOSS Katerina Zelenykh (Ukraine), pin 0:15
72 kg: Amit Elor, New York, N.Y. (NYC RTC/TMWC), in semifinals
WIN Kendra Dacher (France), pin 5:31
Semifinals – Maria Nitu (Romania)
U.S. women's freestyle Group One results
updated with opponents determined by repechage
50 kg: Nyla Valencia, Morgan Hill, Calif. (Hawkeye WC/TMWC), eliminated
LOSS Sarra Hamdi (Tunisia), 3-0
55 kg: Alisha Howk, River Falls, Wis. (Victory School of Wrestling/Sunkist Kids), in bronze-medal bout
WIN Erika Bognar (Hungary), 2-1
WIN Elnura Mammadova (Azerbaijan), injury default, 3:20
LOSS Mihaela Samoil (Moldova), 9-8
Bronze Bout – Vs. Nethmi Poruthotage (Sri Lanka)
59 kg: Lexie Basham, Roanoke, Texas (Spartan Mat Club), in bronze-medal bout
WIN Karoline Ortiz Rosado (Puerto Rico), 8-4
WIN Anne Nuernberger (Germany), pin 5:44
LOSS Himeka Tokuhara (Japan), 9-0
Bronze Bout – Vs. Solomiia Vynnyk (Ukraine)
68 kg: Sienna Ramirez, Ashland, Ore. (Southern Oregon RTC), in bronze-medal bout
WIN Albina Kairgeldinov (Kazakhstan), 9-3
WIN Zsuzsanna Molnar (Slovakia), pin, 0:53
LOSS Nesrin Bas (Turkey), 9-4
Bronze Bout –Vs. Irina Ringaci (Moldova)
76 kg: Dymond Guilford, Colorado Springs, Colo. (Titan Mercury WC), in gold-medal finals
WIN Daniela Tkachuk (Poland), tech. fall 10-0
WIN Yasuha Matsuyuki (Japan), 6-1
WIN Inkara Zhanatayeva (Kazakhstan), tech fall 11-0
Gold Medal Finals – Vs. Tatiana Renteria (Colombia)
Group Two women's freestyle Semifinal pairings
53 kg
Zeynep Yetgil (Turkey) vs. Lucia Yepez Guzman (Ecuador)
Haruna Okuno (Japan) vs. Felicity Taylor (USA)
57 kg
Patrycja Gil (Poland) vs. Laura Almaganbetova (Kazakhstan)
Siwar Bouseta (Tunisia) vs. Sae Nanjo (Japan)
62 kg
Astrid Montero Chirinos (Venezuela) vs. Iryna Bondar (Ukraine)
Nonoka Ozaki (Japan) vs. Ana Godinez Gonzalez (Canada)
65 kg
Elena Esposito (Italy) vs. Nigar Mirzazada (Azerbaijan)
Kateryna Zelenykh (Ukraine) vs. Miwa Morikowa (Japan)
72 kg
Wiktoria Choluj (Poland) vs. Sumire Niikura (Japan)
Amit Elor (USA) vs. Maria Nitu (Romania)