News
USA Wrestling
International
College
Women
USAW
U.S. women's team receives draws for U23 World Championships in Spain
by Gary Abbott, USA Wrestling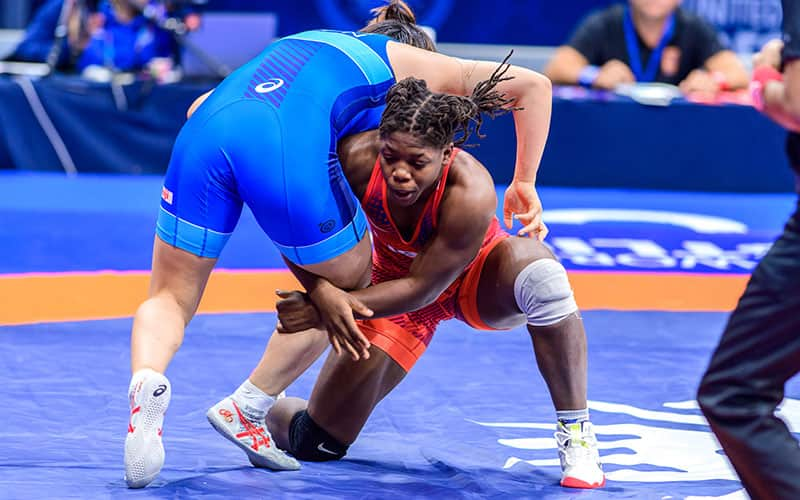 Dymond Guilford (USA) competing in the 2022 Senior World Championships. Photo by Tony Rotundo, Wrestlers Are Warriors
PONTEVEDRA, Spain – The U.S. women's freestyle team received its draws for the U23 World Championships, which starts for them on Wednesday morning.
2022 Senior World champion
Amit Elor,
who became the youngest U.S. wrestler to win a Senior World title when she claimed 72 kg gold medal at the Senior Worlds in Belgrade, Serbia in September.
Elor drew 2022 Senior European bronze medalist Kendra Dacher of France in her opening match.
Elor also aims to become the first U.S. wrestler to win three UWW World titles in the same year, as she claimed a U20 World gold medal at 72 kg in Sofia, Bulgaria in August.
2022 Senior World Team member
Dymond Guilford
will open against 2021 U21 World bronze medalist Daniela Tkachuk of Poland.
This U23 team boasts eight current or past Senior National Team members
Currently No. 2 on Senior National Team are
Felicity Taylor
at 53 kg,
Alex Hedrick
at 57 kg,
Lexie Basham
at 59 kg and
Sienna Ramirez
at 68 kg.
Taylor opens against 2021 Mediterranean silver medalist Aikaterini Vekri of Greece. Hedrick will battle 2022 U23 European bronze medalist Melda Dernekci of Turkey. Basham drew Karoline Ortiz Rosado of Puerto Rico. Ramirez battles Albina Kairgeldinov of Kazakhstan, who was fourth in the 2022 U23 Asian Championships.
Currently No. 2 on the Senior National Team are
Emma Bruntil
at 65 kg and
Alexandria Liles
at 62 kg
Bruntil faced 2021 U23 World silver medalist Katerina Zelenykh of Ukraine. Liles has the winner of the bout between Astrid Montero Chirinos of Venezuela and Birgul Soltanova of Azerbaijan,
Competing on her third U.S. age group team is
Alisha Howk
at 55 kg University of Iowa freshman
Nyla Valencia
is in her first age-group World Tournament. Their draws are listed below.
Starting their competition on Wednesday are Valencia, Howk, Basham, Ramirez and Guilford. Their medal matches will be held on Thursday.
Starting their competition on Thursday are Taylor, Hedrick, Liles, Bruntil and Elor. Their medal matches will be held on Friday.
U.S. Women's Freestyle first round draws
50 kg: Nyla Valencia, Morgan Hill, Calif. (Hawkeye WC/TMWC)
Vs. winner of Sarra Hamdi (Tunisia) and Svenja Jungo (Switzerland)
Hamdi – 2022 African Senior champion, 5th in 2021 U23 Worlds, Ninth in 2020 Olympics
Jungo – 5th in 2022 U23 Europeans, 2021 U17 World silver medalist
53 kg: Felicity Taylor, Spillville, Iowa (Hawkeye WC/TMWC)
Vs. Aikaterini Vekri (Greece), Second in 2021 Mediterranean Championships, 5th in U20 Beach Worlds
55 kg: Alisha Howk, River Falls, Wis. (Victory School of Wrestling/Sunkist Kids)
Vs. Erika Bognar (Hungary), 2020 Hungary Senior champion, 2nd in 2019 European U20 Championships
57 kg: Alexandra Hedrick, Colorado Springs, Colo. (Titan Mercury WC)
Vs. Melda Dernekci (Turkey), 5th in 2022 U20 Worlds, 3rd in 2022 U23 Europeans, 5th in 2021 U20 Worlds
59 kg: Lexie Basham, Roanoke, Texas (Spartan Mat Club)
Vs. Karoline Ortiz Rosado (Puerto Rico), no international achievements
62 kg: Alexandria Liles, Pueblo, Colo. (U.S. Army WCAP)
Vs. winner of Astrid Montero Chirinos (Venezuela) and Birgul Soltanova (Azerbaijan)
Montero – 2021 Junior Pan American Games champion, 2nd in 2021 Pan American U20 Championships
Soltanova – 5th in 2022 U20 Worlds, 2022 U20 European champion, 3rd in 2021 U20 Worlds,
65 kg: Emma Bruntil, Colorado Springs, Colo. (Titan Mercury WC)
Vs. Katerina Zelenykh (Ukraine), 2nd in 2021 U23 Worlds, 2nd in 2021 U20 Europeans, 2nd in 2021 U23 Europeans
68 kg: Sienna Ramirez, Ashland, Ore. (Southern Oregon RTC)
Vs. Albina Kairgeldinov (Kazakhstan), 4th in 2022 U23 Asians, 5th in 2020 Asian Senior Championships, 5th in 2019 U23 Worlds
72 kg: Amit Elor, New York, N.Y. (NYC RTC/TMWC)
Vs. Kendra Dacher (France), 7th in 2022 Senior Worlds, Third in 2022 Senior Europeans,
76 kg: Dymond Guilford, Colorado Springs, Colo. (Titan Mercury WC)
Vs. Daniela Tkachuk (Poland), 5th in 2022 U20 Worlds, 3rd in 2022 U20 Europeans, 3rd in 2021 U20 Worlds
U23 WORLD CHAMPIONSHIPS SCHEDULE

Women's freestyle competition
Wednesday, October 19
10:30 a.m. – Qualification rounds (WFS 50, 55, 59, 68, 76 kg)
4:45 p.m. – Semifinals (WFS 50, 55, 59, 68, 76 kg)
Thursday, October 20
10:30 a.m. – Qualification rounds (WFS 53, 57, 62, 65, 72 kg)
10:30 a.m. – Repechage (WFS 50, 55, 59, 68, 76 kg)
4:45 p.m. – Semifinals (WFS 53, 57, 62, 65, 72 kg)
6 p.m. – Finals (WFS 50, 55, 59, 68, 76 kg)
Friday, October 21
10:30 a.m. – Repechage (WFS 53, 57, 62, 65, 72 kg)
6 p.m. – Finals (WFS 53, 57, 62, 65, 72 kg)
*All times listed reference Pontevedra local time, six hours ahead of U.S. Eastern Time