Russell, Schultz drop Greco-Roman quarterfinal bouts at U23 World Championships in Spain
by Gary Abbott, USA Wrestling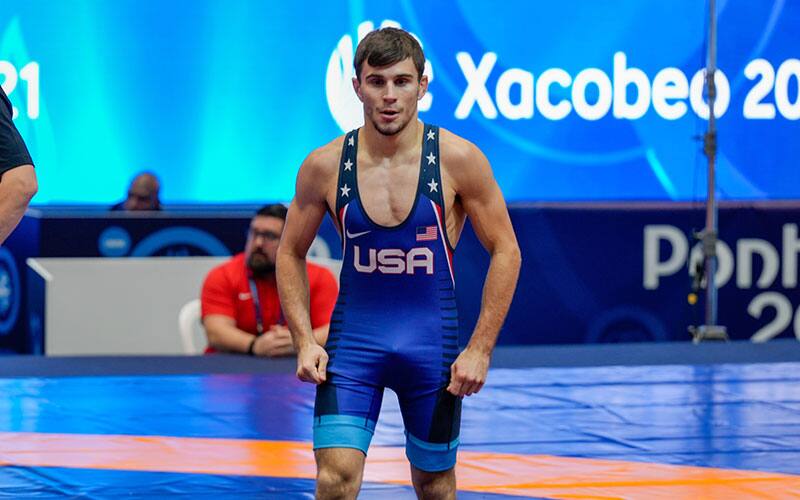 Camden Russell (USA) at the 2022 U23 World Championships. Gary Abbott photo
PONTEVEDRA, Spain – A pair of U.S. Greco-Roman wrestlers,
Camden Russell
at 55 kg and
Cohlton Schultz
at 130 kg, were defeated in quarterfinals matches during the first session of Greco-Roman at the U23 World Championships on Monday morning.
Russell opened with an strong 11-5 win over Abduvali Rahimbayev of Turkmenistan. Russell trailed 5-4 at the break, after a flurry of action saw both wrestlers score on each other. In the second period, Russell blocked a throw for a takedown, then scored a pair of gut wrenches to lead 10-5. A challenge by Turkmenistan was denied, giving him his final point.
In the quarterfinals, Russell competed well in an 8-2 loss to 2021 Senior World champion Ken Matsui of Japan. Matsui scored first on a takedown to lead 2-0. Russell blocked a Matsui throw and ended up on top, but officials called it a slip throw. The USA challenged and won, as the jury awarded a takedown and Russell tied the bout at 2-2. A Matsui takedown and turn made it 6-2 at the break. In the second period, the only takedown came when Matsui blocked a Russell attempt.
Schultz opened with a dominant 9-0 technical fall over Jonavan Smith of Puerto Rico. He had two step outs and a passivity to lead 3-0, then added three gut wrenches to make it 9-0 for a first-period stoppage.
In the quarterfinals, Schultz was beaten by 2021 U20 World silver medalist Sarkhan Mammadov of Azerbaijan, 5-1. The key move came in the first period when Mammadov scored four points on a headlock. Schultz was penalized for passivity in the first period to give up a point, and Mammadov was hit with passivity in the second period to give Schultz his only point.
Schultz has competed in the last two Senior World Championships. This is Schultz's seventh age-group World Championships, and he boasts three medals, a U17 World title in 2017, a U20 World silver medal in 2019 and a U20 World bronze in 2018. He was an NCAA runner-up for Arizona State last year.
If the wrestlers who defeated Russell and Schultz win tonight's semifinals, both will be pulled back into Tuesday morning's repechage.
Three other U.S. entries were defeated in their opening matches. All three were eliminated when the athlete who beat them were defeated in the quarterfinals. Only those who lose to a finalist are eligible for repechage.
Senior National Team members
Mason Carzino-Hartshorn
at 65 kg was defeated in his opening bout, losing to Ahmed Fouad Bagdouda of Egypt, 6-0. The key to the match was a four-point lift and throw by Bagdouda in the first period, after Carzino-Hartshorn was put down after a passivity call.
Final X runner-up
Britton Holmes
was defeated in his opening match at 77 kg by 2022 African Senior champion Lamjed Maafi of Tunisia by technical fall, 11-1. Maafi led 5-1 at the break, with a passivity point, an exposure and a takedown. In the second period, Maafi scored a four-point throw to close out the bout. A USA challenge was denied.
Competing in his first major international event,
Michial Foy
was defeated in his first match at 87 kg by Filip Smetko of Croatia, 4-0. Foy was penalized twice for passivity, and Smetko turned him on a gut wrench after the first passivity. Foy is an NCAA qualifier for Minnesota.
Monday's semifinals will be held at 6:00 p.m. local time. Pontevedra is six hours ahead of U.S. Eastern time zone.
The competition is broadcast live on
FloWrestling
.
U23 WORLD CHAMPIONSHIPS

At Pontevedra, Spain, October 16


U.S. Greco-Roman Group One results

55 kg: Camden Russell, Omaha, Neb. (MWC Wrestling Academy), still eligible for repechage
WIN Abduvali Rahimbayev (Turkmenistan). 11-5
LOSS Ken Matsui (Japan), 8-2
63 kg: Mason Carzino-Hartshorn, Antioch, Calif. (West Coast Greco RTC). Eliminated
LOSS Ahmed Fouad Bagdouda (Egypt), 6-0
77 kg: Britton Holmes, Colorado Springs, Colo. (U.S. Army WCAP), Eliminated
LOSS Lamjed Maafi (Tunisia), tech. fall 11-1
87 kg: Michial Foy, Crete, Ill. (Gopher WC RTC), Eliminated
LOSS Filip Smetko (Croatia), 4-0
130 kg: Cohlton Schultz, Parker, Colo. (Sunkist Kids), still eligible for repechage
WIN Jonavan Smith (Puerto Rico), tech fall 9-0
LOSS Sarkhan Mammadov (Azerbaijan), 5-1
Semifinal pairings
55 kg
Denis Florin Mihai (Romania) vs. Poya Soulat Dad Marz (Iran)
Ken Matsui (Japan) vs, Nihad Guluzade (Azerbaijan)
63 kg
Imam Hossein Koon Mohammadi (Iran) vs. Ziya Babashov (Azerbaijan)
Giorgi Shotadze (Georgia) vs. Maksym Liu (Ukraine)
77 kg
Nao Kusaka (Japan) vs. Malkhas Amoyan (Armenia)
Alexandrin Gutu (Moldova) vs. Dmytro Vasetskyi (Ukraine)
87 kg
Maksat Sailau (Kazakhstan) vs. Gevorg Tadevosyan (Armenia)
Istvan Takacs (Hungary) vs. Szymon Szymonowicz (Poland )
130 kg
Fatih Bozkurt (Turkey) vs. Dariusz Vitek (Hungary)
Mykhailo Vyshnyvetskyi (Ukraine) vs. Sarkhan Mammadov (Azerbaijan)