News
USA Wrestling
International
College
USAW
U.S. Greco-Roman team led by Senior World Team members Schultz, Peak, Omania ready for U23 World Championships in Spain
by Gary Abbott, USA Wrestling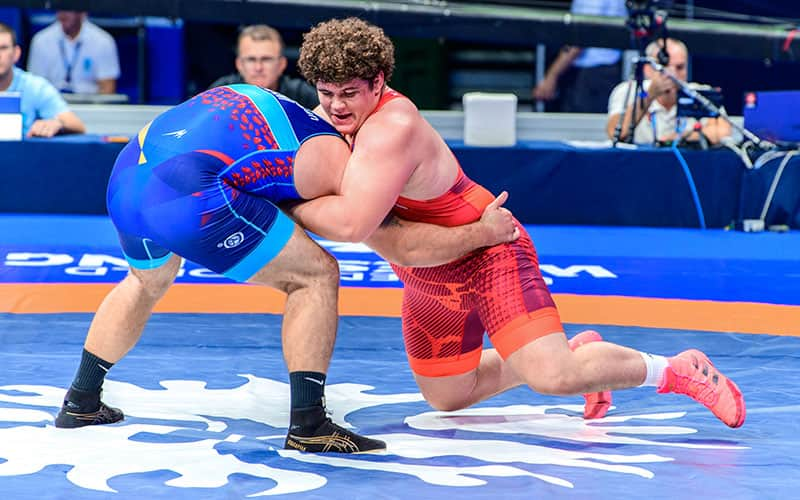 Cohlton Schultz (USA) competing at the 2022 Senior World Championships. Photo by Tony Rotundo, Wrestlers Are Warriors
The United States is bringing an experienced team of hungry Greco-Roman wrestlers, as they seek to win their first U23 World medal in this style since the event was created by United World Wrestling in 2017. Team USA will have three past Senior World Team members in the lineup in Greco-Roman, which will be the first discipline contested, October 17-19 in Pontavedra, Spain.
Leading the team is two-time Senior World Team member
Cohlton Schultz
at 130 kg. Schultz has competed at the 2021 and 2022 Senior World Championships and is one of the most successful age-group wrestlers in U.S. Greco-Roman history. This will be Schultz's seventh age-group World Championships, and he boasts three medals, a U17 World title in 2017, a U20 World silver medal in 2019 and a U20 World bronze in 2018.
Schultz is also one of the nation's top college stars, placing second behind Olympic freestyle champion Gable Steveson of Minnesota at the 2022 NCAA Div. I Championships. Schultz was also fourth in the 2021 NCAA Championships.
The other two past Senior World Team members on this U23 World Team are
Benji Peak
at 72 kg, who competed at the 2022 Senior Worlds, and
Peyton Omania
at 67 kg, who wrestled in the 2021 Senior Worlds.
Peak is an explosive athlete who loves to throw his opponents. Ironically, Peak made his first Senior World Team before making an age-group World Team, of which the 2022 U23 Worlds is his first. He is a two-time U.S. Senior Nationals champion.
Omania is competing in his fifth age-group World Championships, and has wrestled at the U17, U20 and U23 Worlds in the past. He won a U20 World bronze medal in 2019, which was his breakthrough at the World level. He was an NCAA qualifier for Michigan State last year, and has been able to excel in both Greco-Roman and folkstyle at the same time.
This group of Greco-Roman wrestlers has been successful on the U.S. Senior level in the past. There are six past Senior Greco-Roman National Team members on the squad, with Schultz, Peak and Omania joined by
Mason Carzino-Hartshorn
at 65 kg,
Britton Holmes
at 77 kg and
Nicholas Boykin
at 97 kg.
Holmes placed second in the 2022 Final X, losing to his Army WCAP teammate Kamal Bey in the finals series. Holmes was a 2022 U.S. Senior Nationals champion and has age-group World experience as a member of the 2021 U23 World Team. Holmes grew up in Colorado and trained at the USOPTC while in high school, then spent some time at Northern Michigan at its Greco-Roman Training Site before entering the military.
Boykin has reached as high as No. 2 on the U.S. Senior ladder, and has also won the U.S. Senior Nationals two times in his career. This will be the third age-group World Championships for Boykin, who competed in the 2021 U23 Worlds and the 2019 U20 Worlds. Boykin spent time at the USOPTC before joining the Ohio State program.
Carzino-Hartshorn is currently ranked No. 3 on the Senior National Team. He also competed at the 2019 U20 World Championships.
There are three members of the 2022 U.S. U23 World Team who are currently in the UWW Senior World Rankings, with Schultz at No. 21, Boykin at No. 27 and Tyler Cunningham at No. 30 at 82 kg. Cunningham earned valuable ranking points with his third-place finish at the 2022 Senior Pan American Championships. A two-time Senior Nationals placewinner, Cunningham will be on his first U.S. World Team at any level.
Another past age-group World Team member is
Phillip Moomey
, who is competing at 60 kg in Pontavedra. Moomey wrestled in the 2018 U17 World Championships. Moomey was third in the 2021 Junior Pan American Games.
You might recognize the name of the team's 87 kg team member, NCAA qualifier
Michial Foy
of the University of Minnesota. Foy's father was two-time Greco-Roman Olympian and 1989 World silver medalist Michial Foy, who also was a star for Minnesota. Young Michial was a 2018 NJCAA junior college national champion for Harper College before joining the Gophers.
Camden Russell
, who was a Junior Nationals champion in Fargo in 2019, will compete at his first age-group World Championships at 55 kg.
In 2021, Greco-Roman specialist Taylor LaMont became the first U.S. athlete to reach a medal match in Greco-Roman at the U23 World Championships, when he placed fifth at 55 kg. The 2022 U23 team would like to be the one which brings home some medals from the U23 World Championships, as well as showcase some of the rising young talent in the U.S. Greco-Roman program.
U.S. Greco Roman roster
55 kg: Camden Russell, Omaha, Neb. (MWC Wrestling Academy)
60 kg: Phillip Moomey, Kearney, Neb. (Spartan Combat RTC/TMWC)
65 kg: Mason Carzino-Hartshorn, Antioch, Calif. (West Coast Greco RTC)
67 kg: Peyton Omania, Concord, Calif. (New York AC)
72 kg: Benjamin Peak, Marquette, Mich. (NMU-OTS/Sunkist Kids)
77 kg: Britton Holmes, Colorado Springs, Colo. (U.S. Army WCAP)
82 kg: Tyler Cunningham, Gretna, Neb. (MWC Wrestling Academy)
87 kg: Michial Foy, Crete, Ill. (Gopher WC RTC)
97 kg: Nicholas Boykin, Murfreesboro, Tenn. (Ohio RTC/Sunkist Kids)
130 kg: Cohlton Schultz, Parker, Colo. (Sunkist Kids)
Athlete College affiliation
Northern Michigan 3 (Carzino-Hartshorn, Holmes, Peak), Arizona State (Schultz), Cornell (Moomey), Iowa Western CC (Russell), Michigan State (Omania), Minnesota (Foy), Nebraska-Kearney (Cunningham), Ohio State (Boykin)
U23 WORLD CHAMPIONSHIPS SCHEDULE

Greco-Roman competition
Monday, October 17
10:30 a.m. – Qualification rounds (GR 55, 63, 77, 87, 130 kg)
6 p.m. – Semifinals (GR 55, 63, 77, 87, 130 kg)
Tuesday, October 18
10:30 a.m. – Qualification rounds (GR 60, 67, 72, 82, 97 kg)
10:30 a.m. – Repechage (GR 55, 63, 77, 87, 130 kg)
4:45 p.m. – Semifinals (GR 60, 67, 72, 82, 97 kg)
6 p.m. – Finals (GR 55, 63, 77, 87, 130 kg)
Wednesday, October 19
10:30 a.m. – Repechage (GR 60, 67, 72, 82, 97 kg)
6 p.m. – Finals (GR 60, 67, 72, 82, 97 kg)
*All times listed reference Pontevedra local time, six hours ahead of U.S. Eastern Time