Gomez showcases offense in NWCA All-Star Classic win over Sasso; Starocci wins NCAA finals rematch over Lewis
by Adam Engel, Special to TheMat.com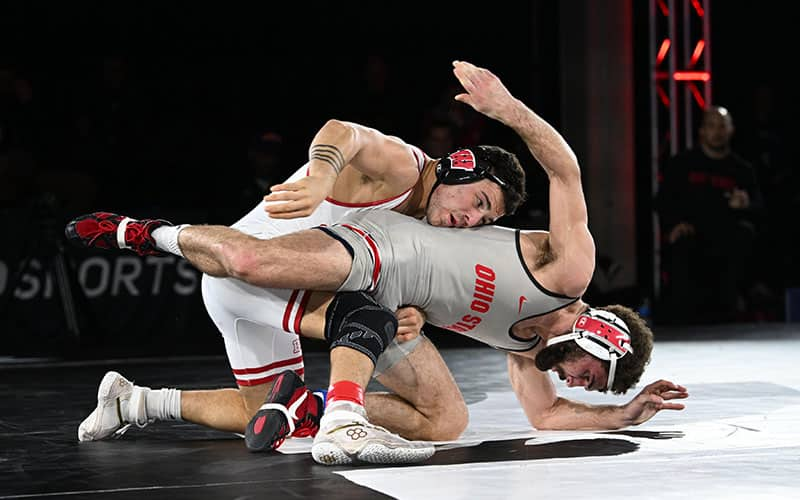 Austin Gomez (Wisconsin) takes down Sammy Sasso (Ohio State) at NWCA All-Star Classic. Photo by Sam Janicki.


AUSTIN, Texas -
Austin Gomez
charged toward Sammy Sasso and continued to work.
Takedown. Escape. Takedown. Escape.
No. 2 Gomez, Wisconsin's 149-pounder, let his offense show in an 10-9 win over Ohio State's Sasso in the NWCA All-Star Classic on Tuesday night in Austin, Texas.
Gomez trailed 4-2 after the second period but added four takedowns in the third to win it. Gomez, a 2022 All-American, became one of 15 winners Tuesday night. Gomez is now 3-0 against No. 5 Sasso.
In the main event, a rematch of the 2022 174-pound NCAA finals, Penn State's
Carter Starocci
clipped Virginia Tech's Mekhi Lewis, 2-0.
The margins were thin, just like they were in March when Starocci won 6-5 on rideouts. After a scoreless first period, No. 1 Starocci immediately escaped. Riding time helped Starocci grab the extra point.
No. 2 Lewis won a national championship in 2019 and remained one of the nation's best.
The night's action began at 125 pounds. Minnesota's
Pat McKee
pinned Iowa State's Kysen Terukina at 3:48. After 5-0 lead in the second period, No. 3 McKee flattened No. 12 Terukina near the edge. McKee earned 2021 and 2022 All-American honors.
At 133, these low to the ground scrappers showcased their defense in a battle at 133. Illinois'
Lucas Byrd
beat Arizona State's Michael McGee, 3-2.
No. 5 Byrd snatched the first points off an ankle pick and back trip. That was the only takedown scored in the bout. The two traded escapes but Byrd's low and wide defensive stance cut off any attack angles. No. 4 McGee most recently placed fourth at the 2022 NCAA Championships.
A bout later, at 157, Michigan's
Will Lewan
established middleweight supremacy with a 3-1 win over Virginia Tech's Bryce Andonian.
No. 2 Lewan scored first on a straight double leg takedown toward the end of the first. He added an escape from bottom to start the second. No. 4 Andonian escaped from bottom to begin the third, but Lewan stymied any attacks to win
The night's first blood dripped at 197. Missouri's
Rocky Elam
wasted no time attacking. He was the last to score, too. He defeated Iowa's Jacob Warner, 8-6, in overtime. In a back-and-forth battle, No. 2 Warner scored a late takedown to force overtime. No. 4 Elam ended it when he circled around a double leg and converted the takedown.
In a Big Ten heavyweight bout, Penn State's
Greg Kerkvliet
used his offense and riding time to defeat Iowa's Anthony Cassioppi, 8-3.
Kerkvliet started the third on top with a 5-3 lead before he added a late takedown and 2:12 of riding time. Kerkvliet, a two-time All-American, earned his first win against Cassioppi, a three-time All-American. Cassioppi won the previous three meetings.
Two national championships clashed in the night's first women's bout. At 191, McKendree's
Syndee Kimber
used three takedowns to cleanly defeat Missouri Valley's Kelani Corbett, 6-0.
Kimber, a three-time national champion, grabbed two first period takedowns before another in the second. The two wrestled Sunday at the Missouri Valley Open and Kimber won 6-4.
North Central's
Yelena Makoyed
quickly ended the 170-pound women's bout. She won 10-0 in a 1:51 technical fall after a takedown and several turns. Makoyed emerged on the international stage this summer with gold medals in three UWW ranking tournaments.
Penn State's
Aaron Brooks
defended 184-pound supremacy with a 12-8 win over Northern Iowa's Parker Keckeisen.
No. 1 Brooks showcased his championship level offense with constant takedowns and a desire to separate scores. The pair traded takedown-escape combinations for most of the match. No. 2 Keckeisen scored his first takedown toward the end of the bout but still trailed by three. Brooks added to the lead with 2:15 of riding time.
Quickness proved king at 141. Northern Colorado's
Andrew Alirez
beat Pittsburgh's Cole Matthews, 4-2, off a reattack in sudden victory.
After a scoreless first period, No. 4 Alirez, a late replacement to the event, flipped from bottom for a reversal in less than a second. No. 1 Matthews, a 2022 All-American, quickly escaped to return to netural. Matthews opened the third with an escape to tie at two. The score remained tied after three. Alirez, a 2022 Big 12 champion, shot in on Matthews' left ankle and circled for the winning takedown. With the win, Alirez should become the No. 1 ranked wrestler at 141.
In the 143 women's bout, the newcomer defeated the veteran. Iowa Wesleyan's
Adaugo Nwachukwu
dominated McKendree's Alara Boyd, 6-0.
Nwachukwu, a 2022 NAIA champion and U20 bronze medalist, used two takedowns and two pushouts to stymie Boyd. Boyd, the more established wrestler, won a NCWWC championship in 2021 but finished as runner-up in 2020 and 2022.
Emily Shilson
needed four seconds to separate the score in the women's bout at 109. Despite having criteria, she defeated Life's Peyton Prussin, 6-4, on a buzzer beating four-point throw.
Prussin pressured Shilson after the first period with a 4-0 lead. The opposite occurred in the second.
Margins became thin in another chapter of the Carr-Monday rivalry. At 165, Iowa State's
David Carr
defeated Princeton's Quincy Monday, 2-1, on riding time. After a scoreless first, No. 3 Carr escaped from bottom five seconds into the second.
No. 1 (at 157) Monday tied it after an escape in the third but Carr recorded 1:16 of riding time for the win.
Fans of high-paced scrambles and offensive wrestling loved this one at 165. Missouri's
Keegan O'Toole
, a 2022 NCAA champion, defeated Wisconsin's Dean Hamiti, 7-1, with riding time.
No. 1 O'Toole dominated with several takedowns and controlled riding time with many mat returns. No. 5 Hamiti scored via escape with a minute left in the second. O'Toole finished the job with a trip takedown and 2:48 of riding time.
NWCA All-Star Classic

At Austin, Texas, November 22
125: Patrick Mckee (Minnesota) fall Kysen Terukina (Iowa State), 3:48
133: Lucas Byrd (Illinois) dec. Michael McGee (Arizona State), 3-2
157: Will Lewan (Michigan) dec. Bryce Andonian (Virginia Tech), 3-1
197: Rocky Elam (Missouri) dec. Jacob Warner (Iowa), 8-6 SV
285: Greg Kerkvliet (Penn State) dec. Tony Cassioppi (Iowa), 8-5
191 women's bout: Sydnee Kimber (McKendree) dec. Kelani Corbett (Missouri Valley College), 6-0
170 women's bout: Yelena Makoyed (North Central) tech fall Jessie Lee (Life), 10-0, 1:51
184: Aaron Brooks (Penn State) dec. Parker Keckeisen (Northern Iowa), 12-8
141: Andrew Alirez (Northern Colorado) dec. Cole Matthews (Pittsburgh), 4-2 SV
143 women's bout: Adaugo Nwachukwu (Iowa Wesleyan) dec. Alara Boyd (McKendree), 6-0
109 women's bout: Emily Shilson (Augsburg) dec. Peyton Prussin (Life), 8-4
165: David Carr (Iowa State) dec. Quincy Monday (Princeton), 2-1
165: Keegan O'Toole (Missouri) dec. Dean Hamiti Jr. (Wisconsin), 7-1
149: Austin Gomez (Wisconsin) dec. Sammy Sasso (Ohio State), 10-9
174: Carter Starocci (Penn State) dec. Mekhi Lewis (Virginia Tech), 2-0