News
USA Wrestling
College
USAW
Upperweights lift No. 17 Pitt past No. 13 Lehigh, 22-12
by Pitt Athletics, Lehigh Athletics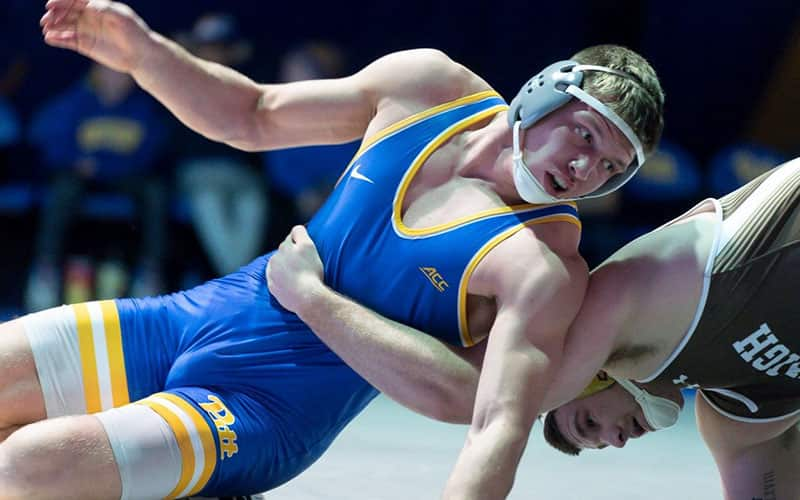 Image courtesy of Pitt Athletics
PITTSBURGH—Halfway through Saturday night's top-20 dual matchup, No. 13 Lehigh used a pin to take a 12-6 lead over No. 17 Pitt at the Fitzgerald Field House.
But the Panthers responded in the best way and won all five upperweight matches to send the Fitz into a frenzy, culminating with Nino Bonaccorsi and Dayton Pitzer dominating the final two matches to secure Pitt's 22-12 dual victory over the visiting Mountain Hawks.
"I'm really proud of our team," Pitt head coach Keith Gavin said. "We had a setback last night, but how you respond is very important and shows your character. We wrestled with passion tonight to beat a very good team. The guys fed off the crowd and looked like they loved being out there."
"Dayton is a savage," Gavin added of true freshman debutant Pitzer, who majored No. 17 Nathan Taylor in the first match of his college career. "He was giving up more than 50 pounds, but it didn't faze him."
Pitzer's 10-1 win over Taylor secured the dual, but it was Pitt's other upperweights who flipped the match.
No. 14 Holden Heller swung momentum with a shutout victory at 165 pounds, then Luca Augustine and No. 24 Reece Heller both beat higher-ranked opponents to give Pitt the lead.
In the only top-10 bout of the night, No. 9 Nino Bonaccorsi torched No. 8 Michael Beard at 197 pounds with an outstanding attacking display for a 10-4 decision that set the stage for Pitzer's final act.
Also winning matches for the Panthers, Colton Camacho started the night with an impressive triumph over No. 16 Carter Bailey at 125 pounds and No. 1 Cole Matthews stayed undefeated at 141.
Full results from Saturday's dual are available below.
Also of note, Pitt fans were given the chance to recognize and remember late, great, long-time coach Rande Stottlemyer as well as two-time national champion Pat Santoro, Lehigh's head coach. Both were honored as recent inductees into the Pitt Athletics Hall of Fame.
The Panthers (2-1) return to the mat in two weeks for a dual at Big Ten opponent Illinois. Pitt will meet the Fighting Illini at 4 p.m. on Saturday, Dec. 3.
No. 17 Pitt 22, No. 13 Lehigh 12
125 | Colton Camacho (Pitt) dec. #16 Carter Bailey (Lehigh), 4-2 (Pitt leads, 3-0)
133 | #22 Connor McGonagle (Lehigh) dec. #8 Micky Phillippi (Pitt), 5-3 (Tied, 3-3)
141 | #1 Cole Matthews (Pitt) dec. Owen Reinsel (Lehigh), 8-2 (Pitt leads, 6-3)
149 | Max Brignola (Lehigh) dec. Tyler Badgett (Pitt), 7-6 (Tied, 6-6)
157 | #9 Josh Humphreys (Lehigh) pins #11 Dazjon Casto (Pitt), 3:47 (Lehigh leads, 12-6)
165 | #14 Holden Heller (Pitt) dec. Brian Meyer (Lehigh), 6-0 (Lehigh leads, 12-9)
174 | Luca Augustine (Pitt) dec. #31 Jake Logan (Lehigh), 11-6 (Tied, 12-12)
184 | #24 Reece Heller (Pitt) dec. #14 Tate Samuelson (Lehigh), 7-6 (Pitt leads, 15-12)
197 | #9 Nino Bonaccorsi (Pitt) dec. #8 Michael Beard (Lehigh), 10-4 (Pitt leads, 18-12)
HWT | Dayton Pitzer (Pitt) maj. dec. #17 Nathan Taylor (Lehigh), 10-1 (Pitt wins, 22-12)
Lehigh press release

No. 13 Lehigh Falls at No. 17 Pitt as Panthers Rally in Upper Weights
PITTSBURGH – A second period pin by senior Josh Humphreys gave No. 13 Lehigh a 12-6 lead at the halfway point, but No. 17 Pitt won the final five bouts to claim a 22-12 victory over the Mountain Hawks Saturday night at Fitzgerald Field House. On a night in which Lehigh wrestlers defeated a pair of top 15-ranked opponents, Pitt had the upper hand in the upper weights to claim the victory.
The loss drops Lehigh to 3-2 on the season, while Pitt improves to 2-1.
The dual began at 125 with first-year Carter Bailey taking on Colton Camacho. Bailey trailed 3-0 after two periods and reversed in the third but could get no closer, as he dropped a 4-2 decision as the Panthers took an early lead.
Sophomore Connor McGonagle followed with a strong 5-3 decision over Pitt's eighth-ranked Micky Phillippi at 133. After a scoreless first period, McGonagle rode out the second. He escaped early in the third and added a takedown to go up 3-0. Phillippi responded with an escape and takedown of his own, but after cutting McGonagle loose, could get no closer. McGonagle added the riding time point to deal Phillippi a dual loss to a Lehigh wrestler for the second straight year.
True first-year Owen Reinsel stepped in for sophomore Malyke Hines at 141 and faced the tough task of taking on top-ranked Cole Matthews. Reinsel showed some skill on top, riding out the second period, but ultimately fell 8-2 as Pitt reclaimed a 6-3 advantage.
Sophomore Max Brignola returned to the lineup with a 7-6 decision over Tyler Badgett at 149. Brignola scored the first takedown and added reversals in the second and third periods plus a stalling point.
Humphreys recorded his first fall of the season, pinning 11th-ranked Dazjon Casto in 3:47. Casto scored the first takedown but Humphreys came back late in the first period with a takedown to take a 3-2 lead. In the second, Humphreys worked his way into a reversal and trapped Casto on his back, securing the fall to put Lehigh up 12-6 halfway.
Pitt's comeback began at 165 as Holden Heller defeated junior Brian Meyer 6-0. Luca Augustine then tied the dual at 12-12 with an 11-6 decision over Jake Logan at 174.
The Panthers went in front for good following Reece Heller's 7-6 win over graduate student Tate Samuelson at 184. Heller emerged on top from an upper body position for a takedown and two point near fall to lead 4-1 after one. Samuelson tried to erase a 5-1 deficit in the third with an escape and two takedowns, but it was a late escape by Heller that provided the deciding point.
A top 10 showdown at 197 also went the Panthers' way as ninth-ranked Nino Bonaccorsi won a 10-4 decision over eighth-ranked sophomore Michael Beard. Bonaccorsi racked up four takedowns in the victory, including two in the second period, giving Pitt a six-point lead heading into the final bout.
At 285, first-year Nathan Taylor surrendered an early takedown and never recovered as Pitt's Dayton Pitzer posted a 10-1 major decision to account for the final margin.
The Mountain Hawks will return to action on Sunday, Dec. 4 when they host top-ranked and defending national champion Penn State at Stabler Arena with match time set for 2 p.m. Tickets are still available and can be purchased at LehighTickets.com or by calling 610-7LU-GAME during business hours.
The 2022-23 Lehigh wrestling season is presented by the Historic Hotel Bethlehem.