News
USA Wrestling
International
College
Women
USAW
Up to 18 nations signed up for Bill Farrell Memorial International in New York City, Nov. 18-19
by Gary Abbott, USA Wrestling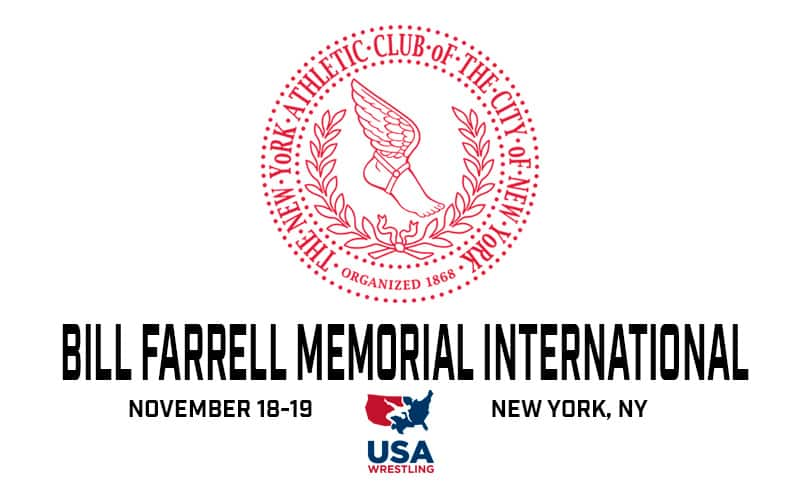 One of the great traditions in U.S. international wrestling has returned, with the hosting of the
Bill Farrell Memorial International
at the New York Athletic Club in New York City, Nov. 18-19.
This Senior-level event, which has roots going back for decades, is back to its traditional home in the historic
New York Athletic Club
. The event was postponed due to the pandemic. The most recent Bill Farrell Memorial was held in Cedar Falls, Iowa, Feb. 1-2, 2022, without the inclusion of international competitors.
This year, athletes from foreign countries have been invited again, and there will be a healthy mix of international competitors and U.S. athletes in the three Olympic disciplines: men's freestyle, women's freestyle and Greco-Roman.
As of Tuesday, there are 18 nations which have registered athletes for this outstanding event: Albania, Armenia, Canada, Ecuador, Egypt, France, Georgia, India, Israel, Italy, Jamaica, Kazakhstan, Kyrgyzstan, Moldova, Puerto Rico, Tajikistan, Ukraine and the United States.
A deadline for U.S. athletes to register without penalty is today.
Click to register for the Bill Farrell Memorial International
The event begins on Friday, November 18, with competition in Greco-Roman and women's freestyle, with its completion on Saturday, November 19 with men's freestyle.
Previously known as the New York Athletic Club International, the tournament is named in honor of the late Hall of Famer Bill Farrell, a giant in international wrestling, who was involved with the NYAC for decades as an athlete, coach and leader
A review of the top stars to watch in the 2022 Bill Farrell Memorial International will be posted tomorrow.
All of the action is
live on FloWrestling
.
BILL FARRELL MEMORIAL INTERNATIONAL

At New York Athletic Club, New York, N.Y.


Friday, Nov. 18th
10:00 AM – 3:00 PM - Session I
Senior Greco-Roman:1st Round, Quarterfinals, Semifinals and Consolation
Senior Women's: All rounds through 3rd and 1st place
4:00 PM – 7:00 PM - Session II
Senior Greco-Roman:Consolation, Consolation Semifinals, 3rd place and 1st place
Saturday, Nov. 19th
10:00 AM – 4:00 PM - Session III
Senior Men's Freestyle:Prelims to Medals
BILL FARRELL MEMORIAL CHAMPIONS

April 1-2, 2022 in Cedar Falls, Iowa


Men's freestyle champions
57 kg - Zane Richards (TMWC/Illinois RTC)
61 kg – Tyler Graff (TMWC/NJRTC)
65 kg – Seth Gross (SKWC)
70 kg – Tyler Berger (TMWC/CA RTC)
74 kg– Joshua Shields (SKWC)
79 kg – Chance Marsteller (TMWC/Annapolis RTC)
86 kg – Myles Martin (TMWC/Scarlet Knight RTC)
92 kg – Nick Reenan (TMWC/Wolfpack WC)
97 kg – Michael Macchiavello (TMWC/Wolfpack WC)
125 kg – Hayden Zillmer (Gopher WC-RTC)
Greco-Roman champions
55 kg – Max Nowry (WCAP)
60 kg – Dalton Roberts (WCAP)
63 kg– Sam Jones (NYAC)
67 kg – Alejandro Sancho (WCAP)
72 kg – Patrick Smith (Minnesota Storm)
77 kg – Ravaughn Perkins (NYAC)
82 kg – Ben Provisor (NYAC)
87 kg – Richard Carlson (Minnesota Storm)
97 kg – Nicholas Boykin (SKWC)
130 kg – Tanner Farmer (NYAC)
Women's freestyle champion
50 kg – Emily Shilson (TMWC/TCRTC)
53 kg – Sage Mortimer (Utah/TMWC)
55 kg – Alisha Howk (SKWC)
59 kg – Xochitl Mota-Pettis (Rise RTC)
62 kg – Andrea Schlabach (GVWC)
65 kg – Nina Makem (TCRTC)
72 kg – Aury Naylor (Georgia)
76 kg – Precious Bell (TMWC)