News
USA Wrestling
College
USAW
No. 17 Lehigh takes down No. 19 Oregon State 20-13 in season opener
by Steve Lomangino, Lehigh Athletics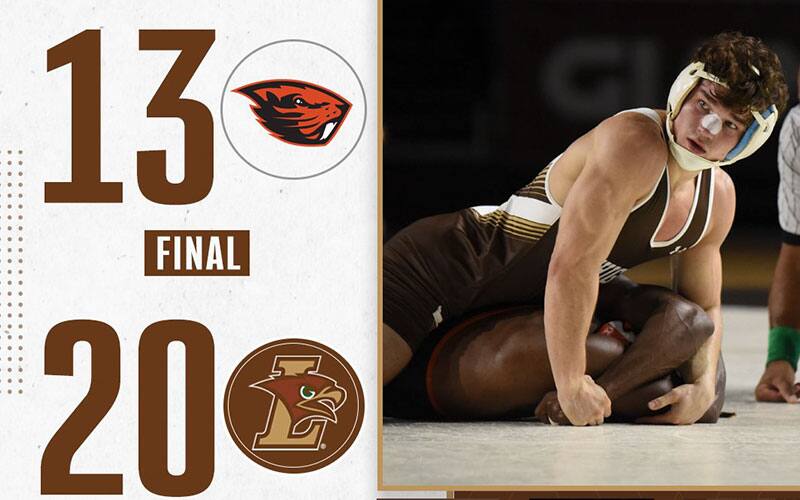 Graphic courtesy of Lehigh athletics
BETHLEHEM, Pa. – No. 17 Lehigh opened its season by winning six bouts, including a technical fall by senior
Josh Humphreys
, on the way to a 20-13 victory over No. 19 Oregon State Saturday at Stabler Arena on Take Down Cancer Day, presented by Red Robin in partnership with the Leukemia and Lymphoma Society.
The Mountain Hawks led 11-7 halfway and won four of the final five bouts, clinching the dual with a 9-2 decision by sophomore Connor McGonagle at 133.
Lehigh wins its dual opener for the first time since Nov. 2019 and has defeated Oregon State for the second consecutive season.
"We knew it would be a battle," Lehigh head coach
Pat Santoro
said. "Oregon State has a really nice team. Coming in we thought this could be a 5-5 split on paper. It was going to be a dogfight and we had to win the tough matches. It went both ways a little bit.
"Some guys looked great and some guys looked tight in their first match out," Santoro continued. "That's something we'll have to fix. You have to be relaxed and focused on doing what you're doing. If you worry about winning and losing it gets a lot tougher."
The visiting Beavers took the opening bout as Cleveland Belton scored a takedown in overtime to defeat sophomore Malyke Hines 8-6 at 141. A wild late third period sequence saw Hines score a go-ahead takedown late only to see Belton score a point in the final seconds to send the bout to sudden victory.
Lehigh took the next two bouts to take an 8-3 lead. Sophomore
Max Brignola
posted a 9-5 decision over Noah Tolentino at 149 and then Humphreys kicked off his senior season with a dominant 18-3 technical fall over No. 30 Isaiah Crosby in 6:32.
"We knew bonus points would be crucial, and they were with the dual coming down to the last match," Santoro said. "Josh got stopped a few times when he was working for turns but made some adjustments and was able to get the tech fall, which was big."
Oregon State picked up its lone bonus win as Matthew Olguin rode a six-point first period to a 12-2 major decision over junior Brian Meyer at 165.
Sophomore
Jake Logan
picked up two takedowns and used a late third period escape to hold off Mason Christenson 6-5, giving Lehigh the 11-7 lead at intermission.
In the first bout after the break, sixth-ranked Trey Munoz spoiled Tate Samuelson's Lehigh debut with a 7-3 decision.
The Mountain Hawks captured the next two bouts, beginning with a 9-5 decision by sophomore
Michael Beard
over Tanner Harvey in his Lehigh debut at 197.
"We knew Harvey was pretty good since he wrestled at American," Santoro said. "Michael gave up the first takedown but made the adjustments and did a nice job."
Beard's win was followed by a 7-4 win by first-year heavyweight
Nathan Taylor
of JJ Dixon, to give Lehigh a 17-10 lead with two bouts remaining.
A 5-3 decision by returning All-American Brandon Kaylor over first-year Carter Bailey at 125 brought the Beavers back within 17-13, but
Connor McGonagle
used a strong performance in his first bout down at 133 to secure the victory for the Mountain Hawks. McGonagle led 4-0 after two periods behind two takedowns and strong work from the top position and eventually clinched the victory with a 9-2 decision.
"Shaner is a gas tank guy, so we knew it would be a test for Connor coming down a weight class," Santoro said. "Connor went seven hard minutes with a guy who has one of the best gas tanks in the country. That was a great win."
Lehigh welcomed back members of its 2002-03 and 2003-04 teams Saturday. Both teams captured EIWA titles and earned trophies at the NCAA Championships, as the 2002-03 team finished fourth and the 2003-04 team finished third at the national tournament.
The Mountain Hawks are back in Leeman-Turner Arena at Grace Hall on Sunday to host Sacred Heart at 2 p.m. Tickets can be purchased at LehighTickets.com or at Grace Hall Sunday afternoon prior to the match.
The 2022-23 Lehigh wrestling season is presented by the Historic Hotel Bethlehem.
No. 17 Lehigh 20, No. 19 Oregon State 13
141 – Cleveland Belton (OSU) dec. Malyke Hines (Lehigh) 8-6, sv
149 – Max Brignola (Lehigh) dec. Noah Tolentino (OSU) 9-5
157 – Josh Humphreys (Lehigh) tech fall Isaiah Crosby (OSU) 18-3, 6:32
165 – Matthew Olguin (OSU) major dec. Brian Meyer (Lehigh) 12-2
174 – Jake Logan (Lehigh) dec. Mason Christenson (OSU) 6-5
184 – Trey Munoz (OSU) dec. Tate Samuelson (Lehigh) 7-3
197 – Michael Beard (Lehigh) dec. Tanner Harvey (OSU) 9-5
285 – Nathan Taylor (Lehigh) dec. JJ Dixon (OSU) 7-4
125 – Brandon Kaylor (OSU) dec. Carter Bailey (Lehigh) 5-3
133 – Connor McGonagle (Lehigh) dec. Jason Shaner (OSU) 9-2
Attendance – 1,310