News
USA Wrestling
International
College
High School & Youth
USAW
National Wrestling Hall of Fame announces Class of 2023: Bender, Jackson, Miranda, Williams named Distinguished Members
by Jack Carnefix, National Wrestling Hall of Fame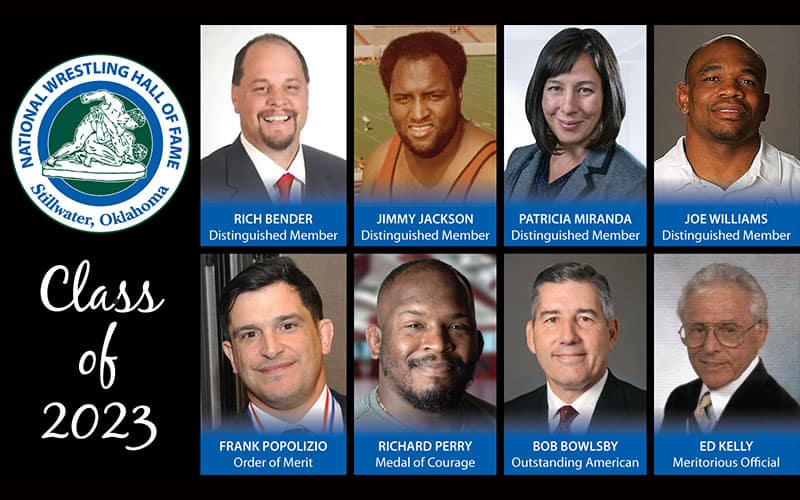 STILLWATER, Okla. – The National Wrestling Hall of Fame on Tuesday announced that the Class of 2023 is Distinguished Members
Rich Bender
,
Jimmy Jackson
,
Patricia Miranda
and
Joe Williams
, Meritorious Official honoree
Ed Kelly
, Order of Merit recipient
Frank Popolizio
, Medal of Courage recipient
Richard Perry
, and Outstanding American honoree
Bob Bowlsby
.
"This coming year's class of inductees exemplify virtuous leadership as competitors and stewards while also being exceptional sources of inspiration for the sport of wrestling's past, present and future generations," said Lee Roy Smith, Executive Director of the National Wrestling Hall of Fame. "We are proud to honor their accomplishments by enshrining them in the National Wrestling Hall of Fame during Honors Weekend this coming June."
The Hall of Fame Board of Governors approved the selections at their meeting in Kansas City on October 26.
The induction ceremony will be held at the 46th Honors Weekend on June 2-3, 2023 in Stillwater, Oklahoma. For more information on Honors Weekend, please telephone (405) 377-5243.
Bender, Miranda and Williams were chosen as Distinguished Members for the Modern Era while Jackson was selected by the Veterans Committee. The newest honorees will bring the number of Distinguished Members to 208, since the Hall of Fame began in 1976.
Miranda becomes the fifth female to be inducted as a Distinguished Member, joining Clarissa Chun (2022), Kristie Davis (2018), Sara McMann (2022) and Tricia Saunders (2006).
Distinguished Members can be a wrestler who has achieved extraordinary success in national and/or international competition; a coach who has demonstrated great leadership in the profession and who has compiled an outstanding record; or a contributor whose long-term activities have substantially enhanced the development and advancement of the sport. Wrestlers must have been retired from active competition for a period of five years to be eligible for consideration as a Distinguished Member.
Rich Bender
has led one of the most successful periods in USA Wrestling history, both on and off the mat, since being named acting executive director of USA Wrestling in November 2000 and permanent director in February 2001. He is the longest-serving Executive Director in organization history. Under his leadership the United States has won 26 Olympic medals with nine gold, five silver and 12 bronze, and 100 World Championship medals with 27 gold, 26 silver and 47 bronze. USA Wrestling had its first women's Olympic wrestling champion in 2016 and U.S. women's wrestling performance has improved with a gold, a silver and two bronze medals at the 2020 Olympics and a record-tying seven medals at the Women's World Championships in 2021 and 2022. The U.S. won the overall World Championships medal count in all styles for the first time in 2022 while setting records for Most Gold Medals by a U.S. World Team, all disciplines, with seven and most men's team world finalists with eight. USA Wrestling won its first Greco-Roman World team title in 2007 and added World freestyle titles in 2017 and 2022. USA Wrestling set all-time membership records in 2018-2019 with a combined membership of more than 252,500. The organization quickly rebounded from the challenges of the pandemic and has recovered fully in terms of membership and programming. During his tenure, USA Wrestling has enhanced its strong financial position, becoming debt-free with $10 million in investments and cash reserves. Under Bender's leadership, the support of and opportunities for wrestlers has grown with increased pay, the athlete appearance program, Olympic and World medal performance bonuses, athlete representation and participation on committees and the board of directors, all while expanding education of coaches. USA Wrestling currently celebrates its most diverse board in the history of the organization. In 2019, Bender was elected as a member of the United States Olympic & Paralympic Committee Board of Directors to represent the National Governing Bodies (NGB). From 2010-2016, he was elected chairman of U.S. Olympic Committee's National Governing Body Council, representing over 13,000,000 members from all of the NGBs affiliated with the U.S. Olympic movement. In 2013, he formed the Committee for the Preservation of Olympic Wrestling, a U.S.-led group of wrestling and business leaders who spearheaded the American efforts to retain wrestling on the Olympic program. This successful effort reversed a recommendation from the International Olympic Committee to remove wrestling from the Olympics, starting with the 2020 Games. Bender oversaw the creation of the U.S. Olympic Training Center Resident Program for women, hired a national women's coach and staff and expanded competition opportunities for girls and women. USA Wrestling was instrumental in developing the proposal to the IOC that led to the addition of women's wrestling to the Olympic program at the 2004 Olympic Games. USA Wrestling has also been a leader in building wrestling for girls and women on the youth, high school and college levels, making it one of the fastest growing sports in the nation. Bender serves on the Technical Commission for United World Wrestling, which has been credited with making some of the most substantial rule improvements and referee accountability measures in the history of the sport. USA Wrestling has hosted numerous major international events, including the 2015 World Championships in Las Vegas and the 2003 Freestyle World Championships in Madison Square Garden, regarded as two of the best World Championships ever. USA Wrestling hosted the Freestyle World Cup in Los Angeles from 2014-16 and a record-setting Freestyle World Cup in Iowa City, Iowa, in 2018 where the U.S. won the team title. During his tenure, U.S. Olympic Team Trials for Wrestling have grown into sold-out events, setting attendance records in 2012 and 2016, while also seeing media coverage increase. It is now one of the most valuable Olympic Trials properties in the entire Olympic movement. Today, USA Wrestling's properties are widely consumed digitally by fans around the world. Bender began his career at USA Wrestling as a U.S. Olympic Committee intern in 1988 and became a full-time employee in 1989 as events assistant. Bender was named National Events Director in 1989, managing regional, national and international events, including the 1995 World Freestyle Championships, numerous age-group World Championships, the U.S. Olympic Team Trials, and the World Cup. He directed the combined USA Wrestling Junior and Cadet National Championships, the world's largest wrestling competition. He served as Competition Manager at the 1996 Olympic Games, organizing a staff which presented one of the best Olympic wrestling competitions in history. He was promoted to Associate Executive Director of Programs, overseeing events, national teams and developmental programs until being named Executive Director. Knowing the value of volunteer-based non-profit organizations, Bender gives back to Olympic City USA by voluntarily serving on the City's Regional Leadership Forum, the Pikes Peak or Bust Rodeo Foundation, and U.S. Olympic Endowment board. He also serves on the boards of FCA Wrestling and the National Wrestling Coaches Association. He was inducted into the Wisconsin Wrestling Coaches Association George Martin Hall of Fame in 2015 and received the International Wrestling Federation Gold Star in 1996 for orchestrating the best Olympic wrestling competition of that time. He received his sports management degree with a minor in business from the University of Wisconsin-La Crosse and graduated from the Olympic Sports Leadership certification program at Northwestern University's Kellogg School of Management. Bender was born and raised in the rural community of Boscobel, Wisconsin where he attended high school and was a three-sport athlete, lettering in football, wrestling, and baseball.
Jimmy Jackson
was a three-time NCAA champion and Big Eight Conference champion for Oklahoma State University. He passed away at 51 years old in 2008, suffering from diabetes and congestive heart failure. Jackson and Lee Kemp, a Distinguished Member inducted into the Hall of Fame in 1990, became the first African-American wrestlers to win three NCAA championships in 1978. Listed at 6-foot-6 and 350 pounds, Jackson had a career record of 88-9-2 with 44 falls, including 29-0 with 11 falls as a senior. He defeated Jeff Blatnick, a Distinguished Member inducted in 1999, in the 1978 NCAA tournament and Greg Gibson, a Distinguished Member inducted 2007, in the 1976 NCAA tournament. He helped Oklahoma State go 61-5 in duals and was inducted into Oklahoma State University Athletics Hall of Honor in 2007. Jackson competed in the 1976 Olympics as a 19-year-old college sophomore, winning his opening match by technical fall over Harry Geris of Canada, also an Oklahoma State wrestler, before losing to gold medalist Soslan Andiyev of the Soviet Union and silver medalist József Balla of Hungary. Jackson defeated Greg Wojciechowski to qualify for the 1976 team and was an alternate to Wojciechowski for the 1980 team that did not compete because of the United States boycott. Jackson was a three-time World Cup champion and won a gold medal at the Pan American Championships in 1987. He was the 1974 Michigan Class A state champion for Ottawa Hills High School in Grand Rapids, Michigan.
Patricia Miranda
was the first American woman to win an Olympic medal in wrestling, claiming bronze at the 2004 Olympic Games, the first Games to include women's wrestling. The daughter of Brazilian political refugees, she represented the United States in four Senior World Championships, earning silver medals in 2000 and 2003 and a bronze in 2006. The seven-time U.S. Nationals champion was a trailblazer in women's wrestling, becoming the first female to join her middle school and high school wrestling teams. Miranda went on to compete as a member of the men's varsity wrestling team at Stanford University from 1997 to 2002 and became only the second woman in NCAA history to defeat a male athlete in competition. She was also the Pan American Games and FILA World Cup champion in 2003. After graduating Phi Beta Kappa from Stanford with a bachelor's degree in economics and a master's degree in international policy studies, Miranda was accepted to Yale Law School, but she deferred her admission there to train for the 2004 Olympic Games. She eventually continued her academic career, receiving a Juris Doctorate from Yale Law School in 2007. She is currently a partner at Miranda, Magden & Miranda LLP and specializes in immigration law. Her impact on wrestling continued as she was co-chair for the Keep Stanford Wrestling effort that was successful in reversing Stanford's recent decision to cut its wrestling program. Stanford University has the Patricia Miranda Associate Head Wrestling Coach and The Open Mat website presents the "Miranda Medal" to the best women's college wrestler each year.
Joe Williams
was a three-time NCAA champion and four-time All-American for the University of Iowa. He had a career record of 129-9 while helping the Hawkeyes win back-to-back NCAA team titles in 1996 and 1997 and being named Outstanding Wrestler at the NCAA tournament in 1998. Williams finished fifth at the 2004 Olympics and competed in six World Championships, winning bronze medals in 2001 and 2005 while placing fourth in 1999 and fifth in 2007. He won gold medals at the Pan American Championships in 1999 and 2003 and was a four-time World Cup champion. He is a 10-time National Freestyle champion and a six-time U.S. Senior National Freestyle champion. Williams was a four-time Illinois state high school champion for Mount Carmel High School, wrestling for Bill Weick, a Distinguished Member of the Hall of Fame. Williams had a career record of 162-1 with 95 career falls. His only loss was a disqualification, resulting from an illegal slam, as a freshman. Williams was named Chicago Tribune's Illinois High School Athlete of the Year in 1992 and 1993.
The
Medal of Courage
recipient is a wrestler or former wrestler who has overcome what appear to be insurmountable challenges, providing inspiration to others.
Richard Perry
suffered a terrible head injury on August 27, 2018 while attending a training camp at Marine Corps Base Camp Pendleton. Participating in a drill with foam-padded batons, Perry took a shot to the face and the foam protection dislodged, allowing the baton's thin, hard central rod to slip through a hole in his protective facemask. The end struck Perry's eye orbit, shattering it. The pieces then penetrated Perry's brain tissue. Perry almost died and doctors initially did not believe that he would recover, noting that if he did survive, he would be bedridden or, at best, in a wheelchair for the rest of his life. With support from the wrestling community from around the world, Perry began to show signs of improvement and was able to have the brain surgery necessary to remove the portion of his skull that had penetrated into his brain. Perry then spent almost three more months in an inpatient facility, relearning to talk, move his left hand, use his fingers and control his arms. He also had to relearn basic functions, including walking, writing, reading, chewing, and showering. After being told he would not walk again, the husband, father of three and wrestler challenged himself and was determined to walk out of the hospital. On November 16, 2018, Perry walked unassisted out of his hospital room, into an elevator, down a hallway and out of the hospital. In December of 2020, following countless doctor visits, cognitive, speech and physical therapy, and specialized strength and mobility sessions, Perry returned to the mat and began training again with his coach Hall of Fame Distinguished Member Brandon Slay and the other members of the Pennsylvania Regional Training Center in Philadelphia. Perry did not begin wrestling until his junior year of high school, finally succumbing to the pleas of Mark Fong, the freshman football coach at Middletown High School in Connecticut who also guided the varsity wrestling team. Fong's instincts proved right and Perry became an instant starter for a state championship team. After a third-place finish in his first season, Perry's wrestling reached a new level as he traveled to tournaments around New England during the offseason. The additional mat time and competition resulted in a Connecticut state championship as a senior. He continued his wrestling career at Bloomsburg State, qualifying for the NCAA Division I tournament three times while winning over 100 matches and an Eastern Wrestling League title. After college he began competing internationally, making his senior debut at the 2014 Bill Farrell International Tournament where he earned recognition as the Outstanding Wrestler winning gold while beating an Olympic silver medalist and national team member. In 2015 Richard competed at the Belarus Alexander Medved Grand Prix and the Bill Farrell International Tournament where he placed third. Perry was a two-time finalist at the Dave Schultz International Tournament and at the U.S. Open. Perry placed fifth at the 2016 Olympic Trials and finished fourth at the World Team Trials in 2017. In 2018, he was a finalist at the Ukraine Outstanding Tournament, the U.S. Open and the World Team Trials. He earned a spot on the U.S. National Team, but did not get a chance to compete because of his accident.
The
Order of Merit
is presented to an individual that has made a significant contribution to the sport of wrestling, but who is not an athlete or a coach.
Frank Popolizio
conceived "Journeymen Wrestling" in 1999, after experiencing the experiencing the excitement and atmosphere at Gallagher-Iba Arena while watching his younger brother Pat wrestle in a home dual for Oklahoma State University. He returned home to Schenectady, New York, with the desire to bring that level of college wrestling to upstate New York while also promoting, teaching, advocating and showcasing amateur wrestling to New York's Capital Region. Popolizio's first chore was convincing skeptical Division I wrestling coaches to bring their teams to Albany, New York for the Northeast Duals, a Thanksgiving weekend dual meet tournament. Through his passion and hard work the tournament has become a premier early-season event for top DI programs. In 2004, Journeymen Wrestling launched a wrestling club for middle and high school athletes and later added a pee wee program. Popolizio also began hosting clinics and camps featuring wrestling luminaries, including National Wrestling Hall of Fame Distinguished Members Terry Brands, Tom Brands, Dan Gable, J Robinson, John Smith and Cael Sanderson and six-time World Champion and Olympic gold medalist Jordan Burroughs. Popolizio not only focused on the success on the mat, but also on the importance of good moral character and sportsmanship. Journeymen continued to grow, attracting wrestlers from all over New England, New Jersey, Ohio and Pennsylvania to participate in clinics and compete in tournaments. Popolizio has partnered with FloWrestling and Rokfin to further advance the visibility of wrestling through nationally-recognized tournaments, including the Journeymen/RUDIS Fall Classic in Lancaster, Pennsylvania, the Pop & Flo National Duals in Lake Placid, New York, the Collegiate Wrestling Duals in New Orleans, the Journeymen/Defense Soap Collegiate Classic and WrangleMania in the Lehigh Valley of Pennsylvania. In an effort to realize a modified round-robin format, Popolizio invested in and developed a unique software program called "Tournaflex." Tournaflex allows athletes to view like-level competition throughout an event, while also allowing them to get in and out of an event in a more efficient manner and providing a more fully enriching customer experience for participants and fans. Tournaflex is one of only a few still active in the wrestling arena today. In 2018, Popolizio established the Journeymen/Adidas World Classic, currently the only Cadet/Junior international tournament held in the United States. The event has included many of the world's wrestling powers, including Kazakhstan, Kyrgyzstan, Mongolia, Russia and Uzbekistan. His experience with the tournament and relationships with foreign leaders has given him the honor to represent Team USA at the Cadet World Championships as team leader and coach for three straight years. He was the architect for Tussle of the Troops, a dual between Oklahoma State and North Carolina State on the United States Naval Support Base in Naples, Italy and the first NCAA Division I wrestling match held outside of North America. While creating and running Journeymen Wrestling, Popolizio has served and continues to work as an assistant coach at Shenendehowa High School. He was named the New York State Assistant Coach of the Year in 2008-09 while the team has captured four state team titles. Popolizio was introduced to wrestling at Niskayuna High School by Hall of Fame coach Joe Bena. After a successful high school career, Popolizio enrolled at Hudson Valley Community College in Troy, New York. During his two years at HVCC, he was instrumental in reinstating the school's National Junior College Athletic Association wrestling program. After completing studies at Hudson Valley, Popolizio attended and graduated summa cum laude from Springfield College in Springfield, Massachusetts. He subsequently returned to his alma mater and worked alongside his high school coach. One of Popolizio's prized pupils was his younger brother, Pat, a New York State Public High School Athletic Association champion and three-time NCAA qualifier for Oklahoma State. Pat became a successful college coach, beginning at Binghamton University and currently at North Carolina State, where he has developed the Wolf Pack into one of the nation's top programs. Notable alumni from Journeymen Wrestling include Senior World bronze medalist and NCAA champion Nick Gwiazdowski, Senior Greco-Roman World Team member Jesse Porter, Junior World medalist Alexis Porter, Cadet World medalist Alexis Bleau, Cadet World Team member Stevo Poulin and WWE Raw Tag Team champion Matt Riddle. Frank received the Lifetime Service to Wrestling award from the Upstate New York Chapter of the National Wrestling Hall of Fame in 2018.
The
Meritorious Official
award recognizes outstanding service as a referee, judge, or pairing official.
Ed Kelly
officiated for 27 years and then served 22 years as an evaluator for the NCAA Division I Championships. He was the head official for the first eight Maryland high school state wrestling championships from 1970 to 1977 and officiated the Atlantic Coast Conference Championships, the Virginia Duals and the NCAA Division I Championships. He became the first NCAA Division I Wrestling Championships evaluator in 1989 and held the position until 2011. He was asked to return in 2012. He was a member of the Maryland Wrestling Officials Association from 1959 to 1987, serving as president from 1961 to 1962 and again from 1979 to 1981. He also served as the state rules interpreter from 1975 to 1982, and was the liaison to the National High School Federation of Interscholastic Sports from 1970-1982. Kelly wrestled at Loyola College, now Loyola University, and won the Mason-Dixon Conference title at 137 pounds in 1954 while also being named Outstanding Wrestler of the tournament. He continued wrestling after college, competing as a member of the National YMCA Championship team in 1955 and winning several individual South Atlantic AAU titles. Kelly received the Lifetime Service to Wrestling award from the Maryland Chapter of the National Wrestling Hall of Fame in 2001 and the Contribution to Wrestling award from Maryland Wrestling Officials Association in 2003. He was inducted into the Baltimore County Wrestling Hall of Fame in 1984 and into the Maryland Public Secondary Schools Athletic Association State Wrestling Hall of Fame in 1986.
The
Outstanding American
award is presented to those individuals who have used the disciplines of wrestling to launch notable careers in other walks of life, such as science and technology, business and industry, government and the military, and the arts and humanities.
Bob Bowlsby
wrestled at Waterloo West High School for legendary Hall of Fame coach Bob Siddens and at Minnesota State University Moorhead, where he was team captain and Northern Sun Intercollegiate Conference champion. A lifelong advocate for wrestling, Bowlsby served as the Chair of the NCAA Wrestling Committee, and the National Wrestling Hall of Fame Dan Gable Museum's Glen Brand Wrestling Hall of Fame of Iowa's Bowlsby Family Legacy Award is named in honor of his family. His brother John was an Iowa state high school champion and a three-time All-American and two-time Big Ten Conference champion for the University of Iowa while parents, Bob and Pat, and sisters, Ann, Sarah and Jane, were instrumental in their careers. Throughout his career Bowlsby used his wrestling background, skill, expertise and leadership to help the programs he has overseen achieve growth and financial success. He retired in 2022 after 10 years as commissioner of the Big 12 Conference. As has been the model at each stop in his career, complete program growth, financial success and personal accomplishments have been the by-product of Bob's skill, expertise, and leadership. Under his leadership, the Big 12 won 32 national team championships, including an all-time high eight national titles in 2021-22, and 175 NCAA individual event crowns. Thirty-two additional Big 12 teams finished as runners-up in NCAA competition. Bowlsby oversaw several major changes in Big 12 membership, including the addition of Texas Christian University and West Virginia University, replacing departures by Colorado, Missouri, Nebraska and Texas A&M. Most recently he guided the addition of future members Brigham Young, Central Florida, Cincinnati and Houston, following the departure of the University of Oklahoma and the University of Texas. In his tenure with the Big 12, Bowlsby finalized one of the most lucrative television deals in college athletics and oversaw the expansion of the existing ESPN rights agreement with the 2019 debut of Big 12 Now on ESPN+. Hundreds of additional Big 12 sports events and original programming are distributed annually on the digital platform, including wrestling. Bowlsby played a key role in the formation of the College Football Playoff that began in 2014-15, the first postseason playoff in the history of the sport. Prior to his role at the Big 12, Bowlsby spent six years directing a Stanford University athletics department that sponsors 35 varsity sports and claimed an unprecedented 17 consecutive Learfield Sports Directors Cups, emblematic of the top overall athletics program in the country. Bowlsby arrived at Stanford after a 15-year stint as the director of athletics for the University of Iowa. In his final four years, he guided and supervised the merger of the Hawkeye men's and women's athletic departments that included 24 varsity sports. Before his stint overseeing the Hawkeye athletic department he served in the same role for seven years at the University of Northern Iowa, beginning in 1984 after serving as the assistant athletic director for facilities. A national leader in intercollegiate and amateur athletics, Bowlsby served on the United States Olympic Committee from 2007 to 2014 and also for two years in the 1990s. He was named National Athletics Director of the Year in 2004 and served as a member of the Commission on Opportunities in Athletics. He served as president of the NCAA Division I-A Athletics Directors' Association, chair of the NCAA Division I Men's Basketball Committee and chaired the NCAA Management Council. He has also served on NCAA committees on Financial Aid and Amateurism, the Special Committee to Review Amateurism Issues and the Special Committee to Review Financial Conditions in Athletics. In 2013, he was named to the NCAA 40th Anniversary Tribute Team, which recognized the 40th anniversary of NCAA Division II competition, and received the MSU Moorhead Alumni Achievement Award. He was inducted into the Dragon Sports Hall of Fame in 1998 and the University of Northern Iowa Hall of Fame in 2007. He received his bachelor's degree from MSU Moorhead in 1975 and his master's degree from the University of Iowa.
National Wrestling Hall of Fame & Museum
America's shrine to the sport of wrestling, the National Wrestling Hall of Fame & Museum was founded as a nonprofit organization in 1976 to honor the sport of wrestling, preserve its history, recognize extraordinary individual achievements, and inspire future generations. The National Wrestling Hall of Fame has museums in Stillwater, Oklahoma, and Waterloo, Iowa. The Stillwater, Oklahoma, location reopened in June 2016 following a $3.8 million renovation while the Waterloo, Iowa, location reopened in March 2019 after undergoing a $1.4 million renovation. Both museums now feature interactive exhibits and electronic kiosks, as well as the opportunity to watch NCAA Championship matches from the 1930s to present day. Stillwater also has the John T. Vaughan Hall of Honors where the greatest names in wrestling are recognized, including iconic granite plaques presented to Distinguished Members since the Hall of Fame opened in 1976. The museum has the largest collection of wrestling artifacts and memorabilia in the world, including the most collegiate and Olympic wrestling uniforms. Wrestling truly is for everyone and the diversity and accessibility of the sport continues to be highlighted through exhibits featuring females, African-Americans, Asian Americans, Native Americans, and Latino Americans. There is also a library featuring historical documents, including NCAA guides and results, as well as books on the sport.
For more information about the Hall of Fame, please visit
www.NWHOF.org
.