News
USA Wrestling
College
High School & Youth
USAW
Hall of Fame biography: Mike Moyer, Order of Merit
by National Wrestling Hall of Fame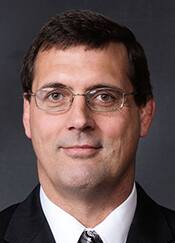 Mike Moyer – Order of Merit
The Order of Merit is presented to an individual that has made significant contributions to the advancement of the sport of wrestling, but who is not an athlete or a coach.
This year's honoree is Mike Moyer, who has been executive director of the National Wrestling Coaches Association since 1999.
Under his leadership, NWCA membership has grown from 1,700 to more than 10,000 and the organization has established 260 new intercollegiate wrestling programs, including more than 90 women's teams, in the last decade.
Mike established the NWCA CEO Leadership Program that has trained more than 700 college coaches and more than 1,300 high school coaches on best practices.
He has also overseen and facilitated fundraising initiatives that helped establish several Division I men's and women's programs, creating hundreds of coaching opportunities.
He has spearheaded establishing new chapters for Wrestlers In Business Network, an organization that connects wrestlers and provides career opportunities for college wrestling graduates.
He also oversees a vast majority of NWCA committees that function for the purpose of strengthening high school and college wrestling for males and females.
He expanded the NWCA National Duals from a 16-team event to more than 100 schools representing men's and women's team at all collegiate divisions.
Mike competed in three NCAA Division I Championships for West Chester State College, now West Chester University, and received his bachelor's degree in health/physical education in 1983. He served as a graduate assistant at James Madison University for one year and earned his master's degree in athletic administration.
Coached by his father, William Moyer, he competed in three Pennsylvania state wrestling tournaments and had a career record of 89-14-2 for Wilson High School.
He was head coach at Chowan Junior College in 1984-85 and advanced three wrestlers to the NJCAA Championships. He was head coach at George Mason University from 1985 to 1995 and led his team to three Virginia Intercollegiate League team titles, two Colonial Athletic Association team championships, and an East Regional team title. Twenty-seven GMU wrestlers competed in the NCAA Division I Championships with four earning All-American honors.
For his dedication to wrestling and his far-reaching influence on the sport, Mike Moyer is honored with the Order of Merit by the National Wrestling Hall of Fame.