News
USA Wrestling
International
College
High School & Youth
Women
USAW
Hall of Fame biography: Melissa Simmons, Medal of Courage
by National Wrestling Hall of Fame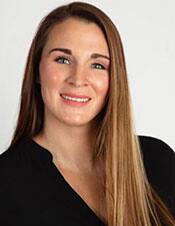 Melissa Simmons – Medal of Courage
The Medal of Courage recipient is a wrestler or former wrestler who has overcome what appear to be insurmountable challenges, providing inspiration to others.
Melissa Simmons more than qualifies for the honor on both counts.
She was in a car accident when she was 18 years old, suffering a fractured eye socket and retina damage when her face collided with the steering wheel.
After several surgeries and an orbital implant, doctors feared she would never be able to open her eye and never be able to wrestle again.
Later that year, with a protective face mask she designed, Melissa returned to the wrestling mat for Oklahoma City University.
She had a career record of 73-18 with 42 falls, winning a national championship in 2008 while finishing second in 2010 and third in 2011.
She helped OCU capture three national team championships and three National Wrestling Coaches Association National Duals titles.
Originally from Ridgefield, Washington, she began competing in wrestling in elementary school and won seven national titles and All-American honors as a youth.
In 2005, she dropped out of high school with the blessing of her parents, completed her GED and enrolled as a freshman at Northern Michigan University to begin training at the U.S. Olympic Education Center.
In her second week of practice, Melissa tore her ACL. While she was recovering, her teammate and best friend, Toni Copeland, drowned in Lake Superior.
The following year, she returned to Washington and continued to take classes at an area college and train with her local club team, Southwest Washington Wrestling Club.
Melissa graduated from Oklahoma City University in 2010 with a bachelor's degree in kinesiology and exercise science.
She worked as an assistant coach for OCU and as the director of operations for North Carolina State's wrestling program.
While at NCSU she earned her master's degree in parks recreation, tourism and sport management, in addition to a degree in sports & entertainment venue management.
Melissa also served as coach for several USA Wrestling teams including University Worlds, Junior Worlds, Pan Am Championships and was the first women's director for the state of North Carolina.
In 2019, she returned to Oklahoma and accepted her current position as director of operations for the University of Oklahoma women's gymnastics team.
For overcoming seemingly insurmountable obstacles and providing inspiration to so many others, Melissa Simmons is honored as the Medal of Courage recipient by the National Wrestling Hall of Fame.