News
USA Wrestling
High School & Youth
Women
USAW
Returning champions Bommarito and Calkins in the finals of the USMC Junior Nationals
by Koral Sugiyama, Special to TheMat.com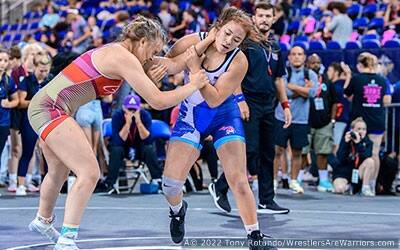 Photo of Junior Women's finalist Mishell Rebisch of Michigan in the 152-pound semifinal bout. Photo by Tony Rotundo/WrestlersAreWarriors
FARGODOME, N.D.––The Junior Women's finalists have been decided for the USMC Nationals in this morning's session. Two of the four returning champions are still in the running to repeat while five of the nine 16U champions continue on their journey to double up.
No. 1 athletes Eliana Bommarito of Michigan and Sam Calkins of California are the two who remain eligible to be back-to-back Junior champions.
No. 7 Pound-4-Pound (P4P) Eliana Bommarito has been unscored on enroute to the finals along with all her matches ending in pins. We will see if she can keep her mat time for this tournament under the length of one full match; she is up to 3:35 after the semifinals. Bommarito will wrestle No. 5 Dasia Yearby of South Carolina, who was second in last year's 16U Nationals.
No. 25 P4P Sam Calkins of California wrestled all six minutes for the first time in the tournament during her semifinals match against No. 2 Madeline Welch of Texas. Calkins capitalized on the edge of the mat with two pushouts and a toss to the back from her overhook. She defeated Welch, 6-1 and will wrestle 16U champion Savannah Isaac of Ohio, who is ranked No. 4 in the nation.
Four other 2022 16U champions return to the finals for a second time this week—Minnesota's two-time 16U champions Skylar Little Soldier (127) and Ella Pagel (164) and Michigan's Mischell Rebisch (152) and Sabrina Nauss (180).
The morning started out wild with a number of upsets—mostly all in the last seconds of the match or with a pin.
Sarah Savidge defeated returning champion Alexis Janiak at 127 pounds. Janiak scored the first two sets of twos. Her scoring came to an end when Janiak attempted a chest throw from Savidge's double leg and was rewarded with no points with Savidge earning points instead. Savidge continued to hold her ground and won 8-4. She will wrestle Jordyn Fouse of Pennsylvania.
Unranked Alexis Montes of Texas took out the only Triple Crown contender Isabella Marie Gonzales of California at 117 pounds. Gonzales started strong by scoring the first four 20 seconds into the match, but within the next minute Montes took her down and turned her with an arm bar for the pin. Montes will wrestle No. 4 Juliana Diaz of Florida who placed seventh at the event last year.
Makennah Craft of Ohio scored the first point, but it was Rianne Murphy of Indiana who held the lead through most of the 100-pound bout. Craft always kept herself within striking distance and it paid off because in the last 20 seconds she scored the two exposures she needed to cinch the win. Craft will wrestle two-time World medalist Sterling Dias of Nevada.
At 106 pounds Clare Booe of Florida caught Cadet World Bronze medalist and 16U champion Ava Ward on her back for a pin as Ward tried to finish a single leg. No. 7 Booe will wrestle No. 16 Aspen Blasko of Minnesota who took fifth in the 16U division on Sunday.
16U runner-up Cadence Diduch of Illinois earned her second chance at a title when she pinned Alejandra Valdiviezo of California after being down 6-4 in the first period. She dropped down one weight class from 127 pounds, where she wrestled in the 16U Nationals, to 122 pounds for this competition. Diduch will wrestle No. 8 Emily Sindoni of New York, who also wrestled to a fifth place finish on Sunday in the 16U tournament.
Finals begin today at 2 p.m. CT in the Fargodome. The action under the spotlight can be streamed live on FloWrestling.com.
USMC JUNIOR WOMEN'S NATIONALS
At Fargo, N.D., July 20, 2022
Finalist Pairings
100 - Sterling Dias of Nevada vs Makenna Craft of Ohio
106 - Clare Booe of Florida vs Aspen Blasko
112 - Alexandra Szkotnicki of Maryland vs Aubre Krazer of Pennsylvania
117 - Alexis Montes of Texas vs Juliana Diaz of Florida
122 - Cadence Diduch of Illinois vs Emily Sindoni of New York
127 - Jordyn Fouse of Pennsylvania vs Sarah Savidge of Colorado
132 - Skylar Little Soldier of Minnesota vs Janida Garcia of California
138 - Skylar Hattendor of Massachusetts vs Amitria Mcnack of Missouri
144 - Sydney Perry of Illinois vs Clarissa Agostini of Michigan
152 - Stella Steigler of Virginia vs Mishell Rebisch of Michigan
164 - Brooklyn Hays of Utah vs Ella Pagel of Minnesota
180 - Sabrina Nauss of Michigan vs Alivia White of Washington
200 - Sam Calkins of California vs Savannah Isaac of Ohio
225 - Eliana Bommarito of Michigan vs Dasia Yearby of South Carolina
Semifinal Results
100 - Sterling Dias (Nevada) dec. Gigi Bragg (Michigan), 5-4
100 - Makennah Craft (Ohio) dec. Rianne Murphy (Indiana), 8-6


106 - Clare Booe (Florida) pin Ava Ward (Missouri), 1:17
106 - Aspen Blasko (Minnesota) tech fall Chloe Dearwester (Ohio), 12-1 4:38


112 - Alexandra Szkotnicki (Maryland) dec. Kiely Tabaldo (California), 6-2
112 - Aubre Krazer (Pennsylvania) dec. Avery Ashley (Texas), 5-0


117 - Alexis Montes (Texas) pin Isabella marie Gonzales (California), 2:06
117 - Juliana Diaz (Florida) tech fall Arieana Arias (California), 17-7 5:55


122 - Cadence Diduch (Illinois) pin Alejandra Valdiviezo (California), 6-4 3:00
122 - Emily Sindoni (New York) tech fall Haylie Jaffe (Pennsylvania), 12-2 5:01


127 - Jordyn Fouse (Pennsylvania) tech fall Jaclyn Dehney (Massachusetts), 10-0 3:20
127 - Sarah Savidge (Colorado) dec. Alexis Janiak (Illinois), 8-4


132 - Skylar Little Soldier (Minnesota) dec. Taydem Khamjoi (California), 12-6
132 - Janida Garcia (California) dec. Alicen Dillard (Texas), 11-6


138 - Skylar Hattendorf (Massachusetts) pin Kryssceah Ravenelle (Rhode Island), 0:33
138 - Amitria Mcnack (Missouri) pin Alessandra Elliott (New York), 3:27


144 - Sydney Perry (Illinois) dec. Allyssa Johnson (North Dakota), 7-2
144 - Clarissa Agostini (Michigan) tech fall Caitlyn Davis (South Carolina), 17-6 4:29


152 - Stella Steigler (Virginia) dec. Aspen Barber (Colorado), 7-5
152 - Mishell Rebisch (Michigan) tech fall Genevieve An (Georgia), 12-1 5:29


164 - Brooklyn Hays (Utah) dec. Naomi Simon (Iowa), 8-2
164 - Ella Pagel (Minnesota) dec. Shannon Workinger (Washington), 8-7


180 - Sabrina Nauss (Michigan) pin Maliya Castillo (California), 0:43
180 - Alivia White (Washington) pin Tirza Twoteeth (Montana), 0:30


200 - Sam Calkins (California) dec. Madeline Welch (Texas), 6-1
200 - Savannah Isaac (Ohio) dec. Riley Dempewolf (Indiana), 7-0


225 - Eliana Bommarito (Michigan) pin Rewa Chababo (Texas), 1:20
225 - Dasia Yearby (South Carolina) pin Alysse Phillips (California), 0:32
Top 5 Team Standings after session
1. California - 147
2. Michigan - 104
3. Illinois - 80
4. Missouri - 72
5. (tied) Minnesota and Texas - 60