News
USA Wrestling
High School & Youth
Women
USAW
Three returning champions reach semifinals at USMC Junior Women's Nationals
by Koral Sugiyama, Special to TheMat.com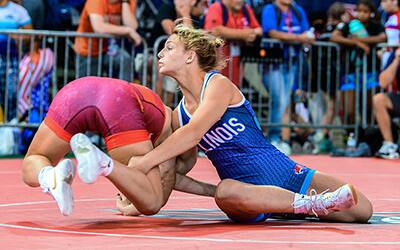 Photo of Alexis Janiak of Illinois sliding around the corner at USMC Junior Nationals. Photo by Tony Rotundo/WrestlersAreWarriors
FARGO, N.D.—The semifinals are set for the USMC Junior Women's Nationals. The quarterfinals were stacked with top ranked athletes with a few unknowns sliding by.
Three returning champs are still in the running to repeat. Illinois' Alexis Janiak (127), Eliana Bommarito of Michigan (225), and California's Sam Calkins (200).
No. 7 Alexis Janiak has yet to give up a point. She will wrestle No. 3 and Folkstyle National champion Sarah Savidge of Colorado.
The No. 7 Pound-4-Pound, Eliana Bommarito took twice as long to pin her opponent. She ended No. 6 Ciara Monger of Colorado's run for a title in 40 seconds.
No. 1 meets No. 2 in the semifinals at 200 lbs. Sam Calkins will face Madeline Welch of Texas tomorrow morning. Calkins made it through the second session with a 1:30 fall in the round of 16 and a 12-2 tech in the quarters. Welch pinned High School Showcase champion Catherine Dutton in the quarterfinals in a close 16-13 match.
At 144 lbs, No. 12 Clarissa Agostini of Michigan defeated returning champion Savannah Gomez of California in the quarterfinals in a 10-6 decision. Agostini placed third at U20 Women's Nationals. She will wrestle No. 14 Caitlyn Davis of South Carolina who was third at this year's Bill Farrell Memorial.
Triple Crown contender Isabella Marie Gonzales of California (117) made her way to the semifinals. She defeated No. 11 Bayley Trang of Texas and No. 6 at 106 Sierra Chiesa of Pennsylvania in the second session. Gonzales will wrestle Alexis Montes of Texas in the semifinals.
Out of the nine 16U champions that continued into session two, only seven have stayed on the championships side of the bracket —Rianne Murphy of Indiana (100), Ava Ward of Missouri (106), Skylar Little Soldier (132) and Ella Pagel of Minnesota (164), Mishell Rebisch (152), and Sabrina Nauss (180) of Michigan, and Savannah Isaac of Ohio (200).
Rianne Murphy of Indiana battled for a spot in the semifinals. She will wrestle No. 20 Makennah Craft of Ohio who teched 94-pound 16U champion Katey Valdez in the quarterfinals, 12-2. On the opposite side, Cadet World bronze medalist Sterling Dias of Nevada continues through the championship bracket. She will wrestle Michigan's 16U Folkstyle National champion Gigi Bragg.
Two No. 2 wrestlers were knocked into consolations with losses. At 112 lbs, Karlee Brooks from Arizona was defeated by No. 5 Kiely Tabaldo of California who was runner-up at this year's High School Showcase and in both divisions at this event last year.
In the 144-pound bracket, unranked Allyssa Johnson from North Dakota pinned Utah's Elleni Johnson in 35 seconds. The North Dakota wrestler will face No. 5 Sydney Perry from Illinois in the semifinals. Perry was third in the 16U division on Sunday and runner up at U17 Women's Nationals.
Action picks back up in the morning for the women at 8 a.m.
USMC JUNIOR WOMEN FREESTYLE NATIONALS
At Fargo, N.D., July 19, 2022
Semifinal pairings
100
Sterling Dias of Nevada vs Gigi Bragg of Michigan
Rianne Murphy of Indiana vs Makennah Craft of Ohio
106
Ava Ward of Missouri vs Clare Booe of Florida
Chloe Dearwester of Ohio vs Aspen Blasko of Minnesota
112
Alexandra Szkotnicki of Maryland vs Kiely Tabaldo of California
Avery Ashley of Texas vs Aubre Krazer of Pennsylvania
117
Isabella Marie Gonzales of California vs Alexis Montes of Texas
Arieana Arias vs Juliana Diaz
122
Cadence Diduch of Illinois vs Alejandra Valdiviezo of California
Haylie Jaffe of Pennsylvania vs Emily Sindoni of New York
127
Jaclyn Dehney of Massachusetts vs Jordyn Fouse of Pennsylvania
Sarah Savidge of Colorado vs Alexis Janiak of Illinois
132
Skylar Little Soldier of Minnesota vs Taydem Khamjoi of California
Alicen Dillard of Texas vs Janida Garcia of California
138
Skylar Hattendorf of Massachusetts vs Kryssceah Ravenelle of Rhode Island
Alessandra Elliott of New York vs Amitria McNack of Missouri
144
Allyssa Johnson of North Dakota vs Sydney Perry of Illinois
Caitlyn Davis of South Carolina vs Clarissa Agostini of Michigan
152
Stella Steigler of Virginia vs Aspen Barber of Colorado
Genevieve An of Georgia vs Mishell Rebisch of Michigan
164
Naomi Simon of Iowa vs Brooklyn Hays of Utah
Ella Pagel of Minnesota vs Shannon Workinger of Washington
180
Sabrina Nauss of Michigan vs Maliya Castillo of California
Tirza Twoteeth of Montana vs Alivia White of Washington
200
Sam Calkins of California vs Madeline Welch of Texas
Riley Dempewolf of Indiana vs Savannah Isaac of Ohio
225
Eliana Bommarito (Michigan) vs Rewa Chababo (Texas)
Dasia Yearby (South Carolina) vs Alysse Phillips (California)
Quarterfinal results
100
Rianne Murphy (Indiana) pin Juliana Alejandro (Nevada), 1:02
Sterling Dias (Nevada) tech fall Mia Zuniga (Washington), 10-0 4:39
Gigi Bragg (Michigan) tech fall Brooke Corrigan (Wisconsin), 14-4 5:29
Makennah Craft (Ohio) tech fall Katey Valdez (Colorado), 12-2 5:15
106
Ava Ward (Missouri) tech fall Genesis Cejudo (Arizona), 10-0 1:51
Chloe Dearwester (Ohio) pin Kadence Beck (Idaho), 2:20
Aspen Blasko (Minnesota) pin Jenavi Alejandro (Nevada), 4:26
Clare Booe (Florida) tech fall Lisa Pastoriza (Arizona), 11-1 3:28
112
Alexandra Szkotnicki (Maryland) pin Skyla Zimmerman (Idaho), 1:15
Kiely Tabaldo (California) dec. Karlee Brooks (Arizona), 4-4
Aubre Krazer (Pennsylvania) dec. Cecilia Williams (Michigan), 4-4
Avery Ashley (Texas) tech fall Diana Gonzalez (California), 2:33
117
Isabella Marie Gonzales (California) dec. Sierra Chiesa (Pennsylvania), 5-2
Alexis Montes (Texas) tech fall Kira Cole (Ohio), 10-0 4:10
Arieana Arias (California) tech. fall Torieonna Buchanan (Indiana), 12-2 4:13
Juliana Diaz (Florida) tech. fall Fernanda Lopez (Texas), 4:11
122
Cadence Diduch (Illinois) dec. Alyssa Randles (Idaho), 5-2
Alejandra Valdiviezo (California) tech fall Trinity Howard (North Carolina), 12-2 1:13
Haylie Jaffe (Pennsylvania) tech fall Kierstyn Bockert (Alaska), 10-0 1:48
Emily Sindoni (New York) pin Rose Kaplan (Indiana), 10-0 1:55
127
Jaclyn Dehney (Massachusetts) pin Ayana Medina (Oregon), 0:45
Jordyn Fouse (Pennsylvania) tech fall Alana Schafer (North Dakota), 11-0 2:32
Sarah Savidge (Colorado) tech. fall Ella Jauregui (California), 13-2
Alexis Janiak (Illinois) tech fall Estella Gutches (Oregon), 10-0 1:43
132
Skylar Little soldier (Minnesota) pin Hannah Ripper (California), 1:47
Taydem Khamjoi (California) pin Alissa Caltagirone (Massachusetts), 0:42
Alicen Dillard (Texas) dec. Madyson Gray (Kansas), 9-2
Janida Garcia (California) pin Camryn Brown (Connecticut), 1:19
138
Skylar Hattendorf (Massachusetts) pin Reagen Gallaway (Nebraska), 1:43
Kryssceah Ravenelle (Rhode Island) tech fall Gianna Dibenedetto (California), 12-1 2:17
Alessandra Elliott (New York) pin Gabriella Perez (Florida), 1:01
Amitria Mcnack (Missouri) pin Zoey Lints (New York), 4:42
144
Allyssa Johnson (North Dakota) pin Elleni Johnson (Utah), 0:35
Sydney Perry (Illinois) dec. Maggie Graham (Tennessee), 6-6
Caitlyn Davis (South Carolina) dec. Maddie Kubicki (Missouri), 13-10
Clarissa Agostini (Michigan) dec. Savannah Gomez (California), 10-6
152
Stella Steigler (Virginia) dec. Rose Cassioppi (Illinois), 5-4
Aspen Barber (Colorado) dec. Ruby Rios (Washington), 10-7
Genevieve An (Georgia) tech fall Kaylee Anderson (Virginia), 13-2 3:47
Mishell Rebisch (Michigan) tech fall Delise e Villa (California), 10-0 1:38
164
Naomi Simon (Iowa) dec Piper Fowler (Tennessee), 10-2
Brooklyn Hays (Utah) dec. Haley Ward (Missouri), 6-5
Ella Pagel (Minnesota) pin Yasmine kalilly Oliveira (Alabama), 0:33
Shannon Workinger (Washington) pin Trinity Bouchal (Arizona), 0:25
180
Sabrina Nauss (Michigan) pin Kami Senlycki (Minnesota), 0:49
Maliya Castillo (California) pinCheyenne Ruiz (Utah), 1:02
Tirza Twoteeth (Montana) dec. Taylor Knox (Colorado), 6-4
Alivia White (Washington) pin Katelyn Lewis (Wisconsin), 0:58
200
Sam Calkins (California) dec. Cheyenne Cruce (Florida), 12-2 5:44
Madeline Welch (Texas) pin Catherine Dutton (Missouri), 4:58
Riley Dempewolf (Indiana) pin Ella Murphey (Tennessee), 4:03
Savannah Isaac (Ohio) pin Mariyah Brumley (Missouri), 1:52
225
Eliana Bommarito (Michigan) pin Ciara Monger (Colorado), 0:33
Rewa Chababo (Texas) pin Kiara Ganey (Illinois), 2:43
Dasia Yearby (South Carolina) pin Karla Padilla zepeda (Utah), 2:34
Alysse Phillips (California) dec Andrea Smith (Florida), 6-1