News
USA Wrestling
High School & Youth
USAW
18 returning All-Americans advance to semifinals at USMC Junior Freestyle Nationals in Fargo, N.D.
by Adam Engel, USA Wrestling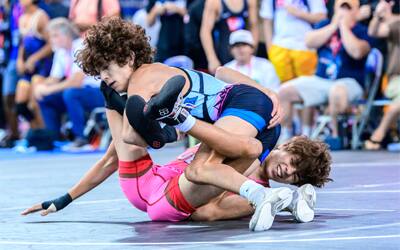 Issac Stewart of Montana (blue) battles with Hunter Mullarkey of New Jersey in a 100-pound quarterfinal.


FARGO, N.D — One by one, the All-Americans dropped. Some completely out of the tournament, a few into the consolation bracket. After three sessions, 18 returning All-Americans advanced to the semifinals at the USMC Junior Freestyle Nationals in Fargo, North Dakota.
Of the 40 returning Junior All-Americans, 25 remain.
At 100, Hunter Stewart of Montana rolled in the quarterfinals with a pin over Hunter Mullarkey of New Jersey in the second period. Mullarkey went in on the legs several times but Stewart's stingy leg defense avoided any points. Tyler Garvin of Maryland awaits Stewart in the semifinals.
A weight later, Idaho's Kolter Burton cruised to the finals. Tuesday's semifinals at 106 will be Idaho vs. Idaho. Burton will battle Dedrick Navarro of Idaho.
Seven returning All-Americans crowded into the 113 bracket. Now, three remain. Two of those three — Hunter Taylor of Missouri and Brandon Morvari of Minnesota - will scrap in the semifinals. Taylor won a national championship at 106 last summer.
All three returning All-Americans at 120 return to the semifinals. Braeden Davis, last year's champion at 113 and a Penn State commit, draws his Team Michigan teammate, Caden Horwath in the semifinals. In the other semifinal, Alan Koehler of Minnesota who placed third at 113, gets Iowa's Nate Jesuroga.
Kannon Webster of Illinois rolled to the semifinals at 132. He won last year's 120 bracket.
Jude Swisher of Pennsylvania and Ty Whalen of New Jersey, both All-Americans a year ago, surged to the semifinals at 152. Three of four returning All-Americans at 160 stormed to the semifinals. Nicco Ruiz of California will battle Wisconsin's Braeden Scoles in one of the weight's semifinals.
Joshua Barr, the defending champion at 160, cruised to the semifinals at 170. In the other semifinal, Pennsylvania's Rocco Welsh, secured a repeat of All-American status after he advanced to the semifinals. At 195, two highly touted incoming college freshman found their way to the semifinals. Idaho's Rylan Rogers, a Michigan signee, made the semifinals after a 7-5 win over Kentucky's Stephen Little. In the other semifinal, Iowa's Wyatt Voelker, a future Northern Iowa Panther is a win away from the finals.
At 220, another Iowan, Kolby Franklin crushed his competition with a 100% bonus point rate in four matches en route to the semifinals.
The men's Junior freestyle tournament continues Monday afternoon with the semifinals, consolations and consolation semifinals.
Semifinal pairings:


100
Javaan Yarbrough of Ohio vs Caden Smith of Virginia
Tyler Garvin of Maryland vs Isaac Stewart of Montana
106
Mack Mauger of Idaho vs Drake Ayala of Iowa
Dedrick Navarro of Idaho vs Kolter Burton of Idaho
113
Hunter Taylor of Missouri vs Brandon Morvari of Minnesota
Michael Olson of Minnesota vs Deion Johnson of Illinois
120
Braeden Davis of Michigan vs Caden Horwath of Michigan
Alan Koehler of Minnesota vs Nate Jesuroga of Iowa
126
Coleman Nogle of Maryland vs Mason Gibson of Pennsylvania
Luke Stanich of New Jersey vs Aden Valencia of California
132
Kannon Webster of Illinois vs Luke Simcox of Pennsylvania
Cory Land of Alabama vs Omar Ayoub of Ohio
138
Ryder Block of Iowa vs Pierson Manville of Pennsylvania
Ismael Ayoub of Ohio vs Easton Taylor of Kansas
145
Dylan Gilcher of Michigan vs Beau Mantanona of California
Zach Hanson of Minnesota vs Kyle Dutton of Missouri
152
Cody Chittum of Tennessee vs Jude Swisher of Pennsylvania
William Henckel of New Jersey vs Ty Whalen of New Jersey
160
Aiden Riggins of Iowa vs Rafael Hipolito of Virginia
Nicco Ruiz of California vs Braeden Scoles
170
Joshua Barr of Michigan vs Noah Mulvaney of Wisconsin
Tyler Lillard of Ohio vs Rocco Welsh of Pennsylvania
182
Connor Mirasola of Wisconsin vs Tate Naaktgeboren of Iowa
Ryder Rogotzke of Minnesota vs AJ Heeg of Oklahoma
195
Cody Merrill of California vs Wyatt Voelker of Iowa
Camden McDanel of Ohio vs Rylan Rogers of Idaho
220
Kolby Franklkin of Iowa vs Sawyer Bartelt of Florida
Kail Wynia (Minnesota) dec. Max Ramberg (Wisconsin), 11-8
285
Aden Attao of Idaho vs Parker Ferrell of Virginia
Dillan Johnson of Illinois vs Max Acciardi of New Jersey
Quarterfinal results:

100
Javaan Yarbrough (Ohio) TF Reid Foster (Iowa), 10-0 3:44
Caden Smith (Virginia) fall Tyler Harper (Iowa), 13-10 3:34
Tyler Garvin (Maryland) dec. Jayden Rinken (Iowa), 10-4
Isaac Stewart (Montana) fall Hunter Mullarkey (New Jersey), 12-4 5:27
106
Dru Ayala (Iowa) TF Davis Motyka (Pennsylvania), 11-0 3:54
Mack Mauger (Idaho) dec. Colyn Limbert (Ohio), 7-2
Dedrick Navarro (Idaho) TF Dorian Hoffman (Pennsylvania), 14-2 1:50
Kolter Burton (Idaho) fall Gage Singleton (Oregon), 12-6 3:59
113
Hunter Taylor (Missouri) injury default Isaiah Quintero (California), 4-3 3:28
Deion Johnson (Illinois) dec. Blake Beissel (Minnesota), 4-2
Michael Olson (Minnesota) dec. Anthony Ruzic (Illinois), 4-1
Brandon Morvari (Minnesota) dec. Layne Kleimann (Utah), 6-4
120
Braeden Davis (Michigan) dec. Trever Anderson (Iowa), 15-10
Caden Horwath (Michigan) dec. Kenneth Hendriksen (Tennessee), 11-4
Alan Koehler (Minnesota) dec. Vincent Kilkeary (Pennsylvania), 7-5
Nathanael Jesuroga (Iowa) TF Kael Lauridsen (Nebraska), 11-0 2:37
126
Coleman Nogle (Maryland) dec. Brady Roark (Missouri), 8-4
Mason Gibson (Pennsylvania) TF Shane Corrigan (Wisconsin), 10-0 3:50
Aden Valencia (California) fall Dillon Campbell (Ohio), 10-2 4:06
Luke Stanich (New Jersey) dec. Christopher Coates (Missouri), 8-7
132
Kannon Webster (Illinois) TF Nash Singleton (Oregon), 11-1 5:12
Omar Ayoub (Ohio) TF Cael Keck (Missouri), 11-0 1:44
Luke Simcox (Pennsylvania) injury default Greyson Clark (Wisconsin), 8-2 4:37
Cory Land (Alabama) dec. Grigor Cholakyan (California), 10-6
138
Ryder Block (Iowa) injury default Emilio Ysaguirre, jr. (Arizona), 4-0 4:36
Pierson Manville (Pennsylvania) TF Carter Mccallister (Missouri), 11-0 3:35
Ismael Ayoub (Ohio) dec. Zeke Seltzer (Indiana), 8-6
Easton Taylor (Kansas) dec. Kole Brower (Illinois), 15-8
145
Beau Mantanona (California) dec. Q'veli Quintanilla (Washington), 11-5
Kyle Dutton (Missouri) TF Kimo Leia (California), 10-0 0:47
Zach Hanson (Minnesota) dec. KJ Evans (Oklahoma), 14-8
Dylan Gilcher (Michigan) dec. Caleb Meunier (Wisconsin), 11-6
152
Ty Whalen (New Jersey) TF Charlie Millard (Wisconsin), 10-0 1:54
Cody Chittum (Tennessee) dec. Boeden Greenley (North Dakota), 14-5
Jude Swisher (Pennsylvania) TF Zane Licht (Wisconsin), 16-5 5:15
William Henckel (New Jersey) dec. Ethan Stiles (Illinois), 11-6
160
Rafael Hipolito (Virginia) TF J Conway (Indiana), 10-0 1:55
Nicco Ruiz (California) TF Thor Michaelson (Washington), 10-0 1:44
Aiden Riggins (Iowa) TF Cooper Willis (Wisconsin), 14-4 4:31
Braeden Scoles (Wisconsin) dec. Jed Wester (Minnesota), 11-10
170
Joshua Barr (Michigan) TF Chris Moore (Illinois), 10-0 1:39
Noah Mulvaney (Wisconsin) dec. Holden Garcia (Pennsylvania), 10-8
Tyler Lillard (Ohio) TF Lucas Condon (California), 12-0 1:58
Rocco Welsh (Pennsylvania) TF Daschle Lamer (Oregon), 10-0 4:25
182
Connor Mirasola (Wisconsin) TF Raymond Weed (New Jersey), 10-0 0:50
Tate Naaktgeboren (Iowa) dec. Joseph Martin (California), 7-0
Ryder Rogotzke (Minnesota) TF Nathan Taylor (Connecticut), 14-2 2:30
AJ Heeg (Oklahoma) TF Justin Rademacher (Oregon), 14-3 2:44
195
Wyatt Voelker (Iowa) dec. Jack Darrah (Missouri), 7-0
Camden McDanel (Ohio) dec. Jersey Robb (Oklahoma), 8-7
Cody Merrill (California) TF Hayden Walters (Oregon), 12-2 4:04
Rylan Rogers (Idaho) dec. Stephen Little (Kentucky), 7-5
220
Sawyer Bartelt (Florida) TF Gannon Rosenfeld (Minnesota), 10-0 1:52
Kolby Franklin (Iowa) TF Kyle Snider (Ohio), 12-2 4:42
Bradley Hill (Iowa) TF Carson Floyd (North Carolina), 10-0 1:32
Kail Wynia (Minnesota) dec. Max Ramberg (Wisconsin), 11-8
285
Aden Attao (Idaho) TF Aidan Fockler (Ohio), 13-3 2:35
Parker Ferrell (Virginia) TF Jacob Walker (Iowa), 13-1 5:01
Dillan Johnson (Illinois) fall Elijah Novak (Minnesota), 5-0 2:17
Max Acciardi (New Jersey) fall Dominic Burgett (Indiana), 7-0 1:36
Here is a look at how all 40 returning All-Americans performed:
100:
Isaac Stewart of Montana (100 in 2021): 3-0, semifinalist
106:
Kolter Burton of Idaho (100 in 2021): 3-0, semifinalist
Hank Kriegler of Nebraska (100 in 2021): ELIMINATED, 1-2, lost in round of 16, lost in consolation of 16 No. 2
113:
Hunter Taylor of Missouri (Champion at 106 in 2021): 4-0, semifinalist
Brandon Morvari of Minnesota (106 in 2021): 4-0, semifinalist
Wyatt Skebba of Wisconsin (106 in 2021): ELIMINATED, 4-2 (Lost in round of 64, lost in 16 No. 2)
Tucker Bowen of Idaho (100 in 2021): 0-2 (ELIMINATED, Lost in round of 128, lost in consolation of 64 No.2)
Isiac Paulino of Massachusetts (106 in 2021): 6-2 (ELIMINATED, Lost in round of 64, lost consolation of eight No. 1
Tyson Roach of Louisiana (100 in 2021): 2-2 (ELIMINATED, Lost in round of 32, lost in consolation of 32 No. 2)
Daniel Guanajuato of Arizona (106 in 2021): 9-1 (Lost in round of 64, onto consolation of four)
120:
Braeden Davis of Michigan (Champion at 113 in 2021): 5-0, semifinalist
Alan Koehler of Minnesota (113 in 2021): 5-0, semifinalist
Caden Horwath of Michigan (113 in 2021): 5-0, semifinalist
126:
Dillon Campbell of Ohio (120 in 2021): 5-1, (Lost in quarterfinals, onto consolation of four)
Drew Heethuis of Michigan (113 in 2021): 4-2 (ELIMINATED, lost in round of 32, lost in consolation of eight No. 1)
132:
Kannon Webster of Illinois (Champion at 120 in 2021): 5-0, semifinalist
Vincent Robinson of Illinois (126 in 2021): 5-2, (ELIMINATED, lost in round of 16, lost in consolation of eight No. 2)
Grigor Cholakyan of California (120 in 2021): 5-1, (Lost in quarterfinals, onto consolation of four)
Greyson Clark of Wisconsin (132 in 2021): 4-2, (ELIMINATED, lost in quarterfinals, lost in consolation of eight No. 2)
138:
Emilio Ysaguirre Jr. of Arizona (132 in 2021): 4-2, (ELIMINATED, lost quarterfinals, lost in consolation of eight No. 2)
Zeke Seltzer of Indiana (132 in 2021): 4-2, (ELIMINATED, lost in quarterfinals, lost in eight No. 2)
Kole Brower of Illinois (138 in 2021): 5,1 (Lost in quarterfinals, onto consolation of four)
145:
Kimo Leia of California (138 in 2021): 4-2, (ELIMINATED, Lost in quarterfinals, lost in consolation of eight No. 2)
152:
Ty Whalen of New Jersey (138 in 2021): 5-0, semifinalist
Jude Swisher of Pennsylvania (138 in 2021): 5-0, semifinalist
160:
Aiden Riggins of Iowa (160 in 2021): 6-0, semifinalist
Braeden Scoles of Wisconsin (160 in 2021): 5-0, semifinalist
Nicco Ruiz of California (160 in 2021): 5-0, semifinalist
Dylan D. Elmore of Kansas (152 in 2021): 3-2, (ELIMATED, lost in round of 16, lost in consolation of 16 No. 2)
170:
Joshua Barr of Michigan (Champion at 160 in 2021): 5-0, semifinalist
Rocco Welsh of Pennsylvania (160 in 2021): 5-0, semifinalist
Brody Baumann of Pennsylvania (170 in 2021): 6-2 (ELIMINATED, lost in round of 16, lost in consolation of eight No. 2)
Sabino Portella of New Jersey (170 in 2021): 3-2 (ELIMINATED, lost in round of 16, lost in consolation of 16 No. 2)
Holden Garcia of Pennsylvania (160 in 2021): 4-2 (ELIMATED, lost in quarterfinals, onto consolation of eight No. 2)
195:
Rylan Rogers of Idaho (195 in 2021): 5-0, semifinalist
Hayden Walters of Oregon (182 in 2021): 3-2, (ELIMINATED, lost in quarterfinals, lost in consolation of eight No. 2)
Wyatt Voelker of Iowa (195 in 2021): 5-0, semifinalist
220:
Kolby Franklin of Iowa (195 in 2021): 4-0, semifinalist
285:
Jamikael Lytle of California (285 in 2021): 4-2 (ELIMINATED, lost in round of 16, dropped to consolation of 16 No. 2)
Ethan Vergara (285 in 2021): 7-1 (Lost in round of 32, onto consolation of four)
Junior Boys eligible for Triple Crown (High School Recruiting Showcase champions)
106 — Mack Mauger of Idaho
132 — Cory Land of Alabama
182 — Tate Naaktgeboren of Iowa
195 — Wyatt Voelker of Iowa
220 — Jared Thiry of Iowa
285 — Aden Attao of Idaho