News
USA Wrestling
International
College
High School & Youth
USAW
Wrestling supporters Waters, Morris and Lukof are the new Living the Dream Medal Fund Stewards
by Gary Abbott, USA Wrestling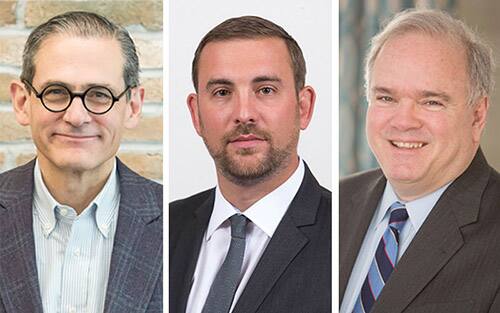 New Living the Dream Medal Fund Stewards (left to right): Hans Morris, Taylor Lukof, Jeff Waters.
USA Wrestling is pleased to announce that three major wrestling supporters have agreed to serve as Stewards for the Living the Dream Medal Fund moving forward.
The Living the Dream Medal Fund (LTDMF) provides bonus payments to wrestlers who win a medal for the United States at either the Olympic Games or the Senior World Championships. Founded in 2009, this program provides the highest level of individual bonuses within the Olympic family. It is led by a group of individual donors who are called Stewards, along with support from USA Wrestling and the U.S. Olympic & Paralympic Committee.
The new Living the Dream Medal Fund Stewards are Jeff Waters, Hans Morris and Taylor Lukof, major business leaders and past wrestlers who all reside in the New York, N.Y. area.
"The addition of Jeff Waters, Hans Morris and Taylor Lukof now bring us to 13 LTDMF Stewards for this powerful program. These generous Stewards, along with the USOPC and USA Wrestling, have enabled our USA Wrestling Team to realize more success than we have ever experienced before. The goal is to recruit seven more Stewards, to equal 20, which we feel will allow us to continue this impactful program into the long-term future," said Steve Fraser, a 1984 Olympic champion and Chief of Donor and Alumni Relations for USA Wrestling.
During Olympic years, the fund provides $250,000 for an Olympic gold medal, $50,000 for an Olympic silver medal and $25,000 for an Olympic bronze medal. For the Senior World Championships, the fund provides $50,000 for a World gold medal, $25,000 for a World silver medal and $15,000 for a World bronze medal. Since the program's inception, a total of $4,150,000 has been awarded, impacting 37 athletes, including men's freestyle, women's freestyle and Greco-Roman wrestlers.
"Watching the Tokyo Games this summer, it became clear to me that the long-term vision of the Living the Dream Medal Fund, to allow our finest athletes to extend their careers and achieve their goals of multiple Olympic and World Medals, had come to fruition. It is an honor to join the group of distinguished wrestling leaders who comprise the Stewards of the Fund. Our program is firing on all cylinders right now but we must never waver in our support or take anything for granted," said Jeff Waters.
"Like almost everyone who was a serious wrestler, the sport had a big impact on me, and I can't tell you how inspiring it is to see our Team USA athletes compete, and also get to know many of them by supporting USA Wrestling and the US Wrestling Foundation. Their athletic ability, intelligence, grit, and devotion to the sport is remarkable. Through the Living the Dream Medal Fund, we enable our best wrestlers to continue to compete with the best in the world through the peak of their athletic careers," said Hans Morris.
"Supporting our country's top wrestlers is a responsibility all former wrestlers share in some form. I am both honored and humbled to help though the Living the Dream Medal Fund. Though I wouldn't call myself a standout wrestler, the sport has given me the tools and the mindset to be successful in all facets of my life, and I know there are a lot of people like me out there. My high school coach, Peter Shaifer, instilled upon our team both the work ethic to be great and the sense of duty to help others in our community. Supporting our elite wrestlers at the Olympic and World levels is a long-term manifestation of what I learned as a young athlete myself. The Medal Fund will give the men and women that represent our country an opportunity to achieve their goals for more than just one Olympic cycle, and I hope more former wrestlers can get involved and support this program in any way possible," said Taylor Lukof.
A short biography of each new LTDMF Steward follows:
LTDMF Steward Hans Morris
Hans Morris is managing partner of Nyca Partners, a fintech venture firm New York and San Francisco founded in 2014. Nyca has invested in approximately 90 companies and is currently investing from its fourth fund. He is the chairman of the board of Lending Club, and a board member of public companies AvidXchange and Payoneer, as well as private companies SigFig, Thought Machine, Fidel, and Propel.
From 2010 to 2014, he was managing director at General Atlantic, a global growth equity firm. From 2007 until 2010 he served as president of Visa Inc. during its restructuring and IPO, and from 1980 until 2007, he worked at Citigroup in several operating and management roles, including CFO and head of finance, technology, and operations for Citi's institutional businesses, COO of the investment bank, and head of the financial services group at Salomon Smith Barney.
He is a trustee of the US Wrestling Foundation, the Public Theater in New York and a former chairman of the boards of MASS MoCA and the Hopkins Center for the Arts at Dartmouth. Most importantly, he captained the wrestling team at New Rochelle High School and planned to wrestle at Dartmouth until they eliminated the team just before he matriculated in 1976.
LTDMF Steward Jeff Waters
Jeff Waters is the Managing Member of OFC Financial Planning, LLC. OFC is a Registered Investment Advisor which provides financial planning and investment management services for individuals and families.
Prior to starting OFC in 2005, Jeff had a successful 17-year career on Wall Street. For the last six years, he was Associate Director of U.S. Equity Research at Salomon Smith Barney, where he ran the day-to-day operations of the number one rated equity research department with 450 employees and an operating budget of $300 million. Jeff was formerly on the faculty at New York University, where he taught the Investments section in the Certified Financial Planning (CFP) Program in the School of Continuing and Professional Studies.
In addition to his professional credentials, Jeff is active in the community. Jeff is co-founder and Chairman of the Board of Trustees of the United States Wrestling Foundation, an organization which supports the Olympic Wrestling Teams and the growth of amateur wrestling in the United States. At the 2016 NCAA Wrestling Tournament at Madison Square Garden, he was one of the weight class escorts for the championship finals.
Jeff was formerly Chairman of the Board of Trustees of Let's Get Ready, a non-profit organization which provides college access and success services for economically underprivileged high school students. He served two terms on the Board of Education for the Millburn Township Public Schools (N.J.), where he served two years as President and three years as Chairman of the Finance Committee. He has been a longstanding leader for the Class of 1986 at Stanford Business School. He also served two terms on the Advisory Council of the Business School Fund.
Jeff holds a B.A. degree in Economics from Yale University, where he was a member of the varsity wrestling team. He earned an M.B.A. degree from the Stanford University Graduate School of Business. Jeff also holds the CFP® charter.
LTDMF Steward Taylor Lukof
Taylor Lukof is the Founder/CEO and a Fund Manager at ABR Dynamic Funds, a global systematic investment management firm. He was formerly a partner at Toro Trading LLC, where he co-managed equity derivative trading strategies. Mr. Lukof, as a market maker, was responsible for trading single name and index-related exchanged traded products. He began his career at TANSTAAFL Research & Trading, LLC, as the youngest member of the American Stock Exchange at that time.
Taylor graduated from Bucknell University, Cum Laude, with a Bachelor of Science in Business Administration. He is active at his alma mater, serving on the Bucknell Business Analytics Advisory Board, and on the cabinet of the $500 million WE DO capital campaign. He is involved in several charities, including the NYC Board of Summer Search.
Taylor wrestled from age 6-18, wrestling in high school at Germantown Academy in Pennsylvania under coach Pete Shaifer.