News
USA Wrestling
College
Women
USAW
58th Midlands Championships preview: Strong men's field and its first women's division
by Adam Engel, Special to TheMat.com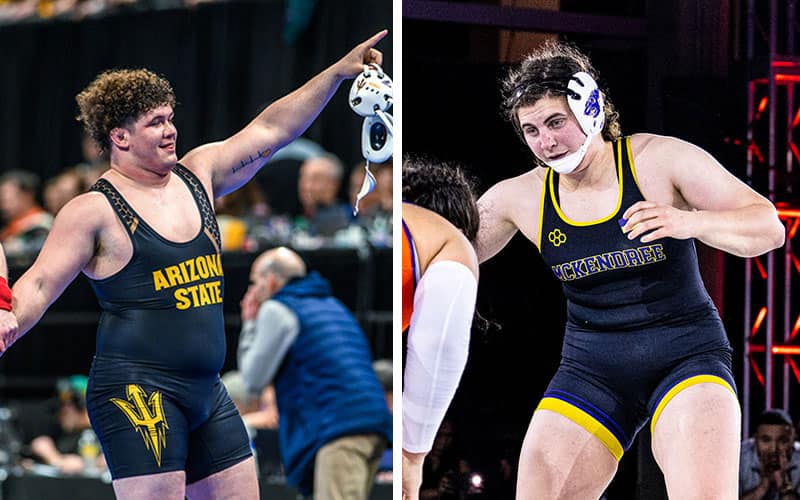 NCAA finalist Cohtlon Schultz of Arizona State, and NCWWC champion Sydney Kimber of McKendree are among the stars heading to Midlands. (Schultz photo by Tony Rotundo, Kimber photo by Sam Janicki)
A holiday tradition returns for the first time in two years. Wrestling fans can enjoy a pre–New Year's appetizer with the 58th edition of the
Midlands Championship
s, hosted by Northwestern and held at NOW Arena in Hoffman Estates, Ill.. The field features a number of ranked men's teams and the first women's field, with NCAA No. 2 North Central adding local flavor.
Here's a weight-by-weight preview of the tournament.
Men's Folkstyle
125 pounds
Northwestern's Michael DeAugustino will be one of the biggest names to watch at 125. He'll have home-mat advantage and returns as a 2019 runner-up. Princeton's Pat Glory, that year's champion, could clash with DeAugustino this week. Both guys combine for five All-American honors.
Also look out for Big Ten contender Eric Barnett of Wisconsin. Arizona State's Richie Figueroa could turn some heads after a 10-0 start to his redshirt sophomore season. He recently won the Cliff Keen Las Vegas Invitational. Arizona State is also bringing All-American Brandon Courtney for his season debut, clearly a finalist contender if he is back to form.
133 pounds
This could be one of the more wide-open brackets in the tournament as three of the top five ranked guys at 133 will compete elsewhere. No. 4 Lucas Byrd of Illinois enters as a serious contender. He's a two-time All-American looking to crack the top four at NCAAs. The Sun Devils show lightweight excellence with another contender in Michael McGee. McGee's low center of gravity and speed causes trouble for many opponents. McGee and Byrd met in November at the NWCA All-Star Classic, which Byrd won 3-2. Can't look past Pitt's Micky Phillippi at this weight.
141 pounds
ACC representation shines at this weight. Watch for Pittsburgh's Cole Matthews, a 2022 All-American. Like McGee, he's an NWCA All-Star Classic runner-up. Host Northwestern has a top challenger in Frankie Tal-Shahar, while Sammy Alvarez of Rutgers and Jesse Vasquez of Arizona State are others to watch.
149 pounds
Austin Gomez of Wisconsin rolls into NOW Arena as one of the hottest wrestlers this season. Though 6-1 coming in, he soundly defeated Cornell's Yianni Diakomihalis, 9-3, and won the NWCA All-Star Classic. Iowa State's Paniro Johnson delivered Gomez his lone loss of the season in early November. Others expected to battle for a spot in the Midlands finals are Kyle Parco of Arizona State and host star Yahya Thomas of Northwestern.
157 pounds
Another Princeton Tiger will headline a Midlands bracket. No. 1 Quincy Monday will be the slight favorite for this stacked bracket. Monday, a 2022 NCAA runner-up, remains undefeated although he's wrestled only three regular-season matches. No other entry is ranked in the top 10 here, so it will be a battle to see who can make the finals.
165 pounds
Wisconsin coach Chris Bono and the Badgers flex their depth with another serious contender at 165 — Dean Hamiti. Ranked No. 4, Hamiti exploded onto the national scene last season with an All-American finish as a freshman. He enters Midlands at 6-1. He only lost to Iowa State national champion David Carr. Beyond Hamiti, look toward No. 5 Peyton Hall of West Virginia as a title contender.
174 pounds
Illinois' Edmond Ruth and Harvard's Phil Conigliaro are among the favorites in what is expected to be a wide open bracket where some athletes could have breakthrough performances.
184 pounds
On paper, this could be one of the weaker weight classes because of the amount of ranked wrestlers competing elsewhere. On the flip side, that always creates a wide-open field and a chance for chaos to ensue. Keep an eye out for Arizona State's Anthony Montalvo and Rutgers' Brian Soldano.
197 pounds
A Pittsburgh Panther is on the prowl. No. 5 Nino Bonaccorsi, a 2020 NCAA finalist, could snag a Midlands title. Wisconsin standout Braxton Amos, Illinois Zac Braunagel and Arizona State's Kordell Norfleet are among the title hopefuls.
285 pounds
The last weight will be a loaded one, with some All-Americans highlighting this bracket. Arizona State's Cohlton Schultz finished as the 2022 NCAA runner-up. Look out for Northwestern's Lucas Davison to find success. He finished sixth at the 2022 NCAAs. Wisconsin's Trent Hillger returns as a three-time All-American.
Women's freestyle
Women hit the Midlands mats for the first time in the tournament's 58-year history. NCAA No. 2 North Central College and No. 3 McKendree headline the field. NCAA No. 5 Augsburg and No. 7 Presbyterian add strength to the field.
101 pounds
If you follow women's college wrestling, McKendree University isn't unknown. The No. 3 Bearcats will be well represented at Midlands. It starts with No. 2 Lizzette Bernardo, who finished third at the 2022 NCWWC Championship. Presbyterian's Samantha Miller, another returning All-American, will likely star in this bracket.
109 pounds
Circle this bracket as one to watch. No. 1 ranked Sydney Petzinger of North Central College leads this field as a 2022 national runner-up. She rolls into Midlands with one loss — 8-2 to King's Sage Mortimer in the North Central Invitational final. Petzinger's teammate, Kendra Ryan, could find herself in the title mix as well. She's a returning All-American and ranked No. 5.
116 pounds
A North Central wrestler will be near the top of the Midlands podium several times. NCC's Jaslynn Gallegos figures as a favorite at 116 but not without some drama. Ranked No. 1, she's a Presbyterian transfer who won a 2020 WCWA national championship and finished fourth at last year's NCWWC Championships. Her former teammate, Ainslie Lane, finished eighth in last year's NCWWC Championships? Could the former teammates clash at Midlands?
123 pounds
On paper, this could be a wide-open field. Plenty of returning All-Americans will make things interesting. McKendree's Payton Stroud strolls in as the bracket's highest ranked wrestler. Ranked No. 3 in NCAA, she's a two-time NCWWC All-American. North Central's Amani Jones and Augsburg's Gabby Skidmore are also ranked NCAA wrestlers with podium history.
130 pounds
This will be the first opportunity to catch a women's national champion in Midlands. McKendree's Cameron Guerin possesses two national titles. Can she grab another in March? She has a loss this season to NAIA No. 1 Lexie Basham of Texas Wesleyan at the Missouri Valley Open. Guerin enters as the clear favorite at Midlands.
136 pounds
Things could get interesting here. Despite missing out on the NCWWC Championships, North Central's Yele Aycock owns a No. 1 ranking. There's familiarity with her possible challenger, too. Augsburg's Nina Makem finished as national runner-up in 2022 and defeated Aycock a few weeks ago at the North Central Invitational. This is turning into a prime-time rivalry on the women's circuit.
143 pounds
Another Bearcat. Another returning national champion. The Midlands spotlight will shine on McKendree's Alara Boyd, a 2021 national champion. She's also a three-time national finalist. Katie Lange of Augsburg, ranked No. 3, will provide a strong challenge.
155 pounds
North Central's depth could prove deadly here at 155. No. 3 Sara Sulejmani and Malea Palahniuk return as All-Americans for the Cardinals. No. 1 ranked Marlynne Deede of Augsburg finished third at last year's NCWWC Championships and looks to battle for the top of the podium.
170 pounds
One of the sport's stars will dazzle here. North Central's Yelena Makoyed finished her terrific calendar year that included an NCWWC national championship, three UWW Ranking series gold medals and an appearance at the World Cup. A two-time NCWWC champion, she's the clear favorite this week. Makoyed sits No. 2 on the U.S. Senior National Team ladder. No. 3 Ashley Lekas of Augsburg will be a talented challenger.
191 pounds
Could fans see back-to-back national champions win Midlands titles? If things go chalk, McKendree's Sydnee Kimber could follow Makoyed's championship with one of her own. Kimber won the NCWWC national championship in 2021 and 2022. Similar to Makoyed, Kimber is a clear favorite here. North Central has potential finalists in either Traeh Haynes or Alondra Aguayo.
The Midlands will be streamed live on BTN+ which is a paid subscription service. Live results will be available via TrackWrestling.